Chances are your laptop is Wi-Fi enabled which means you can connect wirelessly to almost any Wi-Fi network. As most people know, wireless connections are very convenient for many reasons, including that there aren't any cables to worry about. Sometimes in hotels, dorm rooms, or at the office, the best way to connect to the internet is through an Ethernet port, even though most laptops don't come with them anymore!
You can add an ethernet port to your laptop with a cheap USB adapter. You should consider if the adapter needs to have an older USB connector or a USB-C connector. It might be better to get a hub that has an ethernet port and multiple USB ports.
Not all laptops come with ethernet and this is something you'll want to look at. The other consideration is the type of USB port you have available. Some like the new M1 MacBook Pro (on Amazon) only come with USB-C ports, so if you have a USB-A hub, it won't work with the M1 Pro, and you'll need to use something like this generic USB C to Ethernet Adapter (on Amazon).
For older laptops or even modern laptops that simply haven't dived into UCB-C yet, you can use an option like the TECKNET Aluminum 3-Port USB 3.0 Hub (on Amazon) that even adds back some USB ports so you don't run out. We'll consider a few more options below.
Why You Might Need Ethernet for Your Laptop
As we already touched on above, Wi-Fi is convenient. Your laptop is easily portable since there aren't any cables to worry about, but sometimes it's best to use ethernet. You'll get a more stable connection with ethernet than Wi-Fi; there's less risk of interference with a cable than a signal, and you won't have to worry about lost Wi-Fi bars resulting in a dropped connection – which might be one of the most annoying things ever. Not to mention the security benefits of not broadcasting all your data for hackers to potentially snoop on.
Another great feature of using an ethernet connection has to do with download speeds. Download speeds dramatically increase with ethernet, compared to Wi-Fi. An ethernet connection can also more easily handle large files, whether you're sharing or downloading them, in other words, they're just a bit more optimized than a Wi-Fi connection, but you'll be sacrificing a small amount of convenience. When using Wi-Fi, your data speeds are like a garden hose spraying water, while an ethernet connection is closer to a firehose.
How to Pick the Best USB-to-Ethernet Adapters
There are two types of ethernet adapters and the best one for your laptop is the one that's compatible with its built-in port. It will either be a USB-A or C adapter. When you're shopping for ethernet adapters you want to look at their construction and the connector type, for compatibility.
Adapters with plastic casing are often inexpensive but aren't designed for durability, although, they are great for home or work use. If you want a little more durability, look for an adapter with an aluminum body. You'll pay more money for this type of cable, but you won't have to worry about the protective casing cracking which is a common nuisance with cheaper cables. We'll list a few top-rated USB-to-ethernet adapters below, but first you may have one more question about managing these USB/ethernet hubs.
Can You Change a USB-A Port to a USB-C Port (or Vice Versa)?
So, these ports and hubs we'll be discussing, you'll see that they're broken down by the USB port type. This is an important detail to get right because your laptop probably only has one of the other. That said, you can use an additional adapter to convert the port you have to the port you need.
Using either the Syntech USB-C to USB-A adapter (on Amazon) or the Basesailor USB-A to USB-C Adapter (on Amazon) you can swap your USB port out with this simple adapter, but if you're going this route we really recommend going with a hub that uses the port you already have, that way you minimize the number of links in the chain ensuring good data speeds and a stable connection.
Recommended USB to Ethernet Adapters
(USB-A) Cable Matters SuperSpeed Ethernet Adapter
You'll instantly boost network speed when you connect the Cable Matters SuperSpeed USB adapter (on Amazon) to your laptop. It features a compact design that won't clutter up your workspace. A small indicator light lets you know when the adapter is connected. Two LED lights signal when a network is available and data is being sent or received. The downside is you lose the laptop's available ethernet port.
(USB-A) Anchor USB 3.0 Unibody Aluminum Ethernet Adapter
Boasting an aluminum casing, the Anchor USB 3.0 Unibody Aluminum Ethernet Adapter (on Amazon) can handle a little wear and tear. It's compatible with laptops that are using Windows & and up, along with MacOS 10.9 and higher. The sturdy cable doesn't bend or fray easily. The small adapter also comes with three LED lights that indicate, power, speed, and data transfer. Once again, you'll lose an ethernet port when you connect the adapter.
(USB-C) Uni USB C to Ethernet Adapter
This model is about as simple as it gets, with a short braided cable and just enough room in those connectors to manage the wire heads. It doesn't get much simpler than this, which is a good thing in computing. If you won't mind losing the USB-C port (and you don't need a hub to add more ports back), then this Uni UCB-S to Ethernet option (on Amazon) is a great way to add Ethernet to a computer with a USB-C port available.
Consider if You Need More Ports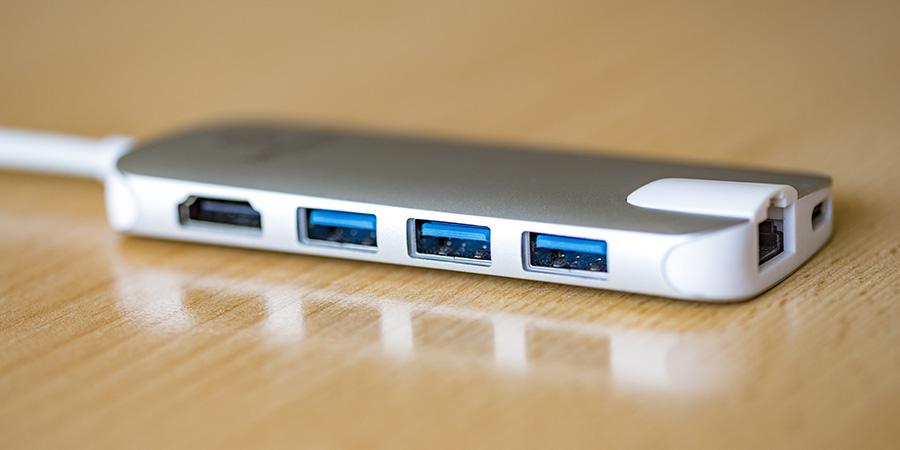 A lot of laptops only have one USB-A or C port. When you plug the adapter in, you've lost your only USB port! Anytime you need to connect a peripheral device, you'll have to unplug the adapter. There's an easy solution: you can use a USB Hub instead of an adapter. You'll have multiple ports and an ethernet connection.
(USB-A) Anker 3-Port USB HUB With Gigabit Ethernet Converter
The Anker 3-Port USB HUB With Gigabit Ethernet Converter (on Amazon) works with any USB-A port, and it adds 3 more USB-A ports to boot. So, this small hub will make sure you don't run out of USB ports while getting you a secure wired ethernet connection with no problems at all.
(USB-C) AUKEY USB C Hub Adapter
The AUKEY USB C Hub Adapter (on Amazon) will add all the ports you need and then some! If you have a USB-C port available, this model will allow you to not only add ethernet and a few other ports, but to connect your USB-C power adapter to the hub directly, powering your laptop. This is a great way to consolidate your desk setup to a single connection to your laptop when using it.
Conclusion
It's not hard to add an ethernet port to any laptop with an adapter, and it's not hard to connect two ethernet cables together either as we explored in our guide. Make sure the adapter is compatible with the laptop and think about how many ports you need. If you can't afford to lose an ethernet port, you'll want to use a USB hub. You'll still get a faster and more secure internet signal and have plenty of ports for other devices.