So you're thinking about getting a combo vacuum/mop cleaning robot? This technology has come quite far in the last decade or so that these convenient devices have been on the market. But still, there are a few bad products that exist out there. So, which ones should you have your eye on?
When it comes to making a quality mop/vac combo, there are a lot of things to consider. Some products use a water-based cleaning system and a powerful vacuum, while others use damp pads or cloth to mop. The 5 best combo Robot Vac/Mops on the market are:
Bissell Spinwave
ZOOZEE Z50
Roborock S5
360 C50 Robot Vacuum
Coredy L900X Robot Vacuum
There are also different levels of automation you need to think about when shopping around. So, if you're ready to learn more about these combo devices and choose which one is right for you, let's look closer at some of the details so you can pick the best model for you!
Are There Robot Vacuums that Also Mop?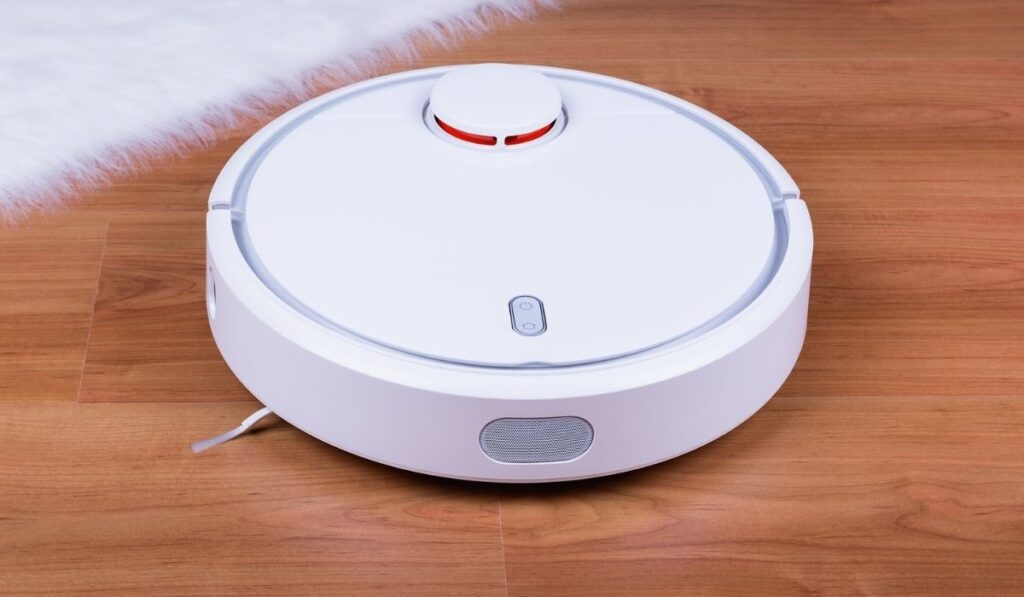 While the world was certainly taken by storm with the introduction of the iRobot Roomba Robot Vacuum (on Amazon), these smart devices do much more than suck up dust these days.
There are plenty of manufacturers now that produce robot vacuums equipped with a mopping function. Fitting this feature to regular vacuum models means that these devices offer a dual-function when it comes to cleaning up the house — and often, you won't need to pay too much extra cash for this benefit.
While these extra features do add convenience to our daily cleaning routines, there are a few things you should know about before making a purchase.
First, there are different types of robot mops to look at, and you should be fully aware of the differences to understand what exactly you're purchasing.
Let's explore how these combo mop/vacuums operate and what you should watch out for.
How do Robot Vacuum/Mop Combos Work?
Let's firstly jump into how these devices clean your floors. You may think that there's some magic going on behind the scenes, but in reality, the mechanism is quite simple.
Well, it's simple for some devices, but for others (like the more expensive models), it can get a little more complicated. But more on that later.
Your robot vacuum and mop combo uses a series of fall sensors and other metrics to avoid obstacles in your home. In basic models, the device just runs, and the sensors do the work as it goes. In other devices, intelligent software maps out your home for the most efficient cleaning.
How About the Mopping?
You see, in dedicated mopping robots, like this iRobot Braava (on Amazon), the device applies water or a cleaning solution onto the floor. A pad, often disposable, then mops it up.
Some combo devices will feature this too. It will come with an additional water reservoir that you'll need to clip on when you decide to mop.
Other devices will simply feature a location to place a microfiber cloth. You'll probably need to wet the cloth with water or a cleaning solution. In this case, the device will drag the damp cloth across the floor, cleaning it in the process.
In most instances, you'll need to do a little work to get things going. With regular vacuums, all you usually need to do is empty the dust bin. With mops, however, you'll need to fill the reservoir in some and change the pad. To clean a larger home, you may need to change out the reservoir or pad a few times.
What are the Best Combo Robo Vac/Mops?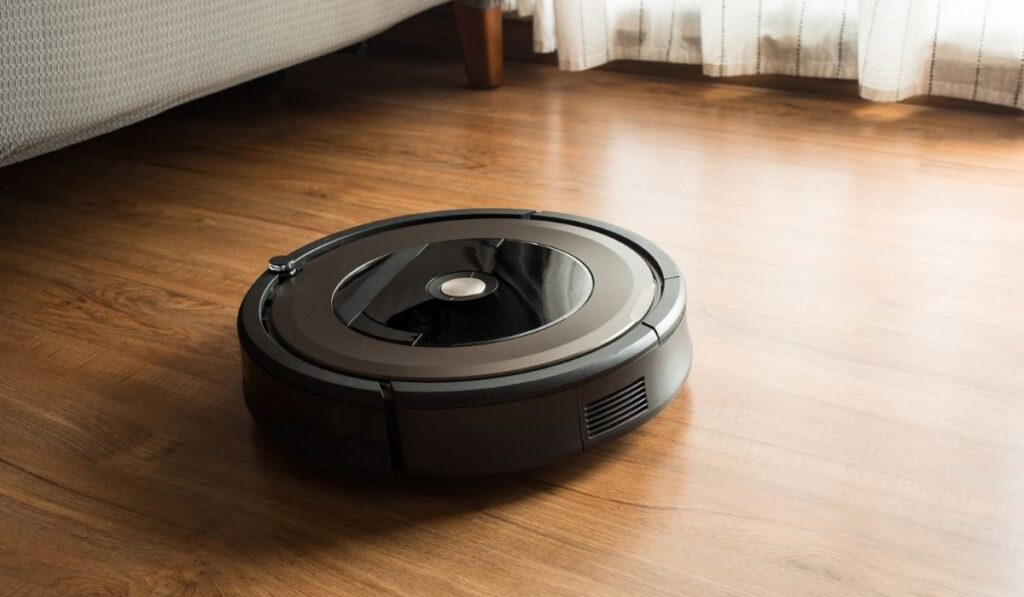 Now that we've done a behind-the-scenes explanation of how combo robots work, let's talk about what's currently available on the market.
Since these devices have been around for a while, you can find some high-quality models as well as some not-so-great ones. So make sure you always research before making any purchases.
Below you'll find some of our recommendations when it comes to the best combo robot vac/mops.
Bissell SpinWave
Made by a trusted name in the vacuum industry, the Bissell SpinWave 2-in-1 Wet Mop and Dry Vacuum (on Amazon) is a great mid-tier choice for a combo device. The Bissell features a two-tank cleaning system and a powerful vacuum, with a lithium-ion battery providing up to 130 minutes of cleaning time.
The mopping mode consists of rotating scrubbers and is suitable for:
Wood
Tile
Linoleum
Sealed hardwood flooring
People tend to review the Bissell well. While some do make complaints about the battery life and the way the mop handles pet hair, overall, the product generally has stellar reviews. You'll need to purchase extra pads and cleaning solutions throughout ownership to keep things operating well.
ZOOZEE Z50
The ZOOZEE Z50 (on Amazon) is a great vacuum mop combo that sports a powerful battery and is jam-packed with extra features. The battery is certainly the main advantage of this device.
At 5200mAH, the power can last upward of 300 minutes on a single charge. That means you could probably clean your entire house in one go!
The advanced technology behind the device means connecting the machine with other smart devices, like an Amazon Alexa, is easy and painless.
Additionally, the mopping and vacuum functions are fairly high-powered. The mopping also uses a water tank — meaning you'll get a better clean than other devices that only use a pad.
When it comes to reviews, the ZOOZEE has a respectable 4.5 stars on Amazon. The main complaint you'll find is that the dustbin is a tad too small. As the battery can last quite a while, the small bin means you'll still need to do some regular emptying during cleanings.
Roborock S5
If you're looking for a device that has custom mapping, then the Roborock S5 (on Amazon) might just be the perfect combo-vac for you.
The technology behind it includes precision LIDAR navigation that combines adaptive route algorithms to make sure each inch of your floor gets a good once-over.
Much like other models, you can pair your device with a smart home system for even more control over your cleaning schedule. Keep in mind that you'll need to source microfiber cloth pads to use the mopping function. This is one of the main drawbacks of the device.
While it does get high marks for its suction power, the mop feature leaves most users searching for a better solution.
360 C50 Robot Vacuum
Coming in as the most budget-friendly option on our list, the 360 C50 Robot Vacuum (see on Amazon) gives you the best of both worlds without straining your wallet. The small size means it can get under furniture easier, but don't let that make you think it lacks power.
Behind the black plastic cover is a powerful vacuum that can make quick work of dusty floors and dirty carpets.
Unfortunately, one thing the device lacks is an appropriate mopping function. It can mop, but most people argue that you could do a better job using a hand mop. But don't let that make you think the feature is worthless; it can still do a decent job touching up floors that aren't too dirty.
But overall if you're hoping to catch a deal and still have a perfectly clean floor, you may be left searching for a different product.
Coredy L900X Robot Vacuum
On the higher end of the price range, we've got the Coredy L900X (on Amazon). This vacuum mop combo packs in tons of features, including:
LIDAR navigation and real-time mapping
190 min run time
3-in-1 cleaning technology that sweeps, vacuums and mops
App and voice control
The biggest advantage of the Coredy is the automatic dustbin function. The docking station attachment means your device will automatically return to empty the dustbin and charge. Cleaning your home then is truly automatic, with little to no intervention on the owner's end.
But keep in mind; you'll still need to change out the heads and change the device to make the mop work — so that feature does require some maintenance.
Are Combo Vac/Mop Robots Worth It?
When we are talking about the values of these devices, it all comes down to expectations. Looking at what's available, it's easy to paint a rosy picture of never having to clean again.
While some products do a stellar job taking care of your floors, if you think that these devices are the be-all and end-all to cleaning, you might be disappointed.
First, let's talk about price. In most cases, you can get away with spending a few hundred dollars on an adequate device. Think in the range of $200 to around $400. After that, we start getting into the high-end category. For that price, you are getting quite a lot. But even still, some people may be disappointed by the quality of the clean.
Look, if you have bad cleaning habits, a robot device isn't going to solve all your problems. They make for great touch-up devices and can usually do the bulk of the work around the home.
But the reality is that you'll still need to sweep, vacuum and mop on occasion. This is especially true if you have a home with animals or children.
Essentially, if you are looking for an assistant to help keep your home clean, they are perfect.
Are There Any Maintenance Costs for Combo Vac/Mopping Bots?
When it comes to additional costs, if you add the additional mopping function, you're going to need some extra supplies. While it's true that most robot vacuums require filter changes at the very least, in most cases, you'll need even more parts to properly maintain your combo device. While these costs may be minimal, they still exist.
Combo vac/mopping robots will usually require disposable pads, detergent, filters, and other components. This is going to depend mostly on the manufacturer, so always check with the product's specifications before you make a purchase.
Extra Materials
Fortunately, though, the cost for extra materials probably won't break the bank. While it might be a slight burden to get ahold of the extra components, in most cases, you can get a set of pads, like these pads for the Bissell Spinwave (on Amazon), which will only set you back around $20. Depending on how often you clean your floor, this set could last you quite a while. This brings us to an important point.
If you're using your robot vacuum very often, you'll need to buy more detergent, pads, and other products. That's just for the mopping function too. To keep up with the vacuum portion of these devices, you'll probably also need to buy replacement filters too.
All those costs can add up over time. That's not to say you'll be spending as much as you did on the vacuum combo itself, but it could shoot to around $60+ a year in replacement parts alone. In some cases, you'll also need to replace the battery, which is often the most costly component.
Wrapping Up
If you're looking to add a combo vac/mop robot to your home, hopefully, by now, you have a decent idea of what to look for and what to expect. These devices can add quite a bit of convenience to your home.
While you might still need to break out the old mop and broom out every so often, even the most modestly priced products will make a serious dent in the amount of dirt and grime you have on the floor.
Keep in mind that nothing is 100% automatic. While most devices get close, you'll still need to add pads, detergent, and change out the filters often. This will add to the overall maintenance costs of owning a device like this.
At the end of the day, though, you're taking away one of the most tedious parts of cleaning a home — especially if you have a home with loads of floor space.