Choosing the best SD card for your security camera will help your device run optimally. While it may seem like this choice is inconsequential, the reality is that poor storage can affect the quality of the footage you get and how long your camera can run. Additionally, you need to depend on your SD, so durability and build quality are key.
Here is what you are looking for in a good SD card:
Capacity – 32gb – 128gb+
Speed – read/write speed of at least 10mbps
Durability – source SD cards rated as "Pro," "High-Endurance," "Extreme," or "Ultra."
Below are some great SD cards to use for security cameras:
A good SD card is essential to store the footage your camera captures. This is why you should always consult your camera's recommendation when it comes to storage. Here, quality matters. As we've explained before, poor storage capacity is one of the reasons some security cameras have such poor quality. Keep in mind how you will use your storage and camera as well. More use may require a more durable card. But, what makes a good SD card?
What Makes an SD Card Good for Security Camera Use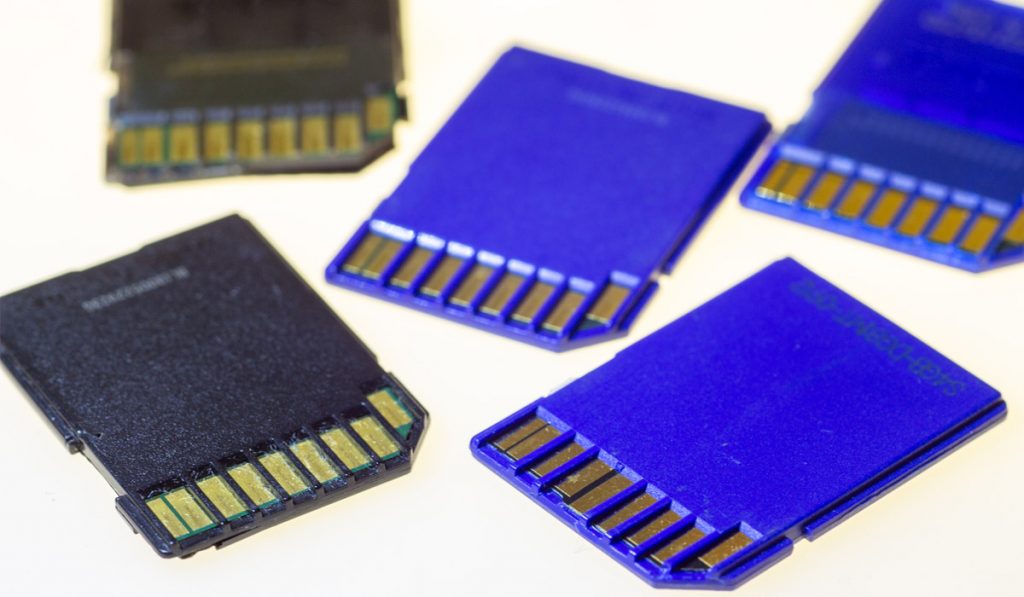 Due to the nature of how your security system operates, you need to make sure you find a good quality SD card. Just like your cameras, these cards may need to be in use 24/7. Not only that, but they also need to store many hours of HD footage reliably. This is no small task. This is why you should assess your SD card choices by several factors, including capacity, speed, and durability.
For the most part, you can find this information on the SD card's packaging. To find the recommendation for your specific camera, consult the user's manual. However, you may only find capacity recommendations and have to determine the speed and durability yourself. This is not that challenging, though, and we will point out popular specifications based on camera type below.
Finally, there are many types of SD cards out there. Not only are they different in storage and speed, but they also come in various forms and sizes. For our purposes, find microSD cards. The majority of security cameras out in the market will accept this size card.
Capacity
Capacity is very important for the function of your camera. It will, essentially, determine how long you can run your camera. More storage means more time you can record. While it may be tempting to go for the largest card you can find, not all cameras can support large memory cards. Additionally, there are many popular sizes to choose from. Here are some sizes you may come across: 16GB, 32Gb, 64GB, and 128+GB.
As you can see, there is a wide variety to choose from. It may seem daunting, but your camera should offer you specific details on what card to choose. Generally speaking, though, the higher your camera's resolution, the more storage you need. Furthermore, some cameras have a maximum capacity.
This means that they won't be able to support larger cards at all. Also, make sure you are using a camera that uses SD storage. If you are using a system that records video to a DVR or NVR, then you shouldn't have to worry about onboard storage other than for backup. Here are a few cameras on the market that require SD storage for recording:
Speed
When it comes to SD cards, speed plays a factor. This speed is defined by the read/write rating of the memory card. The faster these speeds are, the more quickly large amounts of data can be recorded efficiently. If you have ever purchased an SD card for a digital camera before, you know how important this can be.
Sourcing a memory card that does not have adequate read and writes speed can cause a number of problems, including lags in the video, skipped sections, and poor quality recordings as well. To avoid running into these problems, make sure you find an SD card with the proper read/write speed. What makes this tricky is that a lot of manufacturers will not offer a recommendation.
Generally speaking, though, you should be able to identify what read/write speed you need. To do this, you need to know what resolution your camera uses. The higher the resolution, the faster rating you should look for. To help you get a better understanding of what read/write speed to look for, here are some examples:
Standard definition (<720p) – Write speed 4mbps
HD (1080p) – 6mbps
4K – 10mbps to 90mpbs
As you can see, there is a lot of variance in the read/write speed depending on the resolution. Based on what is on the market today, most security camera professionals recommend a read/write speed of at least 10mbps (and you can look more into security camera types in our extensive guide). In addition, read/write speeds are classified as ratings known as an SDHC rating followed by a number. For most cameras, you will be on the lookout for SDHC 10, which can read/write at 10mbps. There are also other ratings that are to be the SDHC rating system's successors, so you might see SDXC I or SDXC II.
Durability
It's not hard to imagine why you should buy a durable memory card. Just like your security camera, your SD card needs to be reliable. Depending on where you are using your camera, it may also need to withstand harsh conditions. This is especially the case if you are working on an outdoor camera. There are plenty of reasons to get a durable memory card including the following:
Longer life
Less prone to failures
Can work in extreme conditions
They can handle strenuous recording conditions
Some are water-resistant
The last situation you want to be in is one where your memory card fails you. When it comes time to watch the footage, you need to be confident that the footage has been recorded correctly and thoroughly. This is why it is so important to buy a durable SD card.
The Best SD Cards for Security Cameras
Not all cards are created equal. As we have explored in the above text, a lot is riding on your memory card. It needs to stand up to the elements, perform at high speeds, and hold a lot of sensitive data. Not every card can handle this environment.
For example, a typical SD card, like the one you might buy for a digital camera, may work in your security camera. The problem comes down the line when the regular use and constant recording starts to take its toll. Cards designed for security camera use are optimized with special firmware and NAND flash technology to hold up to the pressure.
Like the one we previously mentioned, you would be lucky to get four months of use with a common retail card before things started acting up. But, to help you find the best card for your security camera, we have developed a list based on the above criteria. While this list is certainly not exhaustive, it will be a great place to start if you are interested in finding quality and reliable microSD cards for your security camera.
1. SanDisk High Endurance
Sandisk's High Endurance MicroSD (on Amazon) is a notable name in the flash memory industry and has created a durable and reliable product in their High Endurance series. While it may not sport the performance of other cards, its price point and speed put them on the list. They range in size from 32GB to 256GB.
2. Samsung Pro Endurance
Samsung's Pro Endurance (on Amazon) has created a product designed for use specifically with security cameras. They have taken the requirements of these high-performing devices and built an SD card to those specs. This means it can handle continuous recording in harsh environments and last longer relative to other memory cards. These memory cards sport specs such as:
Ability to Handle read/write speed of up to 30MB/s
Water-resistance
Can withstand a temperature of up to 185 degrees Fahrenheit
Are Magnet-proof
Even Rated for X-ray proof
3. Sandisk Extreme Plus
Sandisk's Extreme Plus (on Amazon) offers some of the fastest read/write speeds of any card with their Extreme Plus series. Enjoy read rates of up to 160MB/s and write speed of 90MB/s. While it does offer some fast read/write speeds, they aren't meant for constant recording. But, the cards are reasonably durable. They are water-resistant, can handle harsh temperatures, and can handle x-ray radiation without data loss.
4. Samsung Pro Plus
Relative to the Samsung Pro Endurance, the Samsung Pro + (on Amazon) is more suited for high-speed read/write ratings. It has a write speed of around 90MB/s, making these cards well suited for dealing with large volumes of data.
The Samsung Pro + is also waterproof, x-ray proof, high-temperature rated, and waterproof as well. One thing to note about the Pro + is that it is not necessarily the best for continuous recording. These memory cards favor speed over endurance.
5. Samsung Evo Select
This line of Samsung cards can fully store and record HD and 4K UHD video. Additionally, they can do this at higher frame rates and speeds. The Samsung EVO Select (on Amazon) boasts ultra-fast read/write speeds and can handle most security camera video types without issue.
Like other products on this list, the EVO Select can stand up to harsh conditions. While they may not be as durable as other products, the EVO Select is still shockproof, waterproof, temperature resistant, and X-ray-proof.
6. Kingston High Endurance
Kingston has come up with a product designed to handle write-intensive loads: the Kingston High Endurance SD card (on Amazon). This means they are perfect for security cameras. It can record at a high frame rate in full 1080p HD and works in harsh conditions. They can handle extreme temperature conditions, shock, waters, and even X-ray radiation.
Advantages of Wireless Security Cameras
While you can omit these cards if you opt for a wired security system, there are many advantages to wireless security cameras. Wireless cameras are becoming one of the more popular consumer security choices. This is due to the convenience and relative reliability of these products.
There are also many companies taking advantage of these advances and creating products that fit into the average consumer's lifestyle. This means not just easy installation but also integration into a smart home system.
Be aware that not all wireless cameras are the same. Some, like the Zumimall 1080P Wireless Security Camera (on Amazon), can operate using an SD card for storage.
Others, like the Nest Indoor Camera (on Amazon), use only cloud storage. While this option is more convenient, it does come with the cost of a cloud subscription.
If you factor in the cost into the camera's upfront price, you are looking at a $300+ camera. This is if you run for two or so years. Consequently, this is why it is important to find a camera that accepts SD cards.
Unless, of course, you don't mind the extra costs of a cloud subscription. But regardless of storage type, there are some overall advantages to opting for a wireless camera system.
Benefits of a Wireless Security Camera
If you are looking for the advantages of using a wireless camera, here are a few:
Easier to install and adjust – With wireless cameras, you won't need to run a cable to install. This can be great on both the front-end of installation and anytime you want to adjust your cameras' location.
Often Easier to Operate – Many camera manufacturers aim to create a seamless and easy experience for their users. This means integrated systems control and easy-to-use software.
Benefits of cloud storage – While it does cost extra, the advantage of using cloud storage is that you can access your footage from anywhere.
Advanced features – Consumer cameras are jam-packed with advanced features like motion-detection and facial recognition. They use the advances in machine learning and AI to provide a better security system.
Wireless cameras can be just as reliable as wired systems. But, they often are easier to install. You need to pull wire through walls, attics, and even through to the outside with wired systems. While the owner can do this, it is most likely a job for professionals. In contrast, most wireless cameras require nothing but a drill and some screws for mounting.
When it comes to using SD cards with your cameras, you need to source the right devices. As we have learned, not all wireless cameras support SD storage. While this can be inconvenient for some, the overarching idea is that cloud storage is easier to use.
SD cards need to be taken out periodically and have their storage wiped to make room for more footage. Compared to cloud storage, though, SD cards offer more reliable storage and can be accessed offline. This can be a great advantage, especially if you don't have your cameras linked to a network.
Conclusion
When buying SD cards for security cameras, there are a couple of factors to consider. Finding durable cards that can handle high read/write speeds is your best option. Fortunately, there are products that fit perfectly in this category. For the most part, you will see them labeled as endurance or high performance.
Additionally, using your user's manual it's easy to determine which card is best for your cameras. Most manufacturers will give specifications on at least size. Follow these general guidelines, and you can expect to find reliable SD cards that will last.