If you've ever traveled by air, you'll know that most airlines have terrible headphones for their entertainment systems. Fortunately, you don't have to use the ones provided by the airline any longer; you can connect your own Bluetooth headphones to the airplane's entertainment system.
You can use a Bluetooth transmitter and an AUX cable to connect Bluetooth headphones to the entertainment systems on most airplanes. If you don't have an adapter, most flights will give you a set of cheap wired headphones for free.
Let's explore how to connect your Bluetooth headphones to an airplane's entertainment system, and then we'll look at some of the best Bluetooth transmitters for uninterrupted audio and high-quality sound.
How to Use Bluetooth Headphones on an Airplane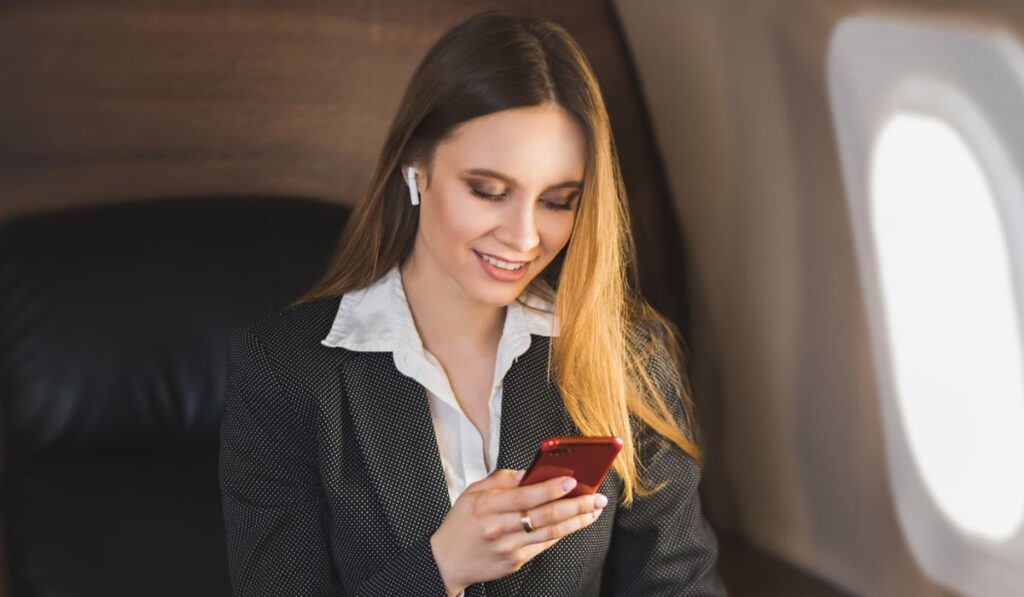 We all want the best audio quality when listening to songs or streaming. But on airplanes, you'll often be provided with large, uncomfortable headsets or cheap, flimsy in-ear headphones.
Fortunately, there are some ways to connect your own Bluetooth headphones to the airplane's sound system for a much better audio experience.
What You'll Need
A Bluetooth transmitter with an AUX input and USB power

AUX cable (will possibly need an adapter for iPhones depending on the model)

USB power cable for transmitter

Bluetooth earbuds or headphones
A Bluetooth transmitter is a device that sends audio out to headphones, speakers, etc. Some Bluetooth transmitters will be both transmitters and receivers with a switch for RX (receiver) or TX (transmitter).
A Bluetooth receiver, on the other hand, is a device that only receives audio signals from another device. A Bluetooth transmitter is the best way of connecting your Bluetooth headphones with any device on the plane.
While some planes allow you to connect directly to the Bluetooth, most only have space for an AUX cable connection, which allows you to pair the entertainment system with your Bluetooth headphones.
Making the Connection
Follow these steps to connect your Bluetooth transmitter to the airplane's entertainment system:
1. Connect Bluetooth Transmitter to Airplane Display
In order for any of this to work, you will need to start off by connecting the AUX cable with a Bluetooth transmitter. Next, connect the cable with your Bluetooth headphones in order to start receiving audio signals from your phone or from the display panel in front of you.
However, a problem arises here. The AUX cables can't be directly connected to all headphones; some don't support AUX cables. This is where USB cables and Bluetooth transmitters come in.
2. Pair the Bluetooth Transmitter and Headphones
Once the Bluetooth transmitter is connected with the AUX cable, you can link it to the headphones.
The transmitter will have a pairing button that you should hold down for approximately 5-10 seconds. A light will start flashing when they are successfully paired together. If you're unsure of how this is done or where the button is located, you can take a look at the user manual for assistance.
If the pairing doesn't work, try connecting to the transmitter with the headphones' pairing system.
Hold down the button on the Bluetooth headphones for a few seconds until they are successfully paired together. It may take a couple of attempts before the two devices are connected to each other properly.
3. Test the Connection
Now you can finally test the headphones. Check whether the connection is good by putting your headphones on and playing a movie or song.
If the connection is good, the audio should be high quality, and the sound should be crisp. If not, then there is a problem with the pairing of the two devices.
Recommended Bluetooth Transmitters to Use on an Airplane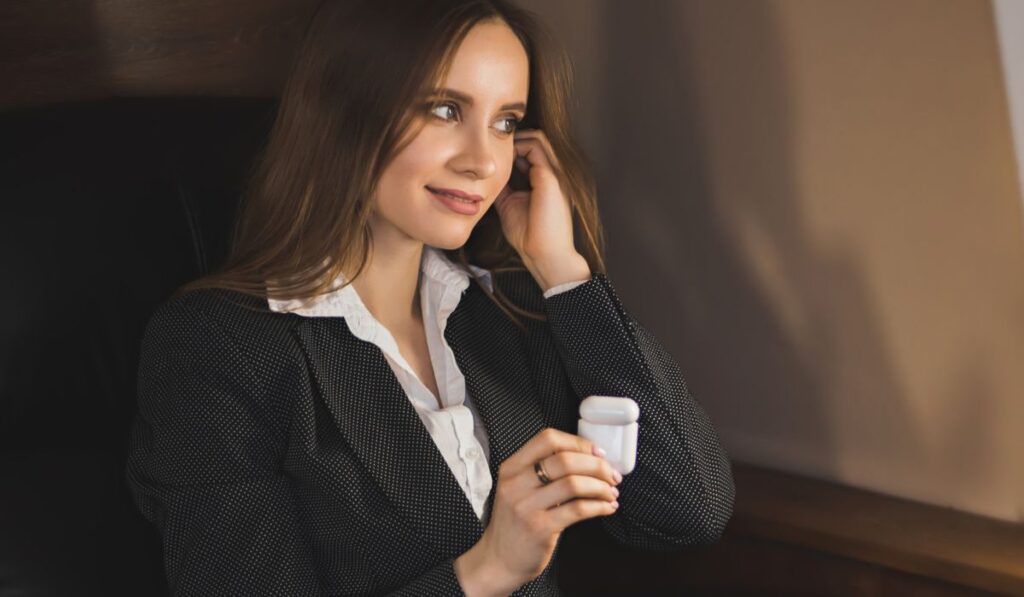 The last thing you'd want after learning how to use your Bluetooth headphones on a flight is to have your transmitter fail on you. To avoid this, make sure you get a reliable Bluetooth transmitter.
Here are the best Bluetooth transmitters, which we've selected due to their quality and consistency:
Airplane Bluetooth Adapter for Headphones
The Airplane Bluetooth Adapter for Headphones (on Amazon) is a wireless adapter that supports both Bluetooth transmitting and receiving. It will connect with any device, whether new or old, and it even transforms non-Bluetooth devices into Bluetooth devices.
This is especially helpful on an airplane as most of the display screens will require you to use a Bluetooth transmitter.
The Airplane Bluetooth Adapter for Headphones is the perfect product for a long flight as it has a playtime of up to 30 hours on a single charge. This adaptor will also automatically pair with your Bluetooth headphones when they're turned on.
An additional advantage of this transmitter is that it is compact and portable by design, allowing you to carry it around easily.
Twelve South AirFly Duo
The Twelve South AirFly Duo (on Amazon) will give you the best lag-free sound quality of any Bluetooth transmitter. Thanks to the FastStream and aptX Low Latency codec that's in this device, there's no delay in the audio transmission, which is usually a big downside of getting a Bluetooth transmitter. It even has 20+ hours of battery life!
You can even pair this device with two Bluetooth headphones at the same time, allowing you to enjoy a movie with your partner or a friend on a long flight. The Twelve South AirFly Duo connects to most airlines' systems, so you can use them on both domestic and international flights. It also has a 33-foot reach, so you can listen to audio from a distance.
Bluetooth 5.0 Transmitter and Receiver
The Bluetooth 5.0 Transmitter and Receiver (on Amazon) is the most reliable option if you're a frequent traveler and regularly go on international flights. It allows you to pair two devices at a time, has low latency, and offers multi-connect in TX and RX modes.
If you're looking for the ultimate Bluetooth transmitter that will work on any flight, this is the best option.