In the world of competitive gaming, having the right gear can be the difference between life and death (in the game, of course). So a high-quality mouse is essential for maximum performance and efficiency. And with wireless peripherals gaining more popularity, gamers can pick between a 2.4GHz and Bluetooth mouse. But which is better for gaming?
A 2.4GHz mouse is the better choice, offering faster response times and higher precision accuracy. A Bluetooth mouse may be more convenient because it doesn't require a USB dongle, but they will typically experience some lag, which can be detrimental in fast-paced games.
Every millisecond counts when it comes to competitive gaming. Therefore, you must evaluate every element of your mouse, from the sensor to the buttons, to gain an advantage over your rivals. However, responsiveness is the distinguishing feature of a great gaming mouse, and it all boils down to wireless connection. So, let's look at how 2.4GHz mice and Bluetooth mice differ in this department.
Difference Between a 2.4GHz and a Bluetooth Mouse
Now, let's discuss the main differences so you can make an informed decision about which one to buy.
Connectivity
A Bluetooth mouse connects to your computer or gaming device via a short-range wireless connection. Bluetooth is an open-source protocol, which means most devices have it built-in, and you don't need any additional hardware to use it.
2.4GHz wireless mice, on the other hand, connect to your device via a USB dongle (also known as a receiver). This dongle plugs into your computer's USB port and communicates with the wireless mouse. It also works on radio frequency as Bluetooth, but the specific bands are propriety to the company, and that's why it needs a dongle.
Compatibility
Bluetooth has better compatibility across devices since the source protocol is built into most devices. There is no requirement for a spare USB port which can be an issue for some laptops or smaller devices. However, it does need drivers and pairing set-up in the new device.
Latency & Connection Stability
Bluetooth is a frequency-hopping spectrum, which means it switches frequencies every time there is signal interference from other wireless devices like WiFi routers or headphones. This can cause lagging or "skipping" in the signal, which is not ideal for fast-paced games that require quick reactions and precision movement.
Bluetooth is also prone to signal drops and connection loss, especially in areas with high levels of wireless interference, like large offices or apartments with many people using wireless devices. 2.4 GHz mice, on the other hand, are also less likely to be interfered with by other devices, improving response time and making it the better choice for gaming.
Precision
2.4GHz mice tend to have better tracking precision, making them more accurate for fast-paced movements and high-precision shots in games like first-person shooters or real-time strategy (RTS) titles. They also allow for higher DPI settings, giving you the ability to set the acceleration on your mouse.
Bluetooth vs. 2.4GHz Mouse for Gaming: Which One is Better?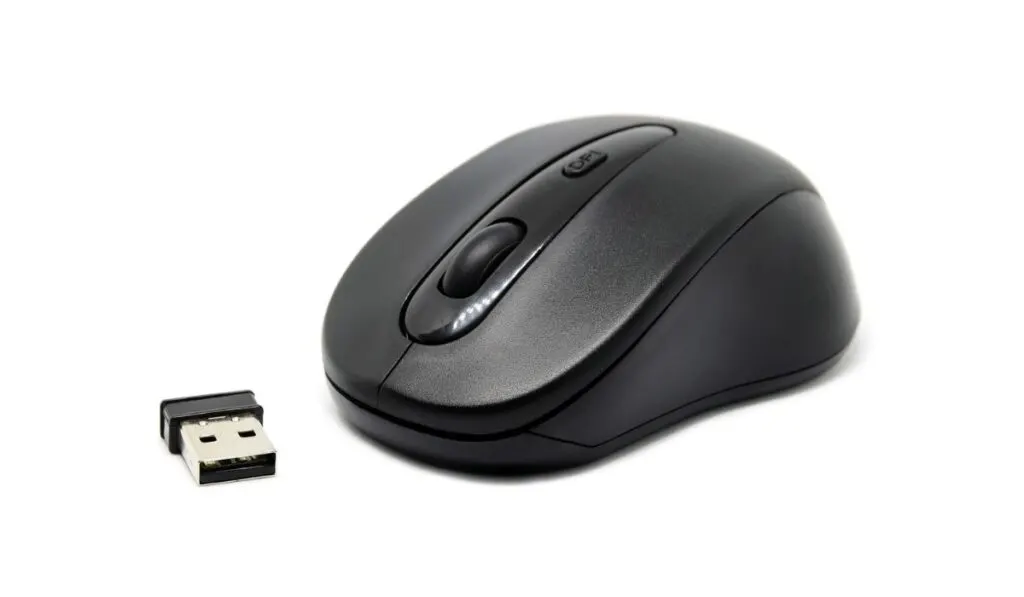 Gaming requires fast reflexes and precise movements; delays or inaccurate tracking are huge disadvantages. For this reason, 2.4GHz mice are a better choice for gaming.
They offer virtually lag-free performance and are more likely to maintain a stable connection. This means you can focus on your game and not worry about your cursor skipping in the middle of a heated battle.
However, if you can sacrifice some gaming performance, Bluetooth mice are more versatile. They don't require a dongle and can be used with a wider range of devices, making them great for travel or use with a laptop. They are also generally more affordable than 2.4GHz mice.
So, if you are looking for a top-of-the-line gaming mouse to take your performance to the next level, only a 2.4GHz mouse will do.
Best 2.4GHz Mouse for Gaming
There are a lot of great 2.4GHz mice available on the market, but these three models have made a name for themselves with their impressive performance and high compatibility rates.
1. Razer Naga Pro
[amalinkspro type="image-link" asin="B08D27XXRY" new-window="true" apilink="https://www.amazon.com/dp/B08D27XXRY?tag=sortatechy0a-20?tag=sortatechy0a-20; img-size="500,474″ addtocart="true" nofollow="true" alt="Razer Naga Pro Wireless Gaming Mouse: Interchangeable Side Plate w/ 2, 6, 12 Button Configurations – Focus+ 20K DPI Optical Sensor – Fastest Gaming Mouse Switch – Chroma RGB Lighting" alignment="aligncenter"]https://m.media-amazon.com/images/I/41VuGehTIwL._SL500_.jpg[/amalinkspro]
If there is one word to describe the Razer Naga Pro (on Amazon), it is "amazing." This mouse boasts every possible feature a gamer could want, and at the top of the list is super-fast 2.4GHz wireless connectivity.
Hyperspeed 2.4 GHz connectivity for smoothest, lag-free response
Contoured shape with textured side grips for enhanced comfort
Programmable DPI setting for on-the-fly cursor speed adjustments
Fully customizable profile and layout for personalization
It has adjustable DPI with maximum speeds of up to 20,000, which means it can keep up with even the fastest movements.
The new light-actuated buttons will make you forget every mechanical switch you have ever used. Razer Naga Pro also boasts 150 hours of battery life on a single charge, so it's impossible to run out of juice in the middle of a battle.
2. SteelSeries Esports Prime
[amalinkspro type="image-link" asin="B093LTGTKP" new-window="true" apilink="https://www.amazon.com/dp/B093LTGTKP?tag=sortatechy0a-20?tag=sortatechy0a-20; img-size="500,500″ addtocart="true" nofollow="true" alt="SteelSeries Esports Wireless FPS Gaming Mouse – Ultra Lightweight – Prime Edition – 5 Programmable Buttons – Lag-Free 2.4GHz – 100H Battery – 18K CPI Sensor – Magnetic Optical Switches – PC/Mac" alignment="aligncenter"]https://m.media-amazon.com/images/I/31SZkPZTnTL._SL500_.jpg[/amalinkspro]
SteelSeries is one of the top names in gaming mice, and their Esports Prime model lives up to that reputation. Living up to the brand's ultra-comfort promise, the SteelSeries Esports Prime (on Amazon) is one of the most comfortable mice on the market.
Right-handed ergonomic design for the ultimate in comfort
Optical magnetic switch for fast, reliable response times
LED lighting with various brightness settings and effects
Customizable RGB lighting
It has curves and subtle slopes to fit your right hand perfectly, and the textured grip offers extra stability when you need to make quick movements. As for performance, this mouse uses TrueMove air optical sensor for precise tracking.
3. Logitech G PRO X
[amalinkspro type="image-link" asin="B087LXCTFJ" new-window="true" apilink="https://www.amazon.com/dp/B087LXCTFJ?tag=sortatechy0a-20?tag=sortatechy0a-20; img-size="500,500″ addtocart="true" nofollow="true" alt="Logitech G PRO X SUPERLIGHT Wireless Gaming Mouse, Ultra-Lightweight, HERO 25K Sensor, 25,600 DPI, 5 Programmable Buttons, Long Battery Life, Compatible with PC / Mac – Black" alignment="aligncenter"]https://m.media-amazon.com/images/I/31Ub3hpjHWL._SL500_.jpg[/amalinkspro]
Proving that less is more, the Logitech G PRO X (on Amazon) is a minimalist gaming mouse that sacrifices nothing in performance. This is one of the lightest wireless mice on the market, weighing only 2.22 ounces.
Advanced HERO 25K sensor for pro-level performance
Lightweight design with a textured grip to maximize comfort
Effortless glide on smooth low-friction feet
Internal storage for the wireless receiver dongle
Despite its small size, it still packs a punch with Logitech's advanced HERO 25K sensor and low-latency Lightspeed wireless connectivity. The G Pro X has zero additive PTFE feet for the smoothest glide possible. The mouse has internal storage to keep your USB dongle safe despite the size.
To Conclude
Wireless technology has come a long way in recent years and is now more reliable than ever. Thanks to the 2.4GHz wireless technology, gamers can enjoy the convenience with the same level of performance they would get from a wired mouse.
Not only does it offers better performance and durability than Bluetooth, but it's also more accurate, which is essential for gaming. So, if you are looking to switch from a wired mouse, 2.4GHz mice are definitely the way to go.