Many gamers are concerned about boarding planes with their gaming consoles. To ease their concerns, the Transportation Security Administration (TSA) has clearly stated that you may bring your gaming console on an airplane. However, there are still some things to note about passing through security checks.
When traveling with a PS5, it is recommended to keep the device in your carry-on bag. Make sure it's well-cushioned and easy to remove for security screenings. The original box or a PS5 travel case serve as ideal packaging, but you can also use clothing, towels, or bubble wrap, to cushion it.
Let's look at the TSA rules and the best practices for traveling with a gaming console so that you can have an easy and stress-free travel experience with your precious PS5 by your side. With a little planning, you'll be on the other side of your trip firing up your game console in no time!
TSA Rules for Gaming Consoles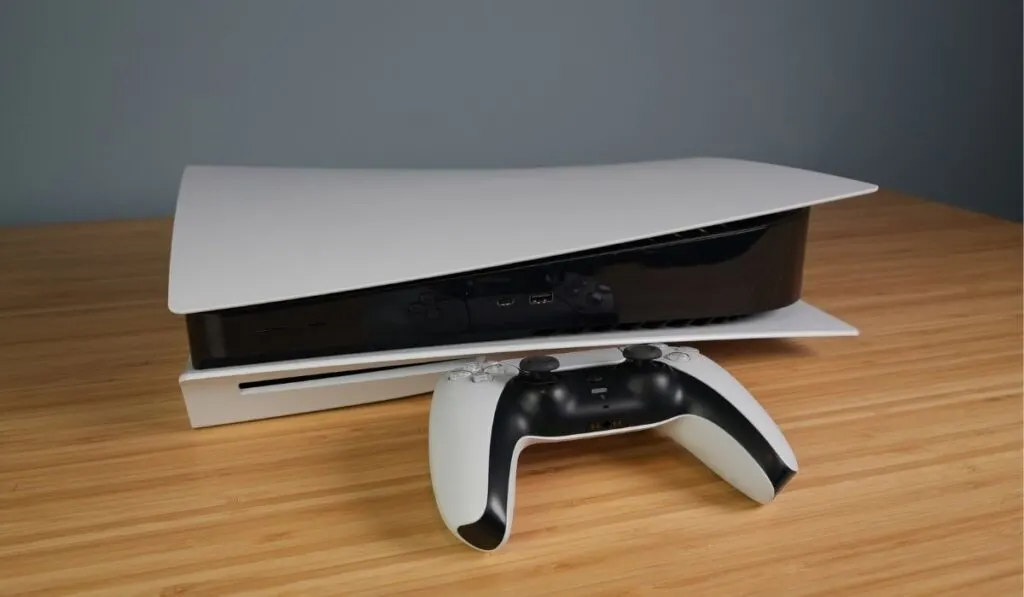 The Transportation Screening Administration (TSA) states unequivocally that you may carry your gaming system through TSA screening and onboard an aircraft. We mention in our Ultimate PS5 Buyer's guide that you may want to do this because you're moving or heading to a big LAN party (haha).
You may bring your gaming console as a carry-on item, which means you can have it with you as you pass through the TSA security checkpoint. You can also have it in your checked luggage, which you drop off near the check-in desk.
The most convenient method for transporting your PlayStation, Xbox, or other gaming console on a plane is as a carry-on. If you bring your gaming console as a carry-on, the TSA will treat it similarly to a laptop.
This means that you will be required to take your PlayStation or Xbox from your carry-on bag and place it in a container so that the x-ray machine can examine it individually. This also means that any cords, controllers, or game discs must be disconnected from your system.
Because your gaming console is relatively large, it will probably be easier to place it in a container by itself and then separate your other items, such as cables and controllers.
If you have TSA Pre-Check, you may be allowed to keep your console in your backpack without having to remove all the cords.
Pre-Check often only requires passing through a metal detector rather than the more intrusive full-body scanners. Pre-Check offers the following advantages:
Shoes, belts, and light coats may be left on.

Laptops can remain in bags.

Liquids (3-1-1 Rule) can be kept in the bag.
It is conceivable that a TSA agent may want to inspect your system and possibly swab it for explosive traces. This will certainly be the situation if your ticket gets marked with a Secondary Security Screening Selection, or SSSS.
How to Navigate TSA With a PS5
Here are some helpful tips for getting through the TSA security checkpoint with a PlayStation 5. For starters, you must make sure that you can remove your console from your bag with ease.
As with a laptop, you will normally be forced to remove your console from your suitcase before placing it on the conveyor belt to be x-rayed. The TSA recommends you place your PlayStation 5 console in a separate container to be searched.
If you neglect to remove the console yourself, you'll probably be escorted off to the side and have your luggage checked manually. If there is a lot of traffic at the checkpoint, this could make the security screening process a lot longer.
If you have TSA PreCheck, you rarely need to remove your gadgets, although you may be questioned on rare occasions. Make sure you pack your console so that it's easy to get out if you need to.
Carry-On Vs. Checked Luggage
Which suitcases are better for traveling, carry-on or checked luggage? Your baggage selection has an enormous influence on your traveling experience.
If you're considering purchasing your first piece of luggage, you may wonder which model to purchase. Even if you're an experienced traveller, you may have difficulty deciding between checked bags and carry-on.
Carry-on baggage is ideal for those who like to travel light. Without checked bags, you may save money on baggage fees and travel through airports more quickly. Carry-on bags are available in a variety of sizes to meet your needs.
Pros of Carry-on Baggage
Fast check-in – With no checked luggage, you can skip the ticket counter and get your boarding pass from self-check kiosks or apps on your phone.
It's less costly – You will not be charged for carry-on luggage (unless the airline also charges for carry-on).
Speedy arrivals – You don't have to wait for your luggage to come off the baggage carousel when you get off the plane. You can go right through customs and out of the airport without having to wait for a bag.
Easy packing – If you're often changing destinations and hotels, a carry-on allows you to easily pack your items.
Cons of Carry-on Baggage
Issues with overhead storage – Not all flights have enough overhead bin room to store everyone's carry-on bags. This means yours may have to be checked.
Children and carry-on luggage – If you're travelling with children and using carry-on luggage, each child will probably have their own carry-on. That is a lot of stuff to track, and you may be better off checking in luggage.
You'll always be carrying it – Your carry-on bag will be with you the whole time, which can be tiring when you have long layovers or have to walk a long way to get to the next gate.

Winter troubles – If you're going to a particularly cold place, you probably won't be able to fit all of your clothes into a carry-on bag.
Slower security – If you don't have a carry-on bag, you can proceed through security more quickly.
When should checked luggage be used? For serious travelers, checked baggage is the best option. It's also the best option if you want additional packing room, particularly if you intend to return home with lots of souvenirs and gifts.
Pros of Checked Baggage
No need for worries – You won't have to worry about whether the airline determines that your carry-on is too large or if the overhead lockers are large enough. You also don't need to be concerned about lost luggage, since incidences of missing bags have decreased significantly over the previous decade.
You have more packing space – Checked-in luggage may carry up to a month's worth of clothing, allowing you to bring a more comprehensive wardrobe.
Bring anything you want – Would you like to bring an extra pair of shoes, extra clothing, or a clothes steamer? You have the space to do so with checked luggage.
Ease of movement – Once checked in, you may walk around easily without lugging around a large suitcase. While you'll certainly want a small carry-on for your basics and devices, lugging a tiny bag through the airport is considerably easier than pulling a huge carry-on.
Cons Of Checked Baggage
Exorbitant baggage fees – Checked bags can add considerably to the cost of your journey.
Issues with layovers – While many airlines have arrangements to transport checked luggage during layovers, some do not. This may entail checking your luggage, disembarking from the first leg of your trip, collecting your luggage, and then rechecking it with your new airline.
Moving large bags is difficult – When traveling to and from airports, large check-in luggage is difficult to move. This difficulty can be mitigated by selecting lightweight baggage.

Delayed baggage claims – After a long journey, the last thing most travelers want to do is wait at a baggage carousel for their bags.
Bringing a PS5 in Carry-On Luggage
If you want to bring your console as a carry-on, we recommend placing it in a backpack or bag with a sleeve or compartment large enough to hold the console snuggly.
The fit should be secure enough that the console does not bounce about in your luggage, but not so tight that it becomes difficult to remove.
Some individuals purchase specific bags for their consoles, such as this PS5 bag (on Amazon). While this is a great way to find a good match, publicizing the fact that you are carrying an expensive gaming system is not always a good idea. Thus, an inconspicuous PS5 bag is preferable.
Segregate all of your gaming goods before passing through security to ensure that you pass quickly and without holding up the queue. Avoid wrapping your cables around your console or using any other slow-moving storage approach.
Bringing a PS5 in Checked Luggage
Again, you may bring your game console on a plane by checking it with checked luggage. This is not advised for a variety of reasons. With managing checked bags, baggage handlers are not the most elegant.
Therefore, if you want to bring your console in checked luggage, do your best to protect it with plenty of bubble wrap, foam, or something similar.
Another reason to avoid checked baggage is that your console could be stolen. While it is uncommon, goods do occasionally go missing after being dropped off by an aircraft.
How to Safely Pack Your PS5 for Travel
The most secure method to transport the PS5 is to pack it securely in your carry-on bag or a specific PlayStation 5 travel case. You may bring your PlayStation 5 through the TSA security checkpoint. If possible, avoid checking the PS5 in your checked luggage.
Use the Original Box
Consider packing your console in its original box if you still have it. This will help keep it safe in your baggage. For this purpose, the PS5's packaging is ideal. If you recently acquired a console and still have the box, you may desire to keep the box for future travels.
This is the quickest and most secure way to package up your console. The console can then be slid into your bag, but only if it is in its original packing.
The box should not be taped shut if you are traveling and intend to put the console in your carry-on luggage.
TSA security checkpoints typically ask you to remove your console from its packaging. If you have TSA PreCheck, no one will force you to remove your device, although this is not always the case.
Use Your Suitcase
You can also place your console directly into the suitcase. This is the riskiest method because it might leave your console vulnerable to harm, especially if you're in the air. While using this technique, you should place soft things on both sides of your console. Clothing, towels, and other textiles can provide padding.
If you're just traveling on the road, then this option makes more sense. But to avoid damaging the suitcase, you'll need to take extra precautions and pack it securely.
Use a Specific Travel Bag
If you don't have the original packaging, a cardboard box of a similar size may work just as well as a replacement. The console should be placed in a box and wrapped on all sides to keep it safe.
You can also use air pillows for support since they are more ecologically friendly and do not create a mess when discarded, as foam does. If you are traveling and wish to transport your console in your carry-on bag, it is unnecessary to seal the console box.
The Best Travel Bag for Your PS5
The Topaty PS5 Storage Suitcase (on Amazon) is the best travel bag for your PS5. As one of the first cases created particularly for the PS5, the Topaty Storage Bag is great for individuals in need of a large, sturdy hard case.
It is scratch-resistant, shockproof, dust-proof, and even water-resistant because it is made of sturdy yet luxurious EVA hard foam.
Size and Quality of the Build
This case is shaped like a suitcase and measures 15.3′′ x 17.7′′ x 5.5″. It has a zippered enclosure around three of the sides and a hinged fold to expose the main area. On top is a supple leather-wrapped grip that seems suitable for the job.
If you look closely, each side features an integrated metal eyelet for attaching the accompanying shoulder strap. The strap itself features an excessively large pad and adjustable points for reducing or extending the strap as desired.
Overall, it appears to be well constructed, robust on all fronts, and outfitted with ample protection to provide peace of mind.
Internal Parts
Inside the case, a hard-shell foam is covered in a soft nylon fabric in the same form as the PS5 console. Again, two additional pockets are perfect for holding two controllers. Two built-in velcro straps hold the console and controlled compartments.
A zippered enclosure may be seen on the inner lid. The AC adapter, USB cables, headphones, and a few games or other peripherals may all be stored here. It's not the roomiest, so you're unlikely to fit more than a few games.
The primary disadvantage of the Toptay storage luggage is its small inside pocket. It's acceptable, but things get very cramped when all the equipment is crammed in.
There is a minor problem with the grey fabric material used on the outside: It looks fantastic and feels luxurious, but lacks the toughness necessary to resist stains and ripping.
FAQ: Flying With a PS5
Can I Fly With My PS5?
The TSA allows you to bring a Sony PS5 console on an airline as a carry-on or checked bag. If you're taking it on a plane, treat it like a laptop.
Is the PS5's Battery Lithium?
The PS5 controller has a rechargeable Lithium-Ion battery. This is especially important to be aware of when traveling. You must observe all lithium-ion battery safety rules.
How Do I Keep My PS5 Safe While Traveling?
The PS5 is best packed in a carry-on bag or a specialized PlayStation 5 travel case. You may bring your PS5 through TSA screening. If possible, avoid checking the PS5.