Smart home devices are replacing our traditional lights, locks, and appliances, enabling us to experience the luxury of automation both inside and outside our homes. The smart garage door opener is another such device, now integral to the modern home. Chances are you already love the convenience of controlling your garage door with the tap on your phone. But is it really as safe as it seems? Can a hacker gain access to your smart garage door opener?
Your smart garage door can be hacked. Hackers can access your smart garage system through your WiFi network. Even the traditional remote-controlled garage openers can be hacked using code grabbers, jammers, or signal transmitters.
Since smart garage door openers have bought us a whole new level of convenience and comfort, it is easy to forget that these electronic devices are still vulnerable to cyber-attacks. If you're concerned about your garage door security, keep reading. This article will explain how garage door openers work and how hackers exploit them.
Can My Smart Garage Door Opener be Hacked?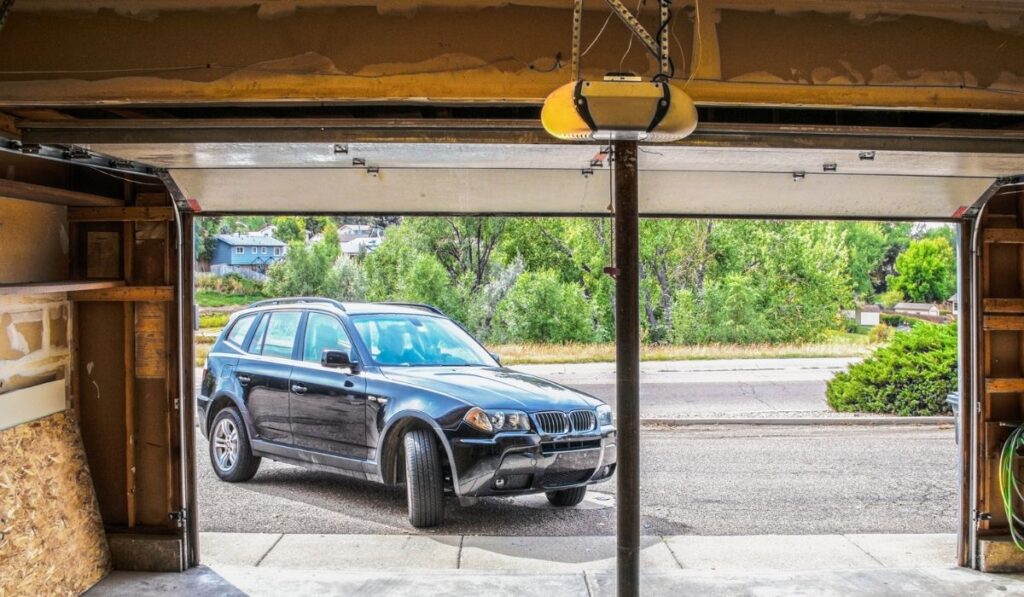 Unfortunately, yes. Smart garage opener systems are indeed equipped with advanced technology and security features, but they can still be hacked. To understand how hackers can exploit smart garage door openers, we'll first need to dig deeper into the technical side of their operating system.
Samar garage door openers work through a WiFi network and remote access API technology. It allows the user to control the device through a smartphone application. This means you can open or close your garage from anywhere in the world. It also provides remote updates in the form of live status reports and notifications.
The vulnerability of the system also lies in the same remote access. It is a wireless connection, which means every time your garage opener or smartphone transmits a signal, it's encrypted to the cloud, then to the other device, and then it travelers back through the same encryption. Though several layers of security protocol secure the whole process, a single weak point in the connection can expose your garage door to a cyber-attack.
Another possible way of hacking a smart garage opener is through your internet routers. Since all the data passes through them, if a hacker gains access to your router, they can directly connect to your garage door opener. A hacked router would also mean all your connected devices are exposed to potential cyber-attacks.
Here we should mention that not just smart garage door openers are vulnerable to hacking. Traditional electric garage doors are equally exposed to hacking. So you understand, let's just briefly go through how they work.
How Traditional Garage Door Openers Work
The old-fashioned garage door openers worked through radio transmitters and frequency codes. The earlier versions used fixed codes, meaning that one device worked on the same set of codes.
The "on" and "off" dip switched in remote controls needed to match with the 8-10 bit short code sequence from the door opener. As a result, it was easy for hackers to flip some possible codes, crack the pattern, and access the garage.
Later the technology was upgraded with rolling codes. Still widely used today, these codes change randomly every time a signal is activated.
The synced devices are programmed to recognize the new code, so hackers need to crack a new code every time. This makes it extremely difficult to break into, but not entirely impossible. Hackers can use jamming devices or code grabbers to intercept the signals and steal the new codes.
Are Smart Garage Door Openers Safe?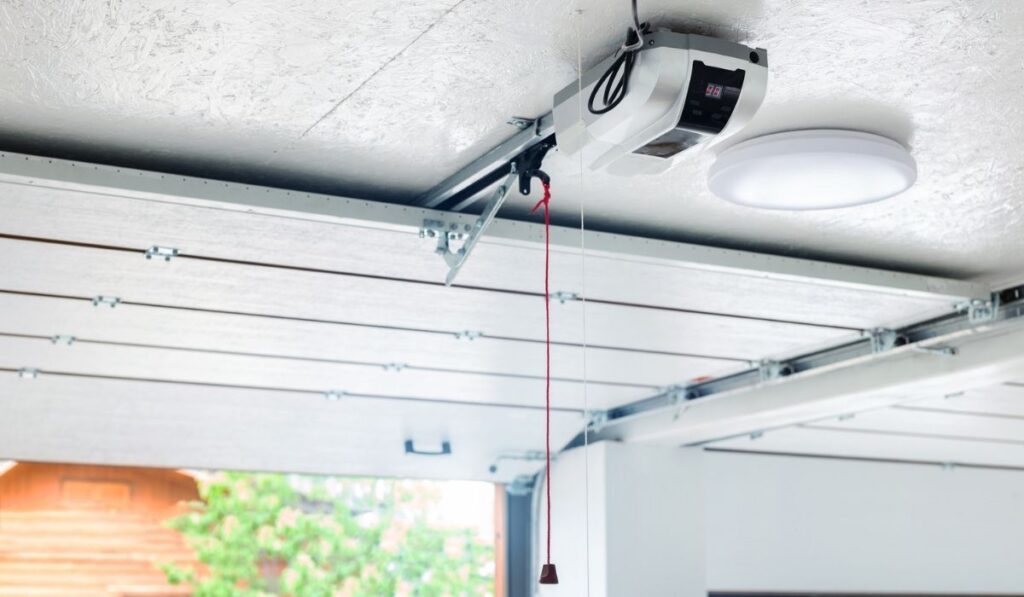 Small garage door openers are the most advanced and safest door openers out there. However, unfortunately, there are no smart garage door openers that cannot be hacked. All you can do is make it more difficult for intruders to try to gain access to your smart network system.
All the smart garage door openers use the latest encryption technology. The stronger the encryption, the harder it is to crack. Additional security measures like facial recognition, two-way authentication, fingerprint sensor, etc., are also implemented by most manufacturers.
In addition, systems are equipped to block any suspicious connection and notify the owner immediately. With smart systems installed, you will be aware of any unusual activity around your garage door as soon as it happens.
Direct management through apps and alerts ensures you stay connected at all times, no matter where you are. These features certainly make smart garage door openers more secure than traditional ones.
Are Rolling Garage Door Openers Safe?
Genie, a door opener manufacturing company, introduced the first rolling code security system in 1995, which was widely adopted by other manufacturers later. As mentioned above, this type of opener generates a different code for every new transmission. Rolling code technology made garage door openers much more secure than their earlier counterparts. These systems are still used today and considered safe for basic security.
However, rolling codes can be hacked with the help of code grabbers and jammers. Hackers can intercept the signal with the help of code grabbers and then use jammers to block the door opener from receiving any updates. Then they can use the stolen code to enter your garage.
So rolling core openers are pretty secure but not the safest. Modern systems combine rolling codes with additional security measures like time-based algorithms and encrypted trans receivers to make your garage door opener even more secure. We recommend if you keep valuable stuff in your garage, please upgrade to a smart garage door opener that has multi-layer security.
How to Prevent My Smart Garage Door Opener From Being Hacked
So now that we covered how smart garage door openers work and how vulnerable they are, the question is how you can further secure your smart door opener.
As the security tech gets more sophisticated, hackers are finding ways to outsmart it. So the best way to stay ahead of the game is to be aware of the latest security threats and update/upgrade your system accordingly.
We'll discuss some of the best practices below. Don't worry, although there are a couple of bucks to put in, there is nothing too complicated.
1. Get a System Equipped with All of the Latest Security Features
Your first line of defense is to get a secure system updated with the latest security features. This includes:
Two-way authentication: This feature requires user authentication before giving access to the door opener.
Facial recognition: Recent systems also feature facial recognition only to allow entry to homeowners.
Strong firewall for WiFi: Since the WiFi network is the most valuable part of smart homes, a strong firewall is needed to block any suspicious connection.
Fingerprint sensor: This feature is similar to facial recognition and allows entry only to authenticated users.
Always make an effort to find trusted garage door service providers – a good company can make all the difference. Make sure they use the latest security features in your system and provide continuous technical support.
2. Install Additional Security Measures in Your Garage
Beef up your garage door security by installing surveillance devices. That can include:
Interior and exterior security cameras: Security cameras can help monitor the area around your garage door. It is useful for identifying possible thieves and their vehicles. These days, you can even get cameras with facial recognition capabilities. Cameras are also a visual deterrence for would-be thieves.
Motion sensors: Motion sensors can be a great addition to your garage for high-security areas. These sensors can detect suspicious movements around your house, especially near doors and windows.
Alarms: Alarms connected with motion sensors and security cameras alert homeowners or the authorities in case of any suspicious activity.
Motion sensitive lights: These lights will add another layer of security and scare off potential criminals.
This equipment is affordable, and you don't have to go overboard. In addition, you can monitor and control these remotely, so even if you get alarms when you are away, you can still contact the authorities.
3. Keep Your Garage Door Locked When Possible
Not an idea that can be missed, but many people tend to forget about it. A door locked with a deadbolt lock, anti-kick device, or security hasps is much less likely to be hacked.
Especially if you have to stay away for long periods, make sure you put a deadlock on your garage door. Also, block the windows and put a sign that your garage is alarmed. Also, keep your remote control in a safe place. Leaving it in cars and other unsecured areas is really not a good idea.
What are the Safest Smart Garage Door Openers?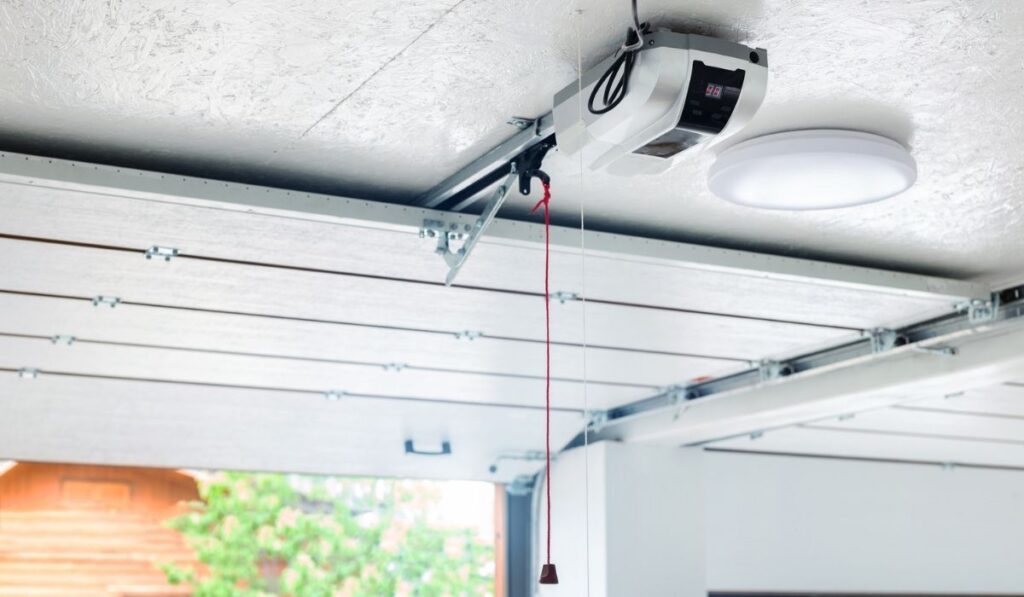 The safest smart garage door openers are the ones that come with multi-layer security measures, in-car and app compatibility, WiFi firewalls, and up-to-date firmware. But of course, security is not the only factor you should consider. You also have to look into the compatibility with smart home systems, installation, quality of operation, and price.
To make your life easier, we have compiled a list of the top 5 smart garage door openers. All of these are recommended by professionals and have great reviews. So, let's check them out.
Chamberlain B970T tops the list of the safest smart garage door opener with a great lineup of features and strong security. This device has built-in WiFi, a battery backup system, and a wireless keypad. The best part about this opener is MyQ Technology.
It allows users to control their garage doors from any location with web browsers, smartphones, and tablets. In addition, the device is compatible with most major smart home systems, including Apple HomeKit, Wink Hub 2, Google Assistant for voice control.
A whopping ¼ horsepower motor
Belt drive for ultra-quiet performance
Tri-band WiFi for stable connectivity
MyQ Technology for easy control
In garage delivery by Amazon Key
The installation process might be difficult for beginners because it requires hardware modifications. However, there are instructions available online to help you out.
2. Skylink ATOMS AT-1611 Smart garage door opener (on Amazon)
The next device on the list is great for users looking for smart garages at an affordable price. It, however, delivers more than just smartness and provides high-security levels with ultra-quiet performance. The seamless device has a powerful DC motor with a backup battery. An integrated display system and motion sensor with push notifications make this opener great for home security. Also, the device is straightforward to install, even for beginners, with all hardware and tools included.
Great design and easy installation process
Battery backup system for security during power cuts
Comes with an extension kit
Compatible with most major smart home systems and has in-car compatibility.
The soft start and stop feature keeps the door from becoming damaged
3. Craftsman ½ Horsepower HP Smart Garage Door Opener (on Amazon)
The Craftsman opener comes with the brand's patented belt drive system. It delivers ultra-quiet performance and can be easily installed by users. The device comes with a power backup system and a ¼ horsepower motor. Like the previous one, this opener also supports MyQ app technology and a secure remote keypad for convenient access.
Surprisingly quiet and smooth operation
Energy efficient (only needs 1 watt of power on sleep mode)
Hardwired installation is easy
¼ horsepower motor handles doors up to 7ft
Compatible with IFTTT
This device is not compatible with other smart home devices and doesn't have motion sensors for alerts.
4. LiftMaster 8500 Elite Jackshaft Operator (on Amazon)
Another highly recommended device with MyQ technology and great security features. This device has a P3 motor powered by a lithium-ion battery and an in-built spring lift system. The best part is that it's mounted on the wall and much easier to install than ceiling-mounted openers.
Ultra-quiet performance and smooth opening and closing
Excellent for sloped ceilings
Power backup by battery
5. Tailwind iQ3 Premium Smart Garage Door Opener (on Amazon)
Last but not least, the Tailwind opener comes with a unique Bluetooth keyless entry system. The system identifies your car's location and opens the door automatically. In addition, the myQ app allows you to remotely control your device and integrate it with all the major smart home systems, making it a great performer.
Expandable up to three garage doors
No remote, keyless entry system
Integration with Alexa, IFFT, and Google Assistant
Though technology has made modern life easier, it has also opened a pandora's box of security concerns. The risks are not limited to our smartphones but have spread into other smart appliances like garage doors. So, it is essential to keep your systems and devices updated and make sure they are not vulnerable to security threats.