Over the last few years, there has been a shift in the workplace environment where many people are choosing to work from home and now require webcams for meetings. It's important to select a webcam with a long enough USB cord so you can sit wherever you want while staying in the frame. Some kinds clasp onto your computer or stand out from your computer. You may be wondering if you can use your old webcam and somehow extend the length without affecting the quality.
You can extend the reach of a USB device by using a USB Cable Extender. Some USB extenders don't carry all the data from one end to the other, but you can look for specs like "5GBPS High-speed" or "USB 3.0" to ensure your extender will allow something like a Webcam to function properly.
You can find so many different webcams online, and you can also find different webcam USB extenders. You can purchase these at your local electronics store or even online. You will want to pay attention to the length or style of the USB. All of the information will be listed on the packaging or in the features section.
Extending a Webcam's USB Cable Length with a USB Extender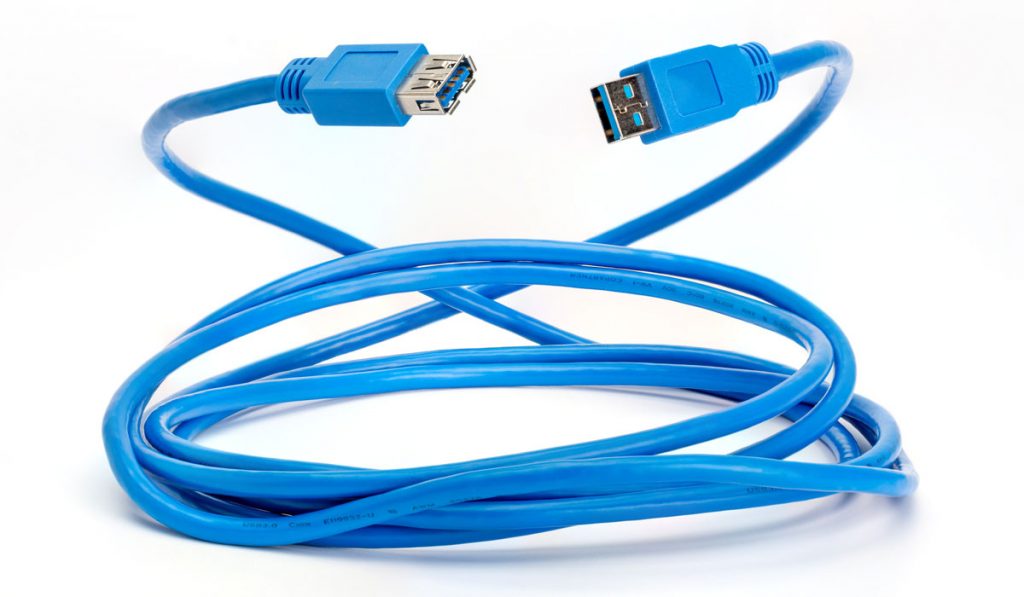 If you have not yet seen a USB extender, one side is like a standard USB, but the other side is a female USB port (exactly what you would typically plug a USB cable into). This space will fit your webcam's USB. It is practically a long wire that helps the energy stay connected to your computer. Many times these are cheap and affordable options to get a better range for your webcam.
The Nimaso USB Extension Cord (on Amazon) can be a really excellent choice for those looking at USB options. This comes in a pack of two, and both cords are super durable and robust. There is a male-to-female side, and it's straightforward to use. It is 3.3 and 6.6 feet long, leaving you a wide range of options on where to place your webcam. This cord is good for computers, printers, wireless keyboards and is compatible with most computers.
AINOPE is a 10-foot extension cable (on Amazon) that is another budget-friendly option for you to choose from. It can come in three different colors, but unfortunately, you only get one instead of a pack of two. It has a high data transfer making it great for keyboards, webcams, or even printers. The cord itself is thick and durable. This is also good if you are looking for fast charging on your cell phone or anything else.
Though adding an extender is a great way to get a wide range of options for your webcam, sometimes this just doesn't work. Why? It depends on the webcam and your computer. Not all computers now come with USB ports, and not all web cameras are meant to be plugged into your computer. This can be very complicated. Before buying anything, you will want to make sure your computer has a USB port and understand what kind of plug your webcam needs before purchasing.
Why Some USB Cables Won't Work for Extending Webcam Length
Not all USB cords are made with the same quality, unfortunately. Most of the time, if your laptop has a USB place, it will work. Unfortunately, if you buy a low-quality cord, there is a higher chance of it not connecting at all. If you are connecting a USB to a laptop and then another USB in the second slot, there is a chance that your cords are drawing too much energy from your laptop. This means lower quality, or it won't function at all.
The best way to figure out why your USB may not be working is to take a step back and observe. Try plugging in one thing at a time. You may find too many things are plugged in. If that doesn't work, look at the packaging, you may find that it is drawing too much or too little power due to the cable's length.
What About Wireless Webcams?
Wireless webcams are a fantastic option because you can place them anywhere within the range of your laptop. You can use your USB plugins for something else, and it will save energy on your laptop and webcam in the future. This is a great option if you have meetings all day long and need many things plugged into your computer.
The downfall to this option is that wireless cameras tend to be way more expensive than the average webcam. Why? They have to bring their own battery in to keep it running to transmit the video. Traditional webcams are connected to the USB for power. Unfortunately, if you are looking for a budget-friendly solution, the standard webcam with an extender is still your best option.
Our Takeaway
In most cases, an extender for a USB is a great choice and can help amp up your webcam. This is a great way to create extra space or get the right angle to showcase a project you have been working on. If you can afford it, we highly recommend investing in a wireless camera because you will be able to place it anywhere within range and not need to worry about drawing in too much power from your laptop.