There are a number of reasons you might want to record a conversation (we're not here to judge!) But many people trying to figure out how to do this may have considered purchasing a dedicated recording device. What people may not realize is that their smartwatch actually has all of the hardware required to record a conversation. But is it really possible to record a conversation using a Smartwatch?
It is possible to record a conversation using a Smartwatch. For both Android and Apple Smartwatches, there are apps available for audio recording. Some are third-party and some are stock features. First, verify that your Smartwatch has a microphone, and then consider checking the rules and regulations around recording people in your state.
As always, the devils are in the details with newer technology, and Smartwatches are not spared these essential growing pains, including when you try and set them up with your music player (our guide). Fortunately for most Smartwatch variations, when recording audio there are a good number of app options, and each one handles recording and file storage issues a bit differently. The bottom line: experiment and see what works best for you, and do it ahead of time, so you know how the app you downloaded works before you have that conversation you'd like to record.
How to Record Audio on Smartwatches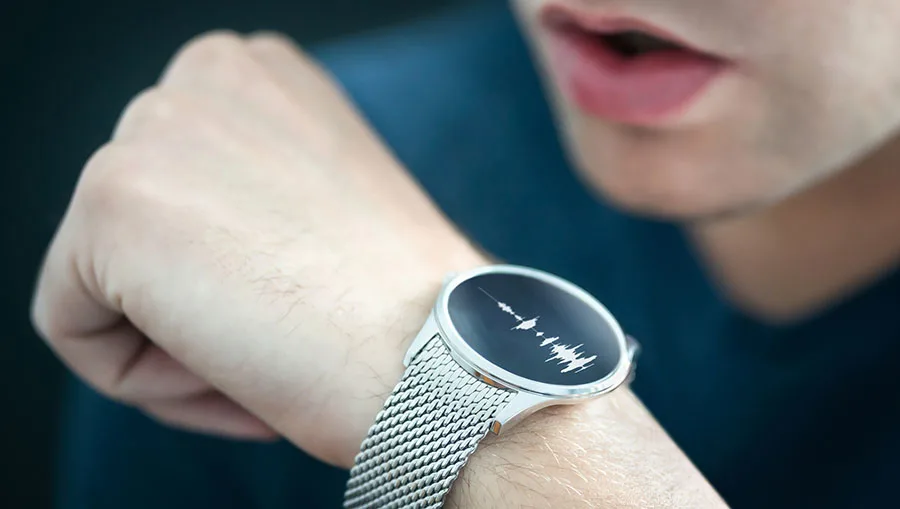 It's easy to imagine why it might be good to have the ability to record audio with a Smartwatch like the Samsung Galaxy Smart Watch (on Amazon). For copious note-takers, it could prove to be a helpful tool for recalling important meeting or lecture information. Having a place to leave voice memos might ensure that you don't absent-mindedly forget the dry cleaning the next time.
Perhaps recording a conversation could come in handy for an encounter that is particularly meaningful. Or it could prove to be especially useful for strengthening a legal argument. In these cases, there are a bevy of laws in the United States that may require consent from all parties involved. Consent laws differ at the state level, so find out what you need before being surprised in court. This article is specifically not about whether or not you should do this, only about whether it's technically feasible.
And on that technical end, the demands for recording conversations are not hard to fulfill. If you're using or considering a Smartwatch that can make audio recordings, there's an easy way to know if it's capable: if it can handle phone conversations, that means it has a microphone, which means the question of recording a conversation is just a question of software. Finding a downloadable app that you can use in this way is all that's necessary to get your audio recording efforts off the ground.
Record Audio On an Apple Watch using Voice Memos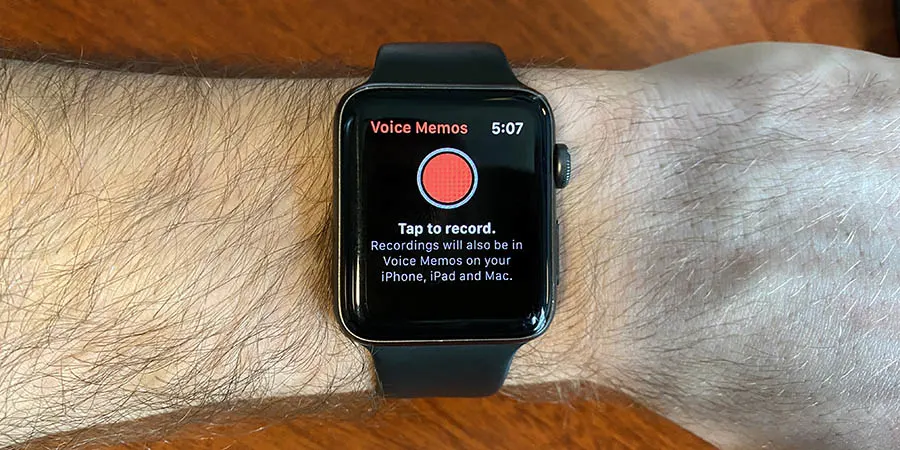 Apple Watches, and indeed all iOS devices, have a stock app called, "Voice Memos." It's free and easy to use, just indicate in the app where you want to store your audio recording files, then press the red button. Once you've made a recording on an iWatch, it sends the file to your wifi-connected iPhone or to your iCloud account.
In addition to Voice Memos (as well as using it for payment – our guide), there are a number of other third-party apps that can record audio with expanded grace and flexibility. In addition to the features present with Voice Memos, Voice Record Pro adds the ability to select an audio file type, and also expands options on file transfer. Voice Recorder HD, SimpleMic, and Just Press Record are some other good options.
Additionally, the apps Voice Recorder/Audio Editor, Voice Record Pro 7, and Awesome Voice Recorder, offer in-app editing features that allow cutting and pasting audio segments, as well as adding equalization and other effects.
If you want additional cool fiddly tools for your audio recordings, these are good options, but they are not free. In general, this is great news: there are free options to get you recording audio from your Apple Watch now if you want, and there are other paid options that allow you to figure out more details if you need that functionality.
Recording Audio on an Android Smartwatch
For smartwatches that are compatible with the Android operating system, there are more options when it comes to recording audio. This is unlike Apple – the sole manufacturer of its brand – who gear its software towards a specific set of proprietary iOS devices. There are many manufacturers and devices that support the Android OS, in its myriad of forms.
There are a good number of "smartwatches" available that offer audio recording capabilities, but the majority of these devices are not Android-compatible Smartwatches and lean towards the "knock-off" end of the spectrum. As with any Smartwatch purchase, be sure to research what you're getting into, and determine if it can integrate well with your existing devices.
Good Android Third-Party Applications for Audio Recording
As far as third-party apps that support audio recording for Android Wear, a few good ones are: Titanium Recorder, Easy voice recorder, Sony Audio Recorder, RecForge II, and Smart Voice Recorder. Each one varies in price from free to about $4, and also in the number of features offered.
A third-party audio recording app that looks particularly useful for this purpose is Wear Audio Recorder. It has the advantages of creating useful high-quality audio files; it offers echo suppression for helping keep background noice out of your recording; it records "invisibly" without a visible indicator on the Smartwatch face, and it works with Dropbox and Google drive.
A Note on Liability When Recording Audio Without Consent
When recording a conversation, laws in certain states require verifiable consent from all the parties being recorded. Always check the local laws to make sure about the consent requirements before you set up the interview. Again, this article is really not making any claims about whether or not you should use your smartwatch to record a conversation, just about whether it's possible in theory.