As PCs become more compact and laptops evolve into slim notebooks, computers are losing components such as DVD drives and Ethernet jacks. In addition, wireless networks are growing in popularity, reducing the need for manufacturers to include Ethernet connectivity in many computing devices.
You can use USB-C or Thunderbolt interfaces if you want to hook up a computer with no Ethernet port to a wired internet connection. An adapter can help you connect Ethernet cables to a USB-C port. Most Ethernet to USB-C adapters are easy to use and compatible with most machines.
Even with advancements in Wi-Fi technology, wireless internet presents some unique challenges, including cyber threats. However, wired connectivity is simple to set up and secure. So Ethernet to USB-C adapters are handy additions for connecting to a network using a wired Ethernet connection. Keep reading to learn how to connect Ethernet cables to a USB interface.
What is the Purpose of a USB-C Port?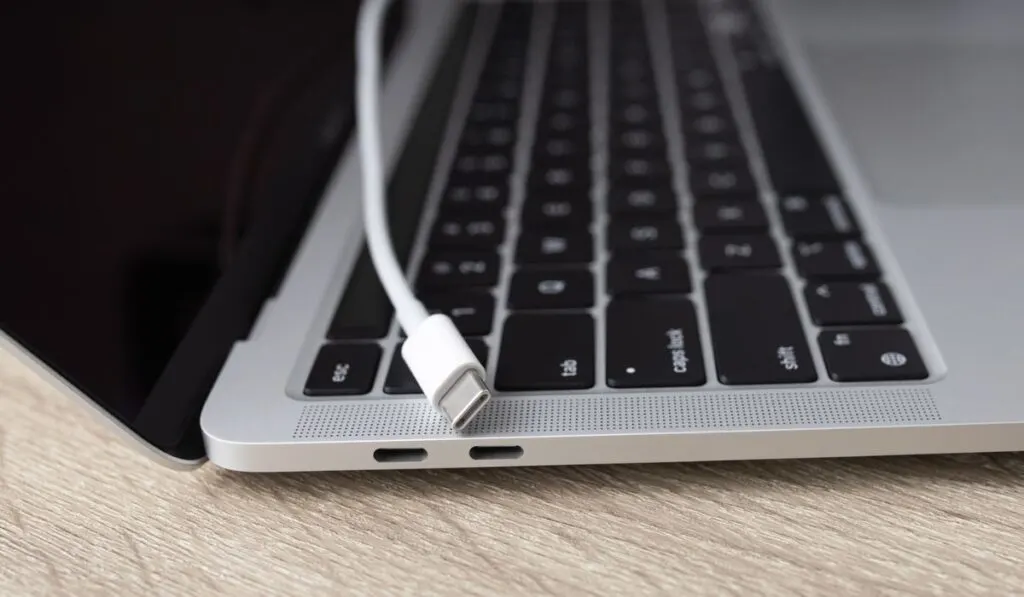 Commonly referred to as USB Type-C, USB-C is an industry-standard connector for transmitting data and power through a single cable. In addition, this connector can support many new USB standards like USB Power Delivery (USB PD) and USB 3.1.
The USB-C connector is immediately recognizable because of its distinct oval shape with rounded corners. Its symmetrical shape and reversible layout simplify installation. This connector is narrow enough to fit on mobile devices like phones and gaming consoles.
USB-C ports facilitate the simultaneous transfer of data and power and support audio and video data signals. With high data transfer speeds, these cables boost productivity and save time.
How They are Used
Typical uses of USB-C connectors include charging portable devices, such as:
Laptops and notebooks.

Smartphones.

Security cameras.

Power banks.
Although standard USB-C connectors can deliver 2.5 watts of power, some use the Power Delivery protocol to achieve a wattage of up to 100 watts. This functionality allows the charging of high-wattage devices. In addition, it is bi-directional, meaning a device can send or receive power through a USB-C port.
Compatibility
USB Type-C ports can support various protocols through alternate modes. In addition, their design allows you to use adapters that can output DisplayPort, VGA, HDMI, and other connections like Ethernet from a single USB-C port.
The USB-C connector isn't physically backward compatible, but its standard is. Unfortunately, you can't connect legacy USB devices to the compact USB Type-C port, but that doesn't mean you have to discard your old computer peripherals.
You need accessories like adapters to get the most out of the USB-C specs. Use a physical adapter with a USB-C connector on one end and the connector you need on the other to plug devices into a USB-C port.
What is an Ethernet Cable?
Ethernet or network cables are wires that run from a modem, router, or network switch to your computer, providing access to a Local Area Network (LAN) for reliable wired internet.
They come in varying lengths and colors but have the same connector on each end. Equipped with a secure connector, they snap snugly into place, making it hard to pull them out accidentally.
Advantages of a hardwired internet connection include fast speeds and increased consistency. With no walls and objects blocking wireless signals, Ethernet connectivity reduces the chance of sudden internet speed drops. If your device lacks an Ethernet port, you'll need a USB-C adapter.
Can USB-C be Used with an Ethernet Cable?
Connecting an Ethernet cable to a USB-C port is possible using an adapter. Although many modern devices lack Ethernet ports, Ethernet to USB Type-C adapters enables wired internet connectivity. They add an Ethernet port to your computer and deliver a fast gigabit internet connection.
What Adapters Should You Buy?
USB-C to Ethernet adapters come in various designs to match your computing requirements. Some have a single Ethernet port, while others are USB-C hubs.
When buying a new USB-C to Ethernet adapter, consider:
Length limitations.

Build quality.

Compatibility and capacity.
Below are some of our top picks:
1. AmazonBasics USB 3.1 Type-C to 3 Port USB Hub with Ethernet Adapter
Transform your computer's USB-C port into an internet hub using the Amazon Basics USB 3.1 Type-C to 3 Port USB Hub (on Amazon) with Ethernet Adapter. Its fast USB and Ethernet data transfer speeds of up to 5 Gbps help boost productivity.
This adapter delivers 1000 BASE-T network performance and is backward compatible with 10M/100Mbps networks. With simple no-driver installation, it is compatible with Windows and Mac OS. Choose between black and white models to match your other gear in your computing setup.
2. Anker USB-C to Ethernet Unibody Aluminum Adapter
The Anker USB-C to Ethernet Adapter (on Amazon) is a compact accessory that can fit in your pocket, saving you space. In addition, it offers broad compatibility across popular platforms like Chromebook and MacBook Pro. Crafted with an aluminum body, this adapter can withstand bumps and impact. Its thick ABS plastic ensures durability. Use the built-in LEDs to monitor connectivity status.
3. StarTech.com USB 3.1 Type C to Gigabit Ethernet Adapter
Add GbE connection to your computer using the StarTech.com USB 3.1 Type C to Gigabit Ethernet Adapter (on Amazon). It is compatible with Thunderbolt 3 for added convenience. This adapter supports a 5Gbps bandwidth for the speedy transfer of bulky files. It has a Realtek RTL8153 chipset, eliminating the need to install special drivers.
How Do You Connect an Adapter to a USB-C Port?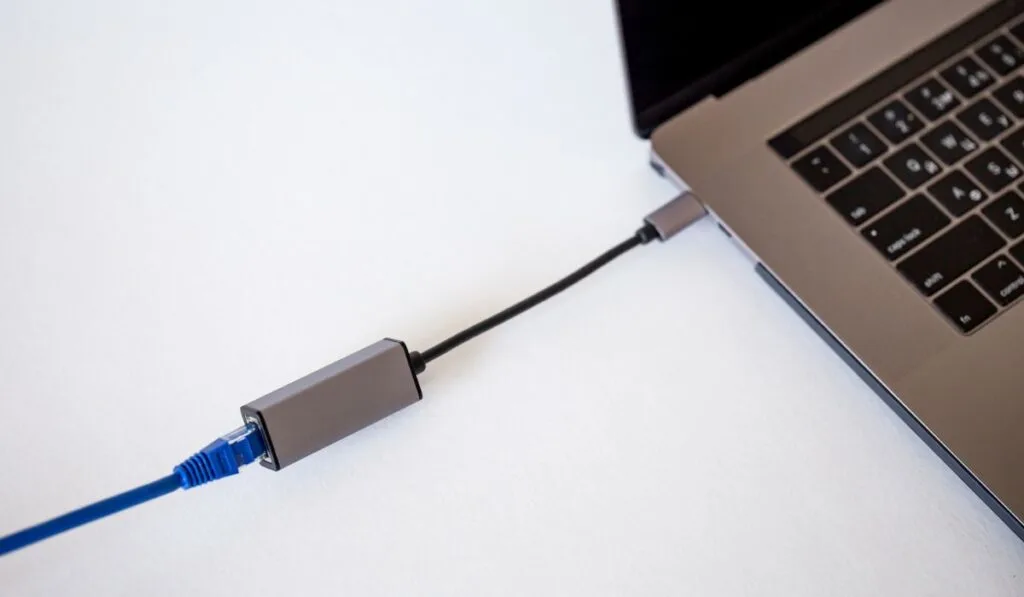 Connecting adapters to USB-C ports is easy. Most adapters require no drivers during installation. Here are steps to connect a USB-C to an Ethernet adapter:
Plug the USB-C connector on the adapter into the USB-C port on your device.
Plug one end of an Ethernet cable (on Amazon) into the GbE jack on the adapter.
Plug the other end of the Ethernet cable into a router, modem, or network switch.
Check the Ethernet connection from your device's network settings.
Avoid slow or congested Wi-Fi with a wired Ethernet connection using a USB Ethernet adapter.