We all know there are many perks that come with battery-powered devices. They are safe and reliable since some of them don't depend on an external power supply, you may not have to worry about unexpected data loss due to power failures. These perks can apply to battery-powered smart thermostats as well.
Some smart thermostats do have batteries that are used as backups. All thermostats are designed to be hardwired into an HVAC system directly, and when the power goes out, the HVAC system won't run, but a thermostat with a backup battery will save any programmed routines or settings.
Let's look at everything you need to know about battery-backup smart thermostats, including how to change the batteries when needed. We'll then turn to exploring your options for some of the best smart thermostats in the market that also have a battery backup. That way, you know your options if you decide to upgrade your home's HVAC system with a new smart thermostat.
Do Smart Thermostats Have Batteries?
Some smart thermostats, such as Nest Thermostat from Google Nest (on Amazon), receive their power for regular operation from the HVAC system and uses batteries as a backup. These batteries won't run the HVAC system when the power's out, they're only useful to preserve system settings on the thermostat, and diagnosing a power failure from the thermostat.
Just like any other electrical component, there are different types of smart thermostats for you to choose from according to your requirement. Whether a smart thermostat has backup batteries depends on the way they are set up in a heating and cooling system.
Most new homes with HVAC systems that feature built-in smart thermostats are often directly wired to the system. If you plan to upgrade your regular thermostat to a new smart device by yourself, going for a battery-powered unit is often the easiest way since they do not involve complex wiring.
What Type Of Smart Thermostats Use Batteries?
There are many different types of smart thermostats including basic Wi-Fi connected varieties, sensors that allow remote control functions, geofencing capabilities, and those that come as a part of a larger home automation system.
If your smart thermostat is a part of a system, it is likely connected to the main power supply in your home. If it does not have special wiring needs such as a C-wire, it is powered via the normal thermostat wiring (along with a possible backup battery).
Almost all the trusted smart device brands, including Honeywell, Google Nest, and ecobee, have highly rated thermostats with backup batteries built-in.
Having a battery-backup thermostat ensures that your data will be saved and there will be no interruption to the function of the thermostat even if there is a power failure in the main power supply of your home.
What Are The Smart Thermostats With Battery Backup?
Here are a few highest-rated and highly popular battery-powered smart thermostats in the market right now.
Google Nest Thermostat
With smooth remote control functioning and an impressive energy-saving mode, the Google Nest Thermostat (on Amazon) is one of the best smart thermostats with battery backup out there. Nest Thermostat uses the batteries as a backup to the main power supply.
Since the batteries are connected to a continuous power supply, it is always charged. If the backup batteries do get low, you will get an alert to replace them (More details about the battery replacement process are mentioned later in the article).
Nest Thermostat has the Energy Star certification, which means that it helps you save energy, reduce your bills, and protect the environment at the same time. You can easily schedule the Nest Thermostat to turn itself down when you are not home.
This significantly lowers your heating bills while also conserving energy, which is great for the environment.
Moreover, if you are into having smart equipment in stylish colors, Nest Thermostat comes in four sleek colors — charcoal, fog, sand, and snow.
Honeywell Home T9 Smart Thermostat with Sensor
One of the highest-rated Honeywell smart thermostat models, the T9 Smart Thermostat (on Amazon) with a sensor contains all the cool features packed in a stylish device.
It has geofencing capabilities to make sure your home is nice and welcoming when you come home after a day of work, while also keeping the energy bill low when you are away.
You can control all your heating and cooling needs using this battery-powered smart thermostat with the Honeywell Home app.
The smart room sensors by Honeywell can be placed in rooms that you want to keep particularly cozy, such as a baby nursery or a master bedroom. There is a multi-room display feature in the Honeywell Home app that allows you to set up different and more specific schedules.
You can also connect this smart thermostat to your utility to get rebates and earn rewards.
ecobee3 Lite Smart Thermostat
A no-fuss smart thermostat equipped with great features, this device works well with many integrations including Apple HomeKit and Alexa. With Energy Star approval, the ecobee 3 Lite (on Amazon) is designed with a greater focus on energy conservation.
The vacation mode in the device helps you adjust the temperature of your home wherever you are in the world. You can schedule your heating and cooling requirements to fit the times you are home and away.
In case there is a sudden power disruption or an unexpected temperature drop, ecobee3 Lite would send an alert so you can adjust the temperature accordingly.
Combined with their Smart Sensor, there is also a new feature with ecobee3 Lite that pauses its function when there is a window or a door open. That way, you do not have to worry about wasting energy in case someone accidentally leaves a window open.
Emerson Sensi Wi-Fi Smart Thermostat
Another highly rated smart thermostat that is compatible with all the leading controllers such as HomeKit, Alexa, and Google Assistant, this device is great for new users. It has an easy DIY installation process that does not require a C-wire or advanced wiring to be connected to existing HVAC systems.
Emerson Sensi Smart Thermostat (on Amazon) provides you with regular maintenance reports such as filter replacement reminders which will help you maintain your HVAC system properly.
You also get all the important features with this device – flexible scheduling capabilities, remote access using the controller of your choice, and accurate usage reports.
Emerson Sensi also emphasizes the Privacy Protection protocols that they have, keeping all the usage data by their users secure with the promise that they do not sell the personal information of their uses to third parties.
How Do I Change The Batteries In My Smart Thermostat?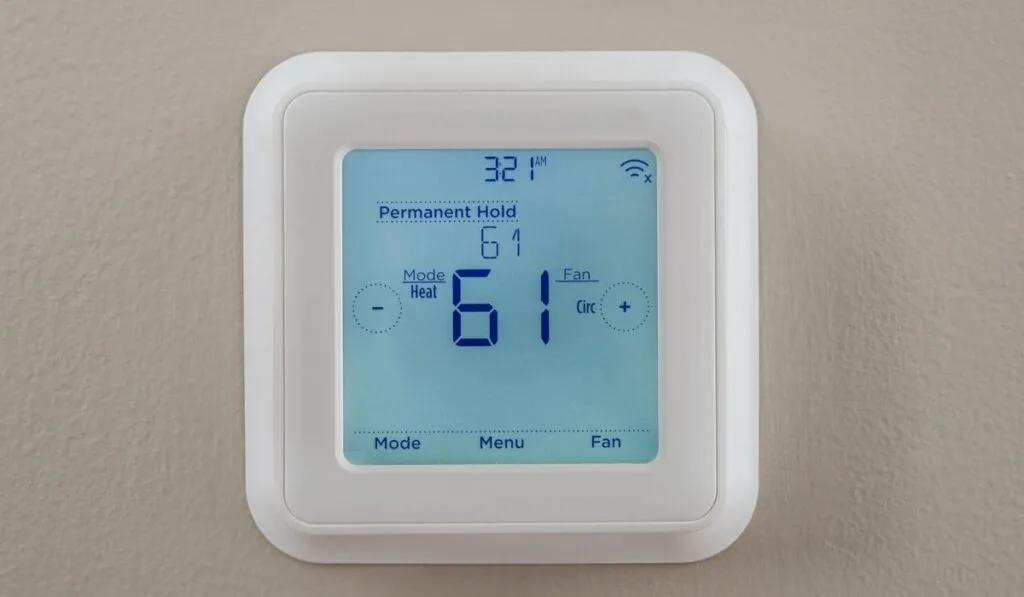 When the batteries of your smart thermostat need to be changed, you will see a low battery warning on the display of the device. You usually have to change the batteries about once a year.
Almost all the smart thermostats display low battery warnings well in advance so you do not have to worry about your battery dying suddenly.
For example, Honeywell battery-operated smart thermostats start showing the battery low indicator about 60 days before the device stops functioning fully.
The way you change the batteries in your smart thermostat often defers according to the brand and the specific model of the device you have. Generally, it is quite easy. You simply slide off a bracket and change the batteries, similar to any other battery-powered electrical device.
Here are some general instructions for replacing the batteries of a smart thermostat.
Switch off your smart thermostat.
If it is powered by the main supply, use the main circuit breaker to interrupt the power supply to your smart thermostat.
Carefully pull the cover plate of the device from the base plate.
Replace the batteries paying close attention to the polarity markers.
Set the cover plate back in and slide it into the base plate.
Turn the main power supply on and switch on your smart thermostat.
How Do I Know What Batteries To Put In My Smart Thermostat?
Most smart thermostats use two AAA alkaline batteries. You can also check the device manual to confirm the type of battery you need before you start the battery-changing process.
With the mobile app and remote control functions available with most smart thermostats today, you do not have to worry about missing a low battery indication since you will get it as a notification in your smartphone with details about what batteries to put well in advance.
Conclusion
All leading smart thermostat brands have different models with specific functionalities to match the demands of different uses. The way the smart thermostat receives power for its operation is one of them.
There are hard-wired smart thermostats that are directly connected to the HVAC system with a C-wire that provides a continuous power supply. Some smart thermostats have batteries to supplement that power, while others use batteries as their only supply of power.
If your home came with a smart thermostat, chances are that it is already hard-wired to the system.
If you wish to install a new smart thermostat to your existing HVAC system by yourself, a battery-powered smart thermostat is your best choice.