The Nintendo Switch is an all-around excellent console. The versatility and gameplay experience are hard to beat. However, some gamers experience frustrating issues with the official AC adapter. What gives?
The Nintendo Switch AC adapter can fail due to internal damage, faulty outlets, or dirty connection ports. Try out different outlets and different USB-C charging cables/bricks to diagnose this. If all else fails, you may need to contact Nintendo support for repairs.
Don't panic if your Nintendo Switch won't charge or the battery drains while plugged in. These issues have easy and straightforward solutions. Here are some quick fixes for a faulty Nintendo Switch AC adapter.
Why Is the Nintendo Switch AC Adapter Not Working?
You're not alone if you can power on your Nintendo Switch, but it won't charge, or the battery continues to drain even when plugged in. There could be multiple causes for why your Nintendo Switch isn't charging. Here are a few:
These are common causes for a Nintendo Switch that won't charge. Thankfully, we know what to do to solve it.
What to Do if Your Nintendo Switch Won't Charge
Here is one of the primary solutions for resolving problems with the Nintendo Switch AC Adapter.
Unplug the AC adapter from the power outlet and console. Let it sit for at least 30 seconds.

During this period, ensure you're using the official Nintendo AC adapter (model No. HAC-002).

Be sure to inspect the AC adapter for any cuts, kinks, or frayed cables. You may need to replace your AC adapter if you notice any major damage.

After at least 30 seconds, reconnect the AC adapter to your Nintendo Switch and wall outlet.

If you see a charging indicator on the home screen or on a blank screen, allow the console to charge for 15 to 20 minutes. From there, ensure your console is using the latest software update.
If you don't see any power or charging indicator on your Nintendo Switch, perform a hard reset by holding the Power Button down for 12 seconds. Then press it again to reboot the console. If you're still experiencing difficulties, continue with the solutions below.
And note that we have a lot of other resources on Nintendo Switch charging you may benefit from at this point. If your Switch dies too quickly, or charges too slowly, or if you want to know how long it should take to charge, or even how long it should take to charge from 0-1% when fully dead, we have guides for all of it.
Other Possible Fixes
Don't worry If the AC adapter troubleshooting method didn't work. There are other solutions available that you can try. If you haven't performed a hard reset yet, do so before trying these next steps.
Check the Outlet
Sometimes a faulty outlet can be the cause of charging issues. You can try plugging in another device to see if it receives a charge. If your outlet is the culprit, you may have a burnt-out fuse or need to call an electrician. You'll also want to try pressing the reset button if your outlet has one.
You can also move your Nintendo Switch console to a different outlet and try that one to see if that resolves the problem. If the outlet doesn't seem to be the culprit, move on to the steps below.
Inspect the Dock and Cables
Your Nintendo Switch Dock might be the source of the problem, especially if it's your main charging source. Make sure all the cables are securely in place and don't have any damage.
You can also unplug and replug all the cords. Ensure all the cables are securely connected to your Dock, monitor, and outlets. If the cords aren't the issue, the Dock may be damaged and need maintenance.
Charge Your Console Overnight
Your Nintendo Switch battery may have been completely drained. The console can take a long time to start charging if you don't use your Nintendo Switch often. If the battery indicator light shows up for a quick second and then disappears, you may have this issue.
Leave your Nintendo Switch plugged in overnight to see if this resolves the problem. Turn the console on in the morning to see if everything is back to normal.
Clean Your USB-C Ports
Grime, dirt, and debris can build up in your Nintendo Switch and Dock USB-C ports. This dust and gunk can prevent the port from making contact with the AC adapter.
Try cleaning your USB-C ports on your Nintendo Switch and Dock. Be extra careful here to avoid further damage. Never stick sharp metal objects into the USB-C ports. You can use a q-tip to gently clean the ports. Practice extra safety measures if you plan on using compressed air.
Contact Nintendo Switch Support
You may need to contact Nintendo Switch Support If you're still experiencing charging issues. You can send your console in for repairs and maintenance by submitting an official support ticket. Be sure to take out any game cards or microSD cards before sending them to your console.
Nintendo Switch AC Adapter Replacements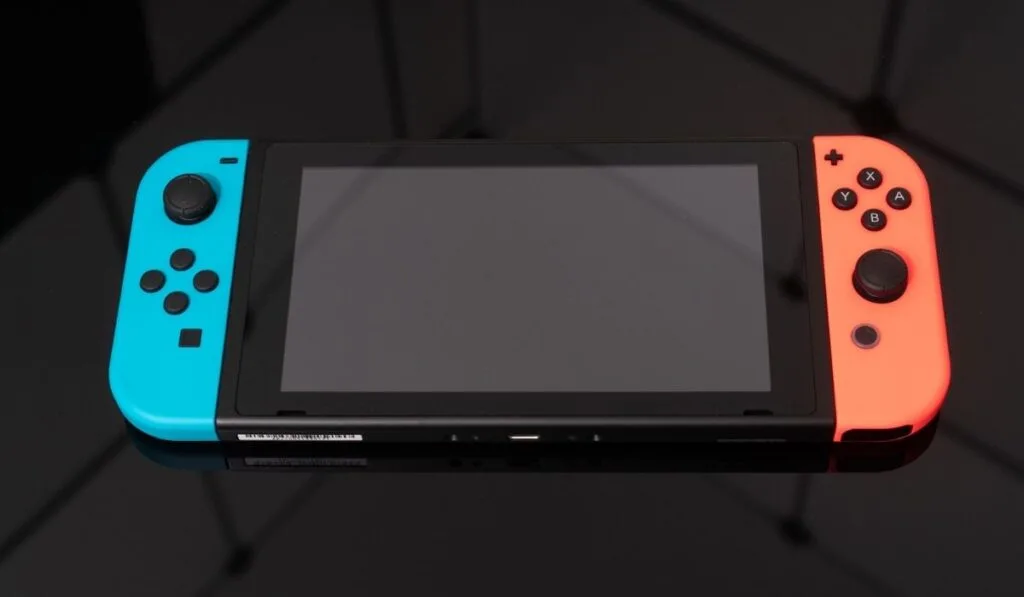 You can try an AC adapter replacement If you've tried all the solutions above and don't want to send your console in for repairs. The best AC adapter will always be the official licensed Nintendo version, but these are close seconds.
YCCSKY AC Adapter
The YCCSKY AC Adapter (on Amazon) is the perfect generic option. This AC adapter supports TV mode and handheld mode and works with the Switch Dock. The cord is 5 feet long, providing enough length for most situations. It's quite versatile, as It works with the standard Nintendo Switch console, Pro Controller, and Dock.
You'll need an outlet for this adapter, making it less travel friendly. However, this is a great choice if your official AC adapter is on the fritz or you want a backup.
Anker PowerCore 13400 Nintendo Switch Edition
The Anker PowerCore 13400 (on Amazon) is one of the stand-out options for officially licensed chargers. Anker is one of the most trusted and respected brands when it comes to power banks. The small portable design allows for easy transportation and mobility. In fact, you can even fit this device in your carrying case.
22.5W USB-C Power Delivery
Charges Switch as fast as possible in handheld mode
Provides an extra 5 to 7.5+ hours of playtime, depending on your model Switch
Includes USB-C to USB-C cable
A unique model from a trusted brand
Despite all the good features, the Anker PowerCore 13400 lacks fast charging capabilities for certain smartphones. This means you may want to look elsewhere if you plan to use your power bank for multiple devices. The 13400 is a great power bank for the Nintendo Switch, but not much else.
FYOUNG Charger for Nintendo Switch
Look no further than the FYOUNG Charger (on Amazon) If you need something long-range. This product offers 9.8 feet worth of charging cable instead of the typical 5.
It's USB powered, offering enough power for you to charge and play at the same time. There won't be any massive knots either, as the cable is made to reduce tangling, splitting, and damage.
Unfortunately, you can't connect this cable to the TV or use it with the Dock. However, the cable length and price more than makeup for these flaws.
Nyko AC Power Cord
The Nyko AC Power Cord (on Amazon) is compatible with the Dock and the Nintendo Switch handheld mode. It has a longer cord than most adapters, providing 6.5 feet worth of length. You can use this AC power cord with the Dock, allowing you to play and charge while using the TV.
The Nyko AC Power Cord is an affordable and portable option. You can fold up the prongs for easy storage and traveling. However, it's not USB and is a bit on the bulky end. If you can overlook the slight flaws, this power adapter might be right for you.