If you hear voice narration when performing an action on your Vizio TV, it means the TalkBack feature is active. Someone might have turned it on accidentally or deliberately without your knowledge, and it can be quite frustrating when the TV keeps talking to you. So, how do you stop the Vizio TV from narrating?
To turn off narration on your Vizio TV, open the main menu and go to System Options. Next, go to Accessibility settings, find the TalkBack feature, and turn it off. Save your changes and exit. If the problem persists, reset your TV to clear bugs or other software errors, then try again.
While the narration feature may come in handy for certain viewers, if you don't need it, you'll probably want to turn it off. Let's take a look at exactly how to disable it, and why Vizio TV included the feature in the first place.
Why Is Your Vizio TV Narrating Everything?
Your Vizio TV (on Amazon) may narrate everything if someone activates the TalkBack feature, an accessibility function that explains important visual elements of a TV program. It usually gives information regarding things like the channel name, volume levels, and the various menu options.
VIZIO added advanced accessibility tools to its TVs to aid people with visual and hearing impairments. One of these tools is the TalkBack feature, which reads out texts on your TV screen.
Since the TalkBack feature reads out captions displayed on your TV screen, you can easily follow what's shown on the screen without looking at it. This is especially useful for people with visual impairments.
Another accessibility feature closely related to TalkBack is the Speech Rate, which only affects the narration speed. You can adjust it to Slow, Normal, or Fast.
Notably, TalkBack only works with text that the TV can display on its own, including menu functions. So, like most audio description tools, Vizio TV narration doesn't work with external devices like satellite boxes and cables. Moreover, you can't use it with streaming apps like Netflix and Amazon Prime Video.
If you activate the TalkBack feature by accident, you'll have a voice narration on every program that supports it. But you can still disable the feature, as we'll discuss below.
How Do You Get Your Vizio TV to Stop Narrating?
You don't need to be a seasoned IT expert to turn off the narration feature. Here's how to do it in 5 easy steps:
1. Power Off Your TV, Then Power It Back On Again
Simply turn off your TV using the remote or by pressing the power button on your TV. Next, unplug the power cord and wait 30 to 45 seconds before reconnecting it. This is a soft reset, and it helps clear temporary errors that could make the narration stay after you've deactivated it.
2. Open the Main Menu and Go to System Options
Once you've powered on your TV, press the 'Menu' button on your remote and navigate with the arrow keys to highlight 'System Options.'
3. Navigate to the Accessibility Settings
You'll see a list of options you can toggle. Scroll through them and select 'Accessibility.'
4. Turn Off TalkBack
Find the option labeled TalkBack and toggle the radio button OFF. If it's already in that position, you'll need to do a factory reset, which we're getting into next.
5. Save Your Changes and Exit
Now, save all your changes and exit the menu. That's it! You may restart your TV and test to see if the narration is indeed turned off.
What Should You Do If You Can't Stop Vizio TV Narration?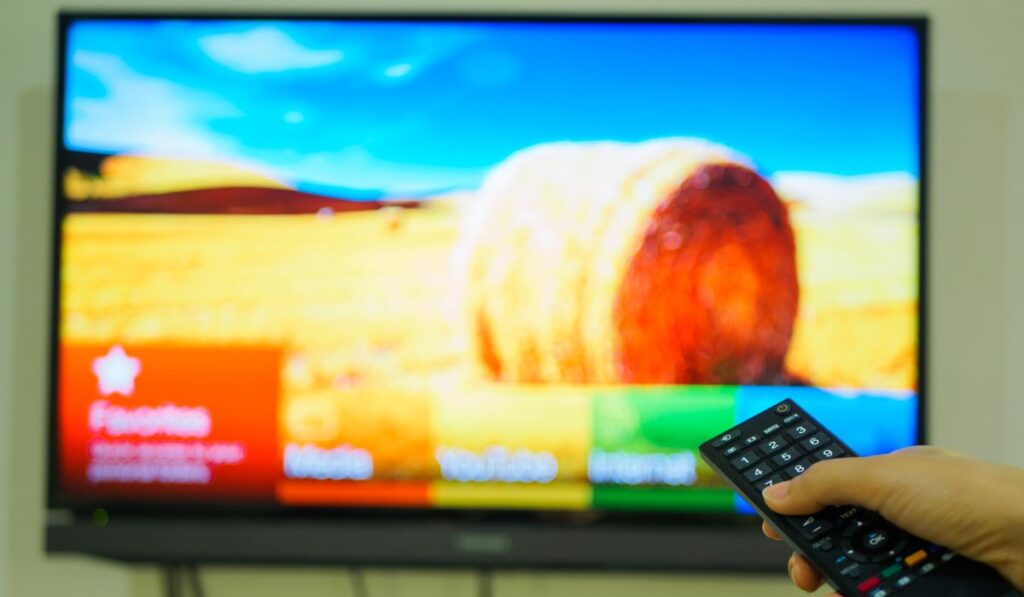 It sometimes turns out that your TV menu is working, but you can't turn off the TalkBack feature from the menu. This can be due to a problem with another source device. Therefore, if you've connected a cable box or satellite, you can start troubleshooting from them.
If you've figured out the problem lies with your TV, you can restore its settings to default to clear the error. Here's how to restore your Vizio TV settings to default:
Press the 'Menu' button on your remote and choose 'System.'

Select the 'Reset & Admin' option.

Press OK to select 'Reset TV to Factory Settings.'

Wait for the television to reboot. Once the TV restarts, go ahead and check if the narration is disabled.
Restoring your TV's settings to default clears all custom settings, WiFi passwords, and other details. So be sure to have the important information recorded elsewhere, or you'll lose everything and find trouble setting up things afresh.
If you're having a tough time locating the Accessibility feature under the System function, check under the Settings option. You can also refer to your TV manual, and you won't go wrong contacting VIZIO Customer Support for help if needed.
How Can You Activate Narration on Vizio TV By Accident?
You, or anyone else in your household, might have activated the narration feature by pressing the menu button and a couple more after it, and suddenly, TalkBack is on! Think of it as something like pocket dialing, but in the remote world.
Using a universal remote makes it even easier to activate voice guidance because some of these remotes usually have one button for enabling accessibility settings.
While this feature is meant to make it swift and convenient for engaging accessibility options, it can also activate the voice narration, which often turns out to be bothersome for viewers. Hopefully, you can now deactivate it using the steps we've discussed above.
You can also read our other article here about how to turn off the TV narration specially if you use a different television brand.