An iPad is a versatile device used for many purposes, including in the classroom. Depending on your major, you may find that having an iPad can be highly beneficial. But is it worth the investment?
An iPad is lightweight and portable, making it easy to take to class. Long battery life means you can take notes all day without recharging. Recording lectures is easy with the built-in mic, and you can use a stylus to write, draw, or highlight and annotate PDFs of textbooks or syllabi.
Let's look at whether it's worth buying an iPad for college and the benefits of having one. Plus, you'll get a rundown of the most valuable features for students and find out if you should stick with a laptop.
Is it Worth Buying an iPad for College?
If you're considering purchasing an iPad for college, consider a few things. First, it's important to determine how you'll be using the device, what type of student you are, and whether it will fit into your budget.
If you see yourself using it primarily for entertainment, such as playing games or watching movies, an iPad may not be worth the investment. However, it could be worthwhile if you plan to use it for schoolwork and other productive tasks. Maybe you even plan to pick up an Apple Pencil (on Amazon) to make the iPad your main place to take notes.
If you're very organized and can keep track of all your assignments without issue, an iPad may not be necessary. However, an iPad can be a lifesaver if you have trouble staying organized or remembering deadlines.
Finally, iPads are not cheap, so you'll need to factor the cost into your decision. A few financing options are available if you can't afford an iPad outright. You can also look for refurbished or used models to save money.
What are the Benefits of Having an iPad in College?
The iPad is much lighter and more compact than a laptop, making it easier to carry around with you on a busy college campus. In addition, the iPad has a long battery life, so you won't have to worry about recharging it throughout the day.
Another benefit of using an iPad in college is the variety of available apps to help you with your studies. There are apps for taking notes, tracking assignments, managing your schedule, and more. There are also a variety of apps that can help you with research and writing papers.
The iPad is also great for taking notes, reading textbooks, and staying organized. Many students find the iPad helps them stay on top of their coursework because they can keep all their materials in one place.
Finally, the iPad can be a lifesaver for group assignments. With FaceTime and other video conferencing apps, you can easily collaborate with other students no matter where you are.
What are the iPad's Most Useful Features?
The iPad has a multitude of features that can be useful for college students. Here are some of the most useful ones:
Notetaking
There are also several notetaking apps available that can further improve its usefulness in this area. For example, Goodnotes, Notability, and UpNote are three apps that allow you to easily take notes and organize them on your iPad.
With the iPad Pro and its optional Apple Pencil, you can take handwritten notes and draw diagrams. That can be especially helpful in classes like science and math.
E-books and PDFs
The screen makes reading for long periods easy, and plenty of apps are available to manage your e-book and PDF library. iBooks, Kindle, and GoodReader are three of the most popular options.
Plus, you can highlight and annotate PDFs on your iPad, which can be handy for school assignments.
Research and Writing
You can use the built-in Notes app or a notetaking app like Evernote to take notes and save web pages for later reading.
You can use a Bluetooth keyboard, like this one from Logitech (on Amazon), to type longer documents like essays or research papers in apps like Pages, Google Docs, or Scrivener.
There are also plenty of great apps for referencing and citing sources, like Mendeley and EndNote.
Presentations
If you need to give presentations for school, there are plenty of apps available for creating presentations, such as Keynote and PowerPoint.
You can also use your iPad as a remote control for your presentation, which can be helpful if you're giving a presentation to a large group. Apple's Keynote Remote app lets you control Keynote presentations on your Mac or iPad from your iPhone or iPod touch.
Organization and Time Management
Many great apps are available for staying organized and managing your time, such as Todoist, Any.do, and Trello. You can use them to create to-do lists, set up reminders, and keep track of tasks.
There are also calendar apps like Fantastical that can help you keep track of your schedule. And if you need help staying on top of your schoolwork, there are plenty of great homework apps available, such as myHomework and iStudiez Pro.
Social Media
Networking and social enrichment are essential parts of the college experience. The iPad can be an excellent tool for staying connected with friends and family and making new connections.
Many social media apps are available, such as Facebook, Twitter, LinkedIn, and Clubhouse. You can also use the iPad to video chat with friends and family using FaceTime or Skype.
If you want to meet people in person, there are plenty of great apps for that, too, such as Meetup and Lunchclub.
And if you need to video chat with someone, there are plenty of app options, such as FaceTime, Skype, and Google Hangouts.
What are the Different Types of iPads?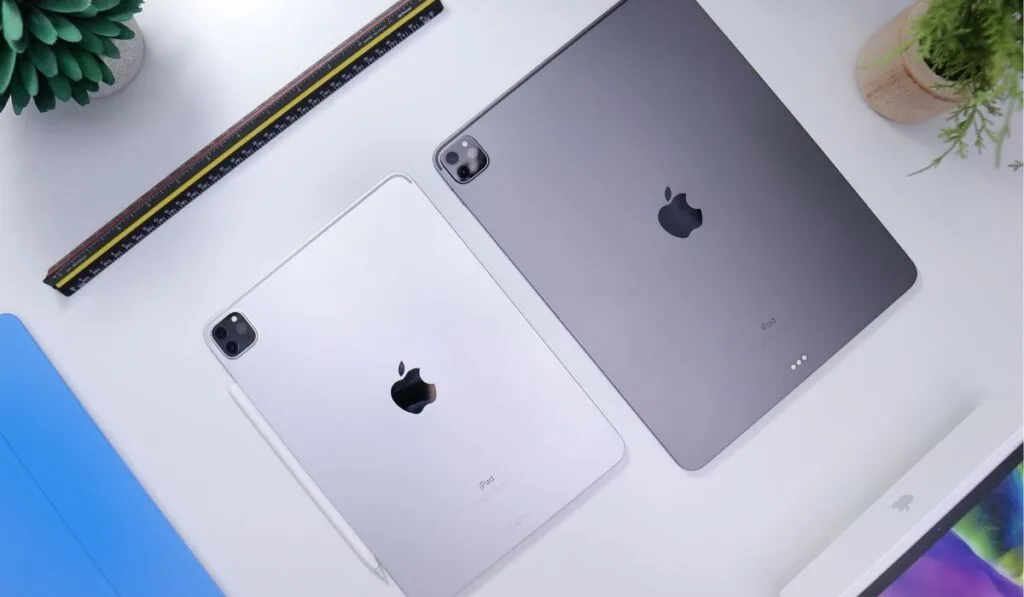 The iPad comes in four different models: the iPad, the iPad mini, the iPad Air, and the iPad Pro. Each model has distinct features, so you'll want to choose the one that's right for you.
iPad
The iPad is the original entry-level model. Less expensive than other models, it's perfect if you're on a budget and don't need a bigger screen or the ability to multitask between apps that require a lot of system resources, such as video editing or graphic design apps.
The iPad has a 10.2-inch Retina display, an A13 Bionic chip, and Touch ID. It comes in 64GB and 256GB storage options. Many prefer this model because it still has a Home button, which the other models do not have.
iPad mini
The iPad mini is the smallest, most portable, and second least expensive model. With an 8.3-inch Retina display, the iPad mini is still large enough to do everything you need but small enough to throw in a backpack or purse. The iPad mini is a good choice for students who want the whole Apple experience with additional portability.
With an A15 Bionic chip, 64GB and 256GB storage options, and second-generation Apple Pencil compatibility, the iPad mini is more powerful than ever. The display size is also significantly larger than the iPhone, making it an ideal device for students who want to take notes or research.
iPad Air
The iPad Air is larger than the mini but smaller and less expensive than the iPad Pro. The 10.9-inch Retina display is sufficiently large for notetaking and web browsing, and the M1 Bionic chip provides plenty of power for most students' needs.
The iPad Air comes in 64GB and 256GB storage options and is compatible with the second-generation Apple Pencil for students who want to do some light sketching or drawing in addition to taking notes.
iPad Pro
The iPad Pro is best for people who need a lot of power and performance, like video editors or graphic designers. If you plan on using your iPad for schoolwork in those domains, the iPad Pro is the best model.
Available in 11-inch and 12.9-inch sizes with 128GB, 256GB, 512GB, 1TB, or 2TB of storage, the iPad Pro has the largest screens and most storage options of any iPad.
Compatible with the Magic Keyboard (on Amazon) and Apple Pencil (2nd generation) (on Amazon) that magnetically attaches to the side of the iPad Pro and charges wirelessly. These features allow the iPad Pro to be transformed into a laptop replacement if needed.
This top-of-the-line model has an M1 chip with Neural Engine, a LiDAR scanner for augmented reality (AR) experiences, four-speaker audio, and up to 10 hours of battery life. It's the most expensive iPad, but students who need its power will find it worth the investment.
Can an iPad Replace a Laptop in College?
Some might find that an iPad can replace a laptop for college studies, while others prefer to have both.
Here are some things to consider when deciding whether an iPad or laptop is suitable for you:
Do You Need a Laptop for Any of Your Classes?
Some classes, such as those that require software or programming, might need you to have a compatible laptop. Here, an iPad wouldn't be able to replace your laptop.
What is Your Budget?
iPads are more expensive than Windows system laptops, so a laptop might be better if you're on a tight budget. However, deals and discounts are often available on both devices, so it's worth shopping around to find the best deal.
Do You Need a Larger Screen?
The iPad Pro has a 12.9-inch screen, but for most people, an iPad's screen size won't be large enough to replace a laptop. So a laptop is probably the better choice if you need a larger screen for your studies.
Do You Want Portability?
iPads are much more portable than laptops, so an iPad might be better for you if you're always on the go. It's also worth considering how much weight you're willing to carry around—an iPad is much lighter than most laptops.
Who Should Buy an iPad for College?
Graphic designers, photographers, and other creative professionals can use an iPad to create and edit their work on the go. The iPad is also great for taking notes in class and keeping track of important deadlines.
The large screen on higher-tier models is perfect for viewing and editing photos and videos, and the tablet's portability makes it easy to carry around campus. The battery life is also impressive, meaning you won't have to worry about being tethered to an outlet all day.
Who Should Stick to a Laptop?
If you're a student who needs to do a lot of typing, or if your classes require special software unavailable on the iPad, stick to a laptop.
The iPad's on-screen keyboard can be challenging for extended periods unless you purchase a Bluetooth keyboard, and some proprietary software is only available on laptops.
A laptop will be a better option if you need to store many files or data locally. However, the iPad has limited storage space, and while you can purchase additional storage, it's more expensive than storing data on a laptop.
So, if you're a student who needs to type a lot, uses special software for class, or needs to store lots of data, stick to a laptop. Otherwise, an iPad could be your best friend in college.