Nintendo's Joy-Con controllers are all the hype for Nintendo switch gamers. So when playing your Nintendo Switch, the last thing you will want is for your Joy-Con controllers to run out of battery mid-game. The Joy-Con controllers can hold 20 hours of battery life. So how long does it take them to charge?
The Jon-Con controllers take about 3.5 hours to fully charge if they are at zero percent battery. And you can charge them while gaming, with the charging grip, or with a USB cable. But no method is meaningfully faster than the other.
Yes, the controllers can offer a long battery life. But that doesn't mean you won't need to charge them regularly, especially if you enjoy playing for long periods. So, continue to read to learn more about how long the Nintendo Switch Joy-Con controllers take to charge and how to charge them.
How Long Does it Take to Charge Nintendo Switch Joy-Con Controllers?
It takes approximately 3.5 hours to fully charge the Nintendo Switch Joy-Con controller pair (on Amazon). But don't worry; you won't have to switch off your game if they run out, as you can charge them while playing.
That being said, there are different methods to charge your controllers. Here is how to charge your Joy-Con controller:
Charge while gaming. You can charge your controllers by plugging them into your Nintendo Switch (on Amazon) system while using the device.
Using the charging grip. Another option is to charge your controllers using the Joy-Con charging grip (on Amazon). This must be purchased separately as it doesn't come with the system or controllers.

First, connect the controllers to the charging grip.
Next, connect the loaded-up charging grip to the Nintendo Switch device or its AC adapter.
Using the USB cable only. You can also charge the controllers using the USB cable (on Amazon) only. To do so, connect the cable to the Nintendo Switch dock, which must be connected to the AC adapter.
Each charging method will offer the same charging time as long as the grip is plugged into a power source. If you rely on the Nintendo Switch device to charge the controllers, it will half-charge them. Or work until the system is out of battery itself.
All options take 3.5 hours to charge your controllers from zero to one hundred percent. No method will charge the controllers more quickly than another. And be sure to be aware of our other Nintendo Switch charging resources as you move forward: If your Switch and/or JoyCon's die too quickly, or if they don't charge fast enough, be sure to stick around for our expert resources on these topics.
How Long Does a Charged Switch Controller Battery Last?
Once fully charged, the Nintendo Switch Joy-Con controllers will offer 20 hours of battery life. So if you use it little and often, this is enough for days worth of gaming or weeks and weeks.
The 'Home' menu shows you how much battery is left in your controllers. To check their remaining battery life:
Go to the Home menu and click Settings.
Select System from the left-hand side options list.
On the right-hand side, click Console Battery.
Press the A button to add the battery life percentage to the Home menu.
To disable this setting, press the A button again.
Maximizing Switch Controller Battery Life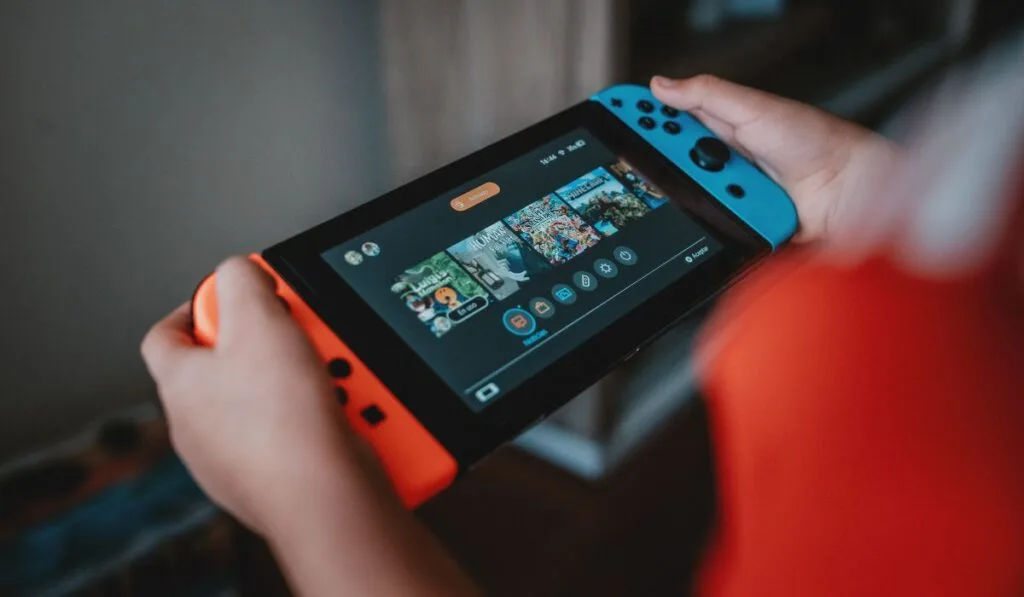 There are some practical measures to maximize your Joy-Con controller's battery life.
Turn Off Controller Vibrations
The Nintendo Switch Joy-Con controllers automatically have their vibration function switched on. Although it can be helpful for gameplay, it can drain your battery. So switch off the vibration setting to conserve energy and enjoy a total of 20 hours of battery life.
To do so:
Click through to Settings.
And then select Controller and Sensors.
Here, select the Off setting to maximize your controllers' battery life.
Purchase a Portable Charger
Anyone that is not close to a power outlet for some time will benefit from a portable charger. Since the Nintendo Switch is a portable device, investing in a portable charger will be a great idea to ensure you can always keep your controllers charged.
This will enable you to charge the batteries no matter where you are. It will not specifically make the batteries last longer, but you can enjoy an endless charging supply. A popular and efficient portable charger for the likes of game controller charging is the Anker PowerCore II 20000 (on Amazon).
Keep the Battery Life Between 30 and 70 Percent
The Nintendo Switch Joy-Con controllers use Li-ion batteries. Unfortunately, these are known to degrade the greatest when charged from empty to full. Therefore, it's generally advised to try to keep them within around 30-70% to limit charge session heat and extend the life of your battery.
Consider Other Options
If you're still not getting the performance you want from the JoyCons, be sure to check our related posts on managing controller connection issues, how to handle individual JoyCon issues, and how to use a Switch Pro controller with your system instead.