It just might be the most frustrating issue in the world: You're midway through a difficult level or a final boss, or you've just picked up a new game for the first time, and your Switch controller decides to be unresponsive. Technology isn't perfect, so things like this happen. But what's the cause, and how do you fix it?
If your Joy-Con ins't unresponsive, try factory resetting the controller with the small button on the back. Update the Switch console and make sure you're physically close to it when trying to connect again. If your Joy-Cons still aren't working, it may be time to see a repair technician.
Before you jump to replacing the controller or paying for a costly repair, make sure you've tried everything else. There are several solutions that may fix your issue, so let's take a look at each one, and then you can give it a try.
How Do Switch Controllers Work?
The Nintendo Switch has many available controllers, but the ones that come with the console detach from the dock and are called Joy-Cons. Some games only require using one, while others require using both just like a regular controller. Some games involve using one Joy-Con each for a multiplayer mode.
When attached to each side of the dock, the Joy-Cons help the Switch function as a handheld console. When they detach, they work wirelessly with the Switch via bluetooth.
How Do I Fix an Unresponsive Switch Controller?
If your Switch controller isn't responding all of a sudden, there are a few things you can try. While it might not seem obvious, start by making sure they're charged!
Check the Positioning
First, you should make sure you're close enough to the screen. Joy-Con controllers only have a three- to four-foot range, and if you move any further away than this, they may stop responding.
You should also make sure your Switch is away from other devices that use bluetooth and may cause interference. Although it's rare, phones, laptops, speakers, and other devices may be interfering with the signal.
Your Switch may also be positioned behind something that's blocking the signal from the controllers.
Check the Pairing
Secondly, you should make sure your Joy-Con is still paired with your Switch. You can do this by selecting Controllers from the row of options on the Switch menu and then choosing Change Grip/Order (though you may need to do this with a different controller).
Update Your Software
If your Joy-Con is already paired or isn't showing up at all, you can try making sure your software is up to date. If the Joy-Con only isn't responding within a game, hit the plus sign on the controller to check for updates within that game while it's highlighted on the home screen. Make sure you have the latest version.
Try Another Controller
If the controller isn't responding at all, use a different controller to make sure the Switch is up to date or plug them into the side of the dock to see if you can do this that way. Sometimes when a Joy-Con controller isn't responding, it will work when the Switch is in handheld mode since it isn't using bluetooth this way.
If none of this is working, you can reset the controller.
How Do I Reset the Nintendo Switch Controller?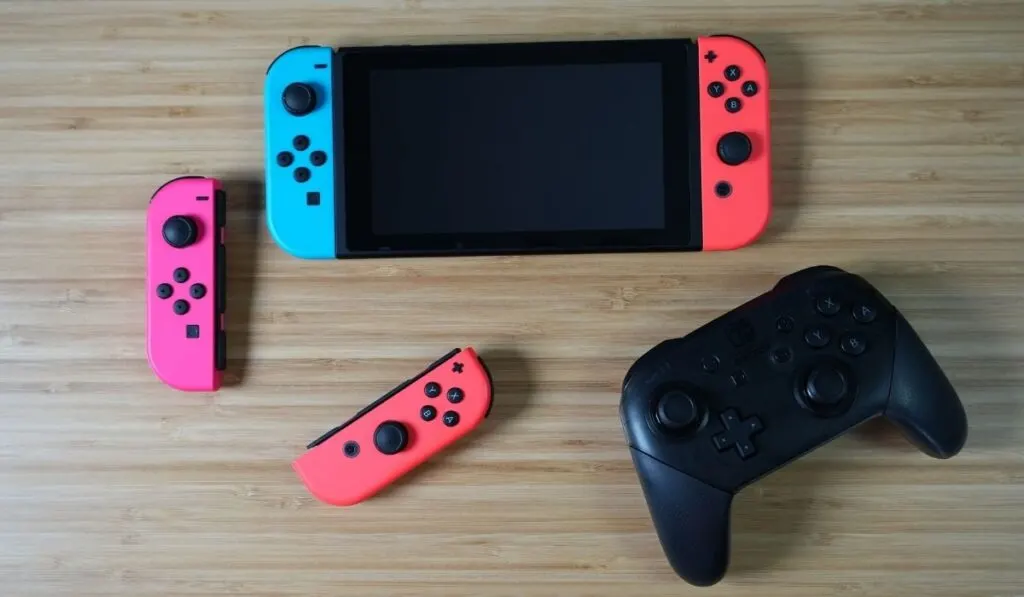 Resetting the Joy-Con controller is fairly easy. Simply press the SYNC button once, wait, and then press any other button on the controller to power it on.
If you've done this and your controller still isn't pairing with the console, it means there's a bigger problem with the hardware — not the software.
You may need to set up a repair and buy another controller to use for now. Fortunately, there are plenty of wireless controllers available for purchase online, such as this snazzy Neon Pink / Neon Green Joy-Con (on Amazon).
And be sure to note that we have some other more in depth guides you may want to reference, on Nintendo Switch controller disconnections, and using a Pro controller with your Switch.