With practically every person now owning a smartphone and every home having several gadgets that use USB cables, charging via USB has become an everyday affair. The USB standard helped us replace a lot of specialized redundant charging standards with one semi-universal way to charge, which added a lot of conveniences. But did you know you can add even more convenience to this system by skipping the charging brick and installing a power outlet with USB ports built in?
You can replace wall outlets with models that have USB ports built right in, and they're easy to install yourself. This saves time and effort managing charging bricks. Some outlets with USB have the traditional USB-A port, while newer models have USB-C ports, and some even have one of each for extra convenience.
Still not sure if this is the most practical charging method for you? We will discuss whether using outlets with USB ports is worth it, whether you need different ports for USB and USB-C cables, their installation, safety, and whether they consume a lot of power. Let's dive into everything you need to know!
Are Outlets with USB Ports Useful?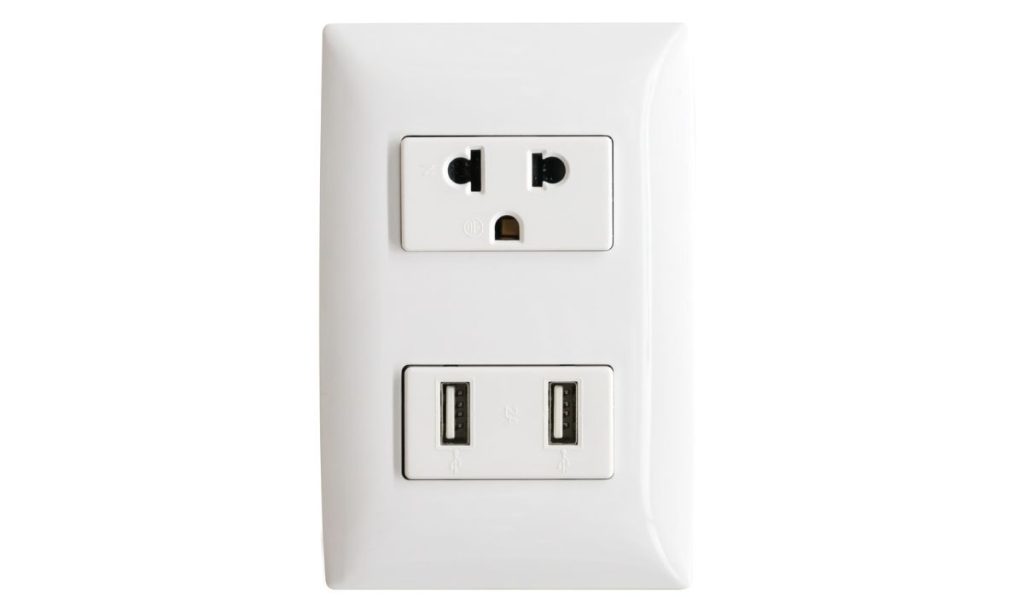 USB ports are very safe and helpful, but only if they are placed conveniently. Let's look at some exact reasons why they are helpful:
Ditch that Cumbersome Adapter: When the outlet has USB built-in, you're able to leave your bulky charging brick somewhere else and just need you cable to charge. Talk about de-cluttering!
Smart Chips: This tech is able to detect the exact amount of charge required by your device and produce an adequate charging current. This quality alone makes charging faster and saves a lot of energy. This is a feature that is typically provided by the charging brick, but when it's built right into the outlet you don't need any external hardware coordinating the charging.
Nearly Universal: These outlets offer options with USB ports, or even USB-C. That means the wide array of devices that use these charging cables will be able to plug right in! Some devices still require proprietary charging connectors, but that's OK – the traditional plug is available for that still.
Is a USB-A or USB-C Outlet Better?
So you have decided to purchase an outlet. Should you just go ahead and purchase any type? Not quite; you first need to decide the type of USB connector you'll use the most. It will be easier for you to be 100% sure of which type you need to use before you go out and look for one.
The most common USB cable type is USB type A. USB-A has a flat rectangular shape and can be used by most devices; like smart TVs, game consoles, tablets, DVD/Ray blue players, almost all computers, and accessories like the keyboard, and mouse. An example of a USB-A type cable is:
TOPGREENER TU2153A 3.6A Wall Charger
This wall outlet (on Amazon) has two USB ports and two cover plates to enhance its safety. It is widely compatible with many wiring systems, affordable, and easy to install. It has an "intellichip" built in that will prevent your device from overcharging.
This particular outlet does not, however, support fast charging. Fast charging technology allows higher quantities of power to be delivered to the device during charging. The standard power value for charging devices is 2.5 W, so fast charging means the value will be slightly higher.
Anything that does not fit in the above category will probably need a USB type C cable, which looks more like a stretched rectangle or circle. As USB-C is relatively new, it can now be used only by relatively fewer devices; the latest laptops, Apple MacBooks, and Nintendo Switch games console, and most Android phones use this type of cable though. An example of a USB-C cable is:
Leviton T5635-W USB Dual Type-C with Power Delivery
This outlet (on Amazon) has built-in overcurrent protection for enhanced safety, which prevents devices from receiving too high currents, and preventing damage. Due to its fast-charging abilities, it seems this outlet may be the most popular. Unlike the type-A USB port, this outlet supports fast charging technology.
Can One Power Outlet Accommodate Both USB-A and USB-C?
While this type of power outlet may be a little harder to find, we've included one good example below:
TOPGREENER 5.8A Ultra-High-Speed USB Type C/A Wall Outlet Charger
This outlet (on Amazon) can charge two devices using a type-C USB and a type-A USB port simultaneously. Unfortunately, though, it does not charge as fast as solo-type outlets. The tamper-resistant qualities of this outlet however do enhance its overall security.
The wall plate for this one is sold separately. Despite being a dual-port outlet, it also does not enable fast charging. With USB-C slowly phasing out the much older USB-A type chargers, it would definitely be worthwhile to invest in a dual USB outlet port for the near future.
Are Outlets with USB Ports Safe?
Yes, outlets with USB ports are safe, as long as they're from a reputable brand and not part of a deal that's too-good-to-be-true. It's essential to make sure that they are of a high-quality standard before you buy them. Standard USB port outlets will convert the normal 240 volts of electricity to 5 volts, which is generally pretty safe for charging devices.
Is It Easy to Install USB Outlets?
Yes, it is not rocket science; you could even make it part of one of your mini DIY projects. But if you are not confident enough, do not want the hassle, or are not 100% sure about the electrical layout of your house, then you should call your electrician.
How To Install an Electric Outlet with USB Ports
NOTE: We always recommend that you consult with a certified electrician before attempting to replace an electrical outlet. This is a dangerous process if done incorrectly.
Once you identify the electric socket you are replacing, switch off its power and unplug any device connected to it. Turn the power off at the switch if it has one, and also at your breaker box.
Unscrew and remove the faceplate.
Remove the screws that are holding the outlet in place, and remove it from the wall.
After that, look at how the outlet was originally wired and take a photo).
Remove the outlet from the wall after disconnecting the wires.
Using the same connections as the old one, install the new outlet.
Connect the ground wire to the green screw, and screw everything back. Compare with your original picture to make sure you get it right.
You can now turn the power to the switch back on and test if the outlet is working.
The above process is when you are installing an outlet in a pre-existing electrical socket. If you are installing an outlet on a fresh part of your wall, we'd advise you to consult an electrician because the wiring work to get electricity to that exact spot you want it is a bit more involved.