USB and USB-C cables are used for many of the devices found in our day-to-day lives. From powering smartphones to connecting to our computers, USB-C cables are becoming the go-to way to connect and power devices. So what if you need a USB-C cable to be longer?
USB-C cables are perfect for charging, transferring data, and connecting devices. USB-C cables work best at a length of 3 meters/10 feet. Longer cables may suffer from reduced data transfer or charging speeds. You can extend a USB-C cable with an active USB-C hub or by using an Ethernet extender.
To know whether the length of the cable will affect charging speed, power, and transfer of data, we will look at the following points: what's the length where you may start to encounter issues with connection, and what happens exactly when a cable is too long? How can you extend it, if necessary? And finally, what's the difference between Thunderbolt and USB-C cables? If you've got questions about USB-C, you've come to the right place!
What's the Longest a USB-C Cable Can Be?
A cable's transfer rate is affected by the length of the cable. The maximum length should generally be around 3 meters, to achieve a speed of 10 Gbps (gigabit per second). This could even be stretched up to 5 meters, but you will get lower data transfer speeds as a result of any increased length.
There is a reason why USB-C cables generally have a maximum length. Cables of all kinds experience interference from magnetic fields or other wireless signals that go through the wire and sheathing of the cable. This doesn't make a huge distance, unless the cable is very long, and so is exposed to more of these signals.
Powered ("active") hubs are used to boost the USB signal, reducing the effects of this interference. But if you have a very long cable but no boosting, the signal degrades. That means charging happens slower, and especially data transfer starts to slow down and/or degrade in quality.
What Happens If a USB-C Cable is Too Long?
When your USB-C cable is 3 meters it will continue to work well, but any longer than that and you might start to experience problems. For starters, the signal will start to degrade if the distance between the two devices connected by the USB-C get too far away.
The data transfer speed will also be lower if the cable is too long, as longer cables create more resistance from electricity passing through them.
Can You Extend USB-C Cables?
Yes, it is possible for you to extend a USB-C cable, and there are several reasons why you may want or need to do this:
With a connection hub, you'll be able to connect several USB-C cables to multiple devices.
It makes the data transfer more accessible and reduces fluctuations or errors.
You'll be able to transfer data faster using the extended cable even if you do not have internet access.
If you want to connect devices that are located far from each other, and want to maintain the same speed and power delivery.
If you're in a situation (e.g. an office space) that requires different computers to be connected to the area's main internet source.
How to Extend a Cable
There are two ways to extend your USB-C cable, but be aware that you'll need another device to boost the signal for both methods.
1. Active USB Hubs
[amalinkspro type="image-link" asin="B09BNXMHSL" new-window="true" apilink="https://www.amazon.com/dp/B09BNXMHSL?tag=sortatechy0a-20; img-size="500,500″ addtocart="false" nofollow="true" alt="Satechi 4-Port USB-C Hub – Data Transfer Only (No Charging/Video) – Compatible with MacBook Pro 2020, 2020 MacBook Air M1, 2021 iPad Pro M1″ alignment="aligncenter"]https://m.media-amazon.com/images/I/310MaWqwAqL._SL500_.jpg[/amalinkspro]
If you just need to connect two 10-foot USB-C cables, you can use a "normal" USB hub like the Satechi 4-Port USB-C Hub (on Amazon) to allow the connection to happen and maybe experience some small interference. But if you're connecting larger runs of cable and can't suffer the degradation, then you need an Active USB Hub.
What we mean by "active" here is a device that takes power into itself, and then uses electronics inside to boost the USB signal from cable to cable. This prevents the interference from having a big effect on the signal. Active USB Hubs like the Baseus USB-C 4K Triple Display Docking Station (on Amazon) are a great way to extend cable lengths and connect cables without worrying about the length.
It's worth noting that "normal" USB hubs connected to your computer are also powered technically, but the power comes from the laptop or device you're connecting them into. They don't need their own power, because they're not using very much of it. Bigger, beefier USB hubs that are actually doing sophisticated things like signal boosting need the extra power, which is why they'll need to be plugged in typically.
2. Active USB-C Cables
[amalinkspro type="image-link" asin="B07YZRX3RQ" new-window="true" apilink="https://www.amazon.com/dp/B07YZRX3RQ?tag=sortatechy0a-20; img-size="500,500″ addtocart="false" nofollow="true" alt="Tripp Lite USB C Active Extension Cable USB C to USB C USB 3.1 Gen 1 M/F 5M (U330-05M-C2C)" alignment="aligncenter"]https://m.media-amazon.com/images/I/31A4WHahRpL._SL500_.jpg[/amalinkspro]
A hub in this situation is probably not the most elegant solution. After all, you still need cables on either side of the hub, and now you have more problems and are probably paying for an active hub that has other ports and features you'd don't absolutely need. What's the solution here.
Well, there are also active USB-C cables like the Tripp Lite USB C Active Extension Cable (on Amazon). As you can see, this cable has two ports on one end: one for the USB-C female jack, and another female jack used to connect a power adapter. The cable itself is 5 meters/16 feet, and it's going to be able to deliver power and data across that distance, with no hiccups, because the cable itself is powered.
This is a great option, and you can find some slightly longer options, but for truly long-range applications we're going to look at one more option for extending USB-C: Ethernet!
3. Extending USB-C With Ethernet!
[amalinkspro type="image-link" asin="B003L14ZTC" new-window="true" apilink="https://www.amazon.com/dp/B003L14ZTC?tag=sortatechy0a-20; img-size="500,375″ addtocart="false" nofollow="true" alt="Monoprice USB Extender over CAT5E or CAT6 Connection up to 150ft" alignment="aligncenter"]https://m.media-amazon.com/images/I/31yBB8drZoL._SL500_.jpg[/amalinkspro]
We're certainly in exotic territory here, but if you just need USB-C to reach from A to B, and A is about 100 ft or more from B, then ethernet extension is going to be the best option for you. Have a look at the Monoprice USB Extender over CAT5E or CAT6 (on Amazon).
Right off the bat, you're going to notice that we just have 2 simple or "dumb" devices here. That's good. No extra power is needed. Just plug your USB cables, connect the two adapters with a long run of ethernet cable, and you're good to go! Note that these are for USB only, not USB-C, which is a little bit of a bummer, but the USB-C tech just hasn't gotten there yet – you really can't find ethernet-to-USB-C adapters yet.
But not to worry, you can plug this gap with a simple USB-to-USB-C adapter like the Syntech USB-C to USB Adapter (on Amazon). One important note here: you'll need this adapter, the one with a male USB-C jack and a female USB jack, and another one that goes the other way: the Basesailor USB C Female to USB Male Adapter (also on Amazon) has the reversed orientation: female USB-C jack and male USB.
Once you use this to connect up your cables, you'll be ready to use the ethernet extender. Will you still have signal issues across this longer distance? Maybe, but if you're using a shielded cat 5 or cat 6 cable, that will reduce the chances of this.
If you're going much longer than this, you need to consider other more complicated options, like a powered ethernet extender (and that will be much more expensive, just FYI).
Can You Run USB-C Cables Over Long Distances?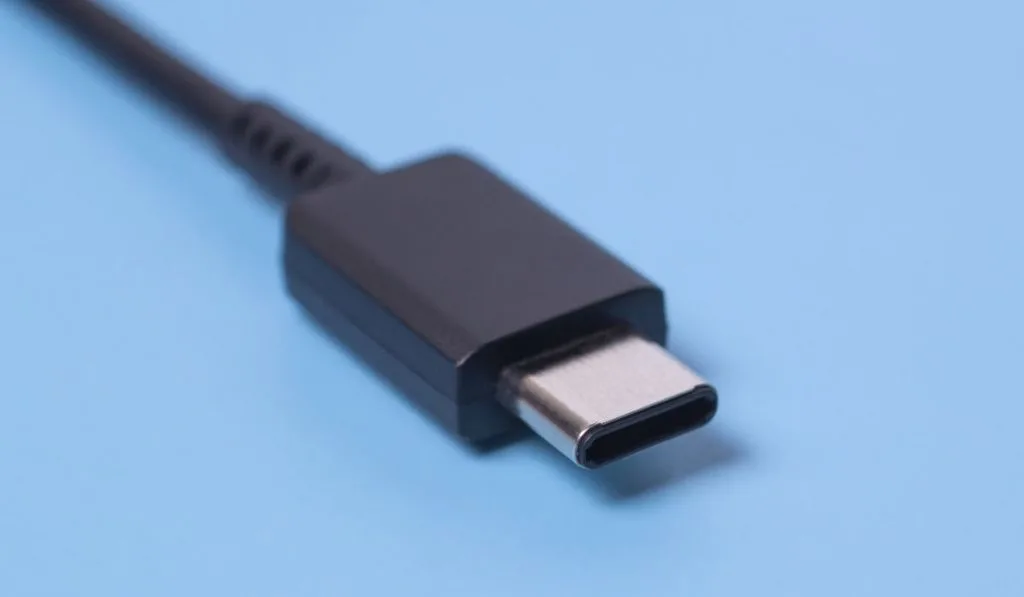 Suppose you want to cover a distance longer than 18 meters; can you still use a USB-C? Unfortunately not. If you do, the data transfer rate will become much slower, and eventually, even power delivery might fail. You can use a powered hub, a powered cable, or a USB extender, to accomplish your goal here.
What's the Difference Between a USB-C and Thunderbolt?
There is typically a lot of confusion between the two, as they look very similar. Regardless, there are a few notable differences between them. Firstly, one difference is in terms of speed and video display. In this case, the Thunderbolt seems to be the far better choice.
While Thunderbolts have a typical speed of 40 Gbps, USB-Cs can only manage 10Gbps. USB-C can also only display a video in one 4k display, while Thunderbolts can manage two 4k displays or a 5k display.
If you check their logos, then you will see another more obvious difference. The Thunderbolt has a lightning bolt on the surface, and the USB-C has a three-pronged USB logo.