You've probably heard or read about how versatile smartwatches are. But in the back of your mind, you might be wondering if there are any smartwatches that can snap photographs too?
There are some smartwatches on the market today that have cameras integrated into them. They can not only snap pictures but also record videos. Most smartwatches can be used as a remote shutter for your phone camera or take screenshots of the watch's screen too.
Continue reading to learn how to capture photos with your smartwatch, what some of the best smartwatches with built-in cameras are, how to manage your phone's camera with your smartwatch, and how to screenshot with your smartwatch.
Can you Take a Picture with a Smartwatch?
Unfortunately, many smartwatches do not include a camera, making it impossible to capture photos. There are, nevertheless, a select few which can snap pictures.
Very few actually have a built-in camera, while most others can be used to operate your phone's camera remotely. However, keep in mind that those that act as remote controls cannot shoot images on their own.
Most smartwatches have this feature built-in as a default, but you should read the product listing to be sure, especially if you're considering a non-name-brand smartwatch.
But you're here for smartwatches with cameras right? There are actually several options, with the Brainbuvvy 4G Smart Watch (on Amazon) being the most full-featured. Not only does this watch have a front-facing camera, it's got a nice screen to see those pictures on as well. The screen is probably too big actually!
There are other models with cameras that point out, like the Padgene DZ09 Bluetooth Smartwatch (also on Amazon), but at this price point you start to get really suspicious of the quality.
As you delve into the smartwatches with cameras ecosystem right now, it's worth noting that, while this feature does exist on some watches, the lack of integration, proper top-of-the-line hardware (like better image sensors), you start to wonder if it's really worth it.
In reality, it's probably not worth it at all. You may use it a couple of times to test it out, but you're unlikely to use it frequently or actually approve of the image quiality that the camera can provide.
Can Your Smartwatch Control Your Phone's Camera?
Your smartwatch may be used as a remote shutter for your smartphone, allowing you to shoot photos from afar.
Place your phone on a level surface or a tripod, aim it, position yourself, then hit the shutter on your smartwatch to take a picture with you in it.
Now which app you use will vary based on the model of smartphone and smartwatch that you have. Below we'll discuss the differences between the main 2 types of smartwatches, Apple and Android.
Apple Watch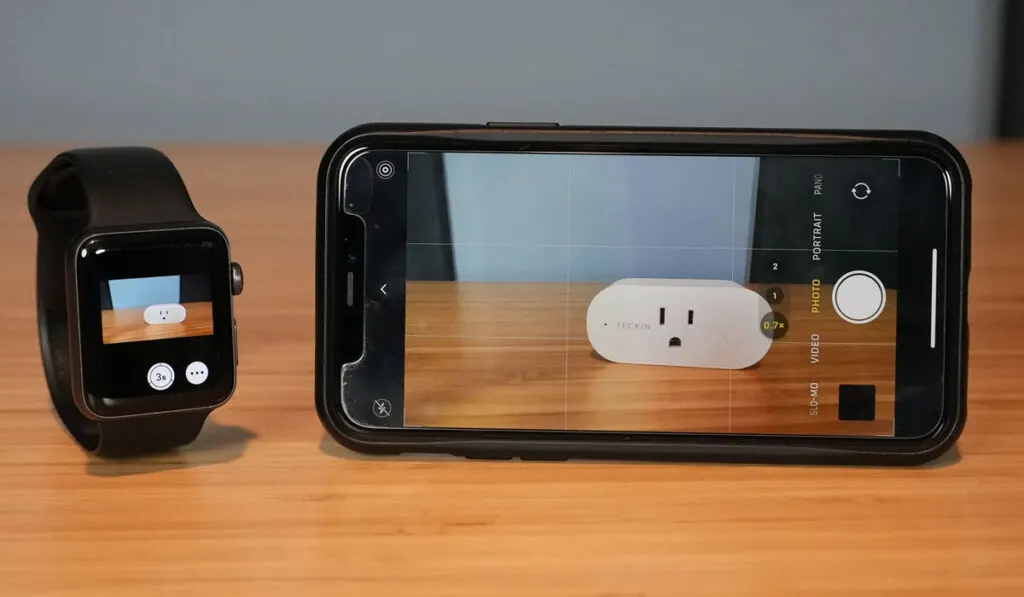 The Remote Camera App for the Apple Watch allows you to capture and preview camera shots. You should also make sure you're within the 33-foot Bluetooth range, otherwise, the image preview can get laggy and the controls may not work well.
To take a photo, first, open the Remote Camera App on your Apple Watch. Frame the shot you desire with your phone using your Apple Watch as a viewfinder. In the image preview, zoom in and tap the critical area of the photo. To capture the picture, press the shutter button.
It also has a three-second timer, so you can properly position yourself for the picture.
Note: Apple Watches ONLY work with Apple iPhones
Android Smartwatches
There are tons of different Android-based Smartwatches out there. So the camera app you use will depend on the type of smartphone and smartwatch that you have.
You'll need to use one of the available apps to snap images with your smartwatch, and the Google Camera app is one of the best. When you open Google Camera on your smartphone, a new card called "remote" appears on your watch. When you press the button, your smartwatch's display transforms into a large shutter key.
When you press the key, a three-second timer starts, and your photo is captured. Unfortunately, you cannot preview the picture before it is taken using this software.
Again, which app you use will depend on the smartwatch you are using and the phone that it is connected to. Some apps are compatible with various smartwatch and smartphone models and some apps are specific to certain brands.
Wear Camera Remote, Pixtocam, and Remote Shooting for Android Wear are some other useful apps. When you want to take a shot for yourself or a group, consider obtaining a phone stand to help you place your phone correctly from your wrist.
How to Screenshot your Watch's Screen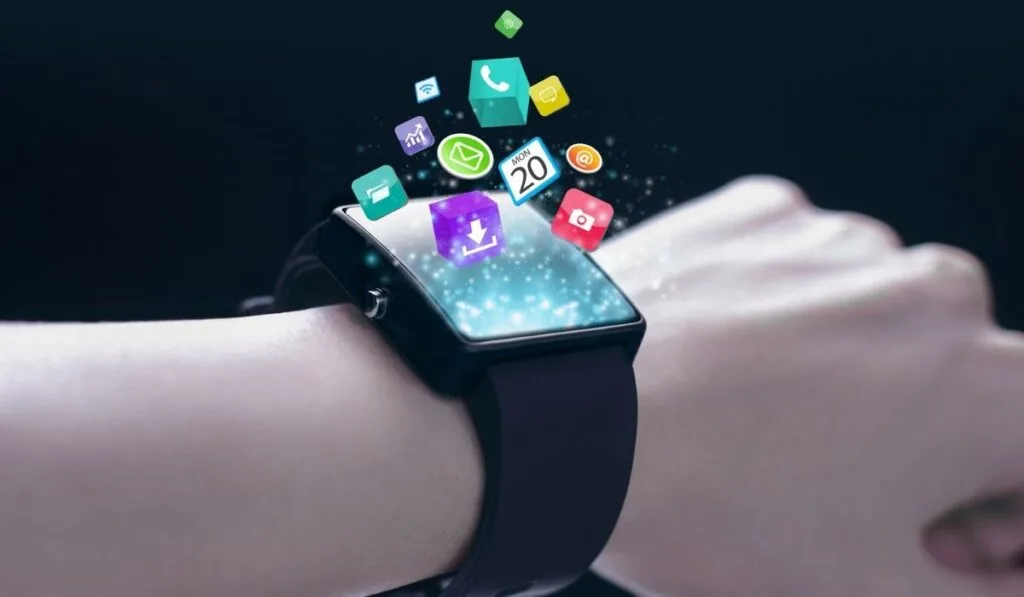 So what do you do if you want to take a photo of what is on your smartwatch? Just take screenshots.
For Apple Watches
To take a screenshot on your Apple Watch, go to the settings app and enable the option. After allowing, take a screenshot by pressing the digital crown and the side button on the side at the same time.
In the picture apps view, browse to the camera roll or screenshots folder to see your screenshots.
For Android smartwatches
Press the home and back keys on your Android smartwatch to take a screenshot. Select your new screenshot in your gallery and hit the three dots.
Select "Copy to Phone" from the drop-down menu. The gallery app on your associated Android phone will have all of the screenshots taken.
Summary
Smartwatches may soon be able to accomplish all of the things that smartphones can, so it's a great idea to familiarize yourself with all of the functions. On our website, you can find more articles regarding smartwatches.