An outdoor patio, deck, the outside of your home or even business are all great areas for installing additional outdoor lighting. However, if you have a large area to light that is a far distance from an outlet, what do you do? Is there a way to avoid installing an outdoor lighting electrical system? One solution is to use battery-powered lights outdoors.
Using battery-powered lights outdoors is a great option, allowing you to avoid installing an extensive outdoor electrical system. The light and batteries need to be weatherproof to avoid issues. Consider using solar-powered outdoor lights for the ultimate simple install.
Battery-powered lights provide many benefits to outdoor light installations. However, keep in mind that the batteries must be installed in a weatherproof, outdoor-rated battery container, but if you purchased an outdoor-specific light of some kind, it will likely have all the weatherproofing you need built in. This article will cover the important benefits and disadvantages of battery-powered outdoor lights and how to optimize their performance.
The Benefits of Battery Powered Outdoor Lights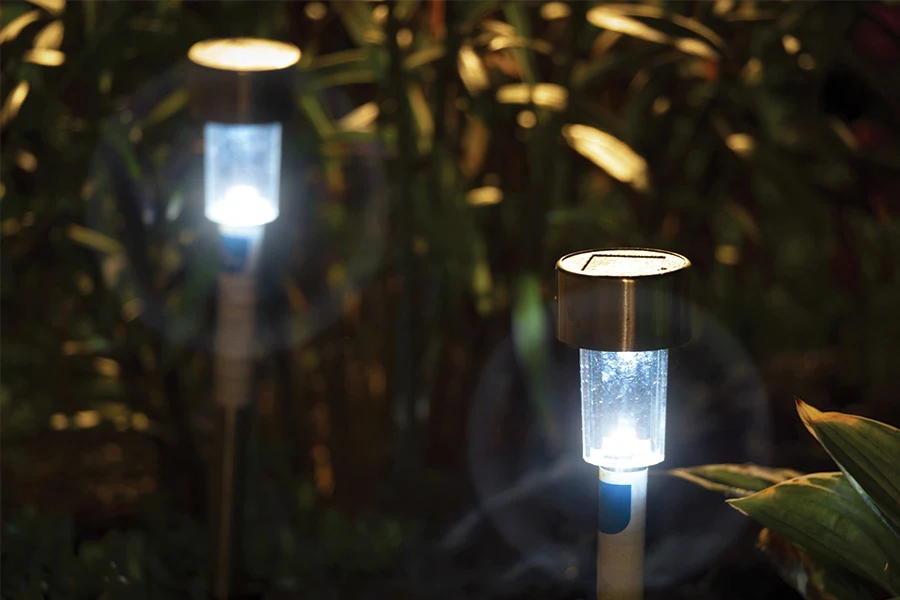 Battery-powered outdoor lights are inexpensive and allow installation without having to worry about tricky electrical wiring. There's no need to dig a long trench for a cable when you have batteries! Besides being less labor-intensive to set up and install, battery-powered lights offer several more advantages:
No expensive need to wire up new outlets with cords and install electrical wiring underground.
No risk of people tripping on long, unburied electrical cords.
Battery-powered lights can easily be installed in an area without having to worry about cable management.
More flexible options for install locations.
Imagine having beautiful, useful lighting in your garden, your patio or deck, and even a gazebo or out-building that is far away from any electrical outlets. With battery-powered lights, it is possible to bring light to all areas on your property. Some battery-powered outdoor lights can also be powered with solar panels, simplifying upkeep by keeping your batteries charged.
The Disadvantages of Battery Powered Outdoor Lights
Battery-powered outdoor lights are a great solution to your outdoor lighting needs, however, they have certain drawbacks too. Unfortunately, almost everything has some downside which should go without saying. Regardless, we've collected some of these drawbacks here:
The batteries will die eventually and will need to be replaced or recharged (although you can get battery-powered outdoor lights that recharge with solar panels to help with this).
Some models have to be physically turned on and off. This means you will have to go outside to do this. (Unless the lights have timers or a built-in sensor to manage this part.)
If you really want a lot of light in your backyard, having a bunch of battery-powered lights could be a headache, requiring you to keep a bunch of spare batteries on hand.
Yes, these disadvantages of battery-powered lights can cause some frustrations. However, the disadvantages can mostly be mitigated by turning off the lights when not in use, using models with built-in solar recharging, and/or by using models that have timers or light sensors to turn them on and off at times that make sense for optimizing the battery use.
These disadvantages are far outweighed by the ease of installation of battery-powered lights vs wired options for most people.
Common Battery Operated Outdoor Lights
[amalinkspro type="image-link" asin="B01L2GAM9O" new-window="true" apilink="https://www.amazon.com/dp/B01L2GAM9O?tag=sortatechy0a-20; img-size="500,500″ addtocart="false" nofollow="true" alt="LOENDE Battery Operated String Lights, Waterproof 21FT 30 LED 8 Modes Fairy Garden Globe String Lights with Crystal Ball for Christmas Tree, Holiday, Outdoor, Indoor, Party Decor (Warm White)" alignment="aligncenter"]https://m.media-amazon.com/images/I/51KZ3azhFjL._SL500_.jpg[/amalinkspro]
Battery-operated outdoor lights are becoming more prevalent as the technology behind batteries and LED lights becomes more advanced.
LED lights can now produce more light with less energy than when they were first invented, and batteries can store more energy in a smaller package too. This means you can power your outdoor lights with batteries for a longer time than ever before.
Most battery-powered outdoor lights have built-in motion sensors, and they are designed to turn on only for a set period of time after detecting motion.
This reduces the amount of time the lights are on, which prevents you from churning through batteries left and right, saving you money and time/effort on replacing batteries.
Battery-powered outdoor lights, have to be weatherproof-typically meeting an IP65 waterproof rating. If you attempt to use indoor battery-operated lights, they're likely to break soon after installation. Here are a few great options with weatherproofing:
If you're utilizing or plan to use battery-powered outdoor lights, consider using rechargeable batteries. Good rechargeable batteries like these rechargeable AA batteries (on Amazon) can last through many charge cycles and can save you a lot of money on battery replacements. They're also better for the environment since you get multiple uses out of them. Hint- you will also need a battery charging base like this one (on Amazon) to recharge the batteries.
Consider Battery-Operated, Solar Outdoor Lights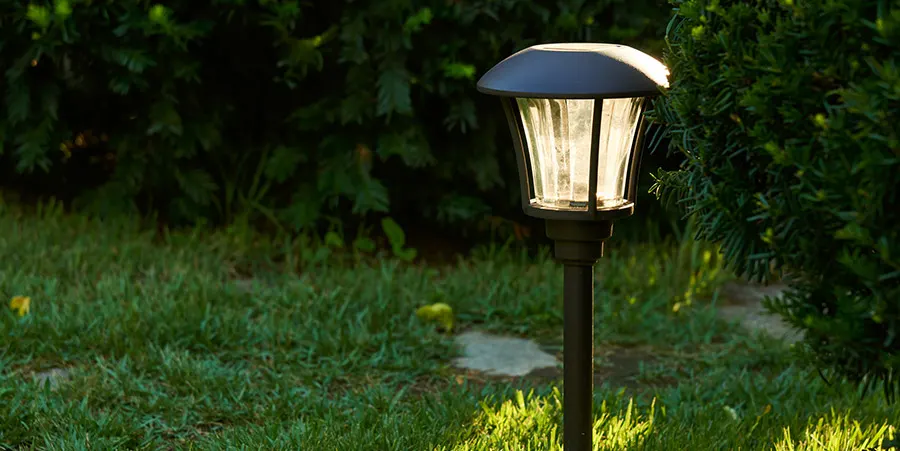 If you do plan to invest in battery-powered outdoor lights, you should consider getting battery-powered lights that are solar rechargeable. Solar-rechargeable outdoor lights are the ultimate way to get outdoor lighting without having to run electrical cords. If you are considering battery-powered outdoor lights, this option may sound the most appealing because of the additional advantages they offer.
Advantages of Battery-Operated Solar Outdoor Lights
Besides the upfront cash for the solar panels, using sunlight for energy is like getting your electricity for free! While solar rechargeable outdoor lights are not perfect they do offer many desirable advantages, such as:
Minimal maintenance/labor – Once installed, the solar-powered outdoor lights should operate entirely autonomously, meaning the sun recharges the batteries themselves and stores the energy to power the lights when it is dark outside.
Batteries do not need to be replaced – Since the batteries are rechargeable and recharge via a solar panel, you do not need to go back and forth with replacing batteries every so often.
Environmentally friendly – Using solar-powered devices reduces your carbon footprint since you are using less energy from the power grid. You are also using less disposable batteries than you would with normal, battery-powered outdoor lights.
Disadvantages of Battery-Operated Solar Outdoor Lights
Yes, solar battery-operated outdoor lights have some disadvantages too. In order to work effectively, the solar panel used to re-charge the batteries of the outdoor lights has to get a good amount of direct sunlight every day. This can be problematic depending on where you wish to install your solar outdoor lights.
To operate well and recharge the lights effectively, the solar panel needs to be angled correctly for maximum sunlight exposure, and they must be in direct sunlight for many hours. If you are in the northern hemisphere, it would be difficult for a solar panel to get direct sunlight on the north side of a building.
This is because of the position of the sun relative to the building, the north side will almost always be in shade. Keep this installation restriction in mind when determining where you want to install solar battery-operated outdoor lights.
Lastly, if your area experiences several cloudy days in a row the solar lights may not be able to charge sufficiently to power the lights for long. Solar lights are best for geographic regions that get plenty of sunlight for this reason.
Types of Battery-Operate Solar Outdoor Lights
There are many options available for solar rechargeable outdoor lights. If there is a battery-powered light there is likely a solar-powered version of it too. You might be surprised to find out that solar outdoor lights are not much more expensive than standard battery-powered lights. Taking into account the cost of battery replacements, they are probably even cheaper in the long term. Here are some great solar power lights you can use outside your home or business (the following four links take you to Amazon):
Conclusion
Battery-powered lights can absolutely be used outdoors. They are fantastic solutions to your outdoor lighting needs. However, be aware that you need to use outdoor-rated battery power lights for outside installations. If you accidentally (or purposely) use indoor ones, they will break and you will have wasted your time and money.
Besides being off the grid, there are many benefits of battery-powered outdoor lights with only a few minor downsides. If you want your outdoor lighting optimized for the least amount of maintenance, make solar outdoor lights your go-to option.