Wireless security cameras have quickly become the norm when it comes to security systems. But, while these devices are convenient to use and setup, what happens when there is no Wi-Fi? These cameras need to be up and running for an effective and safe home security system. However, what about environments where Wi-Fi is unavailable?
You can use security cameras without Wi-Fi by setting up a wired security camera system that brings the camera feeds back to an NVR or DVR, or you can purchase cameras that have a cellular connection that can get the camera feed back without needing a Wi-Fi network. A wired camera setup is typically less expensive than buying multiple cellular-based cameras.
You want to be able to rely on your security cameras when the time comes because that's what they're there for: security. Establishing a clean and stable connection is part of the equation. Understanding your choices and what options are most effective can be a great place to start when assessing security.
Why Modern Security Cameras Typically Needs Wi-Fi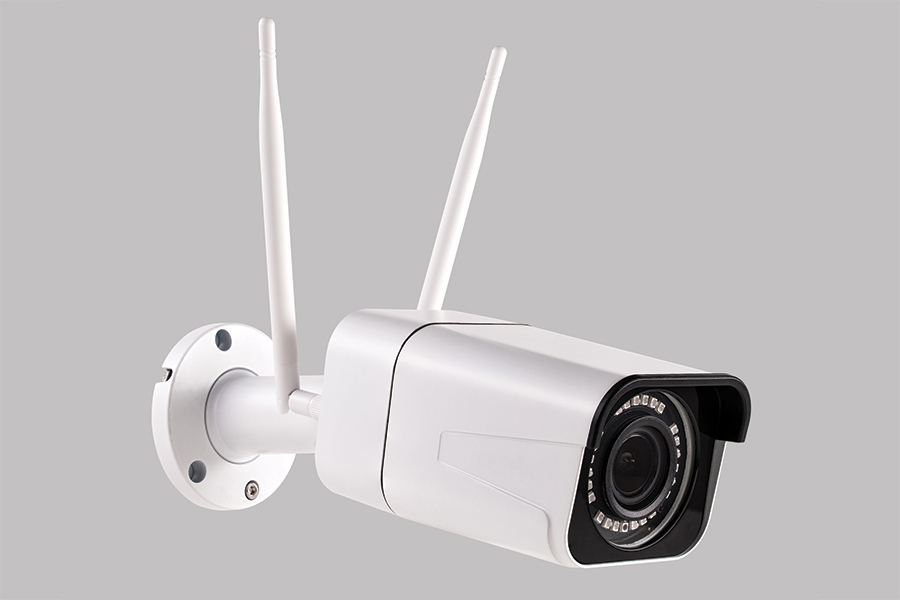 Security cameras have been around for quite a while. Long before wireless networks were the norm, plenty of security systems relied on wired connections for data transfer. But, with Wi-Fi's rise in popularity came the introduction of Wi-Fi-based camera systems
Ironically, what makes Wi-Fi so popular is its popularity: most homes have Wi-Fi, so basing a system on that infrastructure will appeal to most consumers. There are some other reasons for Wi-Fi's dominance as well, such as:
Convenience—No need to set up an additional network to operate your cameras.
Fewer wires—Remove the need to run wires through walls or use long cable pulls.
Versatile—Wi-Fi connections can add additional functions to cameras, like smart home integration.
Variating on the theme of Wi-Fi, cellular data-based security cameras have also grown in popularity. Products like this ReoLink 3G/4GLTE Camera (on Amazon) can provide a stable connection that you can access from anywhere. This is true even if there is no Wi-Fi network to connect to. There are other options to explore as well, so don't think you can only use a cellular-based camera.
How to Set Up Security Cameras Without Wi-Fi
If you want to install a security camera without a Wi-Fi connection, there are a few options to explore. Some rely on tried and true old-school connections, and some rely on other wireless networks like cellular. Let's take a look at some popular alternatives to Wi-Fi and what the setup may look like.
Using Wired Security Camera Connections
There are some solutions to consider if you want to create a closed-loop system with your security cameras. Firstly, it's worth noting that this kind of system will require some tech knowledge. Not only are you going to be working with electrical components, but things like cable run lengths and connection strength need to be taken into account.
Let's look at the two main types of connections you will see on CCTV cameras: Ethernet and Coaxial/RG-59. While both perform well when it comes to stable connections, there are some differences between the two. One thing to consider is the distance you will need to run the cables. At around 300ft, you start to have some data degradation.
Another component you will need is a Network Video Recorder or NVR. Products like the Amcrest NV4108 (on Amazon) will act as a central hub for all your wired connections. It will also be where you record your video. These devices can also provide power over ethernet (PoE) which can help when running cameras by reducing the number of cables you need to manage.
Pros and Cons of Wired Security Cameras
If you opt for a wired system (more on security system types in our comprehensive tutorial), there are some advantages and disadvantages you should be aware of. While this is true for all security camera options, there are special circumstances for a wired system. First, let's talk about some of the reasons why wired security camera setups are still used today:
Reliability—Let's face it, Wi-Fi goes out sometimes. A hardwired closed-circuit system means you'll be recording even when the router is dead.
Hardware—Since this is an older technology, you can often find cameras and other hardware at somewhat of a discount.
Local storage—When working with a wired system, the camera stores footage on your NVR or DVR. This means you have a hard copy, not a digital or cloud copy, of your camera's footage. You don't have to worry about paying a subscription fee or someone else owning your recorded video.
Another factor to consider is security. While Wi-Fi has protocols like WPA3 that are fairly advanced, that does not mean they are entirely safe. Hackers can and have been known to slip into Wi-Fi security cameras. If this is a concern, a hard-wired system can be an excellent choice.
When it comes to disadvantages, though, there are a few big ones including:
Limited options—When it comes to choices, there aren't as many hardware options with a wired system. Most systems will use ethernet and an NVR.
Difficult to install—Wires are an issue for any home. You don't want unsightly cables hanging from all over. Additionally, wired systems often require holes to be cut in walls for cable pulls.
No remote access—Keeping everything local means you can only access your footage on site. No remote access is available unless you add extra hardware and capability to your system to allow it, and that can get a little complicated.
Cellular Connections
If you still want to have access to your cameras at all times, then consider a cellular-backed camera. While they may be a tad more expensive, they can give you many of the same features as a Wi-Fi camera. These are great for fairly remote locations including lakehouses, trail cameras, as well as in parking lots. Most on the market will be battery-operated as well. This means that there is virtually no limitation when it comes to placement.
Devices like the Vosker V2000 (on Amazon) provide top-notch quality and they're easy to setup. To get these types of cameras working usually mean setting things up with a mobile app and the app is where you will access your camera's feed. Once you install everything, all you need to do is pull out your smartphone or whatever device you're using and you'll have everything easy to see and ready to go.
Other Non-Wi-Fi Based Security Camera Options
If a cellular bases system or a wired system still won't cut it, here are a few other choices. Keep in mind that there are some significant trade-offs when it comes to convenience and features. One thing to look at is cameras with onboard storage. These cameras are essentially all-in-one units, similar to the cellular cameras. Instead of a cellular data connection, though, they rely on a microSD card for storage.
Cameras like the Kittyhok Wire-Free Outdoor Camera (on Amazon) are battery-operated and work in extreme weather conditions. This is close to what we referred to in our separate guide as a bullet camera due to its shape. Another option is to use a game camera. Manufacturers may not design these for security purposes but they can act like one if they need to.
Often, game cameras will be motion sensor operated, so keep that in mind. Products like the Campark Trail Camera (on Amazon) are easy to use and set up. One big pain with these cameras is maintenance. Not only do you need to worry about changing/charging batteries, but you will also need to change the storage cards. This can mean weekly upkeep to make sure your footage is being recorded properly.