Facebook Technologies' latest virtual reality (VR) headset, the Oculus Quest 2, can be used a standalone headset with its own internal Android operating system. It can also be linked to a PC using compatible VR software and a WiFi connection or a USB cable. But can you connect this innovative headset to your PlayStation 5?
The Oculus Quest is not officially compatible with the PS5. As a partial workaround, you can use Virtual Desktop on your headset and PS Remote Play on your PC to mirror the game to the headset, but you may experience latency during gameplay.
Using a workaround to get your Oculus Quest connected to a PS5 is surprisingly easy, so don't hesitate to try it out for yourself. And if this doesn't sound like a good solution to you, just know that Playstation makes it's own first-party virtual reality headset that may be interesting to you. Let's take a look at how you can get started streaming your PS5 to an Oculus Quest.
What Is the Oculus Quest?
The Oculus Quest (on Amazon) is a virtual reality (VR) headset that, like its predecessor, the Oculus Go (on Amazon), can run games and apps wirelessly under an Android-based operating system. It uses internal sensors and an array of cameras on the front of the headset to allow positional tracking with six degrees of freedom.
The cameras are used for generating the virtual world and accomplishing vide pass-through when necessary. Subsequent software updates added "Oculus Link," which is a function that allows the Quest to be connected to a computer through USB. The USB connection allows it to be used with Oculus Rift-compatible applications and hardware.
The Oculus Quest has been praised for its affordability and convenience, as well as for having better graphical fidelity and tracking than the Oculus Go. Yet, it was derided for its front-heavy design and worse graphics quality than PC-based VR games.
Some of the perceived downsides include that the headset is limited to Oculus Store-only apps and lacks backwards compatibility with Oculus Go software. The later release of Oculus Link prompted critics to applaud the device's enhanced versatility and predict that it would eventually supersede the PC-only Rift headsets.
Can You Connect Oculus Quest to PS5?
The Oculus Quest is not officially compatible with the PS5, as neither Oculus nor Sony have provided support for the pairing. Workarounds can, however, be used to achieve a certain degree of connectivity, but it will be limited.
This is why, in our PS5 Ultimate Owner's Guide, we recommend using the stock PSVR headset. It's not the absolute best VR experience, but if you already have a PS5, it will be better than the Quest in general.
With the Oculus Quest workaround, though, you can use this modern headset with powerful controls for a fantastic gaming experience simply by making a few modifications to your settings.
Given the relatively simple process required to tweak this headset for use with the PS5, it's a little surprising Sony urges users to stick with their original headset.
How to Connect Oculus Quest to PS5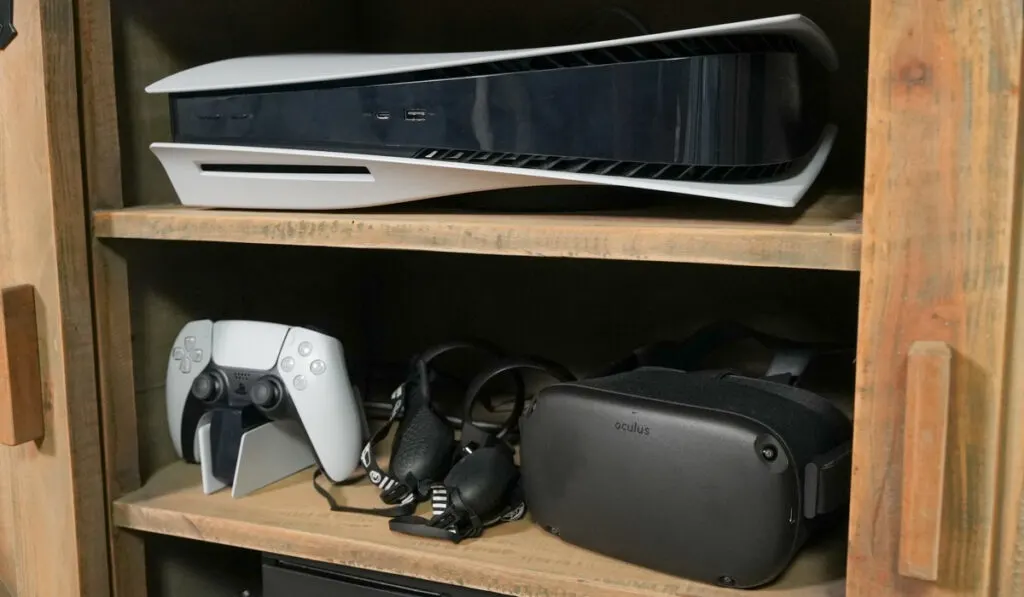 There is no approved mechanism to link the two devices together. So if you were hoping to connect the Oculus Quest 2 to the PS5 and go on a virtual journey, you're out of luck.
And, realistically, we shouldn't be expecting anything different. After all, Sony has its own PlayStation VR system, with a sequel in the pipeline, so it wouldn't make much sense for Sony to openly promote a competitor's product. They would prefer that players use their PSVR system.
Furthermore, the Quest 2 is supposed to be used with a PC rather than a console, so plugging it in won't accomplish much. You may connect your Quest 2 headset to your PS5 in a few different ways. Installing Virtual Desktop on your Quest 2 and PS Remote Play on your PC is the simplest option. You can then use your VR headset to play PS5 games by mirroring your PC screen on your Quest 2.
The catch is that you're effectively constructing a two-stage procedure. You run the danger of additional latency if you switch from PS5 to PC, then PC to Quest 2. This may not be a problem in all circumstances, but it could be a problem in fast-paced games.
Alternatively, you can try to install SideQuest on your PC and then use an APK to download PS Remote Play to your Quest 2. This option a little more fiddly, and some users who have tried it have reported that it doesn't work very well.