Virtual reality offers an exciting escape from our usual lives and a great way to burn off a few calories. The PlayStation 4 Pro significantly enhanced the resolution and quality of PlayStation VR (PSVR) graphics, making applications and games look better and crisper on the headset. But has the performance of the VR further improved on the PS5?
There's not a very significant boost in the performance of PSVR games on the PS5 when compared to the PS4 Pro. It's therefore not advisable to purchase PSVR for your PS5, it's a better idea to wait for the newer headset, which will likely be released by the end of 2023.
Let's take a closer look at whether VR is better on the PS5, if the headset is worth it, and how it compares to the Oculus Quest 2, so that you don't have to worry about making the wrong purchase. It's hard to know who has the best hardware sometimes, but Sony makes it easy to trust the PSVR brand, no matter which console (PS4 or PS5) you're using it on, so we'll start there!
PlayStation VR
The PlayStation VR system (on Amazon) allows you to lose yourself in thrilling virtual reality experiences and games. Boasting an incredibly wide field of view, the headset enables you to escape your everyday routine and explore a completely new game world.
PSVR is compatible with the PS5 as well, and you'll be able to use your existing VR kit with the new console. However, you'll need an adaptor to connect the PS5 to your existing PS camera. Be sure to skim our full PS5 Owner's Guide for more details on the consoles features around VR and everything else.
And note that, while you can connect an Oculus Quest to the PS5 console technically, we think the PSVR headset is a way better pick for use with the PS5 overall.
Is VR Better on PlayStation?
The PS4 Pro boosted the resolution and quality of PSVR graphics, resulting in a better and crisper display with the headset. However, you might not see such a big boost with the PS5.
According to Sony, the games will have faster loading times and there might even be a few improvements in graphics for some games. There is also potential to see exclusive PS5 games made for VR, but Sony has not yet confirmed if it will allow its developers to do that.
Similar to the PS4, the PS5 also allows you to capture screenshots and videos of your PSVR experience with your controller's Share button. Unfortunately, the PS5 captures them at the low resolutions of 960×720 for screenshots and 1280×720 for video (same as the PS4).
Is PSVR Worth It?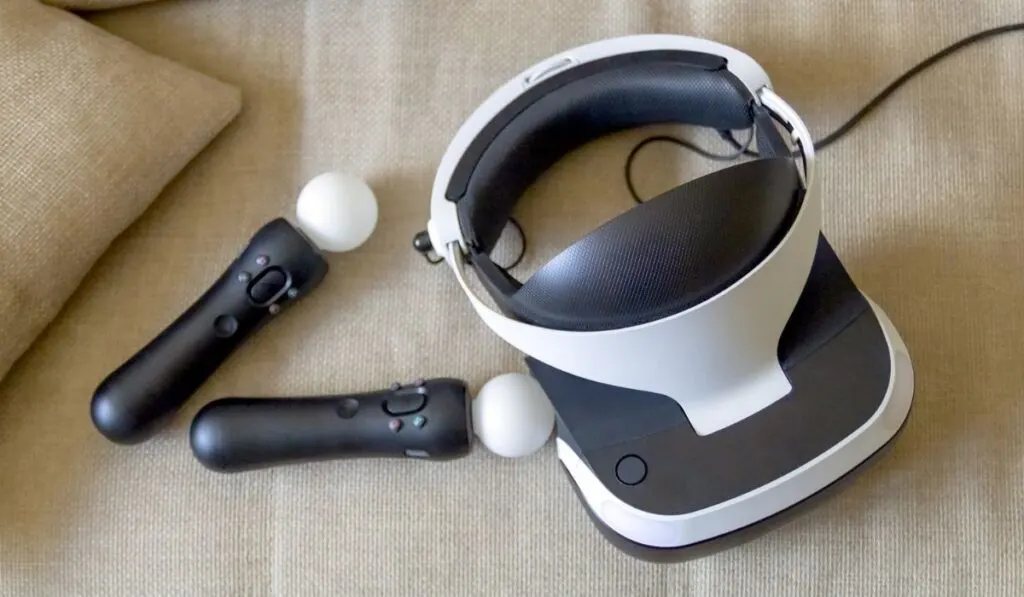 It's not advisable to purchase PSVR with the PS5, as the headset is quite outdated and will soon be replaced by a new, more powerful headset.
While all PSVR games will work on the PS5 (except Robinson: The Journey), their performance is not enough to warrant a PSVR purchase for PS5 owners or as an upgrade for those using PSVR on PS4 Pro or PS4.
It's important to note that things are a bit smoother with the PS5, and there might even be a slight improvement in the frame pacing. However, these changes won't make you feel like you're playing PSVR games on a completely new console.
In fact, there's no noticeable difference in either the TV screen output or the in-headset view of the two consoles.
One notable difference between the two devices is that PSVR settings and adjustments are more detailed and user-friendly on the PS5, making it much easier to set the console up.
Pressing your controller's PS home button pulls up a small menu on the bottom of your screen for quick access, allowing you to change settings easily. However, if you want to access all settings, you'll need to go to Accessories, and then choose PlayStation VR.
The new console makes calibrating the PSVR headset and the light balls on the PS Aim controller (on Amazon) and PS Move controller (also on Amazon) incredibly easy as well.
The PS5 also comes with a feature that helps you accurately measure your IPD, further ensuring proper 3D rendering.
When it comes to the performance of PSVR games on PS5, the only difference is that the loading times are a bit shorter. However, even this improvement is not a big enough selling point for VR games on PS5.
Does Oculus VR Work With PS5?
The Oculus VR does not work with the PS5 or the PS4, and there's no official support from either Sony or Oculus. There are a few workarounds you can employ to establish some type of connectivity, but these solutions are limited and don't offer full compatibility.
A common way to use your Oculus VR with your PS5 is by sideloading applications. For example, if you sideload the Remote Play application, you'll be able to play PS5 games like Fall Guys using your Oculus headset.
Is the PSVR Better Than the Oculus Quest 2?
The Oculus Quest 2 (rebranded as the Meta Quest 2 (on Amazon) in 2021) boasts an Android-based OS and a Snapdragon XR2 processor. It's a standalone console, while the PSVR is more of an accessory or an extension to the PlayStation console.
Although both offer excellent VR experiences, there are more than a few differences between the two:
Setup
Meta's headset is extremely easy to set up, but it requires users to log on to Facebook in order to use it. While the PSVR setup does take some time, you won't need to log on to your PSN account unless you're playing multiplayer games.
You'll also need a lot of gadgets and cables for PSVR. Since it has an external processor, players will need to plug in everything before playing. Wires, an external camera, cables, and a console all connected together make the PSVR inconvenient and far from portable.
However, all these connections also mean that you won't have to worry about a dying battery.
The Oculus Quest 2 (on Amazon) doesn't have any cables and offers users a completely wireless VR experience. Unfortunately, the headset has a very short battery life, and you can only play for around two to three hours at most. While you can charge the Oculus while playing, you'll need to use a very long USB cable to do so.
Ergonomics
The Oculus Quest 2 has a few uncomfortable straps that make prolonged hours of gameplay almost impossible. On the other hand, the PSVR is incredibly ergonomic and extremely comfortable to wear.
When it comes to the controllers, the Oculus controllers are safer and far more comfortable than the PlayStation Move controllers. However, Sony also gives you the option to use your DualShock 4 or DualSense controller with your PSVR.
Visual Experience
Although the Oculus Quest 2 has an LCD panel (compared to Sony's OLED display), it still offers a much better visual experience than the PlayStation VR. The PenTile subpixel arrangement and higher resolution per eye of Meta's headset ensure crisper and sharper graphics, making the headset's image quality far outshine that of the PSVR.
However, Sony's device is better at displaying blacks, as OLEDs are able to turn off pixels and deliver true blacks.
Movement Fluidity
The Oculus Quest 2 has the upper hand in terms of movement fluidity thanks to its 120Hz refresh rate. On the other hand, the PSVR only features a lower 90Hz refresh rate.
However, the PSVR boasts a wider field of view (100 degrees), compared to the Oculus Quest 2's 89 degrees. You can change the IPD on both devices, but you'll have to adjust the settings manually on the Oculus 2.
Meanwhile, Sony allows you to adjust the IPD digitally using the settings within the PS5 or PS4.