Dolby Atmos is changing the home cinema and surround sound industries. This new technology is now being used with some games, making it even more cutting-edge.
Dolby Atmos provides a more immersive gaming experience through multiple speaker channels. The technology is compatible on PC, Xbox Series X, and the Xbox One S. All you need to use Dolby Atmos is the app, a compatible pair of headphones, and a compatible game.
You can probably try Dolby Atmos with your current gaming setup. But are you ready to step into the future of surround sound? Read on for everything you need to know about Dolby Atmos for gaming. Let's take a look at Dolby Atmos in general, and then we'll turn our attention toward making it work for you when gaming!
What is Dolby Atmos?
Dolby Atmos is revolutionizing home cinema and surround sound technologies. By adding height channels, Dolby Atmos provides a more encompassing sound effect to home cinemas.
With 5.1 systems, the sounds are at the same level as your ear. So, for example, Dolby Atmos places the sounds of raindrops or planes speeding in the sky right above you.
Atmos introduces new speaker configurations to the market. 5.1.2 places five speakers with one subwoofer and two height channels around the room. You could change these configurations to suit your tastes and even add an extra subwoofer.
Dolby Atmos provides an enhanced and more immersive sound experience for home cinema setups. Now, technology is supported in some games.
Which Games Use Dolby Atmos?
There are a surprisingly large amount of Dolby Atmos compatible games. Here's a complete list to get you freshened up:
Call of Duty: Modern Warfare (including Warzone)
Call of Duty: Cold War
Borderlands 3
Overwatch
Battlefield 1 (PC)
Star Wars: Battlefront
Gears of War 4 (Xbox One X)
Gears 5
Crackdown 3 (Xbox One/Xbox One X)
Star Wars: Battlefront II
Assassin's Creed Origins (Xbox One X)
Final Fantasy XV (Xbox One X)
Rise Of The Tomb Raider (Xbox One X)
Super Lucky's Tale (Xbox One X)
Mass Effect: Andromeda (PC)
For Honor
Forza Horizon 4
Metro Exodus
Resident Evil 2
The Division 2
Zone of the Enders: The 2nd Runner
Shadow of the Tomb Raider
Ori and the Will of the Wisps
Tom Clancy's The Division 2
Immortals Fenyx Rising
Microsoft Flight Simulator
Grounded
GRID
Resident Evil 2
Need for Speed Heat
Dolby Atmos Compatibility: PC, Xbox, and PS4
Dolby Atmos creates an all-enveloping gaming experience. Atmos is perfect for first-person shooters, where you need to listen to footsteps and gunshots with the most precision possible. Unfortunately, the technology isn't supported with either PlayStation 4 or PlayStation 5 consoles.
PC
The PC delivers the best Dolby Atmos experience possible. You can get an idea of what to expect with their audio sample. All you need for PC compatibility is the Dolby Access App for PC, a good pair of stereo headphones, and supported games.
You'll have the option to adjust the settings, apply spatial sound formats, and virtual surround sound to your audio device.
Xbox Series X
The Xbox Series X offers a wide range of sound options, including DTS:X, Windows Sonic sound, and Dolby Atmos. The system automatically uses Windows Sonic, but you can easily switch to surround sound by using Dolby Atmos.
You'll need a capable TV or sound setup to use Dolby Atmos on the Xbox Series X. Alternatively, you can use the Dolby Access App and a compatible pair of headphones.
Xbox One S
The Xbox One S also supports Dolby Atmos for Blu-ray playback. In addition, the console is capable of playing compatible games with ease. You can use a capable A/V receiver to access Dolby Atmos.
Or, just like the PC, you can purchase the Dolby Access App and use a compatible pair of headphones.
Compatible Headphones
We've mentioned that all you need is the Dolby Atmos Access App and a pair of compatible headphones to experience a more immersive gaming experience. Here are some compatible headsets to keep in mind.
Corsair HS75 XB Wireless Gaming Headset
The Corsair HS75 Wireless Gaming Headset (on Amazon) is one of the premier choices for Dolby Atmos. The custom-tuned neodymium audio drivers provide incredibly detailed audio to enhance your gaming experience.
The adjustable plush leatherette ear pads with memory foam ensure you remain comfortable during the longest gameplay sessions. Communicate with your teammates with ease by using the detachable noise-canceling microphone.
You'll also have more than enough space and time with up to 30-feet of wireless range and 20 hours of battery life.
The HS75 XB headset is compatible with the Xbox Series X, Xbox Series S, Xbox One, and PC.
RIG 500 Pro HX
The RIG 500 Pro HX (on Amazon) immerses you in the battlefield without breaking the bank. The highly sensitive 50mm drivers paired with Dolby Atmos create a three-dimensional sound experience.
With the lightweight exoskeleton design, you won't feel any fatigue during long gaming sessions. The dual-material ear padding and over-the-ear design provide passive noise suppression for even more immersion. Speak with your teammates only when you need to with the flip-to-talk microphone
The RIG 500 Pro HX is compatible with Xbox One gaming consoles.
How to Set Up Dolby Atmos for Gaming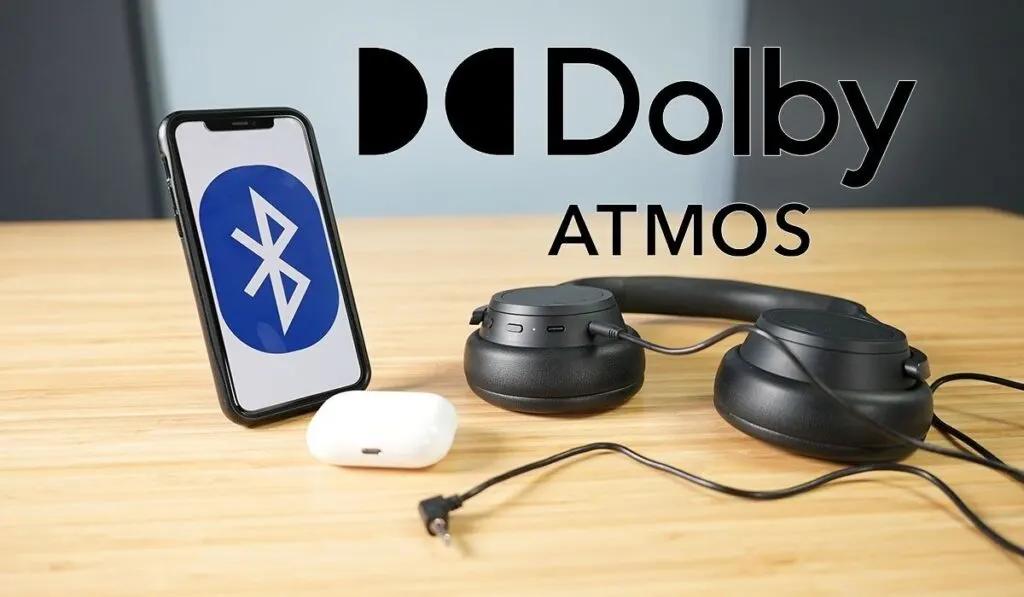 The easiest way to set up Dolby Atmos for gaming is by using headphones and the Dolby Atmos Access App. We'll explain this method, as most gamers can start using it today. Follow the steps below to begin.
Download and install the Dolby Atmos Access App from the Microsoft Store.

Once the app is done installing, open it up. Select the box that has the headphones in it.

Afterwards, connect your audio device and select them from the right-hand menu. Click continue. The app will inspect for compatibility between your audio device and Dolby Atmos. As long as you have Windows 10, your headset should be compatible.

Next, you'll be prompted to either buy the app or use a 30-day free trial. Select whichever option works for you. You'll be required to install more content. Select Okay.

After the download is finished, you should notice a new Configure PC settings option. Click on this button to bring up Speaker Properties.

From the 'Speakers Properties' menu, go to the 'Spatial sound' option on the right, use the pull-down menu under 'Spatial sound format' and choose 'Dolby Atmos for Headphones'. Finally, select apply and save any changes you made.
Now you're finished! Your headphones are set up and configured to use Dolby Atmos. You can play around with the app or adjust any settings you see fit.
5.1.5 Setups For Surround Sound
You have a vast amount of options if you're opting for a home theater or surround setup. One setup to consider is the 5.1.4 variant. This setup means you'll have five main speakers, one subwoofer, and four Dolby Atmos speakers.
For this setup, position the main left and right speakers between a 45-60 degree angle to your listening position. Be sure the center channel is centered on your screen. The height of your left, right, and center speakers should be at ear level.
Your surround speakers should be around ear level near a 110-degree angle. Put them just behind your listening position. Your Dolby Atmos speakers will either go in the ceiling or on top of your main speakers.
You can simply place your speakers on top of your front left and right speakers and rear left and right speakers.