For a lot of people, Netflix has become the number one on-demand streaming service for the latest movies, TV shows, comedy, and documentary series. And because you can stream on your laptop, tablet, or mobile phone, you run the risk of binge-watching and losing track of your data usage. So, exactly how much data is used to stream Netflix?
You use about 1GB/hour to watch a Netflix TV series or movie on standard definition video. For High Definition Netflix videos, data usage goes up to about 3GB/hour. Also, if you decide to download videos rather than stream them on Netflix, you'll be using comparable amounts of data.
Once you get an idea of how much data is gobbled up by your favorite Netflix movies or series, you'll have better control of your data usage. You also have the option of choosing your preferred data usage setting, thereby saving yourself the agony of discovering that you've consumed all your data unintentionally.
How Much Data is Used When You're Streaming Netflix?
The resolution and length of the movie or show you're watching play a huge part in the amount of data you use to stream on Netflix. Standard resolution videos use about 1GB per hour while HD videos use about 3GB per hour.
It's imperative to know that the default data usage setting is "Auto." This means you could end up using a considerably higher amount of data than 1GB/hour, if, for instance, you're streaming on a high-speed internet connection.
Taking into consideration your ideal video quality and what is available, you have a choice of four different data usage settings on Netflix to choose from.
Making the right choice will reduce your data consumption. And because there is a big gap in data usage between the different options, this information can be valuable.
Here are the options:
| Netflix Quality Setting | Data Used Per Hour |
| --- | --- |
| Auto (Default) | Varies depending on internet speed |
| Low | 0.3 GB |
| Medium | 0.7 GB |
| High | 3GB for HD, 7GB for 4K/UHD |
If you don't really care that much about video quality, you can reduce your data usage significantly by setting your Netflix data usage option to low or medium.
Ultimately, it all boils down to what you want. If you're someone who loves to watch your videos using the highest definition possible, just go for it. However, you should be ready to see your data usage go through the roof.
How to Change How Much Data Netflix Uses
If you're trying to save some data when streaming Netflix, or you have unlimited data and want the best video quality available, the quality settings for Netflix can be a little confusing.
Here we'll explain exactly where to go to change the quality settings for each type of device.
Laptop/Desktop (Netflix.com)
Hover over the profile picture at the top right of the screen and click "Account".
Scroll down to the "Profile & Parental Controls" section.
Click the dropdown arrow next to the account that you are using.
Next to "Playback settings", click "Change".
Then set the "Data usage per screen" to whatever option works best for you.
Mobile App or Tablet App
Tap the profile picture at the top right of the screen.
Tap "App Settings".
If you are using a device with a cellular data plan, you can select "Automatic, Wi-Fi Only, Save Data, or Maximum Data".
Note: If you have a very limited data plan, selecting Wi-Fi Only or Save Data would be the best option for you. If you have unlimited data, then you can set it to Automatic or Maximum Data.
Underneath the "Downloads" section, you can also choose the Video Quality of downloaded Movies and TV shows and set it to only download when connected to WiFi to save as much data as possible.
Does Netflix Use More or Less Streaming Data Than YouTube?
YouTube is another widely used viewing platform that offers convenience and an assortment of videos. Determining data usage figures for YouTube is not as clear-cut as Netflix, however, chiefly because there are more options and variations to choose from.
It is possible to view videos using different quality settings, ranging from 360p to 2160p. Other factors that affect data usage are frame rate, bandwidth, bitrate, as well as videos made in 360-degree or 3D.
Generally, when watching videos on YouTube, you can expect your data usage to fall within these values:
| YouTube Video Resolution | Data Used Per Hour |
| --- | --- |
| 480p (854×480) – SD | 500 MB |
| 720p (1280×720) – HD | 1.2-2.7 GB |
| 1080p (1920×1080) – Full HD | 2.5-4.1 GB |
| 2160p (3840×2160) – 4K | 5.5-23.0 GB |
*The data used per hour will vary depending on the device you are watching YouTube on and the frame rate of the videos. A higher frame rate will lead to higher data usage. Data stats (source)
YouTube can consume as much or much more data than Netflix. If you stream on both services with the highest video quality possible, YouTube will likely use more data.
Does Netflix Use the Same Amount of Data to Stream to Your Phone?
Streaming Netflix on your phone gives you a different set of options that allow you to reduce your data usage. If you select the automatic option, you'll be using just about 1GB every 4 hours because it adjusts the quality all through the viewing.
You can also stream using the WiFi-only option or select the option for maximum data, which consumes 1GB every 20 minutes. This last option has a brilliant resolution and no lagging.
With the download option on Netflix, you'll always be entertained. Your phone will become a portable TV where you can watch videos on boring flights, long car rides, or curled up on the sofa.
And whether you choose to download videos or stream them, you'll be using around the same amount of data. So, if you decide to download a movie for offline viewing when you don't have an internet connection, you're neither saving nor losing any extra data.
Can You Control the Amount of Data Used to Stream Netflix?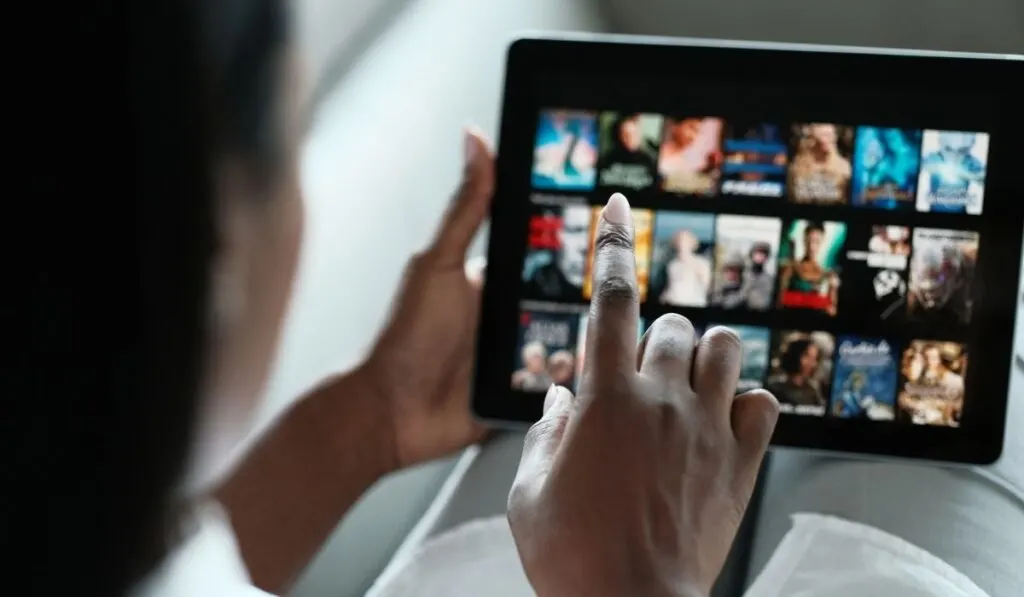 Yes, you can. This can be done directly on Netflix when you select the option that consumes the smallest amount of data. If you're streaming on a mobile device, choose data saving mode or low data mode to regulate the amount of data that is used when watching a Netflix video.
It's important to note that your changes might not come into effect until eight hours after you've made them.
Fortunately, the internal controls and settings on Netflix can help prevent you from exceeding your data allowance and possibly incurring extra charges that you didn't bargain for.