The best gadgets out there are simple, smart, and do what they're supposed to do without much fuss. While smartphones and tablets may be great for many things, wearable devices eliminate the constant need to have your phone in hand. Instead, smartwatches allow you to stay updated on your notifications and alerts without carrying your phone with you all the time.
Smartwatches with eSim cards, integrated WiFi, and GPS have become a perfect alternative to a smartphone. Apple, Samsung, Fitbit, Huwaei, and others have rolled out standalone smartwatches. These support eSIM cards and have powerful microprocessors, so you don't need a phone to enjoy a smartwatch.
Apple was the first to release completely independent smartwatches that didn't need a constant connection with your phone. Now, several standalone smartwatches have been released by Samsung, Huawei, and other big players in the market. We have created a list of the best standalone smartwatches available in the market today. Keep reading to find out what they are and how you can choose the best one for yourself.
Are There Any Smartwatches That Work Without a Phone?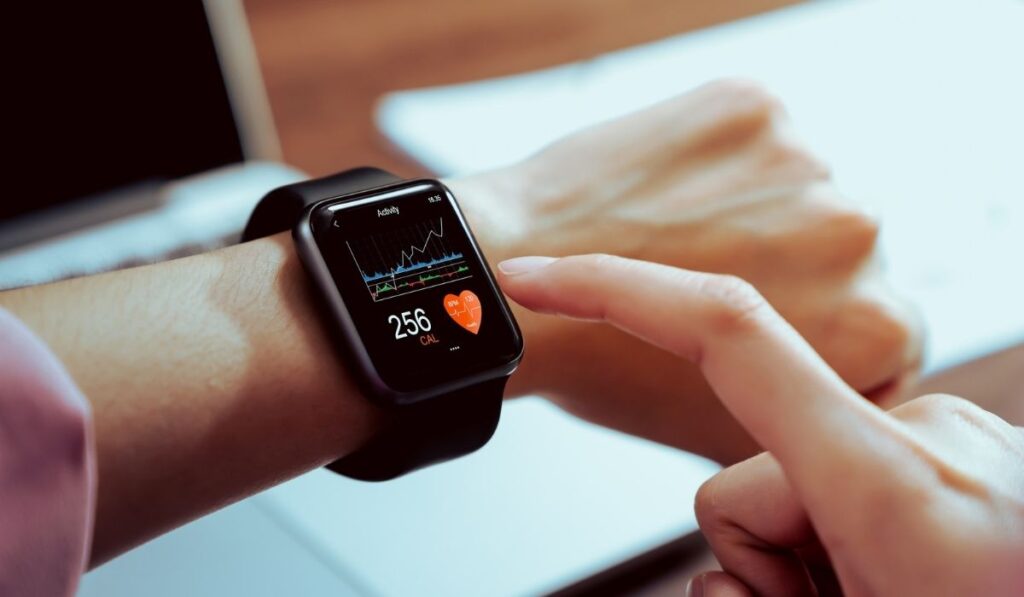 Several standalone smartwatches out there don't need a phone to work, and the list is growing every day. Manufacturers like Apple, Samsung, Fitbit, and Huwaei have created standalone watches with eSIM cards powerful microprocessors.
Smartwatches with optional apps can also bring you the weather, news, and social media updates right to your wrist.
Built-in GPS, Bluetooth, music library, social media, and dozens of other features are available on these watches. You won't even need to take your phone out of your pocket anymore – just gesture your smartwatch and call, text, browse, and check notifications in an instant.
With such amazing features, we doubt anyone would want to go out without their smartwatch on the wrist.
What are the Best Standalone Smartwatches?
The Smartwatch market has been heating up recently due to the growing demand for convenient and functional technology. The top manufacturers in the industry have been iterating to create the best smartwatch that provides unrivaled comfort and a rich, interactive experience.
With so many players competing in the market, several models have already emerged as clear leaders. Let's take a look at the best standalone smartwatches you can buy today.
1. Apple Watch Series 5
The Apple Watch Series 5 (on Amazon) is an outstanding device with a sleek design and outstanding performance. It blurs the line between tech and style with several aesthetic modifications, a better battery life, and improved fitness sensors.
Coming to the internals, the integrated eSIM should allow you to connect to any network without a physical SIM card.
Its user-certified GPS will let you explore places with turn-by-turn navigation, complete with traffic info for accurate guidance. This smartwatch also acts as a life savior with the new ECG and heart monitor.
Pros:
Widescreen and smooth dial makes it easier to interact with the interface

Siri Onboard to support voice interactions

Now has ECG monitor (for people above 22)

Noise alert to notify you of increasing background noise

Menstruation tracking app

eSIM support to enable cellular calling

Integrated with Apple pay for convenient shopping
Cons:
It needs an iPhone to set up SIM card services, doesn't support any other network

A bit pricey
2. Samsung Galaxy Watch 3 BT
The Samsung Galaxy Watch 3 (on Amazon) is a worthy performer with great features and optimized performance. It comes with a 1.2-inch Super AMOLED display that's sharp, bright, and vibrant – it also supports LTE with eSIM support.
In addition, rotating the dial for scrolling screens and going through different menus make it easy to interact with the interface.
Samsung watch is integrated with Bixby to set reminders, make calls, or message your friends. Along with health and fitness, it also includes sleep and ECG tracking.
Pros:
Latest Tizen OS 5.5 for faster performance and integrated Bixby AI assistant

Multi-touch display with rotating bezel for scrolling through different menus

Integrates with Samsung Pay to let you make payments using the watch

Integrated sleep tracker to track hours spent on sleeping

Compatible with both android and iOS devices
Cons:
ECG tracker only available with Samsung smartphone
3. Huawei Watch GT 2
The Huawei Watch GT 2 (on Amazon) has a vibrant, edge-to-edge 1.4 inch 3D glass screen display, and 14-day working battery life. It's a great option for anyone looking to get a standalone smartwatch.
It has GPS and GLONASS for connectivity and tracking. In addition, the watch is integrated with the Huawei Health app, so you can either use it independently or connect it with a smartphone app to track your fitness journey.
Another highlight is NFC payment and 3rd party app integration. You can now add and download apps from the Google Play store to enhance your experience further.
Pros:
Huawei Karen A1 chip minimizes battery usage and saves it for up to two weeks

Integrated Huawei Health to track daily activities and monitor heart rate

NFC support for convenient shopping

Alerts for calls, messages, and notifications over Bluetooth connection

Compatible with both Android and iOS devices

Integrated Google Play store to download compatible apps
Cons:
No LTE and SIM card support

Health sensors are less reliable than other counterparts
4. Garmin Venu
The Garmin Venu (on Amazon) is a smartwatch that's more of a sports watch with all the right features and functionalities. From the design to the performance, it has everything one can hope for in a standalone smartwatch.
It tracks activities like steps, sleep, calories, stress, and the menstrual cycle. Even with high activity levels and GPS turned on, the battery can last up to six hours on a single charge.
The watch will save your favorite songs from Spotify and Deezer. With such incredible performance, it can be both a great workout companion or just a casual watch that you wear for daily activities.
Pros:
Multi-sport functionalities for anything ranging from running to biking and swimming

Animated workouts with Germin coach

Simplified display to track your fitness journey

Alerts for incoming calls, messages, and mails

Integrated with Spotify and Deezer music apps

Germin pay for the convenience of shopping
Cons:
You can send messages and but voice service is not available

Not waterproof
5. TicWatch Pro
The Ticwatch Pro (on Amazon) is a feature-packed watch with a preloaded Verizon eSIM connection. You can make calls, access your messages, reply to emails from the smartwatch itself.
The stylish watch with built-in GPS, NFC, WiFi connectivity is a perfect workout companion. To make things more reliable, Ticwatch has IP68 certification making it dust and water-resistant.
It has a dual built-in watch face that lets you easily switch between displays. The battery life stands out too – it can last up to 30 days on a single charge.
Pros:
Heart rate monitor and history to track fitness activities

Verizon eSIM for convenience of phone calls and messages

30 days battery life on a single charge

Waterproof IP68 design to withstand elements during workouts or outdoor activities

Voice assistant access
Cons:
Only support Verizon network
What are the Best Smartwatches for Teens?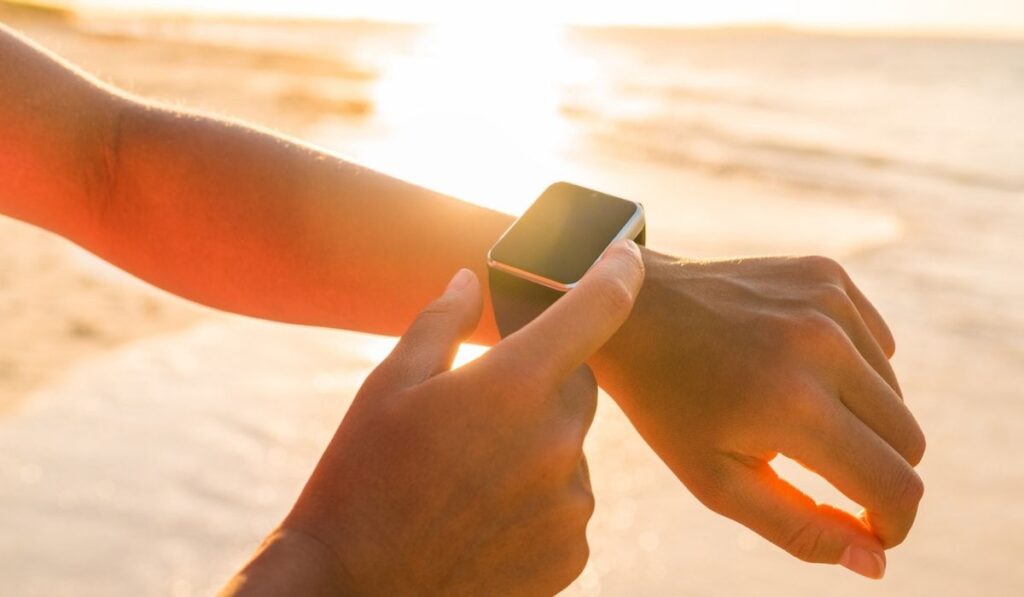 Many parents are not comfortable exposing their children to smartphones but also want to allow them to access technology to stay connected and informed.
This has led to the demand for kids-friendly technology, and the smartwatch industry hasn't ignored this demand. As a result, innovative companies are producing teens-friendly wearables designed to be safe, educational, and fun.
Below are our top picks for the best teen-friendly wearables:
1. Apple Watch Series 7
The Apple Series 7 (on Amazon) is customizable to create a family setup and optimize the Apple Watch for kids. It has SOS safety alerts for emergencies while Maps, Siri, Alarms, and more allow greater independence to kids.
Like other highly functional wearables, it is a powerful device with optional cellular service and multiple health metrics such as heart rate, workout intensity, and calories burned.
Apple cellular service comes on a monthly subscription, but almost every other app can work without a phone plan. So, you don't have to worry about phone bills.
Multiple safety features, including SOS alerts and Mapping

Customizable with bands and watch faces

ECG, heart rate metrics, and workout plans

Siri assistance for voice control

Cellular service subscription is optional
2. Samsung Galaxy Watch
If your teen prefers a more adult-style watch, the Samsung Galaxy Watch (on Amazon) is a great alternative. It has one of the best battery life and quick-charge capacity.
Like other teen-friendly wearables, this model can work on either LTE or simple Bluetooth. This device also has an accelerometer, barometer, and light sensor. Also, it has a kids mode to connect with family and friends.
Bluetooth connectivity

Multi-sensors: ECG, barometer, sleep, calories, etc.

Kids mode for safe social media access

Can be charged wirelessly
3. Fitbit Versa 3
The Fitbit Versa 3 Smartwatch (on Amazon) is a perfect combination of fitness and technology. It has strong battery life and a durable design. The smartwatch has a good range of health-oriented apps and 4+ days battery life with GPS on.
In addition, the Versa Watch is compatible with Alexa for voice assistance and quick responses.
Fitbit premium subscription for personalized workout plans

Music streaming on Spotify and Deezer

Customizable watch faces and apps

Works on Bluetooth
4. Zeblaze Vibe 6
An affordable yet effective option for teens, the Zeblaze Vibe 6 (on Amazon) is one of the best kid-friendly wearables. It has a simple design, and all features are accessible through an intuitive touch screen interface.
Furthermore, this device is waterproof, so your kid can go swimming without an issue. The fitness tracker includes daily activity tracking and sleep monitor.
Stylish watch face for customizing the device

Long-lasting battery with quick charging

Waterproof: can be used in shower or swimming

Independent music player
5. Huawei Band 6
Teens love the big screen and the stylish interface of the Huawei Band 6 (on Amazon). This device is super easy to use, and the watch face is highly customizable.
Furthermore, this model has many fitness features, including a heart rate monitor, oxygen saturation monitor, step counter, calorie tracker, and sleep monitor. The outstanding battery and water resistance make it versatile for any adventure.
OLED large touch screen with intuitive navigation

Latest health metrics for maximum accuracy

Long-lasting battery with quick charging

Waterproof
Can My Watch Make a Call Without a Phone?
Smartphones are not the only devices for making phone calls. Now, smartwatches come equipped with nano-SIM card slots and eSIM technology, which allows you to make phone calls without a smartphone.
The eSIM technology integrates the cellular network without any physical SIM cards. With this feature, you can freely make calls, send messages, and surf the web without a phone on your side.
In addition to the smartwatches we discussed above, below are a few best standalone smartwatches compatible with eSIMs.
Apple Watch Series 6

Apple Watch SE

Samsung Galaxy Watch Active 2

LEMFO KW88 3G Smart Watch

Scinex SW30 16GB Bluetooth Smart Watch

Fossil Gen 6

Fossil unisex Gen 5

Ticwatch Pro

BURG Neon 16A Smartwatch Phone

OUMAX Bluetooth Smart Watch S6
What Are the Best Standalone Smartwatches for Active Users?
Whether you are a fitness freak or an athlete, you need a durable, functional, and comfortable device that helps you in your fitness goals. Smartwatches are just the perfect companions that have emerged with the best technologies.
They can track your footsteps, record your heartbeat, analyze your workout, and stream the music while you are on your morning run, all while giving a hands-off experience.
1. Samsung Gear Sport
The Samsung Gear Sport (on Amazon) has a beautiful and well-built body with a 1.2 inch display and 5 ATM water-resistant features.
The watch performs equally in all conditions, be it the pool or when you sweat profusely while working out. It has an intuitive interface with rotating bezels that makes it easy to use. It is compatible with Android phones and iPhones.
Heart rate, steps, GPS mapping

Calorie counter and personal coach

Seven-day lasting batteries
2. Fitbit Sense
Fitbit is a popular brand when it comes to fitness, and this recently released smartwatch has won them scores of hearts.
The Fitbit Sense (on Amazon) comes with many advanced features like skin temperature monitor, oximetry, sleep monitoring and a lot more. In addition, this Standalone smartwatch works on a Bluetooth connection to sync all your data with the Fitbit app.
Sleep optimization

ECG monitor

Voice assistant

Stress management
3. Garmin Forerunner 245
Garmin is reputed for excellent fitness assistance, and their Forerunner 245 (on Amazon) incorporates all the features an athlete needs to keep track of their performance.
It allows you to keep track of your daily activities and then analyze it to give rich insights. In addition, with a battery life of 7 hours on GPS, you can go on longer runs without worrying about a drained watch on your return.
Personal coach

Running dynamics and heart rate monitoring

eSIM to stay connected on the go

IQ store available
4. Apple Watch SE
The Apple Watch SE (on Amazon) has all that the Apple Watch Series 4 has but with a lesser price tag attached to it. In addition to the regular barometer and pedometer, it will record heart rhythm and notify you if your heartbeats are irregular.
So you can depend on it to track your health every day and keep you informed.
Built-in GPS tracker to track your workout route

ApplePay support

eSIM technology

Can be used as a walkie-talkie or phone alternative

Swim proof
5. LEMFO KW88
Unarguably one of the most versatile brands, LEMFO smartwatches are known for their excellence and user-friendly interface.
The LEMFO KW88 (on Amazon) packs all the features a fitness freak needs to live an active lifestyle. The display is clear and bright with excellent touch response, it's compatible with IOS & Android devices and has over 2500 mAh battery life, which can last up to 48 hours on standby.
GPS for Mapping

Heart monitor

2MP front camera

Slot for 2GSM nano Sim card

Media player and sound recording