Streaming YouTube videos on your tablet or smartphone during your daily commute can be a great way to fill in time before getting to your destination. Maybe you like to sneak a few videos on your break at work from time to time. If you do this regularly, then you might be curious: how much data does YouTube streaming use?
The amount of data YouTube streaming uses depends on the resolution of the video being streamed. YouTube uses 0.25GB/hour when streaming in lower quality (420p). Streaming in Full High Definition (HD/1080p) uses about 0.6GB/hour. You can limit the data it uses by streaming in lower quality.
Compared to streaming audio or downloading web pages, video is a lot more complicated to transmit, so it consumes more data to stream it. And this isn't the case with just YouTube – other video streaming services like Netflix and Hulu also use a lot of data.
Data Usage For Streaming YouTube
Besides texting and calling, virtually everything you do on a portable smart device uses data when you're not on a Wi-Fi connection. And that includes streaming YouTube videos.
Consequently, a lot of users are concerned about how to reduce data usage. Some people actually purchase totally separate mobile hotspot devices like the Simple Mobile Moxee 4G/LTE Prepaid Hotspot (on Amazon) to use, to avoid running out of their more expensive cellphone plan.
YouTube typically provides six different quality settings, which are available on the mobile app, including 144p, 240p, 360p, 480p, 720p, and 1080p. Data usage for streaming YouTube videos depends on the level of quality you're using.
Low quality videos (360p) use around 0.3GB/Hour, Standard Definition videos (480p) use around 0.5GB/Hour, High Definition videos (720p) consume about 1.5GB/Hour, and Full High Definition videos (1080p) use about 3GB/Hour.
If you're concerned about using up all your data, you can switch the quality level down to 144p or 240p. Then again, if you're streaming one of your favorite shows and you need the best video quality, you can use either 720p or 1080p.
However, you need to be aware that streaming videos in high resolution will use up huge amounts of data.
Streaming in Higher Quality
If you want to watch your videos in ultra-high quality, you have options from 1440p up to 4320p. However, bear in mind that this will gobble up your data allowance at an astronomical rate, and it's not something we would recommend that you do.
One other thing to note is that YouTube automatically sets its video quality based on the quality/strength of the internet connection you're using. So, if you're using your mobile data and not Wi-Fi, you could find that your data keeps running out faster than you can keep up.
To fix this, you can choose to automatically restrict video quality in the YouTube app's settings whenever you're not using a Wi-Fi connection.
How Much Data is Used When You're Streaming YouTube on Your Phone?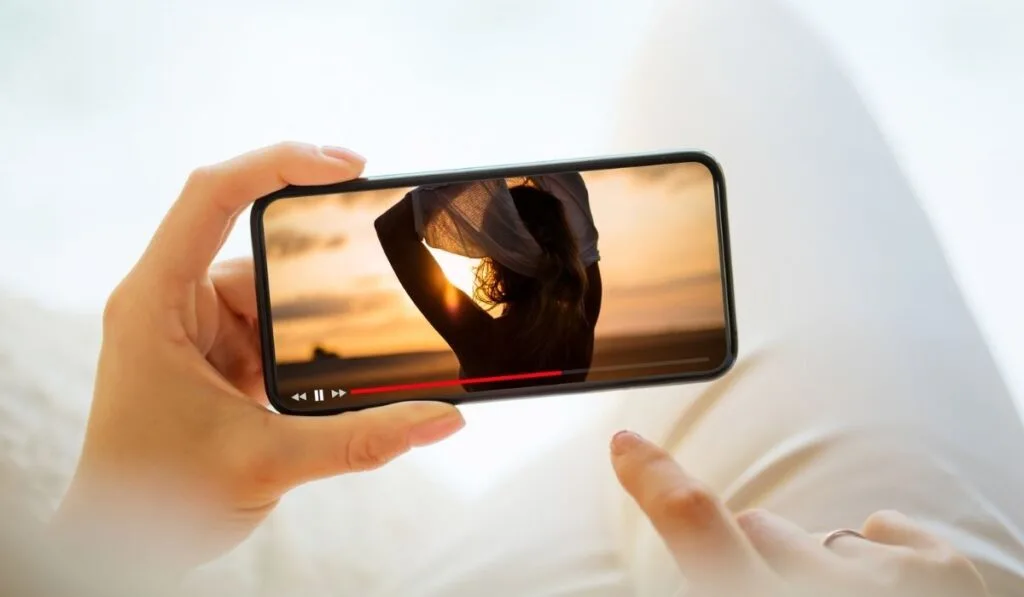 The volume of bandwidth (data/second) that YouTube uses to stream videos varies significantly. This is different from streaming music, which is usually constant. But precisely how much of your valuable data will that YouTube streaming session cost you?
Typically, mobile data usage on YouTube is around 0.25GB/hour for streaming in Standard Definition (SD) mode, while streaming in High Definition (HD) mode takes about 0.6GB/hour.
In essence, a single 5-minute video will consume 20MB of data if you stream in SD or 50MD of data in full HD. You may get different results depending on the device you're using, whether desktop, smart TV, or smartphone.
Can You Limit the Data Used to Stream YouTube?
Yes, it is possible to limit the data used to watch YouTube videos. Here are some useful tips on how to cut down YouTube data usage on PC and mobile devices.
Lower the video quality to 360p or 480p
Limit HD streaming through YouTube app settings
Turn off the Autoplay feature
Download videos and save them so you can watch them offline (ensure to download on a Wi-Fi network)
Use YouTube Go (an abridged form of the standard YouTube app). You can watch and download videos while you monitor your data
Does YouTube Use More Data Than Netflix or Hulu?
Typically, when it comes to streaming, YouTube uses less data than Netflix, while the Standard Definition (SD) options for both Netflix and Hulu use the same amount of data.
For the HD or Ultra HD option, YouTube uses more than Hulu and Netflix do. Netflix provides a variety of options for SD and HD, with data usage usually between 0.3GB/hour and 7GB/hour.
The service allows you to set your bandwidth usage from your account page.
If you want to stream in HD and reduce your data usage to a minimum, then Hulu is your best bet. Hulu consumes around 0.65GB/hour of data for HD streaming, which is the lowest data per hour used for HD content.