You can connect two sets of Bluetooth headphones in a few different ways. It depends on the type of device you have: Apple or Android? Which Bluetooth settings are you using? Follow our simple steps and you'll be connected in no time.
You can connect two sets of Bluetooth headphones to your iPhone with Apple's new "Shared Audio" feature. Pair the first set, then go to the Control Center, tap "Music," select "Share Audio," and connect the 2nd set. You can connect two sets of headphones to a computer with a Bluetooth audio adapter.
Having two Bluetooth headphones connected at the same time can be super fun and convenient. If sharing, it eliminates the need for each person to listen through just one ear. While it does take some configuration and setup, it's mostly a straightforward process, and it's well worth it.
How to Connect Two Sets of Bluetooth Headphones at the Same Time
If you have an Apple device, it's very easy to connect two Bluetooth headphones. You can use Apple's new "Share Audio" feature to do it. Here's what you need to do:
Pair both sets of headphones one at a time through Bluetooth settings
Play music or a video and connect one of them
Open the control center (Found by hitting the Settings icon, scrolling down and selecting Control Center)
Tap the music icon
Tap the share audio icon
Once enabled, you have the option to adjust volume levels on each set of headphones, so each person can set it to his/her liking without affecting the other.
Please note that in order for Shared Audio to work, both people must be using Apple AirPods or Beats headphones. It won't work with other brands.
Can I Connect Two Bluetooth Headphones to the Same PC?
Yes, you can connect two Bluetooth headphones to the same PC. The best way to do it is to use a Bluetooth audio adapter.
To begin the process, plug the adapter into your computer's USB or Type C port. After doing that, pair one set of headphones with it at a time. Make sure the connection is established. Finally, just repeat those steps for the second set of headphones. Then you're good to go!
Keep in mind that even if both sets of headphones have a microphone, it will only work on the first set you paired.
Another option for connecting one wired headset and one wireless one is to adjust the settings on your computer. Follow these steps:
Click on the Recording tab
Right click Stereo Mix and set as default
Go to the Listen tab and check "Listen to this Device"
In the dropdown select your headphones, click Apply and OK
This will only work with one wired headset and one wireless. For two wireless headsets on a PC, use a mixer or Bluetooth adapter.
Can You Use an Adapter For Two Wired Headphones?
You can use an adapter for two wired headphones. This can be done on a phone or computer.
While wireless headphones are more convenient, the sound quality isn't as good because the audio gets compressed when sent from the device to the earbuds. You don't have to worry about this with wired headphones.
When selecting an adapter, check to make sure it can support two devices at once. Most on the market have this capability, but it's still a good idea to double-check before purchasing.
If you're using a phone, a splitter or adapter will work. Use an adapter for Android devices. Connect the first pair of headphones to the adapter, and then play music to make sure sound is coming through. Then connect the second pair and test them, and you should be good to go.
If you're using an iPhone, you can use a splitter made specifically for iOS devices and easily connect each set of headphones.
For computers, an adapter with multiple ports will work well. You could also get a quality splitter. The simplest option is to get a splitter. Simply plug it into the computer's USB or mini-stereo port. Then, connect the headphones and you'll be all set.
Another option is to plug one pair of headphones into the computer and the other into the monitor. Then go into your settings and do the following:
Right-click on the volume and select playback devices
Set speakers to default device
Scroll down to stereo mix, right-click and choose properties
From the listen tab, check the box that says listen to this device
Go to the dropdown, choose playback through this device and select the device the second pair of headphones are plugged into
Can You Connect Multiple Bluetooth Speakers at Once?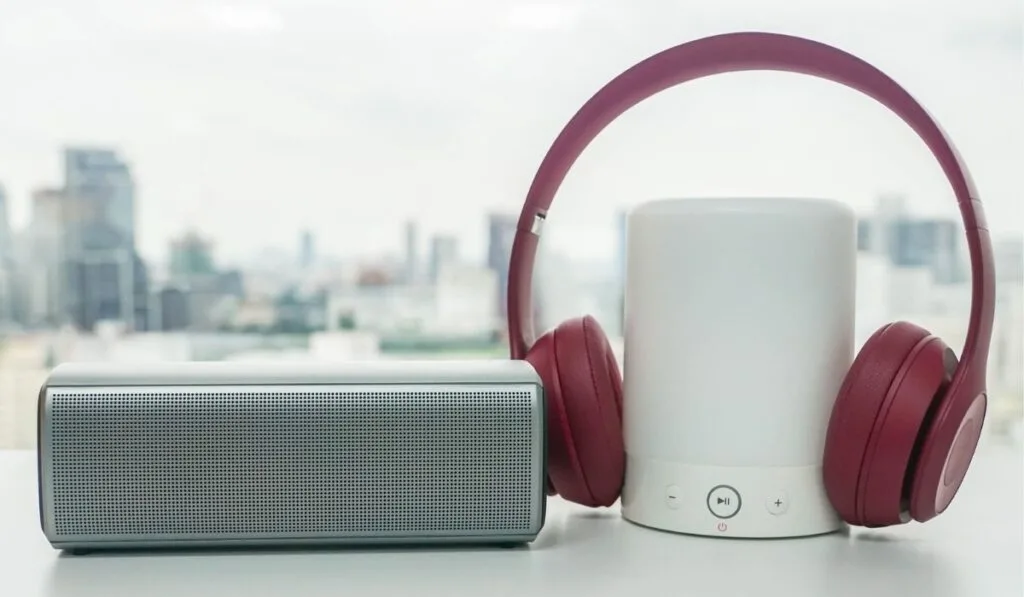 Yes you can connect multiple Bluetooth speakers at once. Setting this up depends on whether you are using an Apple or Android device.
If you have an Android phone, go to Bluetooth Settings and pair the speakers one at a time. After doing that, click on the three dots on the right and select Advanced Settings. Choose dual audio and turn that on.
For iPhone users, go to the Control Center and select Airplay. Then, choose the paired speakers to output audio simultaneously. This causes the audio to play through both speakers.
Another way to do this is by using an App. There are a few to choose from such as AmpMe, Bose Connect, one from Bluetooth 5 or Ultimate Ears. Once you install the app, follow the instructions to connect two Bluetooth speakers and get audio to play from both.
How to Use Two Bluetooth Headphones Simultaneously on a Mac
You have a few different ways of doing this. One is to use a splitter, another is to use audio mixing software and a third is adjust the settings.
A splitter is the easiest way. All you need to do is get one and pair your devices. Audio mixing software detects the multiple headphones and you can manage them as you want.
Should you choose to set up two headphones by adjusting the settings, follow these steps:
Go to Finder>Applications>Utilities
Click on Audio Midi Setup
Click the "+" button in the lower-left corner and click "Create Multi-Output Device"
Then right-click on the Create Multi-Output Device icon and select Use this "Device for Sound Output"
Check the boxes for the listening devices you want to use
From the Menu section, choose "Master Device"
Check the box under drift connection to select your other device
Open System Preferences, click on Sound, click the Output tab
Select the Multi-Output device you created
No matter the device, there are plenty of workarounds so that you and another person can enjoy the same audio using two sets of headphones. Choose a method that works best for you and enjoy the many benefits this provides.