Nintendo Switch offers a unique gaming experience that combines the best of at-home and portable consoles. The immense popularity of this device means 89 million units were sold as of last year. If you're a game lover, you're probably already enjoying the unrivaled gameplay and don't want to put your device down under any circumstances. But what if your favorite gaming gadget goes missing? Is it possible to track it and get back? Find out below how you can track a stolen Nintendo Switch.
The Nintendo Switch doesn't come with an inbuilt tracker, so you can't track it like other devices. But if you have the serial number of the device, you can contact customer support and report the theft. They can track your device using their database and may be able to help you find and recover it.
When you spend a lot of money on something, you want the best quality and security possible. This is also important if you're purchasing the device secondhand. Unauthorized resellers on shady sites often sell anything they can get their hands on- so buying used comes with a risk. If you're looking for your missing Nintendo Switch or want to avoid purchasing a stolen gizmo in the future, you might want to keep reading. We have answers on how to find out if your Nintendo Switch has been stolen and how to track it.
Is There a Tracker inside a Nintendo Switch?
Unfortunately, the Nintendo Switch (on Amazon) doesn't come with a built-in tracker. With the device's expensive price tag, customers may assume some kind of tracker will be included to protect their gadget, but Nintendo is yet to include one in this product.
So, if you lose your Nintendo Switch or it gets stolen, you'll have to find it using another strategy. Their customer support can help you find your device by looking up the serial number linked with your account. If the customer service option doesn't work out, there are a few more ways to try, which we have listed below.
It might be a bit more difficult to find your stolen Nintendo switch compared to finding a stolen smartphone, but there are still ways you can do so. Not all hope is lost!
How Can I Track My Nintendo Switch?
As there is no built-in tracker in the Nintendo Switch, the idea of losing your device or having it stolen becomes much scarier- as it is much harder to get it back!
But, as we mentioned before, there is a silver lining in the form of your device's serial number. Like almost all electronic devices, every Nintendo switch has a unique serial number that is linked to the user's account.
Nintendo keeps a record of your activity every time you connect your device to the internet. In addition, it saves your location and IP address, which can be easily requested through customer service.
So, If you ever lose your device, you should contact Nintendo customer service. They will ask for the serial number of your device and necessary proof that you're the Switch owner, and then they will help you track it.
How Can I Find My Stolen Nintendo Switch?
As we already mentioned, the Nintendo Switch doesn't come with a tracker, but customer support can be contacted to help locate your stolen device; the serial number of your device is the key to finding it. But, where is this serial number?
Usually, it is located on the bottom of the device next to the USB-C port. You can also find it in the console's device information menu in System Settings. Copy it and be sure to keep it in a safe place.
If, for some reason, you can't find the serial number on your device, or you don't have the device to look at, check the box it came in. It should have the serial number on it, with information about the machine's model and make.
If you don't have the box or don't remember where you put it, there is still one more way to find the serial number. In this case, you can contact the retailer who sold you the device and ask them for help.
Most retailers keep a record of the serial numbers and models of products they have sold as a precaution. You might be lucky and find the serial number on your purchase receipt.
Now that you have the most crucial information, the serial number, it's time to contact Nintendo for help. Contact Nintendo customer service and tell them what happened. They might ask for some additional info, like where you purchased the device or your account credentials. But once they have all the information they need, they will look up the serial number on their database.
If your device is connected to the internet anywhere on the planet, they will be able to locate the IP address, and last time it was used. That is really all the info you'll need! You can follow the information yourself, but we strongly recommend giving it to authorities so they can safely track the thief enjoying the gaming experience you paid for.
What If I Lose My Nintendo Switch?
If you can't find your device, you should first inform Nintendo about your lost device. They may be able to track your gadget and provide the necessary information of where it's currently located. We have already mentioned how the serial number is the key to tracking your lost or stolen Nintendo Switch.
But you should also take a few important precautions right away to protect yourself. For example, if you have linked your personal information like a credit card, debit card, other payment methods, or addresses, to your device, it would be safer to delete that info. The sooner you do that, the less damage a thief can do if they get their hands on your device. You could also file a police report and provide Nintendo with the report number.
Below we have listed what you should do if you lose your device.
1. Contact customer support: Inform Nintendo customer service that you have lost your device. Provide them with the serial number if you have it; they will mark your device as lost in their system and can help you locate it in the future.
2. Remove payment details: If you have any credit or debit cards linked to your Nintendo Account, you need to remove them as soon as possible. The thief might try to charge them for other purchases and can do a lot of damage.
To remove a linked card, go to the Nintendo website, log in to your account from there and remove your saved payment method. You can also call customer support, and they will be able to remove payment details from your account.
3. Detach Nintendo account from the Switch: The thief may try to use your Nintendo account to download or purchase games and DLC. To avoid that, it's safer to detach your Nintendo account from your device.
To unlink your Nintendo account from your console, log in to your account from your computer, go to the 'Users' menu and unlink your account from the Switch.
4. Deactivate your Nintendo Switch: Nintendo also allows you to deactivate your Switch if it gets lost or stolen. To do that, log in to your account on Nintendo's website and deactivate your Switch following these steps:
Open the Store or shop menu
Find and click on 'Deregister Primary Console.'
Enter your log-in information, including password, and click 'OK' to proceed.
Confirm the deactivation
Remember, you can only deactivate your console once a year from the website. Though, you can deactivate it as many times as you want from the switch console directly.
5. Contact authorities: Once you have tracked the IP address and location of your Nintendo Switch, it's time to contact the authorities. File a police report; they will investigate and provide more assistance to help you get your console back.
Don't take action yourself for your own safety, even if you have tracked it down to a place in your neighborhood. It's a legal procedure (and also much safer) to hand the relevant info over to the police and let the experts handle it.
Is There a Tracking App to Find a Stolen Nintendo Switch?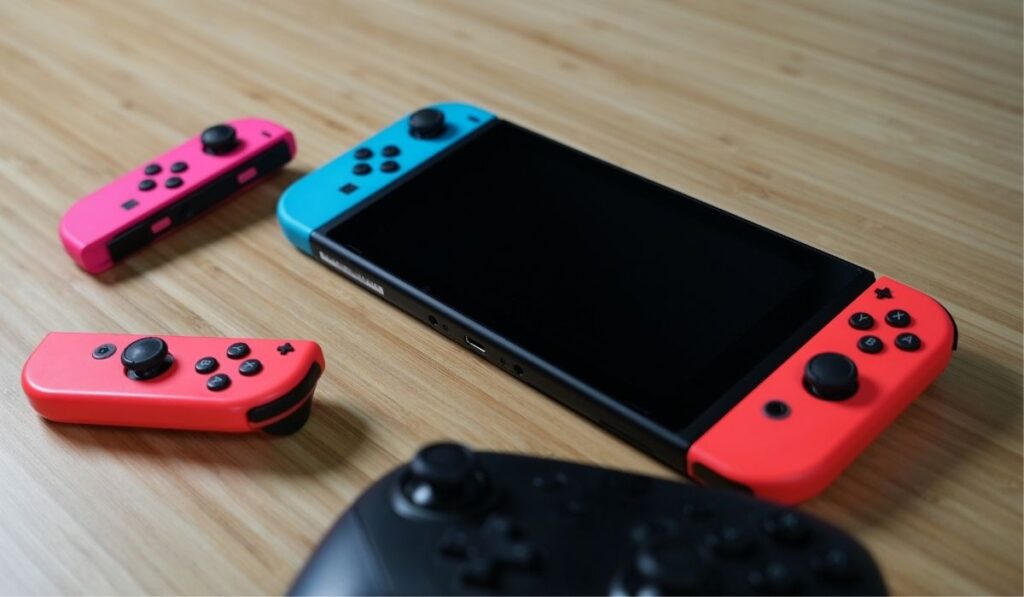 The official Nintendo Switch app called 'Nintendo Switch online' stores all your device information if you sync your account to it. It connects your Nintendo Switch to your other Wii U and Nintendo 3DS consoles and synchronizes all your data.
The app is primarily used to track playtime (how many hours you have played a particular game) across all your devices. If you have this app installed, it'll let you access all features across all three platforms.
Nintendo Switch Online can continue to track your console, even after your device gets stolen. The information on this app can be very helpful for the police to recover your stolen console. However, the Nintendo app only works if you have already linked and synchronized your Switch to the app, and have granted the app access to track your information.
The following data can be tracked and monitored through the Nintendo Switch online app:
Device Information: Specific details like the serial number, IP address, OS information, device settings, performance, etc., for your device are saved in the cloud by Nintendo switch online.
Your Content: All the pictures, videos, and other content you upload on Nintendo from different devices is stored on your shared Nintendo account, and you can access it anytime with the help of this app.
Your Purchases: Purchases like games, apps, DLC, etc., that you make on Nintendo Switch are also stored in the app, and you can access them anytime.
Your Playtime: The total time you spend playing each game on all devices is also tracked and monitored by Nintendo Switch Online.
Your Location: Nintendo stores and tracks location only if you specifically allow it permission to do so. This can information can be vital for tracking your lost console.
As a Nintendo owner, it is always better to take precautions. So it's recommended to take action now to ensure that if your Switch is ever misplaced or stolen, you will be able to find it and get it back. Be proactive and keep a record of the serial number, save the packaging, install the Nintendo app, and enjoy gaming on the go without the fear of losing your precious device.