The Steam Deck provides gamers with a portable and accessible way to play their PC games. Unfortunately, the Steam Deck has an internal storage capacity running from 64GB to 512GB, making a microSD card almost necessary depending on the library of games that you own.
The Steam Deck currently supports microSD cards up to 1TB in size. While 2TB microSD cards will be available soon, it is unknown if the Steam Deck will support them. 2TB microSD cards should work with the Steam Deck once they are released, but for now, 1TB microSD cards are the largest you can use.
You'll need a microSD card to get the most out of your Steam Deck. So which models are the best and provide the fastest loading speeds? Here's everything you need to know and more.
What is a microSD Card?
Secure Digital Cards (SD Cards) have high memory capacities and are designed for portable devices. They're about the size of a postage stamp and weigh no more than two grams.
SD cards allow high data transfer rates with low battery consumption, which makes them excellent for portable electronics. Devices that use SD Cards include:
Car navigation systems
Smartphones and cellular devices
E-books and E-readers
PDAs
Digital cameras
Music players
Video camcorders
Computers
Most SD cards range in capacity from 8GB, 16GB, 32GB, 64GB, 128GB, and 512GB storage sizes. As you might expect, microSD cards are smaller, more portable versions of an SD card. However, as of right now, microSD cards are limited to 1TB of storage due to their size, while SD cards can reach higher numbers.
What Size microSD Cards are Compatible with a Steam Deck?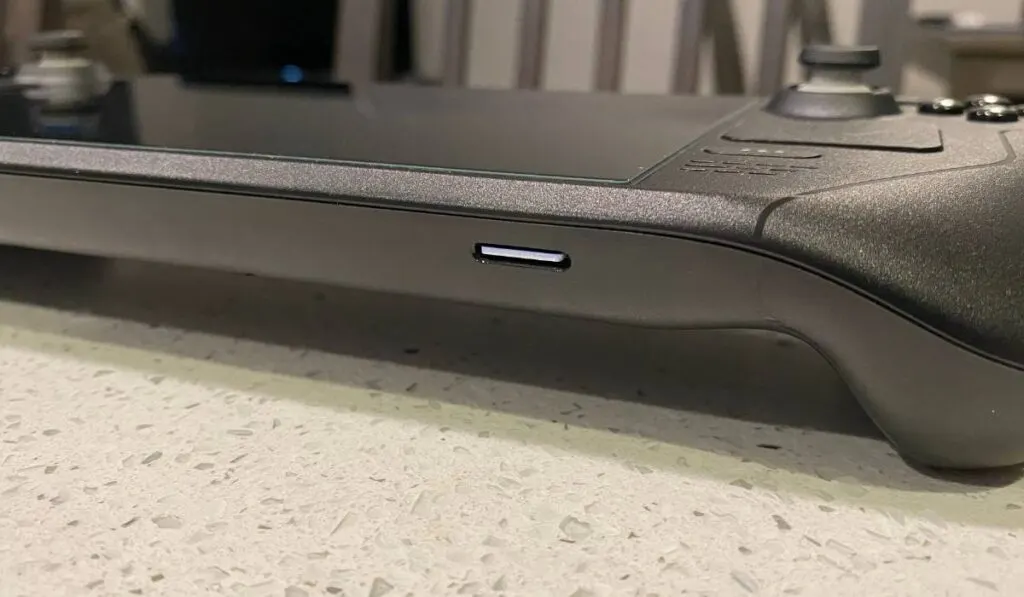 The Steam Deck offers three different internal storage sizes depending on the model, including 64GB, 256GB, and 512GB. If you went with the base model, you'll definitely need a microSD card, as games tend to range in size from 40GB to well over 80GB.
Thankfully, you can add up to 1TB of extra storage space to any model of the Steam Deck. Here are the most common microSD card sizes you'll see:
32GB
64GB
128GB
256GB
512GB
1TB
It's recommended to purchase a 128GB or larger microSD card to hold a broader range of games and files. Cards that have 1TB of storage might be overkill for some gamers, while others will benefit from the extra storage space.
What are the Best MicroSD Cards for a Steam Deck?
Using a microSD card is the easiest way to upgrade your Steam Deck storage. In some cases, high-quality microSD cards can perform as well as the Steam Decks stock storage, and they're a cheap, long-lasting solution. Here are some of the best microSD cards for the Steam Deck.
Samsung Pro Plus
Samsung is one of the front-runners when it comes to PC storage components and microSD cards. One of the best cards, if not the best card you can purchase for your Steam Deck, is the Samsung Pro Plus (on Amazon).
The Samsung Pro Plus offers similar load speeds to the Steam Decks internal storage and is about a second slower in most scenarios. The Pro Plus card isn't too expensive, making it the perfect middle-of-the-pack option. You can find sizes ranging from 128GB and 256GB to 512GB.
SanDisk Ultra
Check out the SanDisk Ultra (on Amazon) if you're looking for a broader range of storage capacities at more affordable rates. Unfortunately, the smaller price tag comes with slower writing speeds than the Samsung Pro Plus.
Slower write speeds might not be a big concern if you're only gaming on the Steam Deck, as the SanDisk Ultra can keep up with necessary read speeds.
You can find SanDisk Ultra models ranging from 16GB all the way to 512GB. It might be best to purchase a card over 64GB so you can hold a decent amount of games without constantly uninstalling or removing files.
Kingston Canvas Go! Plus
The Kingston Canvas Go! Plus (on Amazon) is another card to consider, whether you're using a Steam Deck or a GoPro camera. The Go! Plus has a slightly above-average load time when it comes to playing games on the Steam Deck.
One of the benefits of the "Kingston Canvas Go! Plus" is that it has more options than the Samsung Pro Plus, but not as many as the SanDisk Ultra.
You can find storage capacities in 16GB, 32GB, 64GB, 128GB, 256GB, and 512GB. The Kingston Canvas Go! Plus might be right for you if you're looking for an affordable and comparable microSD card.
Can You Use a Nintendo Switch SD Card?
It's possible to use a Nintendo Switch SD card on the Steam Deck. The Nintendo Switch uses similar microSD cards that have the same form factor as the Steam Deck.
However, you'll need to format the card, meaning you can't hold PC and Switch games at the same time. This means you won't be able to swap your Nintendo Switch SD card to your Steam Deck on the fly. For those reasons, it's the most convenient to use separate cards for your devices.