In iPadOS 15.1 and iOS 15.1, FaceTime received a few major upgrades, with the best one arguably being SharePlay. This new feature allows you to enjoy different types of content with your friends and family over a FaceTime call, including audio and video.
Apple's new SharePlay feature allows you to share your screen and stream synced movies and TV shows with your friends — all while being on a FaceTime call at the same time. While Netflix currently doesn't support the feature, other streaming apps, like Disney+, Hulu, Apple TV+, and HBO Max do.
While the list of applications that currently support SharePlay is limited, it will undoubtedly continue to grow as the feature gains more popularity. Let's look at what SharePlay is and which apps you can use with SharePlay to share content.
Can You Watch Netflix on FaceTime?
Unfortunately, you cannot watch Netflix on FaceTime because the streaming service doesn't currently support the new SharePlay feature.
However, there are a few other streaming apps that do work with SharePlay, including Hulu, Pluto TV, ESPN+, Disney+, HBO Max, and Paramount+.
What is SharePlay?
SharePlay is FaceTime's new screen-sharing feature that allows you to stream TV shows and movies together. It essentially allows you to bring media into a FaceTime call, so you can watch your favorite show and talk about it with your friends over the call at the same time.
There are three main things you can do with SharePlay:
Watch a TV show or movie from a compatible app.

Listen to albums and tracks together with your friends.

Share your tablet or phone's screen.
When you stream music over SharePlay, the media is synced between everyone on the FaceTime call, and every person has access to playback controls that allow them to fast-forward, pause, or skip to the next song.
Each person on the call can add tracks to the playlist as well, so you can finally make your friends listen to the song you've been telling them about for ages. Meanwhile, the FaceTime call will continue and you'll still be able to see and talk to everyone while the song plays.
If you're streaming a TV show or movie using FaceTime and have an Apple TV with tvOS 15 (or later), then you can simply move the media to your TV's larger screen without interrupting the FaceTime call. The playback will still be synced — you'll just have the added benefit of talking to your friends without squinting or splitting your phone's screen into multiple other windows.
Lastly, SharePlay lets you share your screen, so the people you're FaceTiming will be able to see exactly what's happening on the screen. With this, you can look through videos and photos together, browse the same apps, and share gameplay.
And if you're using Apple's AirPods (on Amazon), you can also share audio with someone locally, though if you're using SharePlay they can use their AirPods to listen without anyone needing to share audio specifically, because ShaePlay includes the audio as well.
How to Use SharePlay Over FaceTime
It's important to note that in order to use SharePlay, all parties need to have FaceTime on a device that supports iPadOS 15.1 or iOS 15.1. Keep in mind that the feature isn't compatible with macOS Monterey and doesn't work with FaceTime's browser version that's available for non-Apple device users.
Here's what you need to do to use SharePlay over FaceTime:
Open the FaceTime app on your iPad or iPhone and start a call.

Once the call has successfully connected, tap the SharePlay icon at your screen's top-right corner in the control panel.

In the appearing drop-down menu, tap "Share My Screen." This will start a three-second countdown, after which you'll be able to share your screen.

Launch your TV or any other streaming app, choose something to watch, and then press Play.

Tap SharePlay once the prompt asks you whether you want to SharePlay the content. Everyone else on the FaceTime call will also be asked if they want to join a SharePlay session with you.
Which Apps Support SharePlay?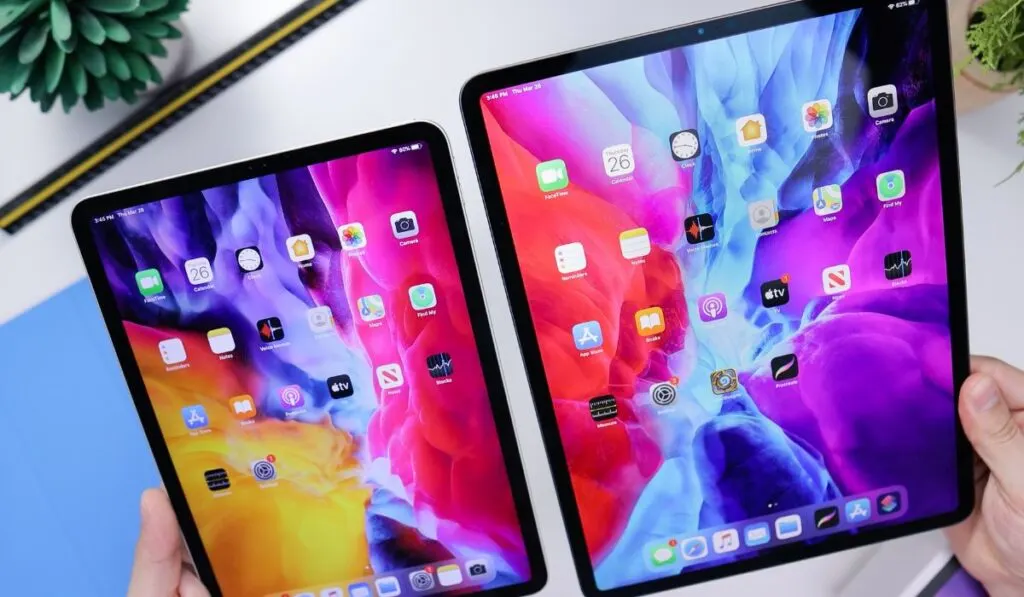 Currently, there are a limited number of apps that support SharePlay, but the list will probably increase once the feature gains more popularity. Remember that all participants in the call need to have iPadOS 15.1, iOS 15.1, or tvOS 15.1 or later installed on their devices to use SharePlay.
Videos and Entertainment Apps
When Apple released SharePlay, it greatly emphasized the feature's support for streaming and video-based apps. This makes sense considering how common it is to watch our favorite movies and TV shows using a streaming service.
Here's the streaming apps currently compatible with SharePlay:
Apple TV+
Digital Concert Hall
Disney+
ESPN: Live Sports and Scores
HBO Max
Hulu
MUBI: Curated Cinema
NBA: Live Games and Scores
Pantaya
Paramount+
Pluto TV
SHOWTIME
Shudder
STARZ
UFC
Audio
Most podcast and music apps will likely become compatible with SharePlay over the years. But, currently, the list is quite short.
Apple Music
BetterSleep
Meditation Moments
Moon FM
Relax Melodies: Sleep Sounds
SoundCloud
TuneIn Radio
Unplug: Mediation
Vinyls
Games
Heads Up!
Kahoot!
SharePlay Guessing Game
Shhh!
Workout
Apple Fitness+
Asana Rebel
BetterMe: Health Coaching
Mapless Walking Directions
SmartGym: Gym and Home Workouts
Workout Plan Bot
Will Apple SharePlay Support Netflix in the Future?
Netflix doesn't offer any type of shared viewing feature, and this lack has been a thorn in the side of many users. Sure, Teleparty and other third-party apps exist, but they only work with laptops and not any other streaming devices.
It's possible that SharePlay might not support Netflix in the future. Instead, Netflix just might roll out its own version — one that works across Roku devices and Fire TV, as well as Android and iOS devices.
However, it's important to note that Netflix doesn't necessarily need this feature. People subscribe for the content, not the software, after all. However, if done properly, it would make the streaming service look better in the eyes of its customers.