TikTok is one of the most popular apps, with new trends emerging daily. If someone visits your TikTok profile, they will first see your profile picture. But what if you don't want a profile pic? Is there a way to remove it?
It's possible to have no profile picture on TikTok. You can upload a photo of what a profile would look like without an image, such as the blank profile picture icons. Alternatively, you can take a picture (or download) of a blank white or black photo, and TikTok will still allow it.
Having no profile pic on your TikTok profile may be a wise choice if you want to keep your profile private. So let's dive in and look at how to have an empty profile picture and check some troubleshooting tips if your profile picture isn't showing.
Is it Possible to Have No Profile Picture on TikTok?
Technically, all TikTok accounts require a profile photo. As a result, you cannot entirely remove your profile picture from the short-form video app. There is, however, a workaround.
You can upload a blank image if you don't want a profile picture. Alternatively, you can upload a picture of a profile's appearance if it has no photo, like the icon for a blank profile picture that most people see on social media apps. TikTok will accept both black and white versions of this.
How to Have No Profile Picture On TikTok
TikTok, unlike Instagram or Facebook, does not allow you to leave your profile display blank, so you must use a default or blank picture. To achieve that:
Take a picture of a blank white or black photo (or download one).
Alternatively, a quick Google search will yield a blank white or black image.
Launch the TikTok app and select My Profile.
Select Edit Profile.
In the top-left corner, click Change Photo.
When the pop-up box appears, tap Select from Gallery.
Locate and select the blank white or black photo.
Select Confirm to upload your blank picture.
What to Do if Your Profile Picture isn't Showing Up
If you have tried to update your TikTok profile picture, but you are receiving an error message or it is not showing at all, it could be a result of the following:
Your App is malfunctioning.

Your internet connection is poor.

Your profile picture violates TikTok community guidelines.

You are using an outdated App.

Try these troubleshooting tips to have your profile showing again on TikTok:
Relaunch the TikTok App
If you're having trouble with the TikTok app, it's a good idea to restart it. Your profile picture may not have been updated on your end, but it has been changed on TikTok's side.
Restarting TikTok should force the app to refresh, and your new profile picture should show up.
Check Your Internet Connection
When your phone isn't connected to Wi-Fi or mobile data, or it has a weak data or Wi-Fi signal, changing your profile picture on TikTok may be difficult or not show at all.
You can reconnect to the network or change from Wi-Fi to mobile data.
Clear the App Cache
You can clear the TikTok app cache if your internet connection is fine. To clear your cache:
Tap Profile in the bottom right.
Tap the 3-line icon in the top right.
Tap Settings and Privacy.
Tap Clear Cache.
Change Your Profile Picture
If your profile picture violates TikTok community guidelines, it won't show. Before uploading, ensure your profile picture does not violate TikTok's community guidelines. Then you can upload a new one to see if the problem persists.
Your profile image must be at least 20×20 pixels in size. When a profile video is enabled, the profile photo is hidden.
Update The App
If you still need a profile picture on TikTok after trying the above methods, you should check for TikTok app updates. Also, make sure you're using the most recent TikTok version.
Follow these steps to update TikTok:
Start the Play Store app on your Android.
Tap your account icon at the top of the screen.
Tap Manage Apps & Devices.
Open the Overview tab and select Updates Available.
Look for TikTok, and tap Update if you see it in the list.
Contact TikTok Customer Support
If none of these troubleshooting tips have restored your profile picture, it might be time to reach out to TikTok customer support.
Visit TikTok's Help Center and contact their team to ask how you can have your profile picture showing on the app. Provide your account details and other necessary information to make it easier for TikTok's team to assess the situation
How to Change Your TikTok Profile Picture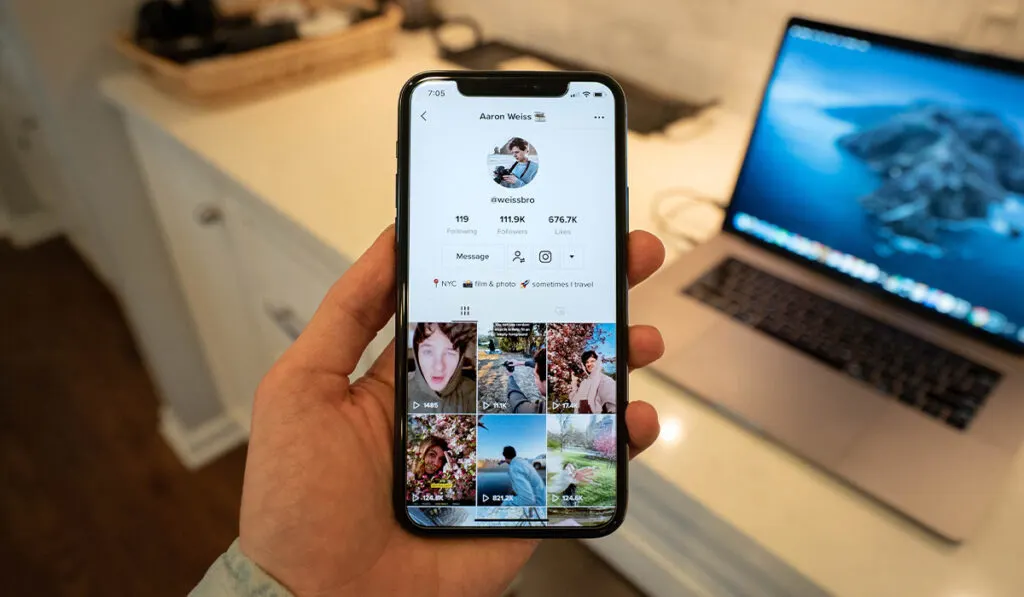 Here's how to change your TikTok profile picture:
Navigate to your TikTok profile page.
Just below your profile image, click Edit Profile.
Tap Change Photo. You can also upload a profile video by clicking Change Video.
Choose one of the options that appear in the pop-up window. For example, you can upload a photo, take a picture, or view your current image and crop it again to improve it.
Tap Confirm.
You can crop the photo to fit as closely as possible in TikTok's round profile picture slot.