Gaming has a different meaning for everyone, but at its core, it's something we enjoy. This activity has given many the chance to stay connected and keep their friendships intact. Moreover, people from different backgrounds have created a large community of gamers.
PS5 players can add PS4 players as friends and cross-play with them in some games. A Playstation account is managed through the Playstation Network, not linked to a console directly, and support for PS4/PS5 cross-play is managed by the developer of each game, not Sony.
Friends and gaming go hand in hand, so it's necessary to understand how to interact with them on different consoles. So let's dive right into it and analyze various ways to make this happen.
Crossplay Explained
Crossplay, also known as cross-platform-compatible play, is a feature that allows you to play games with your friends even if you don't all have the same gaming hardware. Some games even allow the crossplay feature if your friend has a completely different gaming system, like PlayStation and Xbox or Xbox and a PC.
One of the biggest challenges to crossplay is that different consoles often offer different control systems, which may lead to advantages or disadvantages for certain players. Furthermore, opening up online services to different platforms can be a safety risk for users.
Checking the full specifications of each game will help you determine if it supports cross-play or not. You can also try to invite your friends while in the game to see if they can
Is the PS5 Cross-Platform Compatible With PS4?
Yes. The PlayStation 5 (on Amazon) is cross-platform compatible with the PlayStation 4 (also on Amazon). However, it depends on the kind of game you want to play and whether the developer has enabled the feature for both consoles.
We talk more about PS5 crossplay and connecting with your friends in our Ultimate PS5 Owner's Guide, but here's what you need to know about crossplaying games and also linking up with your friends to play them!
Can PS5 Players Add PS4 Friends?
For the better part of the last decade, the PS4 took precedence in gaming consoles. However, since the introduction of its successor, the PS5, a lot of concern has been voiced by both PS5 and PS4 owners about the console. We go deep into the PS5 crossplay and connectivity situation in our Ultimate PS5 Owner's guide, so skim that after you're done here.
When it comes to playing with friends on PS4, PlayStation accounts are luckily not limited to a console. Instead, our accounts on a particular console are linked to the PlayStation Network, which is transferable to any Sony console.
Any player on either PS4 or PS5 can add each other as friends. So, for instance, if one of your PS4 friends upgraded to a PS5, they would be shown as "online on PS5". There is no need to add them again as they were on your friend list previously.
With the PS5 still being in the early stage of its lifecycle, there are some games you can't play across generations. But other console features like party chat or SharePlay can be done between your friends across different generations.
And real quick, make sure that if you're doing a lot of online gaming you consider a good Playstation headset option like Sony's Playstation Gold or Platinum Headsets (both on Amazon), which can really enhance the experience of both gaming in general, and multiplayer specifically.
How Do Game Invites Work Between PS5 and PS4 Players?
Similar to adding your friends over different generations of PlayStation consoles, game invites are made just as easy. Invites work the same way as they did between users on the PS4. Users can send and receive game invites for games supported for cross-generation multiplayer, typically right from within the game.
As long as the cross-gen play for a particular game is supported by the game's developer, invites can be sent and received between two people owning two different generations (one owns a PS4 and the other a PS5). For example, Call Of Duty is a game that supports cross-gen play.
Which Games Can You Play with PS4 Players?
The variety of games a PS5 user can play with their PS4 friends are somewhat limited. A few titles supporting this cross-gen multiplayer are: Call of Duty, Fortnite, Apex Legends, and Minecraft.
And some developers have offered players forward compatibility, which allows cross-gen play even when the game does not support cross-gen play for different versions of the same game.
This means that users with a PS4 game can run it on a PS5. For example, the FIFA PS4 edition can run on the PS5, allowing you to play with PS4 users.
With time more titles will support cross-gen multiplayer. Electronic Arts (EA) is reported to release FIFA 23 with cross-gen and cross-platform support for the same version later this year.
For a more robust list, hit up the table at the end of this article.
Does Save Progression Carry Over From PS4 to PS5?
There would be a huge disinterest to play a particular game on the PlayStation 5 if you found out that all of your saved data in the previous generation of consoles would vanish. It would be very frustrating given the amount of time and effort you have invested in that game already.
The good thing, however, is that you can have your games' cloud-saved data moved from your PS4 to your PS5 with ease.
However, the situation is different if you want to transfer the data from a PS4 to the upgraded PS5 version. In this case, it is usually dependent on the developers.
Ultimately, this may change down the road, as we delve further into the newer generation of consoles, especially with fans increasingly putting pressure on developers.
Other Features to Use With Your PS4 Friends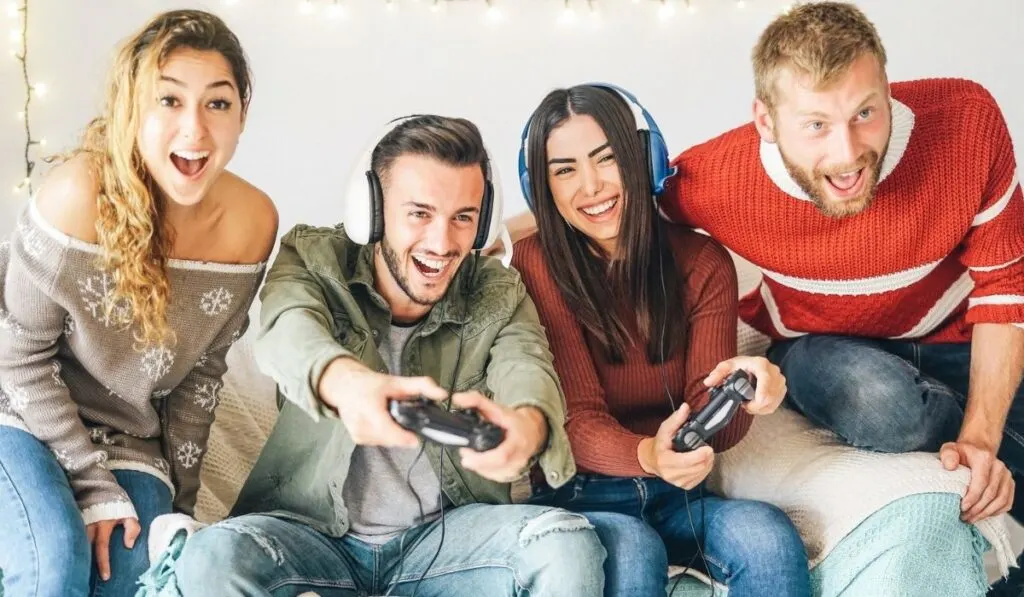 Gaming has certainly come a long way from being just about playing the game. A lot of non-game features bring the gaming community together. Sony has excelled in these non-game features ever since they released the PS5.
Sony has made it easy to transfer and share features between accounts on different consoles. With the PlayStation Network, you can access the same non-game feature you had on your PS4 onto your PS5. Not only this, it has made it easy for people to connect between generations.
With the PlayStation network becoming a common theme between consoles, features like trophies can still be shared and viewed across different generations. In addition, you can view your friends' trophies and game progress as long as they have the correct privacy settings.
Moreover, with the new PS5, the SharePlay feature lets PS5 users share gameplay with their friends who own a PS4, allowing the PS4 user to view and control the game screen of the PS5 user.
It won't be wrong to say it's no different than playing with your friends on the same console.
A List of Popular Titles And Their Crossplay Capabilities
As we mentioned earlier, here's a big list of common games you may want to know about the crossplay status of:
| | |
| --- | --- |
| Game | Devices It Can Crossplay With |
| Among Us | Nintendo Switch, PS4, MobilePC, Xbox One, PS5, Xbox Series X|S |
| Apex Legends | Xbox Series X|S, PS4, PS5, Xbox One |
| Arcadegeddon | PS5, PC, PS4 |
| Bassmaster Fishing 2022 | PC, PS4, Xbox One, Xbox Series X|S, PS5 |
| Battlefield 2042 | PS5, Xbox Series X|S, PC, PS4, Xbox One |
| Black Desert | PS4, Xbox One |
| Borderlands 3 | PS4, Xbox One, Xbox Series S|X, PS5 |
| Brawlhalla | Nintendo Switch, Xbox One, PC, PS4 |
| Call of Duty: Black Ops Cold War | PC, PS4, PS5, Xbox One, Xbox Series X|S |
| Call of Duty: Modern Warfare | PC, Xbox One, PS4 |
| Call of Duty: Warzone | PC, PS5, PS4, Xbox One, Xbox Series X|S |
| Call of Duty: Vanguard | PC, PS4, Xbox Series X|S, Xbox One |
| Chivalry 2 | PS5, Xbox One, PS4, Xbox Series X|S, PC |
| Dauntless | Nintendo Switch, Xbox Series X|S, Xbox One, PS4, PC, PS5 |
| Dead by Daylight | PC, Xbox Series X|S, Xbox One, PS4, PS5, Nintendo Switch |
| DIRT 5 | PS5, PS4, Xbox Series X|S, Xbox One, PC |
| Fantasy Strike | Nintendo Switch, PS4, PC |
| Farming Simulator 22 | Mac, Xbox One, Xbox Series X|S, PC, PS5, PS4, Google Stadia |
| Fortnite | PC, PS4, PS5, Xbox One, Xbox Series X|S, Mobile, Nintendo Switch |
| Ghost Recon Frontline | PC, PS5, PS4, Google Stadia, Xbox Series X|S |
| GRID Legends | PC, Xbox Series X|S, PS5, PS4, Xbox One |
| Guilty Gear Strive | PS4, PS5 |
| Hunt: Showdown | PS4, Xbox One |
| Just Dance 2021 | PS5, PS4, Xbox Series X|S, Xbox One, Nintendo Switch, PC, Google Stadia |
| Just Die Already | PS4, Xbox One, Nintendo Switch, PC |
| KartRider: Drift | PS4, Xbox One, PC |
| Knockout City | PS5, PS4, Xbox Series X|S, Xbox One, Nintendo Switch, PC |
| Minecraft: PS4 Edition | Xbox One, Nintendo Switch, PC, Mobile |
| MLB The Show 21 | PS5, PS4, Xbox Series X|S, Xbox One |
| MLB The Show 22 | PS5, PS4, Xbox Series X|S, Xbox One, Nintendo Switch |
| Mortal Kombat 11 Ultimate | PS5, PS4, Xbox Series X|S, Xbox One |
| MultiVersus | PS5, PS4, Xbox Series X|S, Xbox One, PC |
| Need for Speed Heat | Xbox One, PS4, PC |
| Need for Speed: Hot Pursuit Remastered | PC, PS4, Nintendo Switch, Xbox One |
| NERF Legends | Xbox Series X|S, PS5, PS4, PC, Xbox One |
| No Man's Sky | PC, PS4, PS5, Xbox One |
| Outriders | PC, PS4, PS5, Xbox Series X|S |
| Overcooked: All You Can Eat | Xbox Series X|S, PS5 |
| Overwatch | Xbox One, PS4, PC, Nintendo Switch |
| Paladins | PS4 PC, Nintendo Switch, Xbox One |
| PlayerUnknown's Battlegrounds | Xbox One, PS4 |
| Power Rangers: Battle for the Grid | PS4, Nintendo Switch, Google Stadia, PC, Xbox One |
| Rainbow Six Extraction | Google Stadia, Xbox Series X|S, Xbox One, PC, PS5, PS4 |
| ReadySet Heroes | PC, PS4 |
| Riders Republic | PS5, PS4, Xbox Series X|S, Xbox One, PC, Google Stadia |
| Rocket League | PC, PS4, Nintendo Switch, Xbox One |
| Rogue Company | PS4, PC, Nintendo Switch, Xbox One |
| Rumbleverse | Xbox Series X|S, Xbox One, PC, PS5, PS4 |
| Rust Console Edition | Xbox One, PS4 |
| Sackboy: A Big Adventure | PS4, PS5 |
| Secret Neighbor | PS4, Mobile, Google Stadia, Nintendo Switch, PC, Xbox One |
| SMITE | Nintendo Switch, Xbox One, PC, PS4 |
| SnowRunner | PS4, PC, Nintendo Switch, Xbox One |
| Spacelords | PS4, PC Xbox One |
| Spellbreak | PS4, Nintendo Switch, Xbox One, PC |
| Super Animal Royale | Google Stadia, PS5, PS4, PC, Nintendo Switch, Xbox One, Xbox Series X|S |
| Super Bomberman R Online | PC, PS4, Nintendo Switch, Xbox One |
| Super Mega Baseball 2 | PS4, Nintendo Switch, Xbox One |
| Super Mega Baseball 3 | Nintendo Switch, Xbox One, PS4, PC |
| Tetris Effect | PC, Xbox Series X|S, Xbox One, PS4 |
| Warface | PS4, Nintendo Switch, Xbox One |
| Wargroove | PC, Xbox One, PS4, Nintendo Switch |
| World of Warships | Xbox One, PS4 |
| Zenith: The Last City | PS4, Meta Quest 2, PC |