An active account is essential to get the most out of Nintendo Switch. Your Switch account allows you to browse online, download new games from the eShop, and play online. But if the account gets suspended, you can only play your downloaded games. So learning the causes and solutions helps maximize your fun on the console.
Nintendo Switch accounts can be suspended for violations of Nintendo's code of conduct or due to suspicious credit card activity. You can contact Nintendo Switch customer support to unsuspend your account. Account suspension prevents you from downloading games, playing, or transacting online.
Suspension of a Nintendo Switch account is a temporary step taken by the company to warn players and discourage illegal or offensive actions when using their Switch accounts. However, repeated offenses could lead to a permanent account ban. Let's find out the possible causes of Nintendo Switch account suspension and solutions.
Why Would a Nintendo Switch Account Get Suspended?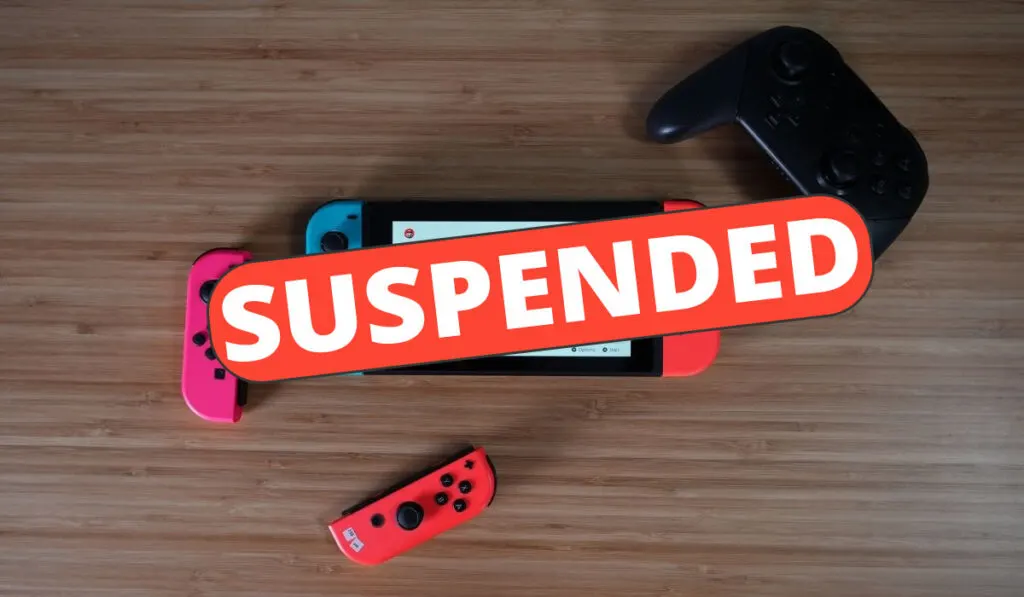 A suspended Nintendo Switch stops the most fascinating aspect of Switch gaming. You can't play with friends online, use applications requiring you to be online, download new games, or earn points through the rewards program. You also can't post screenshots to social media, exchange friend codes, or use Nintendo Switch parental controls.
Whether or not you've suffered Nintendo Switch account suspension, learning about the causes improves your gaming experience. You can avoid the mistakes that would lead to an account suspension or avoid repeat infringement if you have a suspended account.
Here are some causes of a Nintendo Switch account suspension:
Adult Content
Nintendo Switch is widespread across multiple age groups, so the game developer seeks to provide a wholesome gaming experience for every user by ensuring appropriate content.
One reason for Nintendo Switch account suspension is creating adult content on your account. So any sexually-suggestive content, including a profile name, could lead to account suspension.
In addition, other users can report such adult content, leading to a quick review of your account. Some gaming platforms even have reporting mechanisms for users to notify the gaming company about sexually-offensive content on your account.
Violation of the Code of Conduct
Nintendo has a detailed code of conduct, and if you don't follow the rules highlighted, your account will be in violation of the Nintendo Account Agreement. The main community guidelines in the code of conduct are:
Being kind and respectful: Nintendo warns against discrimination, offensive, threatening or harassing conduct, misrepresenting, or defamatory behavior.
Sticking to the rules: The code of conduct advises players to use software, services, and systems only as intended. The code of conduct also advises against attempts to get around measures set by the company to protect its products.
Proper use of account: Players shouldn't transfer or sell their accounts or purchases with others.
Thoughtful sharing: Any materials shared shouldn't be copyrighted, illegal, or inappropriate for other users.
Other things that go against the code of conduct include unauthorized access to Nintendo's hardware or software, hacking/leaking personal information, and any other unlawful conduct.
Learning these rules protects you from making mistakes such as third-party game/app purchases. While such games are cheaper, you'll violate the code of conduct and increase the risk of getting your account suspended.
Credit Card Issues
One of the most common reasons for suspended Nintendo Switch accounts is card fraud. Unfortunately, most credit card users might have no idea about any suspicious activities on their cards when purchasing games on eShop.
However, if Nintendo has any information about fraudulent activities related to your credit card, the company immediately suspends your account to comply with financial or data laws.
For instance, if you had reported card theft, your card provider might still have it flagged. And you'll have problems transacting online with your card.
Nintendo must suspend your account if your credit card has been involved in identity theft or other fraudulent activities. Some users have had unauthorized chargebacks leading to Nintendo Switch suspension.
In some cases, the use of a credit card may be suspended, while the use of gift cards is still allowed. So, picking up a Nintendo eShop Gift Card (on Amazon) may be a work around allowing you to still purchase something even if you can't use the credit card payment options.
How to Unsuspend a Nintendo Account?
The first step in resolving your suspended Nintendo Switch account is to identify the reason behind the company's action. Next, you've to troubleshoot to discover whether the suspension arises from credit card issues, offensive content, unauthorized game downloads, or other violations.
A suspended account might affect the entire family if yours is the primary account. In addition, if you have several users under your account, any of these players could have done something to cause the suspension.
In other cases, the suspension comes from activities beyond your control. For instance, some players have suffered from suspended accounts because of hacks or transactions done using stolen credit cards.
For these reasons, you need a quick fix to the problem, so below are some actions to fix the problem:
Confirm Nintendo Switch Suspension
You might experience a glitch on your Switch account and confuse this with a suspended account. Before you panic, confirm whether you can access the eShop or other online services.
If you have a suspended account, the error message you get indicates a violation.
And if you don't get such a message when trying to use your account, it might be a software error and not a suspended account. Try the other fixes below if you've confirmed yours is a suspended Nintendo Switch account.
Seek Advice from Nintendo Switch Forums
Nintendo Switch boasts millions of players, creating a strong online community. And there are multiple forums where you can seek help with your Switch console.
Before taking any steps, look for a Nintendo Switch forum and ask if anyone has suffered the same problem before. The community of players always has a solution to such issues. You'll learn about the causes of Switch account suspension and the best action to take.
Troubleshoot Any Violations
As the Nintendo Switch owner, you're responsible for everything that happens on your console. So whether you use the account alone or with multiple users, always stay abreast of any activities.
A review of your recent activities on your Nintendo Switch will provide you with more insight into what could have precipitated the account suspension.
So before you contact Nintendo for assistance, think about what activity has happened lately on your Switch account. Then, ask the other users if anyone has taken any actions likely to cause the suspension, such as recent game purchases or app downloads.
If you've recently reported credit card fraud, this might be the reason behind your account suspension. The use of a flagged credit card triggers the suspension of your account because Nintendo thinks this is a stolen card.
Other actions that might have triggered the suspension include game purchases from third-party platforms and recent content updates that might violate the company's code of conduct.
Contact Nintendo Support
After troubleshooting and reviewing recent activities on your Nintendo Switch account, it's time to call the company's support team.
Nintendo has a reliable customer support department available on multiple channels. You can reach the team through live chat, a help ticket on their website, text messages, or a phone call.
Many players who have had their Switch accounts suspended received help from Nintendo customer support. The support team identifies the cause of the suspension and allows you to present your case. They'll advise you on the code of conduct and help you activate your account if possible.
Contact Your Card Company
Contact your credit card company for advice if your Nintendo Switch account got suspended because of a chargeback issue or fraudulent card activity.
If you didn't authorize a transaction or if there's suspicious activity on your card, your credit company should be able to help. This is what Nintendo Switch customer support will most likely recommend in the case of credit card issues.
Nintendo Switch Suspension vs. Ban
Suspension of your Nintendo Switch account suspension is a temporary move caused by credit card issues or a violation of Nintendo's code of conduct. You can still access downloaded games even with your Switch account suspended. And once you call Nintendo Switch support and clear the violation, you get your account back.
A Nintendo Switch account ban, on the other hand, is a permanent decision made by the company, and it's not reversible. This happens after multiple violations or suspensions of a Switch account. With a Switch account ban, you can't access even the downloaded games. The only solution is to replace hardware or buy a new Switch.
Can You Play Online With a Banned Switch?
If you have a banned Switch account, you can't access your downloaded games. However, you can still enjoy online multiplayer games with your friends through a LAN adapter. The LAN adapter allows you to play all your favorite games on a banned Nintendo Switch console.
Go online and search for LAN play for Nintendo Switch, and then set up a relay server on your PC. To play multiplayer games, notify your friends about the relay server and let them connect for all of you to have some fun.
Nintendo Switch gives you access to some exciting games, but an account suspension ruins everything. With this insight, you can resolve your suspended account and enjoy more gaming fun.