Since its launch in 2017, Nintendo Switch has revolutionized gaming with unique features and versatile hybrid ability. However, while the Switch console offers an incredible gaming experience, you might experience problems when you run out of storage space.
The Nintendo Switch doesn't come with much storage space (32GB), limiting the number of games you can download. You can free up space by deleting or archiving games or other stored files. Adding a big (256GB and up) MicroSD card is a great long-term solution for Switch storage space.
Some of the most popular games require a lot of space. Unfortunately, your Switch console doesn't have enough internal storage for several of these games. Without sufficient storage space, you can't download, update, or enjoy other activities on your console. So let's see how to free up storage space without deleting downloaded games or SD Card.
How Much Storage does a Nintendo Switch have Built In?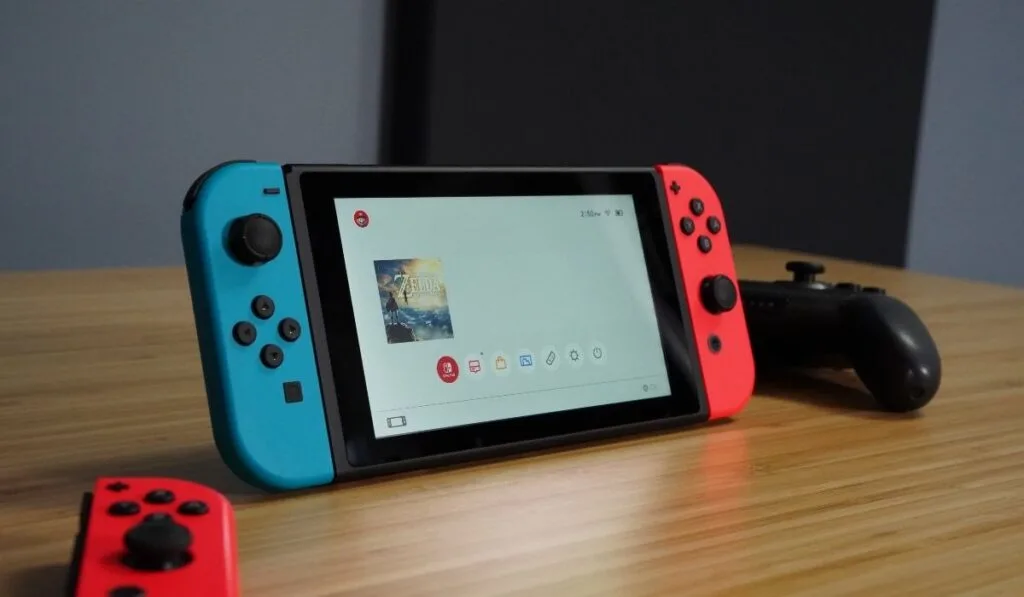 Nintendo Switch has 32GB of internal NAND memory. But unfortunately, the console's system takes a portion of this space, leaving even less storage for your games.
The limited space is a big concern among Switch gamers who want to explore the fascinating roster of games on the console. Luckily, you can expand your Nintendo Switch console's storage with an SD card like the SanDisk 256GB microSDXC-Card (on Amazon).
Before you commit, be sure to check out our related posts on how many games you can fit on your Switch before you need an SD card (summarized below), as well as what to do if your game card reader starts to act up. You may also want to skim our guides on Switch game bundles and the overall Nintendo Switch data usage while you're at it.
How Many Games Can a Switch Hold?
The number of games your Switch console can hold depends on the titles you choose to download. The internal storage in Nintendo Switch stands at 32GB, but you can extend the space with a MicroSD card.
With some popular titles, the Switch console can only hold one or two games. With more exciting titles arriving on Switch, you require even more space to enjoy the larger and more complex games.
Here's a sample of games that take much of the space in a Switch console:
NBA 2K21 – 39.4 GB
NBA 2K20 – 32.9 GB
DOOM Slayers Collection – 32.2GB
The Witcher 3: Wild Hunt – 31.5 GB
NBA 2K19 – 31.5 GB
L.A. Noire – 27.4 GB
GTA Trilogy – 25.4 GB
Apex Legends – 24.8 GB
DC Universe Online – 24.1 GB
Resident Evil: Revelations 2 – 23.6 GB
NBA 2K18 – 23.5 GB
Mortal Kombat 11 – 22.5 GB
DOOM – 21.7 GB
WWE 2K18 – 21.1 GB
Wolfenstein: Youngblood – 20.9 GB
Hellblade: Senua's Sacrifice – 18.2 GB
Observer – 18 GB
Attack On Titan 2: The Final Battle – 17.8 GB
Naruto Shippuden: Ultimate Ninja Storm Trilogy – 17.6 GB
South Park: The Fractured But Whole – 17.3 GB
If you're a fan of the famous NBA series by 2K, for instance, you can only store one game on your gaming machine without a MicroSD card. However, these beefy games are also the most exhilarating to play and come with complicated features which add to their size.
What Happens When Nintendo Switch Storage Fills Up?
Well, this is a tricky situation. Because game files comes in "chunks," it's rare to ever really fill the storage up all the way. More likely, you'll have 1 or 2 full Gigabytes left and your console will simply refuse a 5GB install (for example).
But, if the switch does fill up it's storage, you'll want to be aware that that can cause the Switch console to unexpectedly crash! The console won't be permanently broken or anything, but you may lose game save data or have to factory reset the console to clear the issue in the end.
How to Get More Storage Space on Nintendo Switch without an SD Card?
For the best gaming experience on your Nintendo Switch, you need the best way to get more storage without an SD card. Here are a few practical steps to improve the storage space on your Switch console without an external storage device:
Review the Nintendo Switch Storage
Check the storage status before looking for a solution for low storage on your Switch console. To do this, go to the System Settings and select Data Management.
From here, you'll see the used and available space on your console. If you have a MicroSD card, the free and used space on the storage device is also displayed here.
Manage the Nintendo Switch Storage
Next, manage storage to free up space on Nintendo Switch. Go to the System Settings on the Home Menu, select Data Management, and Manage Storage. You'll get a display of the game files in the system, and you can opt to delete or archive the games.
Deleting means removing all data related to a specific game. Archiving frees up space by deleting all the game data, which takes up most of the space on your console. You'll, however, leave game saves where they are for faster download next time you want the same game.
Manage Save Data/Screenshots
When playing on Nintendo Switch, you can take screenshots of the gameplay and share these on social media. The screenshots take up space on your Switch console, and you can delete them to free up space for new games. Unfortunately, the saved data on your games also takes up space.
To free up these saved files, go to System Settings, select Data Management, then Manage Save Data/Screenshots, and finally select Delete Save Data. You'll see a list of games that have saved data on the system.
From the option of Manage Screenshots, you'll see these files, and you have the option of copying or deleting them.
Use a Micro SD Card
After managing your Switch console's storage through the system, you might still need extra space for your games. This is where external storage comes in handy, and a MicroSD card is the most practical solution.
Once you've exceeded the internal storage on the Switch, your files, including gameplay videos, screenshots, and game data, go to your SD card. In addition, the storage device can increase your console's storage space up to 2TB, which allows you to download and play multiple games.
Can You Use Any SD Card for Switch?
If managing the storage on your Nintendo Switch hasn't freed up enough space, an SD card is the best alternative. The Switch console comes with a MicroSD slot located under the kickstand.
There are multiple SD card products on the market, and you can't choose any for your Switch. To find the best SD card for Nintendo Switch, there are various factors to consider, including:
Type of SD Card (MicroSDHC vs. MicroSDXC Cards): A microSDHC card offers you a storage capacity of more than 2GB but tops out at 32GB. The extra storage provided is enough for a moderate gamer, but you'll run out of storage if you plan to use the eShop regularly. The microSDXC card offers a capacity of more than 32GB and up to 2TB. This card only works on devices compatible with SDXC.
Brand Reputation: Some manufacturers such as Samsung and SanDisk have built a solid reputation in the tech products industry. Their products might be more expensive, but you get a guarantee of quality and a warranty on the SD card. Such brands invest heavily in product testing to meet industry regulations.
SD card features: Some features to consider when shopping for a Nintendo Switch SD card include the quality of the materials and the length of the warranty. Shop for an SD card that's X-ray-proof, temperature-proof, waterproof, shockproof, and compatible with Nintendo Switch. It would help if you also considered durability, free tech support from the manufacturer, and the high endurance of the product.
Storage needs: If you mostly buy AAA physical games, you won't need a lot of space, and a MicroSDHC card is sufficient. However, if you regularly download AAA games from the eShop, you need more storage, and a microSDXC card is the best SD card for you.
SD Card Speed: The SD cards on the market have a speed class (grades a 2, 4, 6, or 10), denoting a card's minimum baseline speed. If you purchase a grade 4 SD card, you get 4MB/s. For the best experience on a Switch console, don't go for an SD card with speeds below 10MB/s. Using a high-speed SD card mitigates any lag when playing a stored game. Nintendo recommends UHS-1-compatible SD cards with 60 to 95 MB/sec transfer speeds.
How to Move Your Games from the Switch to a MicroSD Card
After buying the best MicroSD card for Nintendo Switch, the next step is to migrate your games and other data to the additional storage. Here are the steps to follow to move your games from the Switch to a MicroSD:
Turn off the Switch: Press the power button and scroll down through the power options to the Turn Off option.
Insert the new MicroSD port: Turn your Switch over and life the kickstand to find the MicroSD slot. Then insert the SD card and confirm it's secure with a clicking sound.
Access the games in the Switch: Turn on the Switch, scroll to the System Settings, then select Data Management. Next, select Manage Software and see the games on your Switch.
Archive the game: Select Archive Software and select Archive. Go back to the Home button and scroll to the archived game. Select Download, and the game goes straight to your MicroSD and repeat for all other games. The save data for any application saves to your system memory.
Best microSD Card for Nintendo Switch
The best MicroSD card is large enough to store all your games, fast, and durable. If you're looking for the best MicroSD for Nintendo Switch, consider the following top products:
Samsung EVO Plus 256GB UHS-I microSDXC U3 Memory Card: This is the Best overall SD card for Nintendo Switch because of its large capacity and high performance.
SanDisk 128GB Extreme microSDXC UHS-I: This SD card offers the best value with 4K video capability, fast read speeds of up to 160MB/s, and write speeds of up to 90MB/s. The MicroSD card also handles large files and high-resolution photos smoothly.
Samsung EVO Plus 512GB: The 512GB SD card offers the best ample storage and is a perfect choice if you want to download many Nintendo Switch games.
SanDisk Ultra 400GB UHS-I Memory Card: This 400GB scan disc is ideal with a fast read rate for moderate usage. It's ideal for gamers who download digital games.
SanDisk 128GB UHS-I-Memory-Card (Mario Theme): This MicroSD is officially licensed by Nintendo and features cool Mario themes, including Mario-red coloring and the iconic mushroom. It's fast and offers speeds of up to 100MB/s.
Samsung MicroSDHC EVO Select 32GB: This high-quality 32GB is a smart choice for gamers looking for minimal storage. The Samsung SD card offers speeds of up to 95MB/sec and comes with an SD adapter.
No storage space affects your gaming experience on Nintendo Switch. Learning how to free up space will improve your gaming experience by allowing you to download more games and play with no hitches.