HP laptops are one of the most popular models, making them a great and accessible choice for many people. They come with a range of features, appearances, and prices depending on what you want in a laptop. However, if you aren't used to HP—or laptops in general—you may need to learn some basic commands, like how to shut it down.
You can shut an HP laptop down using a keyboard shortcut like Win + X or Ctrl + Alt + Del and then choose the "Shut Down" option. You can also open the Windows menu and navigate the power options. Lastly, you can have your laptop shut down automatically when you close the lid.
Let's take a closer look at how to shut down an HP laptop, as well as the different options you have and whether you should shut it down.
How Do You Turn off an HP Laptop?
There are two ways you can turn off an HP laptop. One uses the mouse or trackpad, and the other uses the keyboard. Here are both methods.
Using Mouse or Trackpad
The mouse or trackpad is the most common way to shut down an HP laptop. Since HP laptops run Windows, you should navigate to the Windows symbol on the bottom left of the screen and click on it. Once you've done that, you should see a power option.
Click on it, and one of the options will be "Shut Down."
Using the Keyboard
There are three methods to shut down your HP laptop using the keyboard, but all of them require using the mouse or trackpad at some point.
The first is by using Ctrl + Alt + Delete. Next, press these buttons on the keyboard simultaneously to bring up options that will include power, and then you can navigate to Shut Down.
Secondly, you can use Alt + 4 for a list of options, including Shut Down.
Lastly, pressing Win + X on a Windows laptop will bring up a handy list of quick options you may be looking for, and, like the above options, Shut Down is one of them. Navigate to it with the mouse and choose it to shut down the laptop.
Does Closing the Laptop Turn it Off?
Closing a laptop may turn it off, put it into sleep mode, or dim the screen; it all depends on what you've specified in your settings. To change this, you can follow these steps:
Open the Start menu and press Control Panel.
Select Hardware and Sound.
Select Power Options.
Select Choose What to Do When You Close the Lid.
There's no right or wrong answer here. Some people prefer to shut down their laptops just by closing the lid, which makes that option convenient. Others may close the lid to avoid others seeing sensitive information or give their eyes a break from the screen and would rather their laptop not shut down when they do this.
If you decide it's not right for you, you can always follow these steps again and change your laptop's actions when you close the lid.
Should You Shut Down Your Laptop When it's Not in Use?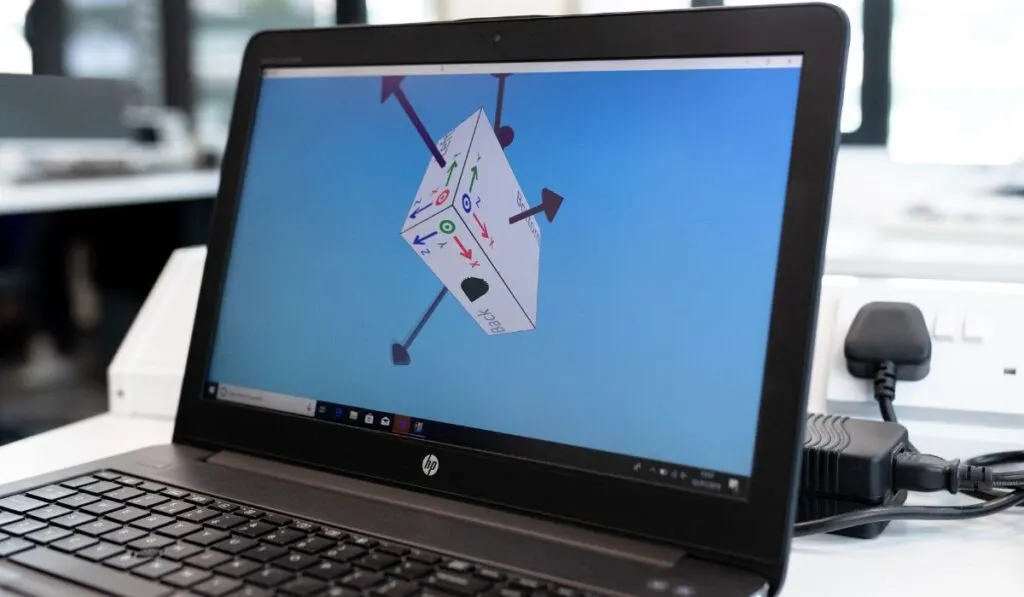 Generally speaking, although it's okay to leave your laptop occasionally, it's best to give it a break as much as possible. Laptops work hard, and there are many issues with constantly leaving them on for an extended period.
Overheating
The first is that it may overheat. Laptops have fans inside of them to keep them cool, but the fans can't always do their job, and if the laptop has been working hard for a long time without a break, it may overheat. At best, this can damage the laptop. At worst, it can start a fire.
Shorting the Lifespan
It's also important to consider that you may shorten the lifespan of your laptop by leaving it on all the time.
Each component of a laptop has a limited lifespan, especially the battery. If you leave your laptop online, the battery will degrade much faster.
Can You Leave it Plugged in?
You could leave it plugged into the charger, but chargers pose more of a risk of overheating than the laptop itself, which could be dangerous. Also, it's not recommended to let a laptop charge without supervision, and for some laptops, charging beyond 100% can affect the battery's lifespan too.
To Conclude
All in all, since it's easy to shut down an HP laptop and should only take a few seconds, it's good practice to get into the habit of doing it.
In addition, it saves battery life and ensures no overheating risk when the laptop isn't in use. It may also help your laptop perform better in the long run.