Computers are inside everything now. Smart-home devices are all over the place, but for those home electronics you have that aren't smart already, smart plugs and outlets can be used to add at least some smart home functionality to them. But what's different about these two devices?
Smart plugs and outlets add smart-home functionality to devices that don't already have it built-in. A smart plug can be used at any existing outlet and are very easy to install. A smart outlet replaces an existing traditional outlet but may require an electrician to install.
To fully understand this, you must continue reading to learn about the differences between the two. We'll also look at their features, how to use them, and their benefits and disadvantages. You can also look into a few smart plugs and smart outlets that are recommended.
What's the Difference Between Smart Plugs and Smart Outlets?
While smart plugs and smart outlets seem to do the same work, there are some differences between the two devices.
Smart plugs are small adapters that you can plug into any of your regular electrical outlets. These plugs connect to your wireless network and smartphone, and you control them using an app. Any device you have plugged into the smart plug can be turned off and on using that app. You can do this wherever you are, even when you're not home.
Smart outlets, on the other hand, look like ordinary electrical outlets, and they work like them too. They are not adapters like smart plugs. The smart outlets are built into the wall, and all you need to do is plug in your appliance or device.
Then you can use an app or a smart speaker to control the devices. Like a smart plug, they can be controlled from anywhere using an app on your phone.
Before you purchase anything, it is always good to know the pros and the cons to make informed decisions.
Smart Plugs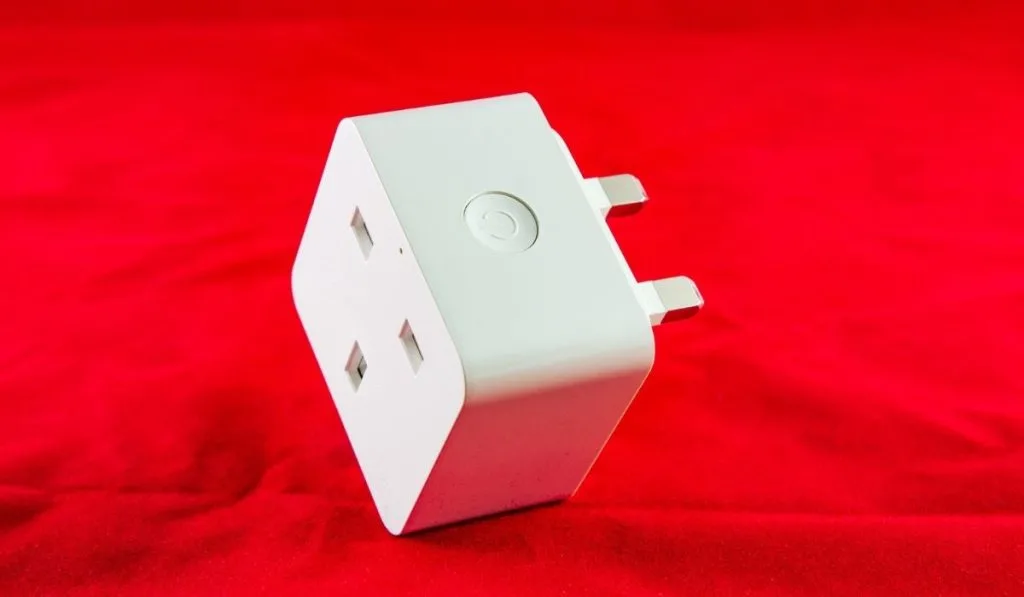 Smart plugs will help you control small devices in your home. They are cheap, so you don't need to worry about having another expense in your home. They can be connected to WiFi, Z-Wave, and Zigbee internet formats.
The smart plug's wattage is usually indicated on the manual. Make sure you follow it to avoid causing damages to your plugged-in devices. However, most smart plugs support a few hundred watts of power consumption.
Important to note is that smart plugs will only work with devices or appliances with a mechanical on/off switch.
The Amazon Smart Plug (on Amazon) is one of the most popular and easy-to-use smart plugs out there.
How Do Smart Plugs Work?
Because smart plugs are like small adapters, you just need to plug them into your ordinary electrical outlet. Plug any appliance or device you want to have control of into the smart plug.
You can then go ahead and download the smart plug app from the Play Store or Google app. Be sure to download the correct manufacturer's app to your smartphone. The app will connect you to the smart plug and advise you on how to use it.
Before purchasing a smart plug, ensure it has all the features you want and can be used with a voice assistant or the hub you have. Your smart plug will also need to be connected to a stable WiFi connection. WiFi connection will enable your smart plug and phone to communicate.
Some smart plugs will allow you to schedule their turning on and off. You can schedule this using your smartphone. Other smart plugs will enable you to check the temperature of the electrical wall outlet and let you know if it's overheating.
It will also let you know how much energy your device is using. Some smart plugs can be controlled using simple voice commands.
What Can You Do with a Smart Plug?
In your quest to turn your home into a smart home, you might be wondering exactly what the smart plugs are used for. They are cheap, you can buy them in packs, and some of them come in strips for connecting multiple devices. There are several devices with which you can use your smart plugs and numerous things you can do.
With a smart plug, you can:
Schedule your morning coffee: You can use it to schedule when your coffee machine should start making your coffee in the morning. Wouldn't it be nice to find a warm cuppa waiting for you when you eventually get out of bed?
Manage your lights when away: You do not need to go back home when you realize you left your lights on and already left your house. You do not need to stumble while looking for light switches if you come back to the house.
Switch off appliances: When you suddenly realize you left some devices on, you can switch them off. This is important because they can cause fire or damages if not turned off.
Control TV and game time: You can have a schedule that dictates when the smart plug can turn on the TV or when the kids can play video games.
Control lights in kids' rooms: It will be effortless to control when lights go on and off in your kids' bedroom.
Pros of Smart Plugs
There are so many benefits of using a smart plug in your home. Let us look at a few:
It's easy to install, as you simply plug it into an existing ordinary electrical socket.
You can use it with different sockets in the house as the need arises.
If you notice that your smart plug has problems, you can just unplug it from the socket, preventing a fire hazard.
They are cheaper than the smart outlets.
You can use smart plugs to control devices outside. They can withstand extreme temperatures, humidity, and bad weather.
Cons of Smart Plugs
You also need to have a look at some of the negative points of smart plugs:
They are a bit bulky, so it will be hard to hide them or pass them off as regular sockets.
Displacing a smart plug could be easy if you unplug it and forget where you put it.
Smart Outlets
[amalinkspro type="image-link" asin="B07BX13MLF" new-window="true" apilink="https://www.amazon.com/dp/B07BX13MLF?tag=sortatechy0a-20; img-size="500,500″ addtocart="false" nofollow="true" alt="TOPGREENER Smart Wi-Fi Outlet with Energy Monitoring, Tamper-Resistant, In-Wall, No Hub Required, Works with Amazon Alexa & Google Assistant, TGWF15RM" alignment="aligncenter"]https://m.media-amazon.com/images/I/318NZUhxNDL._SL500_.jpg[/amalinkspro]
Both ordinary and smart outlets are installed the same way, though smart outlets are more expensive. Smart outlets, however, have a built-in transceiver that allows a smart hub to control the power to the outlet. You do not have to worry if you have several smart outlets; you can still control all of them from one app.
Smart outlets are in-wall built, so you just need to plug in your device or appliance. You can plug-in appliances like lamps, fans, some space heaters or ACs, and motion sensors. When you can control the power from the source, you can control these devices.
The Kasa Smart Plug KP200 (on Amazon) is a very popular and feature-rich smart outlet. Companies very often mix the labels of smart outlets and smart plugs which can get very confusing for people. This is an example of the mixed-use of these terms.
How Do Smart Outlets Work?
Just like a smart plug, you will need a smartphone app, internet connection, and smart outlet. You can now plug in your device and attach it to the smart outlet. You have to know if your device has a mechanical switch and if the smart outlet is on, so your device will stay on.
But for a device with an electronic switch, it will stay off until you switch it on. This means that most devices with electronic buttons will not work with smart outlets. You need to confirm which switches your devices have to know whether to use smart plugs or outlets.
So how do you know if a device has a mechanical or electronic outlet? Plug in the device, turn it on, and unplug without putting it off. Plug it back in, and if you still have to turn it on again, it has an electronic switch. It won't work with a smart outlet.
What Can You Do with Smart Outlets?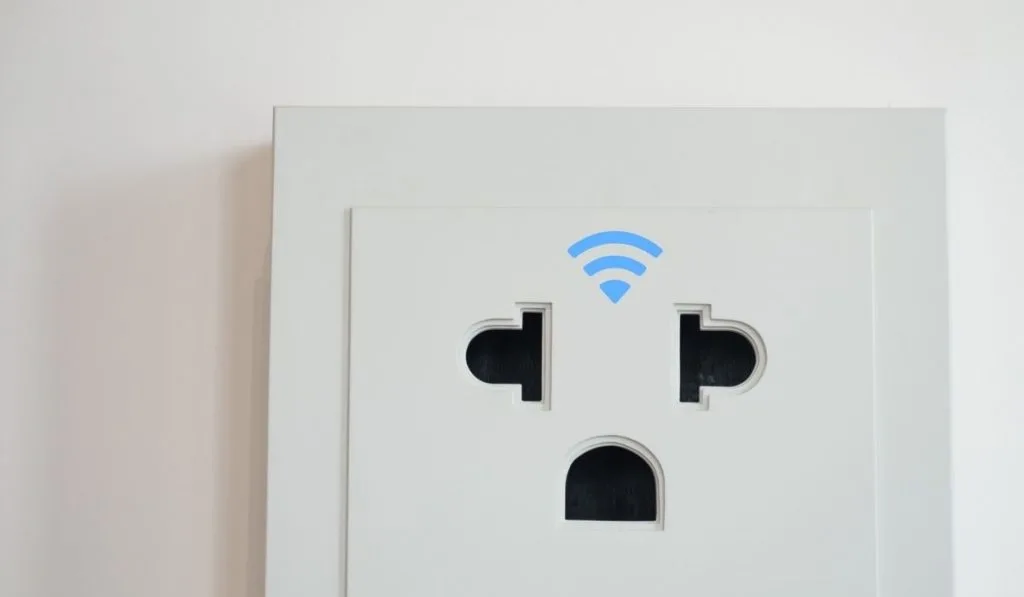 Manage electricity consumption: You can manually set the consumption rate for your devices or appliances. Knowing this will help you control energy consumption in your home, and this can lower your electricity bills. If you forget to turn off your appliances or devices, they will be turned off.
Get alerts on app: When the energy levels of your devices go up, you will get an alert on your app. If the energy levels go extreme and start a fire, the fire alarm will go off if you have installed it.
Keep intruders out: You can schedule your smart outlets to turn on or off your lights, especially if you are away. This trick will make people think you are at home.
Notification for outlets not working: If one of your smart outlets is not working, you will see it on the app. Most apps will indicate an X next to a smart outlet that is not working.
Pros of Smart Outlets
Smart outlets have several benefits so let us look at a few:
They are inbuilt, so you will not have to worry about protruding elements from your sockets. They will provide a cleaner and tidier look.
You won't have people, your kids, or even you unplug and misplace them.
They allow users to control power from the source to the device.
Cons of Smart Outlets
There are several reasons why smart outlets may not be a good fit for your home.
When your devices malfunction, it might take you a bit of time to disconnect them from your home's wiring.
They will be expensive considering all the work required to install them. The extra cost will not come with additional benefits, as they will still give you the same results as a smart plug.
You may find that not all your devices will work with smart outlets, especially those with electronic switches.
Conclusion
Now that you know the difference between a smart plug and a smart outlet, you are in a position to know which one fits your home. We have more articles on the subject of smart plugs and smart outlets – be sure to read them to learn more.