Nowadays, most people keep their important files stored somewhere in the cloud, however, you likely have a handful of USB flash drives with sensitive or important data stored on them. It's not very safe or smart to store important documents only on a flash drive because if it fails or gets corrupted, there's no backup option. But how and why do flash drives sometimes fail or stop working?
USB Flash Drives can be corrupted by unsafe ejection, physical damage, or sometimes viruses. Take your flash drive to a professional for physical damage repair or data recovery. Corrupted drives can usually be fixed by reformatting the drive.
Knowing what USB flash drive corruption means, why USB drives fail or get corrupted, how to repair them, and how to prevent them from corrupting is all key knowledge for this digital age.
Why do USB Drives Fail or Get Corrupted?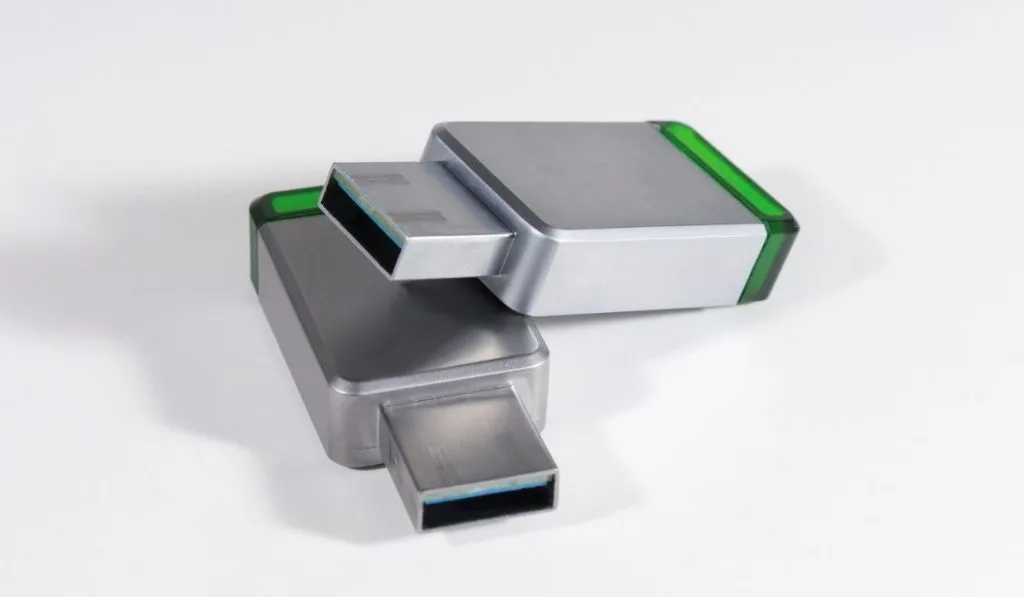 You can imagine storing some very important documents on a single flash drive to keep and use at a later time. Only to find out later that when you connect it to your computer to view these files, it no longer works properly.
This can be a pretty terrifying and scary experience. Nobody wants to experience the regret of losing a lot of important pictures, financial records, documents, etc.
To prevent this, you need to know what makes flash drives fail or get corrupted so that you can avoid it in the future. As well as, why cloud storage is your best resource for storing your important files.
Removing Your Flash Drive from the Computer Incorrectly
When you want to remove your USB flash drive from the computer, you are given the option to "safely eject." Most people will ignorantly remove the USB drive without realizing that by doing so, you could corrupt/damage files on it.
You should never remove a USB flash drive while it is reading or writing data! If you have a bunch of files open on your computer that are stored on the flash drive, then just remove it without saving or closing everything, some really strange things can occur.
So always make sure you click "safely eject" before removing a USB drive from a computer.
Component Failure
USB flash drives are susceptible to many things like pressure, humidity, and extreme temperatures. You must be very careful when storing your flash drive. Exposure to harmful elements may cause the internal components of your flash drive to get damaged.
Apart from external factors, there are internal factors that can cause damage to your flash drive. Namely, short circuits and power surges.
Degradation
For degradation to occur, the disk drive doesn't necessarily need to be damaged physically. It simply means the USB flash drive has come to its end of life.
After thousands of erase/write cycles, your flash drive will lose the ability to retain data. These erase/write cycles will also affect its retention period.
USB Driver Issues
There are times that your computer will not read the USB flash drive. Your computer's USB ports will be unable to read your flash drive, and a pop-up will appear, saying "USB Device Not Recognized." Well, this may not always mean that your port has a problem, but it could be that your USB flash has become corrupted.
What Does it Mean for a Flash Drive to be "Corrupted," Anyway?
If a USB flash drive has been corrupted, that means it has become unresponsive to any attempt at accessing its data. The flash drive's unresponsiveness could either be due to physical problems or software issues.
When corrupted, your flash drive will probably provide unusable data, or the corrupt files will not open. There are several reasons why your USB flash drive might become unresponsive:
Invalid data in the directory structure of the USB drive or the Master Boot Record (MBR)
Broken stems and connectors
Low-quality memory chips typically found in cheap drives
The drive is mounted improperly in your computer's port
Broken circuit or memory chip gate
How to Fix a Corrupted USB Drive
When your flash drive has been corrupted, there are several ways of fixing it. However, you must exercise caution as some methods can cause more harm than good. Repairing your USB flash drive will, in most instances, depend on what caused the corruption.
Logical Corruption:
Fixing a corrupted USB flash drive is something you can do quite simply from home. However, you must be careful when fixing it at home or using tools to repair it, as you could cause accidentally damage it.
First of all, determine whether the data contained in the USB flash drive is essential. If it is crucial, consider having your drive professional repaired. Trying a home fix could result in permanently losing your data.
Corruption Caused by Physical Damage:
If you know that your USB flash drive has been damaged physically, it needs professional repair and trying to fix it yourself could lead to further damages. Try and identify a reputable company that can attempt to recover the data for you.
Best Buy offers Data Recovery Services, but they can be somewhat pricey depending on the level of difficulty. It can definitely be worth checking out though if the potentially lost data is important enough.
How to Fix a Corrupted Flash Drive by Formatting it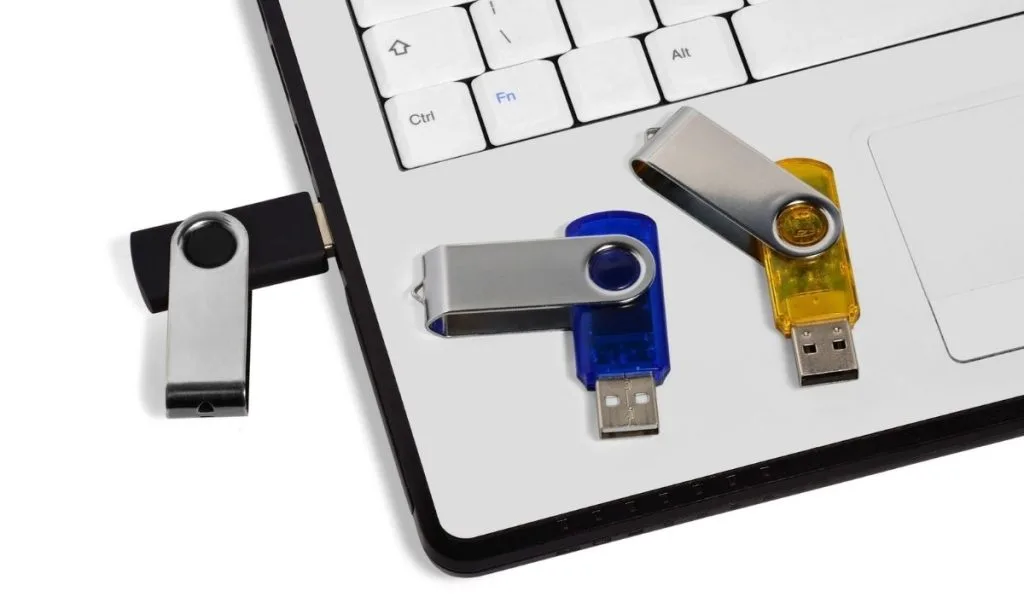 You will need to follow several steps before you can finally format your corrupted USB flash drive.
Fix the undetectable USB flash drive:
Click on "control panel," then on the "Device manager."
Expand on the "Disk drives" list
There is an arrow that faces down across the 'USB drive.' Double click on it and choose "Enable device."
Continue clicking "next" until finally it's done.
---
Assign drive letters
Right-click on my computer and choose "Disk management."
Click on it, and once it loads, right-click on your storage media and click on "Change Drive letters and path."
Click on the drive letter you want to change and click "okay."
---
Fix USB logical issues
Insert your corrupted USB flash drive, click on "My computer," and choose the USB drive that appears.
Right-click on the drive and go to "Properties," and choose the "Tools" tab.
Next, click on "Check now." You will be presented with two repair options; check both and click "start."
Once the scanning is complete, "close."
---
How to Fix a USB Flash Drive Without Formatting It
It can be pretty confusing when you are unsure whether you should fix your USB flash drive by formatting it or not formatting it. The greatest fear is trying to fix your USB flash drive and having it erase all your data.
However, you must still backup all your files to avoid data loss. Note that when you see any of the errors below, it is safe to fix without formatting.
When you see this notification: "You need to format the disk before using it."
When the USB shows 0 bytes or "folder is empty."
When you see "USB Device Not Recognized or Malfunctioned."
When your computer displays "disk needs to be formatted."
When you see this pop-up: "Insert The Disk into Removable Disk."
Below, see some of the methods you can safely use to fix a USB flash drive without formatting.
Method One: Reinstall Drivers
Reinstalling Drivers can quickly be done without formatting, as in some instances, drivers are the root cause of corruption in USB flash drives. To correct this corruption without formatting the flash drive, you need to uninstall and reinstall the drivers.
Follow the procedure below:
Right-click on My Computer and select Device Manager from the prompted window.
Double-click on Disk Drives, then right-click on the name of the corrupted flash drive.
Click on the uninstall option on the drop-down menu, then click okay to move forward.
Remove your USB flash drive and restart your computer.
Plug in your flash drive, and your machine should now recognize it.
Method two: Using the Rebuild Option
To use the rebuild option, first plug the corrupted flash drive into the USB port of your computer.
You can navigate to My Computer and then click on the Removable Disk icon.
Click on the Tools tab and then on the Rebuild Button.
The scan procedure will start. When it has been completed, close the scan wizard.
Safely remove your USB flash drive from the computer.
How to Prevent a Flash Drive from Being Corrupted
A corrupted flash drive can mean the loss of your precious files and data. Even after seeing the various ways you can recover your corrupted USB, the best way to keep your files safe will always be to keep your flash drive from being corrupted in the first place. There are several ways in which you can accomplish this:
You must note that the USB flash drive, due to its size, cannot take a heavy load or pressure like a hard drive. So you must avoid placing it somewhere where it is subjected to heavy loads and weights.
Most USB flash drives will come with an included cap. These caps are mainly used to protect the flash drive when not in use. You can also decide to go for a swivel USB, which comes with a built-in cap. The cap protects the flash drive from debris and dirt. It would also be of great help to only hold the device on its edges and to avoid touching the contact surface directly.
You might not know that not editing your files directly on the USB flash drive goes a long way in preventing your flash drive from corrupting, but it really does. When you need to edit files from your flash drive, copy your files to the computer, remove the flash drive, and then edit. Also remember that keeping your flash drive in your computer for too long can make heat up.
Anti-virus and other malware software can go a long way in protecting your USB flash drive. Though viruses and malware may not physically ruin your flash drive, they can use it as a carrier and transfer it to your computer. These viruses can freeze your drive, corrupt your data or even delete files. A point also to note is to avoid plugging your flash drives into unfamiliar computers unless necessary.
So many factors can cause damage to a flash drive. Dropping, smashing, or slamming can cause your flash drive to break or some parts to loosen. Protect your flash drive from all this by keeping it stored in a safe place and, if possible, avoid carrying it around.
However, when it is necessary to carry it around, you can do the following:
Please attach it to a lanyard or go for a lanyard USB (on amazon). You can also choose a USB wristband here (on amazon).
What are the Most Reliable Flash Drives?
Buying quality flash drives will also save you from the unnecessary inconvenience of dealing with corrupted drives.
SanDisk is a very reliable USB flash drive manufacturer, and their prices for large flash drives are very fair. The SanDisk 64GB USB 3.0 Flash Drive (on Amazon) is reliable, very cheap, and will work with basically any device.
[amalinkspro type="image-link" asin="B00KYK2ABI" new-window="true" apilink="https://www.amazon.com/dp/B00KYK2ABI?tag=sortatechy0a-20; img-size="500,281″ addtocart="false" nofollow="true" alt="SanDisk – SDCZ48-064G-UAM46 64GB Ultra USB 3.0 Flash Drive – SDCZ48-064G-UAM46 Black" alignment="aligncenter"]https://m.media-amazon.com/images/I/313u-coHKiL._SL500_.jpg[/amalinkspro]
Kingston is also one of the first manufacturers to produce USB C flash drives. The Kingston DataTraveler Max 256GB USB-C Flash Drive (on Amazon) is sleek, modern, and provides a ton of storage at ridiculously fast transfer speeds due to it using USB type-C.
[amalinkspro type="image-link" asin="B09DVPH8NQ" new-window="true" apilink="https://www.amazon.com/dp/B09DVPH8NQ?tag=sortatechy0a-20?tag=sortatechy0a-20&linkCode=osi&th=1&psc=1″ img-size="500,313″ addtocart="false" nofollow="true" alt="Kingston DataTraveler Max 256GB USB-C Flash Drive with USB 3.2 Gen 2 Performance" alignment="aligncenter"]https://m.media-amazon.com/images/I/31+laKA5CsL._SL500_.jpg[/amalinkspro]