Amazon's Alexa is a convenient, helpful, and amazing smart home assistant because of its easy-to-use voice interface and powerful system. It's a great introduction to simple home automation, but Z-wave is a perfect choice if you want a more sophisticated system. So, does Z-Wave work with Alexa?
Alexa is compatible with Z-Wave, offering yet another way to manage your smart devices and home automation system. To set up hub and controllers, use the SmartThings or Alexa app to link SmartThings with Alexa. The Amazon app will then direct you to discover your smart devices.
Automating your home will make your life easier, and the DIY nature of Z-Wave and Alexa-based applications make them economical solutions for homeowners. So let's jump right in so you find out everything in detail.
Is Alexa Compatible with Z-Wave?
Alexa currently doesn't support Z-Wave, the wireless protocol for home automation, owing to its high speed and little interference from other connected devices in your home. While some recent Alexa speakers have Zigbee controllers, they're still incompatible with Z-Wave.
Although Alexa doesn't support Z-Wave, you can connect Z-Wave devices to your Alexa routines using third-party Z-Wave hub and controllers like SmartThings or Hubitat to bridge the connection.
What Exactly are Z-Wave Devices?
These are devices that you can control by connecting them to an outlet. They usually utilize Z-Wave wireless technology that allows you to control various home automation devices using your smartphone or tablet, which connects to hubs like SmartThings.
Z-Wave devices use low-energy radio waves to liaise with each other and form a mesh network. Rather than using direct connections between the devices and the central hub, the control signals skip from one device to another. Consequently, this increases the coverage area of the network.
With Z-Wave devices, you never have to worry about distance constraints in your home. Z-wave device-to-device connections have a much longer range (around 100 meters) than Bluetooth and WiFi. Placing the devices strategically will ensure your control signals travel to every corner of your smart home.
How to Use a Z-Wave Hub and Controllers with Alexa
Z-Wave hub and controllers operate as the command post of your smart home network. To use it with Alexa, you'll first need to install the SmartThings App on your phone and then add Z-Wave devices to Alexa. Here's how:
Download the SmartThings app and register for an account if you don't have one already.
Install the Alexa mobile app and set up Alexa. You can use the SmartThings app to set up a SmartThings-Alexa connection.
From the main screen, click on the Plus sign (+) on the homepage, then select Voice Assistant.
Tap Amazon Alexa, which will instantly direct you to the Amazon app.
Click Enable to use Alexa with SmartThings.
Tap Authorize. You should see a message saying you've successfully linked Alexa with SmartThings.
Tap X to close the window and launch the device discovery process.
After closing the window, the app will direct you to discover devices.
Tap Discover Devices and wait for the process to conclude.
You can now give Alexa voice commands to access one of your SmartThings devices. For instance, you could tell Alexa to turn on music, dim the lights or crank up the temperature on the thermostat. The voice command will send the request to the controller or hub, which converts it into an instruction for the devices you've set up in your home. Keep in mind that these commands will be limited if you're using Alexa without WiFi.
Hub & Controller Options
Z-Wave hub and controllers enable your devices to communicate with each other. Let's check out a few Z-Wave hubs that you can use to give Alexa access to your Z-Wave network or control your Z-Wave devices directly. If you already have any of these devices, you only need to ensure it's connected to Alexa and you're all set.
Aeotec SmartThings Hub
SmartThings is the most popular ecosystem for Z-Wave and Zigbee devices. It integrates with Alexa and Google Assistant effortlessly, and several Samsung SmartThings-compatible Z-Wave devices are on the Market.
If you've been keen enough, you may have observed that newer hubs have the name Aeotec instead of Samsung. This is because Samsung ceased making their hubs and decided to rely on third-party manufacturers.
While you may still be able to come across a Samsung-branded SmartThings v3 hub, there's no real reason you should buy it, as the Aeotec variant is just as good or even better.
If you're looking for the easiest way to control your Z-Wave devices and integrate them with Alexa, the Aeotec SmartThings hub (on Amazon) is the way to go.
Hubitat Elevation Hub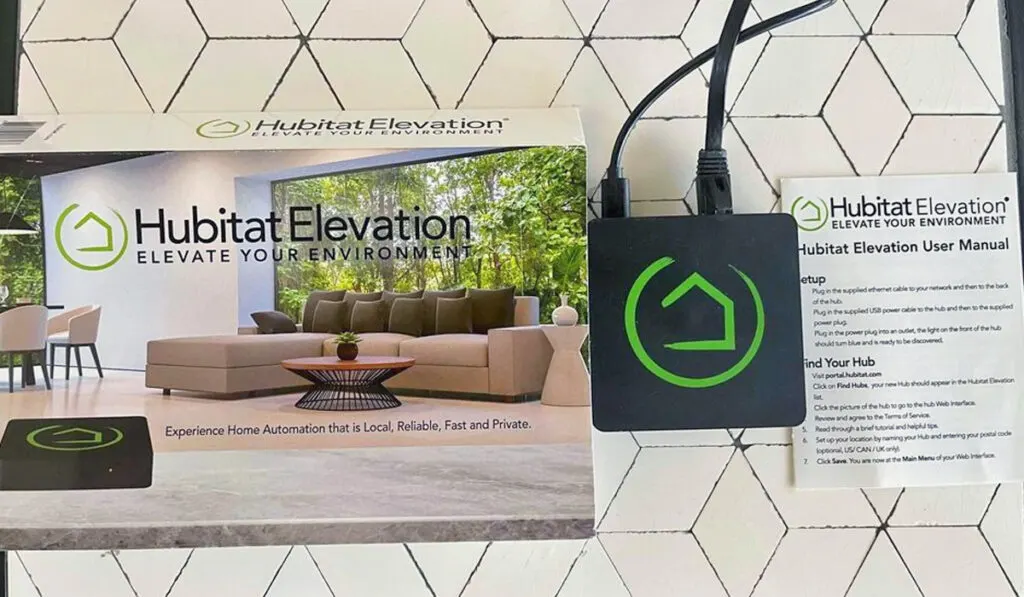 Hubitat Elevation Home Automation Hub (on Amazon) is an even more impressive Z-Wave hub than SmartThings, but it takes quite some time to learn how to use it.
Hubitat is continuously improving its software—adding more granular controls and finer integrations with Alexa and other smart home hubs. Besides Z-Wave, Hubitat can also control Zigbee devices meaning you can still use it even if you don't have a 4th generation Echo.
Hubitat stores all your smart home configurations locally. Therefore, it works even when your internet is down. However, they charge a monthly fee if you want cloud backups and remote access to your hub.
Ring Alarm Base Station
The Ring Alarm Base Station (on Amazon) isn't a common choice for a Z-Wave hub, but it's ideal if you've already invested in the Ring ecosystem. If you use Ring alarms, cameras, lighting, or have a Ring Alarm Base Station already. If you don't, it will be the most straightforward Z-Wave hub to integrate into your system.
Ring devices link up seamlessly with Alexa, thanks to Amazon owning both companies. Ring even manufactures an Alarm Pro Base Station (on Amazon) with a built-in eero WiFi 6 router, so you can use it as a Z-Wave hub and a WiFi router to make your smart home setup more comprehensive.