Unlike the PlayStation 5, the Xbox Series X and S don't offer Bluetooth connectivity. This can be a real problem if you want to use your Apple AirPods for gaming. Fortunately, there are a few tricks for using AirPods with Xbox Series X and S.
To connect your AirPods to Xbox Series X or S, you first have to connect the AirPods to your smartphone. From there, you can connect to the game audio through the remote play option. Consider connecting the headphones to your TV's Bluetooth as well.
Although it should get the job done, these solutions may not provide the best audio, and the processes can be a bit complicated. If you want perfect audio quality for your games, Xbox gaming headsets are the way to go. That's not always an option of course, so let's take a closer look at how you can get connect your AirPods to your Xbox.
Can You Use AirPods on Xbox?
Apple AirPods (on Amazon) are designed to be connected via Bluetooth, so they work well on many non-Apple devices.
However, since there aren't any Xbox models that have Bluetooth compatibility, you can't directly connect any wireless headset to the Xbox (other than the native Xbox headsets Microsoft produces like this one (on Amazon)).
Even though many users have complained about the lack of Bluetooth connectivity on Xbox consoles, the company has maintained the status quo, likely in order to sell their own wireless headsets and earphones.
Since Apple is one of the market leaders in wireless earphones, Xbox doesn't even allow you to connect the AirPods to the Xbox controller via a cable.
Nonetheless, there is a way to work around the lack of Bluetooth compatibility on Xbox and still use AirPods while gaming. You'll have to connect it indirectly with your smartphone, but the results are consistent, and you can use it as a backup in case your Xbox headsets get damaged.
How to Connect AirPods to the Xbox Series X or S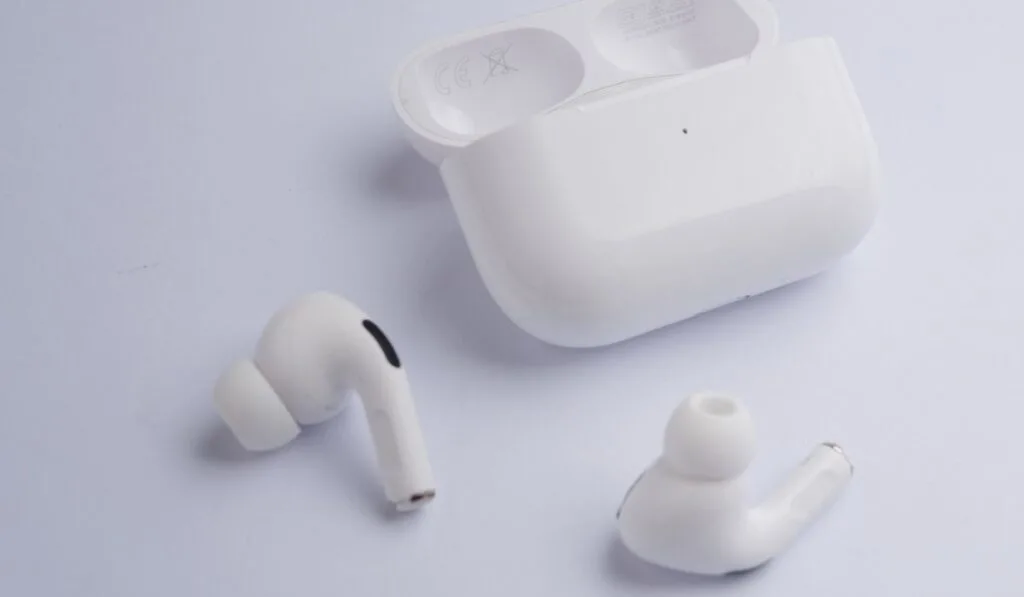 You can connect your AirPods to an Xbox Series X or S via Remote Play or an external Bluetooth adapter.
Connecting it via Remote Play streaming is the easiest option, and all you'll need is a smartphone. Alternatively, you can purchase an external Bluetooth adapter and connect it to your Xbox.
Follow one of these methods to connect AirPods to an Xbox Series X or S:
Via Streaming (Remote Play App)
The easiest way to connect AirPods to an Xbox is via the Remote Play function in the Xbox app. To connect the AirPods this way, follow these steps:
Open the "Guide" menu on your Xbox.

Under the "Profile and Setting" tab, select "Settings."

Under "Devices and Connections," choose the "Remote Features" option. Make sure the remote features option is on. This allows you to stream via external devices.

Download the Xbox app on your smartphone.

Connect your AirPods to your phone.

Initiate Remote Play from the Xbox app on your phone. This will open a video stream to your games, and the audio will come through the AirPods.

While this process is effective, the audio quality won't be as smooth as it is with Xbox headsets. You'll also need a fast and stable internet connection for the best audio experience. However, it's still a great alternative to expensive Xbox wireless headsets.
How to Enable Xbox Party Chat on AirPods
When you're streaming audio through Remote Play with your AirPods, you won't have access to the microphone, at least initially. This can be a real issue with multiplayer games. Fortunately, you can turn the Xbox party chat on with these simple steps:
On the right-hand corner of the Xbox Remote Play app, click the dropdown menu.

Choose "Unmute" from the list of options. This will turn the microphone on.

To turn the microphone off again, you'll have to visit the same options and select "mute." This can be frustrating, especially if you're used to a simple switch that allows you to turn your microphone on and off. However, it's the only way to access party chat on AirPods.

Although you can access the party chat with your AirPods, you'll notice that the quality isn't as consistent as with regular gaming headsets. Your audio quality will also depend on the type of AirPods you're using and other factors. Always use Xbox gaming headsets if you are looking for the best in-game audio.
Another interesting way that many people connect to their party chats using AirPods is through other third-party chat apps. These apps are an effective way to bypass the complicated microphone settings on Remote Play and allow you to chat through a microphone or by text.
Discord is the most popular option, but you can use other apps like Messenger, WhatsApp, or even Skype.
Via Third-Party Bluetooth Adapters
Even though there are ways to use wireless AirPods on an Xbox, as we described, it's not always the best option. The sound quality isn't as high, the process of connecting AirPods and enabling the microphone for gaming is fairly complicated, and you'll have to game with your smartphone's battery steadily draining.
The other option is to connect the AirPods to the Xbox controller through a Bluetooth adapter (on Amazon).
Connecting to the Xbox controller with a Bluetooth adapter will give you better sound quality. You also won't have to use your smartphone or connect to Remote Play before you can access the game audio.
Best Xbox Series X/S Gaming Headsets
As you can see, there are a few options for connecting your AirPods to your Xbox. Nonetheless, it's much better to use a real gaming headset instead. Here's a list of the best gaming headsets for Xbox Series X/S:
When it comes to quality gaming headsets, nothing beats Turtle's beach stealth model. This headset works perfectly on Xbox and can switch seamlessly to PS5 or other consoles. The 50mm nano speakers give you the ultimate audio experience.
If you're looking for the best Xbox gaming headset, why not go with the original? This Xbox gaming headset from Xbox is designed for Xbox consoles and can easily connect to the Xbox accessories app for the ultimate gaming experience.
There's nothing like a good headset that will give you great audio on a range of gaming consoles. The Razer Kaira Pro comes with booth Xbox connectivity and Bluetooth 5.0 for clearer audio and seamless connectivity.