For many, Bluetooth is synonymous with wireless headphones and hands-free calling, but its convenience is far beyond that. Bluetooth is a low-power, short-range wireless technology that has found its way into many devices. And the transmitter is the part that makes it all possible. But what is a Bluetooth transmitter, and how does it work?
A Bluetooth transmitter typically plugs into an audio device's aux port, converting its audio into the format that a Bluetooth-enabled device can pick up. Bluetooth transmitters are a great way to enable the use of headphones or car stereos with older devices that don't have Bluetooth built-in.
Bluetooth transmitters are highly compatible and can work with any audio input, whether from a TV, DVD player, gaming console, or an old stereo system, making it a simple solution to upgrade wired devices to wireless without replacing anything. Let's look at how a Bluetooth transmitter works for different devices.
What is a Bluetooth Transmitter?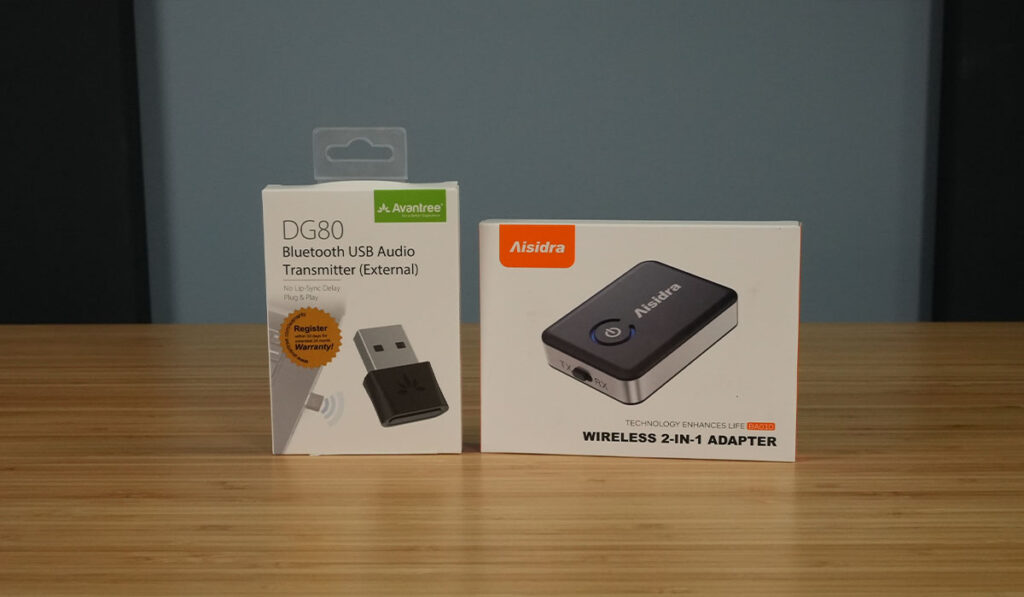 It is often a small, portable device that can plug into the AUX port or an audio jack. It modulates the audio output into short-range radio signals. Any Bluetooth-receiving device in the range can pair with the transmitter, receive the signal and translate it back to audio.
Bluetooth transmitters enable a non-Bluetooth device to stream audio wirelessly to Bluetooth headphones, speakers, or other listening devices.
What are the Bluetooth Transmitter Features?
Some of the standard features for the transmitters include:
Compatibility: While most Bluetooth transmitters plug into the 3.5 mm audio jack, some are designed for specific devices like TVs and use an RCA port, optical (TOSLINK), or even a USB connection.

Multiple connections: A single transmitter can simultaneously broadcast audio to multiple headphones or speakers. Most TV transmitters, for example, support up to two devices so two people can watch TV without disturbing others nearby.

Range: Like other wireless technologies, Bluetooth has a range limitation. Although some high-end models have an extended range, the average Bluetooth transmitter works within 10-30 meters. But the range also depends on the receiving device, obstacles in the way, and other factors.

Audio Codec Support: The latest Bluetooth standards fix the latency or lip-sync delay issue with the help of new audio codecs like aptX HD, aptX, and aptX-LL, which compress the audio file within the limited bandwidth of Bluetooth without any quality loss. But, for this to work, both the transmitter and receiver should support the same codec.

Noise & Interference Control: An external antenna, electromagnetic casing, and other design elements help reduce static interference. Some models also come with advanced noise-canceling codecs, useful while watching TV or movies.

Pass-through Mode: Once an audio source is connected to the transmitter, the audio output is only available through the transmitter. But, some models come with a pass-through mode that routes the audio output to both the transmitter and built-in speakers simultaneously.
What Is the Difference Between a Bluetooth Transmitter and a Bluetooth Receiver?
A Bluetooth receiver is the opposite of a transmitter. A Bluetooth receiver plugs into the input port of the listening device, receives any incoming wireless Bluetooth transmission from a nearby source or transmitter, translates it back to an audio signal, and plays it through the listening device.
So the critical difference is that a transmitter sends out Bluetooth signals from a source (a TV or Phone) while a receiver picks up Bluetooth signals and turns them back into audio that can play on a non-Bluetooth audio device.
So, for example, if your TV doesn't support Bluetooth, but you want to play the audio from it on your wireless speakers, you would need a Bluetooth transmitter.
On the other hand, if your TV has Bluetooth but the speakers you're using don't, you would need a Bluetooth receiver to connect the two.
However, some devices come with both transmitter and receiver in a single unit. Hence, they are called 'Transceiver' or 'adapters.' But it doesn't mean one hardware does both the tasks; instead, they have two different chipsets for transmitting and receiving.
How do Bluetooth Transmitters Work?
Bluetooth transmitters are simple plug-and-play devices consisting of two main components: a Bluetooth chipset and an output antenna. It works on a simple frequency-hopping spread spectrum technology; the chipset converts the audio signal into a compressed RF signal and beams it through the antenna.
So, you have to connect the transmitter to the audio output port of a source like a TV, mp3 player, or computer, and it'll start sending out the signal.
On the other hand, a receiving device, such as a wireless speaker, headphones, or any other audio playback system, picks up the signal with its Bluetooth receiver. And once you allow pairing between the two devices, the receiver decodes the Bluetooth signal and plays it back through the speakers.
The quality of the audio output depends on several factors like distance, type of codec used, obstacles, etc. But, in general, Bluetooth audio quality is now on par with a wired connection.
What Is a Bluetooth Transmitter for TV?
A TV Bluetooth transmitter connects to the audio output port and transmits TV audio wirelessly to any Bluetooth-enabled speaker or headphones. It is an excellent solution if you want to enjoy TV without disturbing others in the room or need to be amplified sound through external speakers.
Several types of Bluetooth transmitters are available for purchase, but audio port compatibility is the most crucial factor to consider when choosing a device for TV. Most TVs support external speakers via a standard 3.5mm jack or RCA audio ports.
However, some TVs use the digital audio output (Optical/TOSLINK), so you need to choose a transmitter with the right cable to connect it to the TV.
Most transmitters for TVs can connect to two audio playback devices simultaneously. But make sure the codec support is strong, so you don't lose quality.
So how do you connect it to your TV?
First, connect the Bluetooth transmitter to the audio output port of your TV.
Plug it into the power source, turn on the device, and put it in pairing mode.
Turn on Bluetooth on your speaker or headphone, make sure it's in range, and then put it into pairing mode.
The transmitter and the receiving device will automatically pair, and once connected; TV audio will start streaming wirelessly.
Some transmitters also come with volume control and pass-through support so that you can listen to audio from both built-in and external speakers simultaneously.
Here are our top picks for the best Bluetooth transmitters for TV:
1- 1Mii B03Pro+ Bluetooth Adapter
Audiophiles approved, the 1Mii B03Pro+ Bluetooth Adapter is one of the best Bluetooth transmitters for TV, thanks to its HiFi lossless audio quality and support for multiple codecs.
In addition, its latest Bluetooth 5.0 technology and class 1 range ensures stable and clear connectivity up to 265 ft. It's a receiver plus transmitter with multiple input /output support, making it one of the most versatile Bluetooth audio adapters.
2- Avantree Oasis Plus
The Avantree Oasis Plus is a Bluetooth 5.0 audio transmitter that provides stable and clear connectivity up to 164 ft. Latest codec support means you won't have to worry about audio cutting out, and aptX HD technology ensures a lag-free listening experience. The best part? It's also a transmitter plus receiver.
3- TROND V5.0 Bluetooth Adapter
An excellent budget-friendly option, the TROND V5.0 works on a built-in battery that provides up to 9-10 hours of use on a full charge.
In addition, it has both 3.5mm, and RCA plugs, making it suitable for several audio devices. And the volume control allows you to adjust the volume without fiddling with your TV remote.
The TROND also supports aptX and aptX Low Latency for superior sound quality, and its dual-link lets you pair two devices simultaneously.
What Is a Bluetooth Transmitter for Car?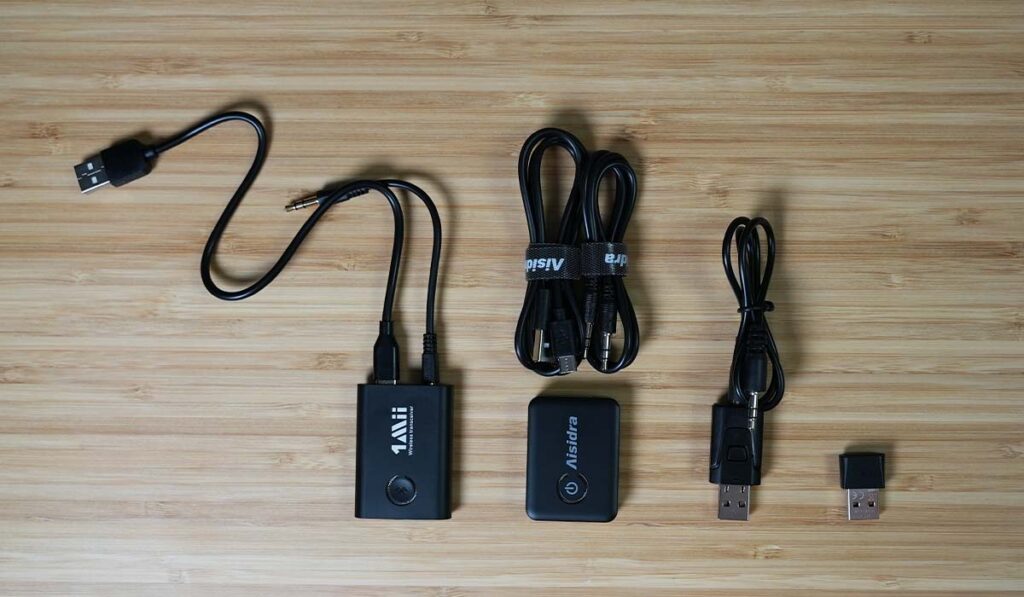 A car Bluetooth transmitter can wirelessly link your stereo system to your smartphone or other Bluetooth-enabled devices.
However, to get full Bluetooth capabilities in your car, you'll need a transmitter with a receiver, also known as a Bluetooth adapter.
So it can pick up Bluetooth transmissions from your phone and channel them to the car's stereo system via a stereo aux port or FM radio. Then you'll be able to make hands-free calls, play music from your phone or use voice commands via Bluetooth.
Some of the best Bluetooth car adapters offer convenient auto-connect, one-touch pairing, and a built-in microphone. They also come with display screens to show the name of the connected device and song information.
In addition, car transmitters usually come with a cigarette lighter adapter for the power supply.
Let's see how to connect a car transmitter with your phone;
Plug the transmitter into the car's cigarette lighter port or USB charging port.
Please turn on the device and put it in pairing mode.
Enable Bluetooth on your phone and select the car transmitter from the list of available devices.
Now turn on your car stereo and tune it to an empty FM radio channel so that the signals from the transmitter do not interfere with any station.
(Some transmitters also include auxiliary wire support, so you can use it if you like, but it won't be a wireless experience then.)
Once your phone and the transmitter are successfully paired, the car's stereo will start playing audio from your phone.
Here are our top picks for the best Bluetooth car adapters;
1- Nulaxy Bluetooth FM Transmitter
Nulaxy is packed with amazing features, including a colorful display to show what's playing or incoming phone numbers. And the special bass booster lets you enjoy the music to the fullest.
The unit also has a built-in microphone for hands-free calling and Siri, and Google voice commands support. In addition, the CVC noise cancellation technology ensures every call over Bluetooth is smooth and clear.
2- Anker Roav Bluetooth Car Adapter
Anker's Roav has a T2 noise cancellation system that filters road and wind noise for clear wireless calling and soft music streaming.
Plus, the Roav is equipped with a handy auto-tuning feature that searches and connects to unoccupied FM frequencies with just a click. And for added convenience, the Roav comes with a fast-charging port with IQ 3.0 Type C PD port.
3- Octeso BH347 Upgraded Bluetooth FM Transmitter
Octeso is an affordable but full-featured Bluetooth car adapter with a lot to offer. It supports voice commands to control music playback or make hands-free calls; the built-in CVC filters out road noise for clear call quality.
You can use the Octeso as a car charger with dual USB ports. Plus, the unit comes with an LED-backlit display for easy viewing at night and an 18-month warranty from the seller.