Wireless technology has advanced at a breakneck pace in recent years, and computer peripherals have undoubtedly benefited a lot. Mice, in particular, have come a long way, with both Bluetooth and USB (propriety frequency) models now available on the market. So, which one is the better choice for you?
USB mice are the best choice for gaming or other latency-sensitive tasks since they have near-zero latency and are more reliable. On the other hand, Bluetooth mice are preferable for everyday use such as office work or web surfing because they're compatible with a wide range of devices.
Both Bluetooth and USB mice are available with features ranging from adjustable sensitivity to battery life and useability. However, the choice ultimately depends on your needs and preference. Would you prefer high DPI or better battery life? Do you want extra buttons or special features? How much are you willing to spend? All these factors make a difference in your decision. So, let's break down the pros and cons of Bluetooth and USB mice to help you make a more informed decision.
What is a Bluetooth Mouse?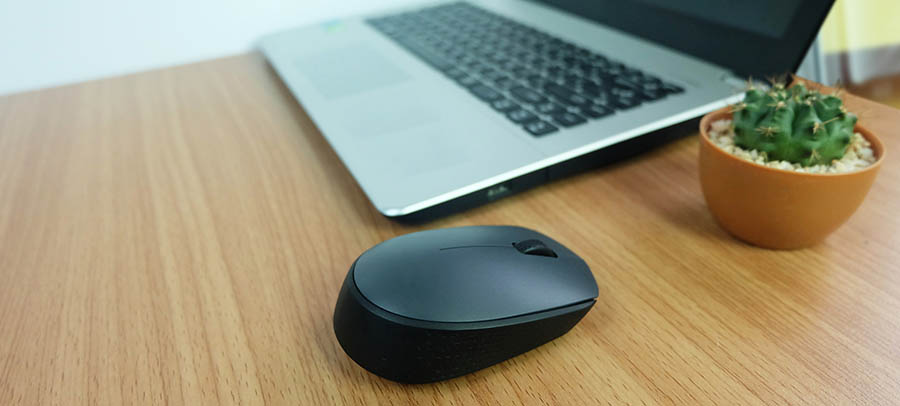 A Bluetooth mouse uses Bluetooth technology to connect to your PC, laptop, or other compatible devices wirelessly. Bluetooth is a short-range wireless communication protocol that allows devices to exchange data over 30 feet (10 meters).
These mice connect to the built-in Bluetooth chip of your device directly and don't need any external dongle or USB. So, as long as a device has Bluetooth support, you can use a Bluetooth mouse with it.
In addition, the technology needs very little power to work, so these mice are typically powered by AA or AAA batteries and can last for several months on a single charge.
Do Bluetooth Mice Have Lag?
Lag is the delay between when you move the mouse and when the cursor on your screen moves. It happens because signals take time to travel between the devices. Since Bluetooth is a wireless communication protocol, there's always a potential for lag.
However, the latest standards have improved the latency to barely noticeable, so you shouldn't notice any lag, even while gaming.
When used with a PC, Bluetooth mice have a polling rate of about 133Hz, translating to a signal every 8 ms. This is not the best rate and can obviously cause lag, but the newest Bluetooth Low Energy standard has significantly reduced the signal delay to 1.5 ms, almost equal to the wired mouse (1ms). So, yes, a Bluetooth mouse can have some lag, but it's not noticeable in real-world usage and is certainly not a dealbreaker.
Is Bluetooth Mouse Good for Gaming?
Yes, a Bluetooth mouse is perfectly suitable for gaming. In fact, most professional gamers use wireless Bluetooth mice because they offer better freedom of movement and are more comfortable to use for long hours.
In addition, since they don't need external dongles, they're compatible with a wide range of devices, including laptops, which is essential for gamers who travel frequently.
Of course, if you're a competitive gamer who wants absolutely no chance of lag, a wired or USB mouse might be a better option since they offer the lowest possible latency. But for most people, a Bluetooth mouse is more than good enough for gaming.
What is a USB Mouse?
USB mice are also wireless, but they use a USB receiver to connect to your devices. The receiver or dongle plugs into a USB port on your PC and communicates with the mouse via 2.4 GHz wireless frequency. So essentially, the technology is the same as a Bluetooth mouse, but the frequency between the mouse and its dongle is exclusive.
Bluetooth is a free and open wireless technology, so a Bluetooth mouse can connect to any device that supports Bluetooth. On the other hand, USB mice operate on proprietary frequencies owned by the manufacturer and therefore work in a closed system.
A USB mouse can only connect with the dongle with the same frequency. So if you lose the dongle or it breaks, you'll need to buy either a new mouse or a new dongle from the manufacturer.
The biggest advantage of this proprietary frequency is that it eliminates the interference that happens with Bluetooth devices. This results in a much more stable and reliable connection with almost no lag. USB mice are also easier to set up; plug in the dongle, and you're good to play.
Which Is Better: Bluetooth or 2.4 GHz Mouse? And How to Choose One for You?
Now that we've looked at the main differences between Bluetooth and USB mice, it's time to decide which one is better for you. You need to consider features like latency, battery life, compatibility, and price before making the purchase. Here's a quick overview of the main differences between Bluetooth and USB mice:
Compatibility: Bluetooth mice are compatible with any device with built-in Bluetooth support. This includes PCs, laptops, tablets, and smartphones. Even if your device doesn't have Bluetooth, you can use a Bluetooth adapter to connect the mouse.
USB mice, on the other hand, do not require Bluetooth support because the dongle directly connects with the device. However, you'll need a USB port to use it, which excludes some smartphones and tablets.
Latency: Bluetooth mice experience interference from nearby devices using the same 2.4 GHz band, like cordless phones and WiFi routers. So the average response time of Bluetooth mice is around 8 ms; even high-end latest models average around 1.5 ms.
2.4 GHz mice, on the other hand, use a propriety frequency which significantly reduces interference and latency, averaging the response time around 1-2 ms. So both have a negligible lag, but gamers might have a tiny edge with a 2.4 GHz mouse.
Usability: USB mice are more convenient to use, you need to plug in the dongle, and you're ready to go. Setting up a Bluetooth mouse, on the other hand, is a multi-step process; you need to turn on the device's Bluetooth, put it in pairing mode, and then connect it to your mouse; it also needs drivers to work. Bluetooth is also prone to connection drops, and it takes a few seconds to connect each time you turn on your device. So if you want the most hassle-free experience, go for a USB mouse.
Battery Life: Bluetooth mice are slightly more power-hungry than 2.4 GHz mice, and that's because they have to power an internal transmitter chip. But this difference is usually offset by features like an automatic sleep mode that turns off the mouse when it's not in use. Power saving mode on Bluetooth mice can give you up to 9 months of battery life on a single AA or AAA battery, while 2.4 GHz mice will last for around 12 months on the same type of battery.
Range: Since both technologies are based on radio waves, they have similar ranges. You can expect both Bluetooth and 2.4 GHz mice to work up to 33 feet (10 meters) away from the receiver. In real-world usage, though, 2.4 GHz gives better results since it's less prone to interference. So, if you work in a crowded space with lots of wireless devices around, a 2.4 GHz mouse is a better choice.
Durability: Durability depends on your usage; if you're hard on your gear and travel a lot, then a Bluetooth mouse is more durable since it doesn't have any external dongles that can break or get lost. If you're more careful with your gear and don't need to remove the dongle often, then a 2.4 GHz mouse is durable enough.
Price: 2.4 GHz mice are more expensive than Bluetooth mice because it's a propriety technology owned by the manufacturer. Bluetooth, on the other hand, is an open standard, so anyone can use it without paying royalties. On average, 2.4 GHz mice start around $40, while Bluetooth mice can be found for as low as $15. But, of course, the price can go up for both technologies with more bells and whistles.
As you can see, each type of mouse has its own pros and cons. So, which one is right for you? It really depends on your needs. A Bluetooth model will work fine if you're looking for a mouse for the office or your kid's computer. It's compatible with a wide range of devices, offers good performance, and is very affordable.
On the other hand, if you're a competitive gamer and every millisecond matters to you, then a 2.4 GHz mouse is a better choice for you. It has lower latency, is less prone to interference, and offers the best performance. But it's also more expensive than a Bluetooth mouse. However, other factors like comfort, buttons, and ergonomics are also important. So, make sure to consider them too.
Best Wireless Mouse You Can Buy
Now that you have a clear idea of what to look for, you're ready to choose the best wireless mouse for your needs. Here's a quick rundown of the pros and cons of six top-rated wireless mice.
1- Razer Pro Click – Bluetooth
Razor pro ticks all the boxes for a great wireless mouse. It has an extra comfortable ergonomic design, is super light, and boasts a 16,000 DPI optical sensor so that you can be sure of its accuracy. In addition, it can pair with four devices simultaneously and effortlessly switch when you need it. Along with remarkable better life of 400 hours, Razor Pro is rechargeable, so you don't need to worry about batteries.
Pros:
Cutting edge precision for both gaming and productivity
Comfortable ergonomic design and sleek finish
Advanced optical sensor with on-the-fly DPI adjustment
Have eight buttons that you can map to different actions
Cons:
Recharge through a propriety cable only
Does not have RGB lighting
2- Microsoft Surface Precision Mouse – Bluetooth and Wired
One of the most comfortable mice on the market, Microsoft Precision, has aced in size and shape. With different thumb rest positions and two side buttons, it is very easy to find a grip that works for you. It has a dual mode which means you can use it with either Bluetooth or a USB dongle. Another unique feature is its customizable DPI, so you can bump up the speed when you're gaming and lower it when you need more precision. It's compatible with all Windows devices and Mac OSX.
Pros:
Exceptional comfort and support for all-day use
Customizable DPI settings for different activities
3-month battery life
Three programmable buttons for easy access to important shortcuts
Comes with a USB wire to use as a wired mouse
Cons:
Button placement takes some time to get used to
Only available in white
3- Logitech M557 Bluetooth Mouse – Bluetooth
A very popular choice, Logitech M557 doesn't skimp on features. The new magnetic scroll button can tilt side to side, which comes in handy when you're scrolling through long web pages or documents. Its ambidextrous contour design, coupled with laser grade tracking, makes it a great choice for comfort seekers. And thanks to the power-saving, it can go up to a year without changing batteries.
Pros:
Tilting scroll wheel for easy navigation
Compatible with both Windows and Mac
Comfortable ambidextrous design
Long battery life – up to 1 year on a single AA battery
Hyperfast scrolling
Cons:
A little heavier because of 2 AA batteries
4- Logitech G502 Lightspeed Mouse – 2.4 GHz USB
A gamer's dream, Logitech G502 is a top choice for anyone who wants to get an edge on their opponents. With its 25,000 max DPI and 400+ IPS, this mouse is very accurate and responsive. In addition, the Logitech Lightspeed wireless technology ensures you have a lag-free experience. And with 11 programmable buttons, you can customize it to your gaming needs. If that's not enough, the G502 also has adjustable weights so that you can find the perfect balance and heft. There is also customizable Sync RGB lighting to match your style.
Pros:
Exceptional accuracy and responsiveness
Lightspeed wireless technology for a lag-free experience
11 programmable buttons for complete customization
RGB lighting for a personalized look
Adjustable weights for the perfect balance
Cons:
Need to be set up with the Logitech Software
A bit on the pricey side
5- Razer Atheris Mouse – 2.4 GHz USB & Bluetooth
The Razer Atheris is a great size, portability, and performance combination. With its ambidextrous design, it's comfortable for both right- and left-handed users. The Atheris also has great battery life, lasting up to 350 hours on a single AA battery. And thanks to the 7,200 DPI advanced optical sensor, you'll get pinpoint accuracy whether you're gaming or working. And the best part, it has both Bluetooth and a 2.4 GHz wireless connection so that you can use it with any device.
Pros:
Ambidextrous design for both right- and left-handed users
Controlled scrolling with textile rubber bumps
Includes both wireless and Bluetooth to work on anything
Advanced mechanical switch and smooth glide surface
Five programmable buttons for macro customization
Cons:
Not so suitable for big hands
A little on the heavier side
6- Microsoft Sculpt Ergonomic Mouse – 2.4 GHz USB
With a unique ergonomic design, the Microsoft Sculpt is great for people who have hand pain or carpal tunnel. The contoured design fits perfectly in your palm, and the thumb scoop keeps your hand in a natural position. It works on Microsoft blue track technology, making it accurate on almost any surface. The wireless connection is robust, and there's a dedicated windows button to help you get around the menu easily.
Pros:
True ergonomic design for a comfortable grip
Thumb scoop to keep your hand in a natural position
Works on almost any surface except clear glass or mirror
Compatible with Windows, Mac, and Nexus
Cons:
The wireless receiver is a bit large
Not a durable build
This leads to the conclusion that both Bluetooth and USB mice are great options in their own right. They offer convenience, portability, and great features. If you're looking for a mouse for general use, either one would be a great choice. However, gamers might want to lean towards a USB mouse for the guaranteed lag-free connection.