Is your backyard patio or deck too dim at night? Perhaps you only have one or two outdoor bulbs wired to a switch that does not provide enough lighting to your full outdoor leisure area. If you have outdoor plugs on the side of your house or dwelling, you may be wondering if you can supplement your outdoor lighting with LED light strips, a possibility maybe not everyone has considered. Thankfully, the answer is simple.
You can use LED light strips outdoors, however, they need to be rated for outdoor use and weatherproofed. Outdoor LED light strips are a great addition to outdoor lighting arrangements and provide great accents to your outdoor activity area, on top of being inexpensive and easy to install.
Before you take out your credit card, you should learn all about LED strips first. After all, you want to make sure you buy the right ones and do not waste money on some that might break right away. Below we'll cover the differences between indoor and outdoor LED light strips, how to use them outside, and more!
Differences in Indoor and Outdoor LED Light Strips
If you want to install LED light strips outside, only use outdoor-rated ones. Indoor LED light strips are generally lower cost. You can usually determine which LED strips are indoor only vs outdoor rated by looking at the packing and/or product description. If the LED light strips do not state "for indoor use only" or "outdoor rated", it could be more difficult to determine.
If you see an IP (ingress-protection) rating, you will need to look for an IP65 rating on the LED light strips for them to be used outdoors. Most LED light strip manufacturers make indoor/outdoor use really clear on their packaging and product description so you should not have to worry too much about determining whether or not a strip can be used outside.
Using LED Light Strips Outside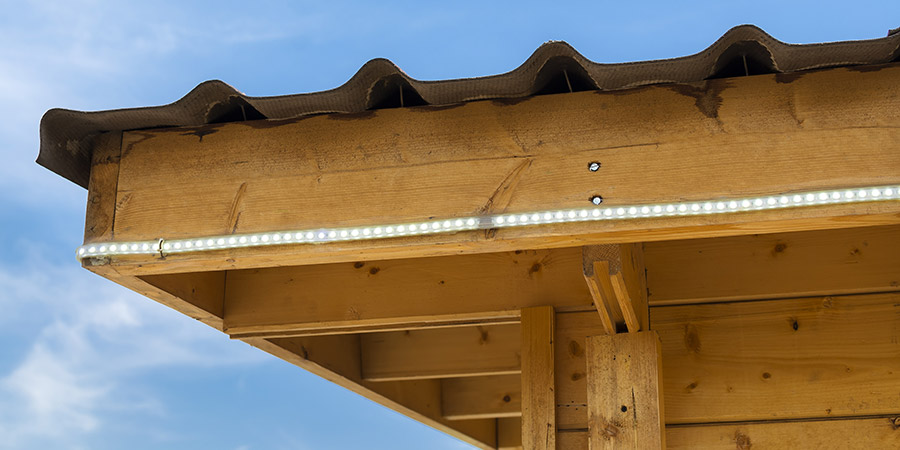 If you are wanting to use LED strips outside, you should learn how to use them first, in addition to understanding whether they can be put on a timer (our guide). However, before you install LED light strips you should plan where you want to install them first. Now is the time to take a trip to your backyard with a measuring tape and notepad. To start planning your LED outdoor light strip installation:
Decide the area where you plan to install the light strips. For example, some of the most common locations would be under the railing of your deck, under your roof awning, around the edges of your windows, or along your sidewalk, etc. There are probably a few others as well, do some searching around Pinterest and Instagram for ideas and inspiration on where you'd like to put your outdoor lighting.
Measure the length of the area where the LED strips will be installed (account for corners and angles too). This will determine the length of strips you will need. You will also have to account for distance to an electrical outlet if you plan to power from an outlet.
Research LED light strips and find one that is right for you
Say you measured an area where you want to install LED light strips, and you need 120" inches (10ft) of LED strips, and your outlet is 3ft away from where your strip will start. You will need an electrical plug that is 3 ft (or longer) and an LED strip that is at least 10ft in length. Most LED strips can be trimmed at fixed intervals, so don't worry about buying the exact length you need.
For longer lengths, when you cannot find one long enough, you can splice two together. You do this by cutting each of them, then soldering and sealing them together. Anytime you cut or splice an outdoor LED strip, you will need to properly seal it to maintain its weatherproof rating. Otherwise, water will get in and short out the entire strip!
Use a great waterproof silicone sealant and end caps like these (on Amazon) for LED light strips to keep things dry and protected from the elements. To mount your LED strips, you can either use their adhesive backing or mounting clips, or both. After mounting everything, you should be able to plug them in and enjoy the extra lighting!
Great Outdoor LED Light Strips
Outdoor LED light strips are easy to find. You can usually find them at home improvement stores, big box stores, and even supermarkets. If you are more of an online shopper, Amazon and eBay have plenty of great options too. Here are three highly-rated options (all three links take you right to Amazon).
Govee Color Changing Outdoor LED Lights (on Amazon)

Color changing, dimming, and on/off can be adjusted through the Govee mobile app
Max length is 16.4 ft
Capable of displaying up to 16M colors.
The Govee LED light strip has an adhesive back and comes with a 2-prong cable to connect to an outlet


Gusodor LED Strip Lights (on Amazon)

Includes 300 LEDs in the strips, controls via an included remote or a smartphone app.
Max length is 16.4 ft.
Capable of displaying up to 16M colors.
The Gusodor LED light strip comes with an adhesive back and a standard outlet cable too.


GuoTonG Warm LED Strip Lights (on Amazon)

Only has one warm yellow color, is not dimmable, and is powered by batteries.
Comes in lengths of 16.4 ft, however, they can be cut and connected together easily- see notes below on cutting LED light strips.
The GuoTonG LED light strip comes with an adhesive back and additional mounting hardware.
While you are looking for outdoor LED strips, remember to double-check for an outdoor, weatherproof, or IP65 rating before purchasing. This is an important thing to pay attention to before buying, otherwise, you may find yourself out of luck afterward. For that reason, it's wise to always keep your receipt.
More Complex Outdoor LED Light Strip Arrangements
It is possible to go full bore with your outdoor LED light strip installation. If you are an enthusiast and you want to do a complex installation with a very long length, this is more difficult to do yet very possible! You will need extra materials, including extension cords, battery packs, mounting clips, amplifiers, and a controller/dimmer/switch. Here's the purpose for each one:
Extension cords – to run LED strips to areas far from the outlet.
Battery packs – to power the stips that are too far from outlets- make sure they are outdoor rating.
Mounting clips – to mount more securely.
Amplifier – to boost power for long runs of LED strips.
Controller/Dimmer/Switch – If you want to control the LED strips from a switch.
When you are doing longer installations, you'll need to be mindful of the maximum length of the LED strip. This is the maximum length of LED strip you can have before it stops working due to its own electrical resistance. A good rule is to use a power supply that is rated 20% above the maximum wattage of your LED lights.
The LED lights should have a specification called "wattage per foot". Multiply that number by your length; add 20% to it ( or multiply by 1.2), and you will now have the Watt size of the power supply you need to handle that length of LED light strip.
Be Sure to Use Outdoor Rated LED Light Strips
You might be looking at indoor LED strips and think that you can pull off an outdoor installation and save some money. However, if you use indoor LED strips outside, they will break. They are not waterproof and will get damaged and stop functioning completely, however, as we've discussed in our article on using battery powered lights outdoors, there are some other options available.
In the long run, you will be wasting more money by breaking the indoor LED strips and buying outdoor LED light strips to replace them. Be cautious when you purchase LED light strips for outdoor use, always ensure they say "outdoor rating" or "IP65" and save yourself some time and money.