The Steam Deck is Valve's latest foray into the handheld gaming market. The powerful, tiny device allows users to play their favorite PC games on the go. But many users wonder if the device can connect to Bluetooth headphones, speakers, etc. and how to do so.
To connect Bluetooth headphones, earbuds, or speakers to the Steam Deck, navigate to the settings menu. Go to the Bluetooth settings and make sure Bluetooth is on and show all devices is on. Put your Bluetooth device into pairing mode and select it from the list of available devices.
You can connect 3.5mm/AUX and USB-C headphones to the Steam Deck as well. Basically, you can use nearly any set of headphones with the Steam Deck. Here's everything you need to know on connecting Bluetooth headphones to your Steam Deck.
Connect Bluetooth Headphones to your Steam Deck (Step by Step)
To connect Bluetooth headphones or earbuds to a Steam Deck, follow the steps below:
Press the "STEAM" button on the bottom left of the Steam Deck.
Select "Settings."
Scroll down and select "Bluetooth."
Enable Bluetooth if it isn't already and enable "Show all devices."
Put your Bluetooth headphones, earbuds, or speaker into pairing mode.
Under "AVAILABLE TO PAIR," select your device from the list.
The Bluetooth device should now be connected to the Steam Deck, and any audio should now play out of it rather than the Steam Deck's built-in speakers.
How to Troubleshoot Bluetooth Headphones That Won't Connect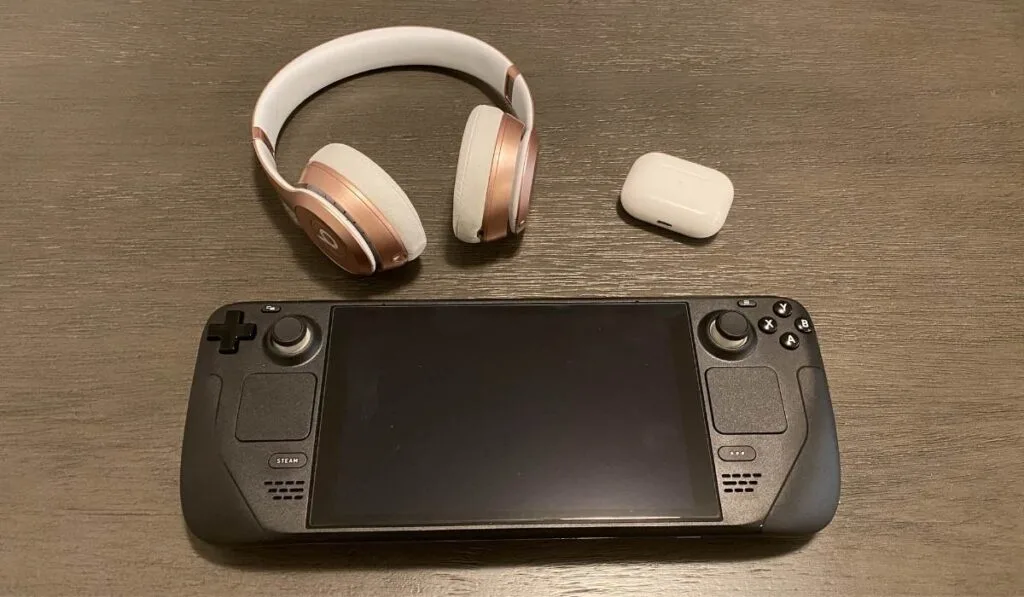 Assuming you used the pairing steps above, here are some additional troubleshooting methods if your Bluetooth headphones won't connect to your Steam Deck properly.
Disable, then Re-enable Bluetooth on the Steam Deck
If the Bluetooth device will not connect to the Steam Deck at all, the first thing you should do is turn Bluetooth off, then back on. In the Bluetooth settings menu, there's a slider that you can tap or select with the "A" button to cycle it off and then back on.
Forget and Re-Pair Bluetooth Devices
If the Bluetooth device successfully pairs with the Steam Deck, but you can't get it to connect or output any audio fully, then you should forget and re-pair the Bluetooth device.
In the Bluetooth settings menu, under "PAIRED," tap or select the Bluetooth device and select "Forget Device." Then go through the normal pairing process again to see if the issue is resolved.
Disconnect Other Devices
Ensure your Bluetooth headphones are not connected to another device, like a smartphone, tablet, or computer. Also, be sure to disconnect any other Bluetooth devices paired with your Steam Deck.
From there, you can re-pair the device you want to use with your Steam Deck and see if the issue is resolved.
Restart the Steam Deck
If Bluetooth is still not working properly, then it's a good idea to restart the Steam Deck. Yes, the good ole restart. It's annoying, but it can typically fix any odd issues that are occurring with many electronics.
To reboot the Steam Deck, press and hold the Power button, then select "Restart."
You can also press the "STEAM" button at the bottom left, tap/select Power, then select "Restart."
Update Firmware
Since the Steam Deck's debut, a lot of updates have been released that fix minor issues. Ensure your Steam Deck's firmware is up to date by following the steps below.
Press the "STEAM" button and select "Settings."
From Settings, select the System menu.
Next to "Software Updates," select "Check for Updates."
If there is an update available, it will prompt you to install the latest version of the firmware.
You will have to wait a few minutes for your Steam Deck to complete the update. You should also update the firmware on your Bluetooth device if possible.
What is a Steam Deck?
The Steam Deck is a handheld gaming device developed by Valve and released on February 25, 2022. It is considered a more powerful and versatile competitor to the Nintendo Switch.
It runs on Linux but uses SteamOS on the front end, making it incredibly straightforward to navigate, install, and play games from your Steam Game Library.
The device comes equipped with a 1,280-by-800 7-inch screen, a custom quad-core AMD processor, RDNA 2 GPU, and 16GB of LPDDR5 RAM. The Steam Deck comes in three models ranging in price from $399, $529, and $649, with storage sizes of 64GB, 256GB, and 512GB, respectively.
The Steam Deck is compatible with Bluetooth headphones and earbuds, like this wireless pair from TUINYO (on Amazon). The Steam Deck supports a wide selection of headphones and speaker connection methods, including Bluetooth, USB-C, and 3.5mm headphone jack connections.