Valve's Steam Deck is, without a doubt, more than just a game machine. It's a full PC shrunk down to the size of a gaming console with all of the bells and whistles. You can play games, watch films, listen to music, and even surf the internet. No wonder you'd want to connect it to your TV for a truly immersive experience. But how do you do it?
If you have a smart TV and a good Wi-Fi connection, you can use the Steam Link app to connect your Steam Deck to your TV wirelessly using Remote Play. You'll likely need to modify a few settings around remote play and screen resolution on the Steam Deck for it to work properly.
With such a range of options, there's bound to be a method that works for you. And, once you're up and running, you'll be able to enjoy your favorite TV shows, movies, and games on the big screen. So let's dive into details and find out how each method works.
How To Connect Your Steam Deck To Your TV Wirelessly
Like every other great gaming platform, Steam offers remote play, which allows you to wirelessly stream games from your Steam Deck to another device, such as a phone, tablet, computer, or TV.
However, remote Play is an in-home streaming service which means both devices must be on the same Wi-Fi network for it to work.
When using remote Play, your TV gets the audio and video signal while the game is controlled by the primary device, Steam Deck in this case. It only mirrors the screen, so you can't play the game from the TV itself, but it's a great way to enjoy a big-screen gaming experience without any hassle.
The only catch is that Remote Play only works with smart TVs that can run the Steam Link app, and you'll also need a strong and stable internet connection for the best results.
To connect your Steam Deck to the TV wirelessly:
On your TV, Navigate to the app store and download Steam Link.

Launch the app and log in with your Steam credentials.

Connect your Steam Deck to the same Wi-Fi network as your TV.

Navigate to 'Settings' on the Steam Deck, go to 'Remote Play,' and enable it.

Go to 'Advance Host Option' in the Remote Play setting, enable 'Change desktop resolution to match streaming client,' and tick the 'Prioritize network traffic.'

Now go back to your TV, on the Steam app, navigate to 'Settings,' go to 'Computer,' and select 'Steam Deck' from the list of available devices.

You'll get a four-digit code; enter the code in the pop-up message on your Steam Deck. Then, it'd start casting the screen to your TV.

Navigate to your gaming library on Steam Deck. You should see an option of 'Remote Play' at the corner of each game's thumbnail image. Select the game you want to play and hit 'Remote Play.'
The game will start streaming on your TV, while all the game controls will still be on your Steam Deck.
Navigating Your Steam Deck Settings
Steam Deck is fully customizable: you can personalize your gaming experience by adjusting the sensitivity of each button, setting up hotkeys, or even connecting your deck to other apps such as Discord or Photoshop.
Above, we gave some direction on settings you should change for wireless casting, but you should note there are plenty of other settings you may be interested in on the device.
Just in case you're not sure how to access this area at all, we've included a very short set of directions for you on how to get there below:
There are three ways to access your Steam Deck settings:
Press the Steam Button on the controller, scroll through the menu, and choose 'Settings'; it's the second last option.

Navigate to the Wi-Fi symbol in the upper right corner of the main screen and press 'A.'

Select three dots on the right corner of the screen-they'll take you to a mini-setting menu to adjust volume, brightness, and more.
The navigation is very intuitive and easy to use. You can also tweak the brightness, contrast, and resolution of the image displayed on the connected TV after you've started wirelessly casting to it.
Other Ways to Connect Your Steam Deck to Your TV
Don't sweat if your TV isn't compatible with Steam Link or you don't have a good enough internet connection to play lag-free games. There are several alternative options to get your Steam Deck working on TV. Let's take a look at some of the most popular methods:
Use an HDMI Cable
An HDMI connection is probably the best way to enjoy a seamless, lag-free video and audio experience on TV. So HDMI is the way to go, especially if you want to enjoy some fast-paced games that require split-second reflexes.
Steam Deck only has a single USB-C output port, so you'll need a USB-C to HDMI adapter or a Dock Station for compatibility.
And remember, that port is used for charging as well, so you want an adapter like the Anker USB C Hub (on Amazon) that allows you to go from USB-C to HDMI, but also allows you to plug a USB-C charge cable into the dongle to charge the Steam Deck.
Here is how it's done:
Connect your adapter or dock station to the USB-c port of Steam Deck.

Plug one end of the HDMI cable to the adapter and the other end to a spare port on the back of your TV.

Power on your Steam Deck and TV.

Go to the display menu on your TV and select HDMI as the input source.

Go to 'System Settings' from the left taskbar on your Steam Deck.

Navigate to 'Hardware' and select the 'Display & Monitor' option.

Switch back to your Steam Deck's home screen. You should now be able to see your Steam Deck's home screen on the TV.
You can also choose the resolution and refresh rate, position, brightness, and other custom parameters from the display settings menu.
HDMI connection provides the best possible video quality, but it also comes with the drawback that your Steam Deck will be tethered to your TV, so you won't have as much freedom as you had with wireless options. You'll also need an extra-long HDMI cable if your TV is further away from your PC.
Use DisplayPort
Like HDMI, Display Port is a popular standard for projecting visual content from one device to another. It came as a replacement for old VGA or DVI standards in computers or laptops, so it's not so common in the TV world, but if your TV has a display port, the transmission quality will be even better than HDMI.
The overall process is pretty similar to HDMI. Except that you'll need a Display Port cable and a compatible dock. The rest of the process is the same, connect everything and change the input source on your TV. Try the Anker USB C Hub With DisplayPort (also on Amazon) if you need a dock that has DisplayPort out but also power delivery in, to keep the console charged up.
The display port is better in terms of quality, but it's not as ubiquitous as HDMI, so you might have difficulty finding the right accessories. And even if you do, it'll be more expensive than other types of adapters.
Use Steam Link App
Steam Link is a home streaming solution developed by Valve. Originally released as a physical box, it is now available as a free app for Android and iOS. So, if you have a smart TV, this might be an excellent option for you; Samsung Smart TV has a built-in feature for Steam Link.
Steam Link allows you to play games from your Steam Library on any compatible device. While it appears similar to the Remote Play, there are several key differences. It doesn't need both devices to be on the same WiFi network, simply connect to the internet, and you're good to go.
To start streaming with Steam Link:
Install the Steam Link app on your smart TV and Steam Deck if you don't have it already.

Launch the app on your Steam Deck and go to setting.

Navigate to 'Remote Play' and select 'Pair Stream Link.'

Now head to your TV, launch the Steam Link app, and provide the required credentials.

Navigate to 'Settings' and select 'Computer.' You should see the list of the available hosts.

Choose 'Steam Deck' from the list and connect.

Return to the Steam Link home screen and select 'Start Playing.'

It'll show a four-digit pin on the screen. Enter it on your Steam Deck to complete the connection process.

Go to Steam Library on your TV, select the game you want to play, and start streaming.
Steam Link doesn't just cast the game's display to another device; it streams the game data from your computer to the connected device. That makes it a two-way connection, so you can pair controllers with your TV and play directly from the Steam Link app.
Since it's a remote desktop connection to your PC, compatible controllers, including Steam Controller, your Xbox, Nintendo Switch, or just keyboard and mouse, work with it. But you need to pair the compatible controller with your TV through Bluetooth or a wired connection.
What is a Steam Deck?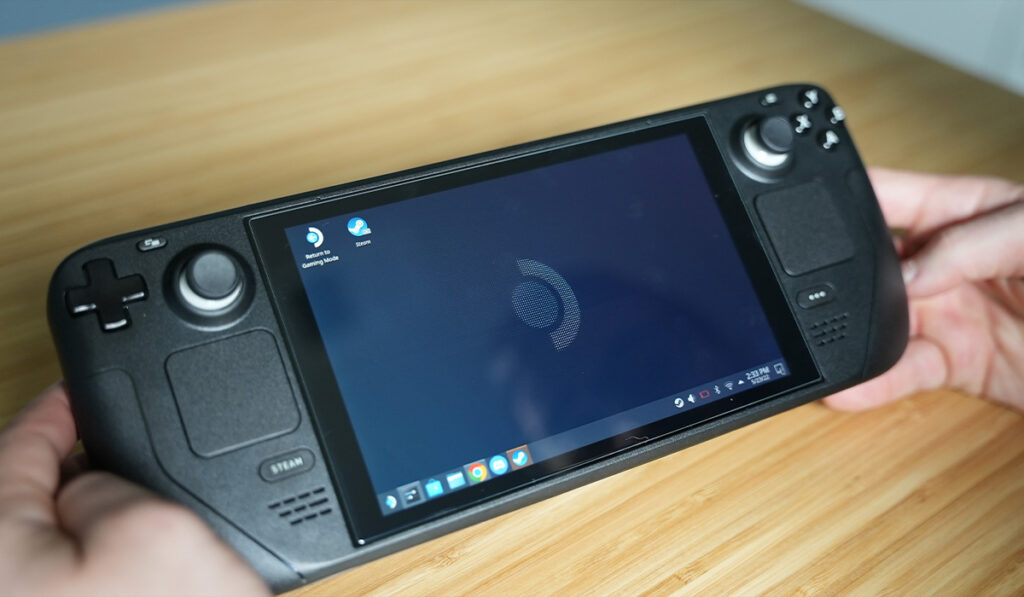 The Steam Deck is the Valve's long-awaited hand-held gaming PC. It is a combination of the performance of Xbox, the portability of a Nintendo Switch, and the flexibility of a high-end gaming PC. The result is a fantastic device packed with features that allow you to play the most demanding games on the go.
Steam Deck runs on Linux-based SteamOS, but users also get the flexibility to install Windows if they like. This means you can play both Linux and Windows games on Steam Deck seamlessly without making any sacrifices.
It has the combination of the latest AMD ZEN 2 CPU with a powerful graphic card, a 7-inch LCD touch screen, and four types of controllers. So, any game you want to play, Steam Deck can handle it with ease. But the biggest selling point of Stream Deck is its versatility.
Since it's essentially a tiny PC, Steam Deck supports all types of external devices, and of course, TV is one of them. And once you connect it to your TV, you open up a whole new world of possibilities.
Every game looks and feels better on the big screen, and you can even use it as a makeshift computer to surf the web, chat with friends, or even binge-watch Game of Thrones.
In Conclusion
Steam Link creates a customized version of your Steam Deck screen, optimized to work on a TV and can be controlled with the TV remote. So you shouldn't have any problems with navigation. Remember that you'll need a decent internet connection for this to work correctly.
So there are your three best ways to connect your Steam Deck to your TV. Choose the one that best fits your needs and budget and enjoy gaming on the big screen.