Valve's Steam Deck console has finally given gamers a handheld option for all of their favorite PC games. But what else can you do on the innovative Steam Deck? Is streaming Disney Plus an option?
You can stream Disney Plus on a Steam Deck and watch all of the shows and movies available. However, there isn't a dedicated Disney Plus app; instead, you'll have to log into the browser version of the platform and stream content from there.
Let's take a closer look at the Steam Deck console and how you can enjoy all of your favorite Disney Plus films and series on there with ease.
What Is a Steam Deck?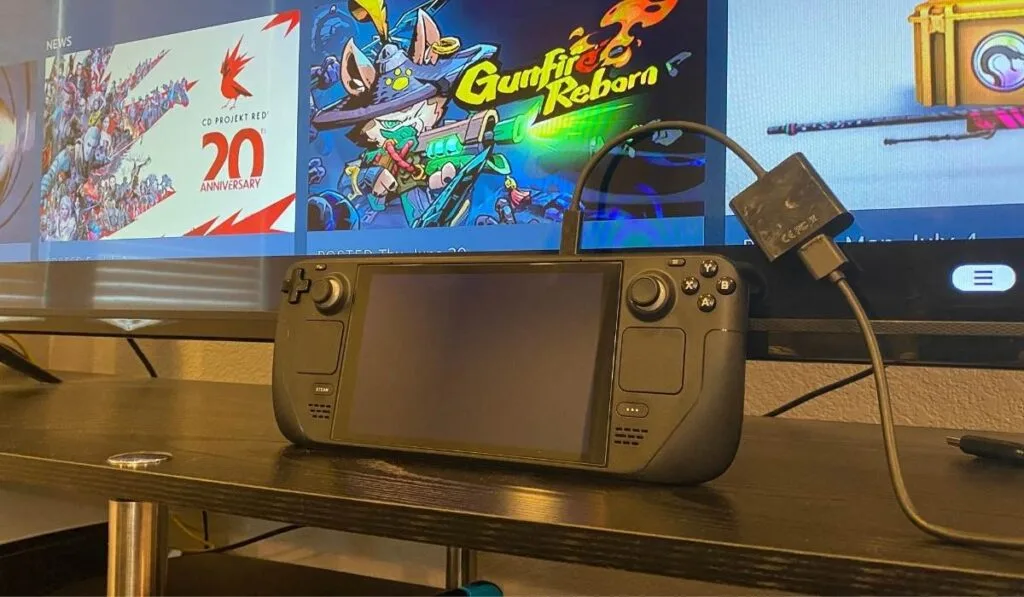 The Steam Deck provides gamers with the ability to play their PC games on the go. It's a handheld device, but it can also attach to external devices like TVs and monitors to provide a better gaming experience.
The Steam Deck has comfortable controls and lets you log into your Steam library so that all of your games are readily available.
Is Disney Plus Available to Stream on a Steam Deck?
Although Disney Plus has no official app for Steam Deck yet, there is a way to stream it. The device comes with a built-in Mozilla Firefox browser that you can open up and browse the web on, and that allows you to access your streaming channels — including Disney Plus. Simply type Disneyplus.com into the address bar and log in to start watching.
How Much Does a Steam Deck Cost?
The Steam Deck comes with a few different storage options, which will determine the final price of the console. At the moment, there are three options: 64, 256, and 512GB, which range in price from ~$400-$650.
Each of these also comes with a carrying case, but we recommend investing in a high-quality shock-proof, anti-slip case (on Amazon).
What You Should Know Before Purchasing a Steam Deck
There are a few things to know before committing to a Steam Deck. The first is that the devices are on backorder and usually take a few months to ship. When placing an order, the official Steam site will let you know how long you can expect to wait before receiving your device.
Another option is buying one secondhand but, as the console is relatively new, there aren't a lot of options available — it only launched in February 2022.
The second thing to keep in mind is that you don't need to worry about buying a device with smaller memory and then running out later. You can buy a memory card (on Amazon) that you can insert into the device to upgrade the memory, much like you can with the Nintendo Switch.
The battery life runs anywhere between 2-8 hours. This is a very large range so you'll need to figure things out yourself by playing a few different games.
High-powered games will eat more of the battery, as will having your screen brightness set on high. The device also comes with a charging cable, so you might want to play it plugged in when you can.
You don't need an internet connection to play Steam games, provided you download them in advance and they're single-player. You can't play online multiplayer games without a WiFi connection.
You can also connect the Steam Deck to a monitor, though you will need extra devices to do so. The Steam Deck will be launching an official dock, but the price hasn't yet been announced.
Can You Share a Steam Deck?
The Steam Deck device supports multiple accounts. Just like with streaming services and other game consoles, you can switch between profiles, and each can have its own games, settings, and save files.
That's good news for families and friends who want to split the price of a Steam Deck and share it because they can each save their own progress independently.
You can also pick up your progress back up on your PC. Steam Cloud allows you to save progress on one device and then continue playing on another, so you aren't restricted to the Steam Deck when you start a game there.
Dynamic Cloud Sync is also being introduced with the Steam Deck, which allows a seamless transition between devices so you can pick up the game immediately on another device.