The PlayStation 5 is Sony's latest and greatest console, providing players with crisp gameplay and fresh new titles. But Sony's older Playstation libraries are filled with classic games that we all still love to play. Can you play those older games on the PS5?
The PlayStation 5 has backward compatibility with most PS2, PS3, and PS4 titles, but you can only insert PS4 and PS5 discs into the console. PS2 and PS3 titles, meanwhile, can be accessed through PlayStation Now, Sony's cloud-based subscription service.
Don't try inserting your old PlayStation discs into your new PS5 console, no matter how badly you want to play them. Read on for a comprehensive look at PS3 and PS5 backward compatibility and how to figure out which games are compatible.
Is the PS5 Backwards Compatible?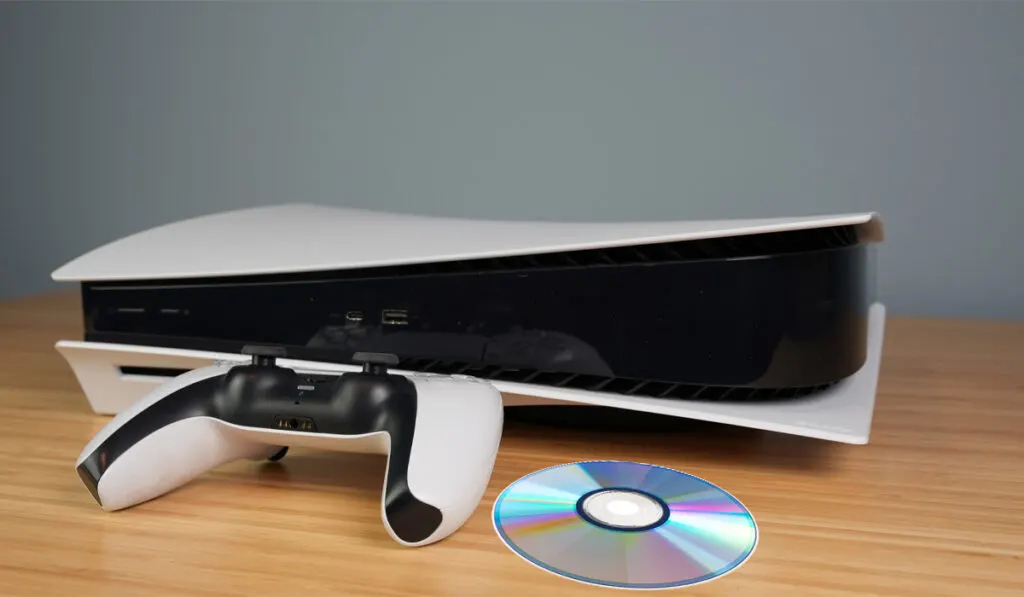 Technically speaking, the PlayStation 5 is backward compatible. The PS5 has compatibility features for the vast majority of PS4 titles. When it was developing the PS5, Sony went through nearly every PS4 title to make sure each game could be played on the new console without a hiccup. We think this makes the console a compelling option that is worth buying over Xbox of Steam Deck if the Sony game library is most important to you.
As of now, more than 4,000 PS4 titles are compatible with Sony's newest console. Additionally, some PS4 games will have higher resolutions and smoother frame rates when they're run on the PS5. And as some users have pointed out (forum), this is a great way for Sony to double-dip on selling it's old IP again!
Have a look at our Ultimate PS5 Owners guide to find out more about what games are available to you, but for now let's get back to addressing PS3 titles! You may even be able to use Gameshare to share games from your PS4 console to your PS5.
Can You Play PS3 Games on PS5?
The PlayStation 5 has limited compatibility with PS3 games. Unfortunately, physical copies of PS3 games will not run on the PS5. However, you can play remakes and remasters of old PS3 games using PS4 discs.
Remasters like The Last of Us (on Amazon) and Uncharted: Nathan Drake Collection (on Amazon) are just two examples.
Alternatively, you can use Sony's new subscription service, PlayStation Now, to access your favorite PS3 titles and other great games.
How Playstation Now fits In
PlayStation Now, or PS Now, is Sony's latest subscription service. The service allows members to stream and play a library of over 500 games via the internet.
Using cloud technology, PS Now enables players to enjoy games without needing to store them on their devices.
How to Access PlayStation Now
You can access PlayStation Now through the PS5 and PS4 home screens. You can join the subscription service via your console or through the PlayStation Store. To access PlayStation Now, you'll need:
A PlayStation Network account with verified payment information.
A DualSense, a DUALSHOCK 4, or another compatible controller.
A stable internet connection. Sony recommends an active broadband connection of 5mbps or higher.
All new PlayStation Now members are eligible for a free seven-day trial. After the trial period ends, you'll need to subscribe to the service to keep playing. The subscription plans include:
$9.99 per month
$24.99 every three months
$59.99 per year
How To Play PS3 Games On Your PS5 Step-By-Step
Once you've confirmed that your game is compatible, follow these steps to start playing:
Access the PS3 game library: To play PS3 games on your PS5, you need to first access the PS3 game library. From your PS5's home screen, go to the 'Games' tab and select the 'PS3 Games' option.

Choose your game: Once you're in the PS3 game library, browse through the available games or search for a specific title using the search bar. Click on the game you want to play to view its details.

Purchase and download the game: After choosing your game, you'll need to purchase and download it to your PS5. Follow the prompts on the screen to complete the purchase and start the download. Note that some games may require a PlayStation Now subscription to play.

Install the game: Once the game has finished downloading, you'll need to install it on your PS5. This process may take a few minutes, depending on the size of the game.

Start playing: Once the game is installed, you're ready to start playing! Simply select the game from your PS5's home screen or game library and start playing.
If you experience any issues while playing PS3 games on your PS5, we recommend power-cycling your unit before confirming the purchase went through and the download has started and you have enough room on your console to hold the download.
Can You Play PS4 Games on a PS5?
So, we've talked about PS3. What about PS4 games? The PlayStation 5 can run the vast majority of PS4 games, which means your beloved game library can continue to grow and be enjoyed on this new console. Why is this? Well, as some users have pointed out (forum), it's easier for PS4 than PS3 because the PS3 was developed on a different architecture.
You can either use physical PS4 discs or download digital versions of the games from the PlayStation Store to play on your PS5. If you were part of the PlayStation Plus service on your PS4, your cloud saves could be transferred and accessed on the PS5.
Furthermore, the PS5 leverages its advanced hardware to offer Game Boost for some PS4 games, providing higher or smoother frame rates than experienced on the PS4. Also, some PS4 games have been updated to new PS5 versions.
However, it's worth mentioning that while the vast majority of PS4 games can be played on the PS5, there's a tiny fraction that can't. To confirm the compatibility of a specific title, you can check the tool on Playstations support page here.
Can You Play PS2 Games on a PS5?
While we're here, let's round out the conversation: can you play PS2 games on a PS5? The answer is, yes and no. PS5 doesn't directly support PS2 discs, but as you might expect, there's a workaround.
The solution is Sony's streaming service, PlayStation Now. PlayStation Now offers a selection of classic PS2 titles that can be streamed directly to your PS5. Games like the iconic GTA: Vice City can be played on your PS5 without needing a physical disc.
To confirm which PS2 games are available on PlayStation Now, you can refer to the official PlayStation Now games list. While the list isn't exhaustive of the PS2 library, it does feature a considerable collection of iconic PS2 titles, and we recommend considering some of them to give yourself a trip down memory lane!
List of Popular PS3 Games Available on PS5 Through PS Now
The PlayStation 3 has one of the best collections of games compared to later and older generations. Though you can't play physical PS3 discs on the PS5, you can still access some of the console's greatest hits through PS Now.
If you aren't entirely sold on Sony's subscription service, maybe this list of games will change your mind.
God of War 2 HD
Before the award-winning title God of War 2018, there was God of War 2 (on Amazon). God of War follows Kratos, a demi-god set on the path of destruction and demolition. This HD remaster has barbaric and vicious gameplay as you mow down foe after foe.
If you haven't played the older games in the series, God of War 2 is an excellent entry point.
Ni No Kuni: Wrath of the White Witch
If you aren't looking to get your hands dirty with God of War 2, PlayStation Now has included calmer titles like Ni No Kuni: Wrath of the White Witch (on Amazon). This JRPG released in 2011 still provides players with quirky, eccentric, and heartfelt moments.
With scenes animated by the notorious Studio Ghibli, you can be confident Ni No Kuni: Wrath of the White Witch provides substantial enjoyment.
The Last of Us
This title needs no introduction. The Last of Us (on Amazon) is a modern masterpiece, receiving a standing ovation from critics and gamers alike. Intense gameplay moments, clean controls, and characters that seem all too real: The Last of Us provides players with a gameplay experience like no other.
Bioshock
Bioshock's most significant selling point is its atmosphere and storyline. BioShock (on Amazon) follows Jack, a plane-crash survivor who finds himself traversing an underwater city known as Rapture.
Bioshock is filled with emotion, thrills, and anticipation. Though the gameplay mechanics can be so-so, Bioshock is a classic that can't be forgotten.
Ratchet & Clank: A Crack in Time
What originally started on the PlayStation 2 has become a staple for multiple generations. Ratchet & Clank: A Crack in Time (on Amazon) delivers polished action-adventure gameplay filled with lighthearted moments.
Ratchet & Clank: A Crack in Time's graphics are still visually appealing and hold up quite well considering its age.
Yakuza 5
If you're looking for classic beat-em up style gameplay, look no further than Yakuza 5 (on Amazon). Yakuza 5 delivers one of the strongest performances the series has to offer.
Enchanting storytelling, refined combat mechanics, different characters, and mini-games all make this game one of the best Yakuza installments.
Resident Evil 4
Resident Evil 4 (on Amazon) has been a long-standing tradition throughout the various PlayStation generations. Capcom's iconic horror-thriller title has been released across three console generations and can be found on PS Now.
If you haven't played Resident Evil 4, you're in luck. The horror title features action-forward gameplay, tight controls, and challenging moments. Whether you're seeking a standard Resident Evil experience, or something more thrilling, RE4 will provide you with an experience you won't forget.
The List Goes on and on…
PlayStation Now provides gamers access to a wide library of PS2, PS3, and PS4 titles, all at an affordable price. With over 500 PlayStation 3 games available on PS Now, this list is only the tip of the iceberg.