If you are a dedicated PlayStation patron and have purchased the PS5 console, you may be wondering what to do with your stockpile of PS4 games. If you are worried that all of your PS4 games will go to waste, you don't have to.
You can play the majority of disk and digital PS4 games on your PS5. You can transfer PS4 games and their game data to the PS5 using a Wi-Fi transfer or a USB storage drive or use the PS4 game disk itself. Alternatively, you can upgrade eligible PS4 games to their PS5 version.
Let's look at how you can play PS4 games on your PS5, what games you can and cannot play, and a few of the PS5's backward compatibility issues to get you started on this new and exciting gaming journey.
Is The PS5 Backwards Compatible?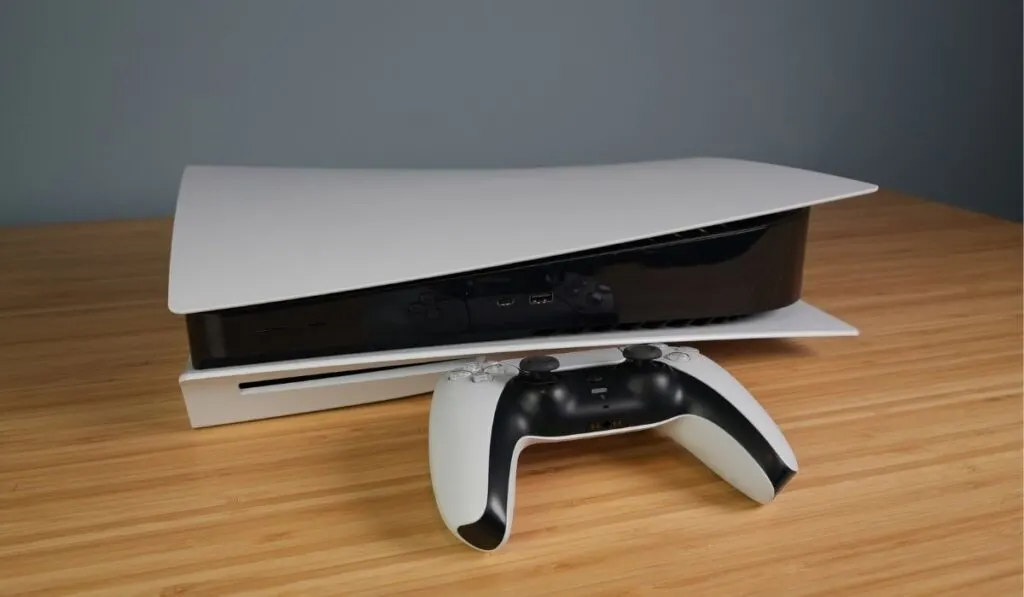 The PS5 is almost completely backwards compatible and supports an overwhelming majority of PlayStation 4 (and even PS3!) games. That's around 4,000 games, so with a few exceptions, you'll be able to take advantage of your entire existing game library. This makes the PS5 an incredible value, and a better option over Xbox if your goal is to gain access to those legacy Sony titles.
However, make sure that your PS5 is updated to the latest system software before running PS4 games, and note that you play them by downloading them—not putting the PS4 disc into the PS5! Sony also recommends confirming whether the core game runs properly on the PS5 before installing or purchasing any add-ons or DLCs for the game.
Some PS4 games even offer an overall improved performance when you run them on the PS5. These games make use of the PS5's Game Boost feature and provide gamers with a higher frame rate.
Game titles that function better on the PS5 include Crysis Remastered, Ratchet & Clank, Shadow of the Tomb Raider, Assassin's Creed Odyssey, God of War, Rocket League, and others.
There's more good news for people who love their PlayStation VR, as PS VR titles are also compatible with the PS5. If you want to play VR games on your PS5, you'll need a PS Camera for PS4, a PlayStation Camera adaptor, a PS VR headset, and a DualShock 4 Controller.
You can peruse our ultimate PS5 owners guide for more info on backward compatibility, and if the ultimate game library is your goal note that the Steam Deck may be a better option. Gamesharing is another option, but for now we'll turn our attention back to PS4.
How to Play PS4 Games on PS5
The PS5's backwards compatibility feature gives access to an amazing library that contains thousands of PS4 games. Let's take a look at how you can play both disk and digital games on your PS5:
Play PS4 Game Discs on PS5
Here's what you need to do to play a PS4 game disc on your PS5:
Insert your PS4 game disc and download an update, if available.

Go to the Games menu and select the game.

You'll need to insert the disc each time you play the game.
However, keep in mind that PS4 game discs will not work with the PS5 Digital Edition.
Play PS4 Digital Games on PS5 Using Gameshare
One way to access more of your games is to use Playstation's gameshare feature. This allows for sharing of games across PS4 and PS5 in some cases, but it heavily depends on the game and the developer's support.
Many PS5 games won't gameshare to PS5 because the console can't handle them, but many PS4 games are available to download onto the PS5 and play using Gameshare. Check out our more in-depth article on this if it's something you want to try out!
Upgrade Eligible PS4 Games to PS5 Version
When using your PS5, you will have the option to upgrade your digital or disc PS4 game titles to their digital PS5 versions. Some games provide this update for a short, limited time, some require a purchase, and some are available completely free of cost.
However, you will need an internet connection for installation.
Upgrade a PS4 disc game
You can only upgrade an eligible PS4 disc game to its digital PS5 version if you have a PS5 with a disc drive. As mentioned previously, you cannot use PS4 game discs on the PS5 Digital Edition.
Here are the steps you need to follow:
Log in to your existing PSN account on your PS5, or create a new one if needed.

Insert the PS4 game disc.

Access the game hub for the eligible PS4 game.

Select the upgrade option located on the game hub and review it.

Select the Download or Purchase option and wait for the download to complete.

Insert your PS4 game disc to run the PS5 digital game. However, make sure that you keep the disc inserted every time you play the game.
To upgrade your PS4 game disc to its digital PS5 version, you'll also need to make sure that the disc originates from the same country as your PSN account. If you experience any problems during the upgrade, check your account's residential address. This information will be available in the Account Management option.
Upgrade a PS4 digital game
You can upgrade a PS4 digital game to both the PS5 Digital Edition and the Standard Edition that comes with a disc drive. Here's what you need to do:
Log in to your existing PSN account on your PS5, or create one if necessary.

Find the eligible game on the PlayStation store and go to its game hub.

Choose the upgrade offer present on the game hub and review it.

Select the Download or Purchase option and wait for the download to complete.

You can play the game once the download is finished.
Keep in mind that PS4 games received as a PlayStation Plus bonus cannot be upgraded to their PS5 digital version unless otherwise indicated.
What PS4 Games Can You Play on The PS5?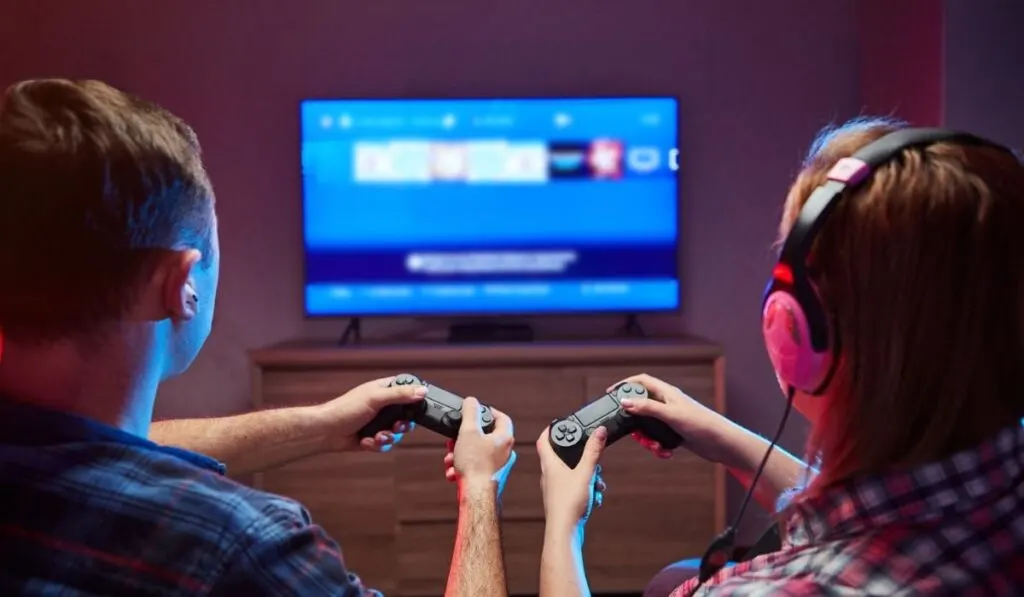 While you can play the majority of PS4 games on your PS5, there are a few exceptions that are only playable on the PS4.
PS4 Only Games
PS4 games that you cannot play on your PS5 will be labeled as 'Playable on PS4 only' in the PlayStation store. Some PS4 only games include:
Afro Samurai 2: Revenge of Kuma (Volume One)
Hitman Go: Definitive Edition
Just Deal With It
Robinson: The Journey
Shadwen
We Sing
However, keep in mind that this list is subject to changes and does not include media, demos, and non-game applications.
PS4 Games That Have Errors on PS5
While most PS4 games run on the PS5 without any serious errors, there are a few titles that cause problems. Sony has marked these games on the PS store, warning players that they might exhibit errors and unexpected behavior, or just might not have a few features that were previously available on the PS4.
It's important to understand that PS4 games having this message will be playable on your PS5, but you might experience errors like minor bugs and graphical glitches. The full list of PS4 games that have errors on the PS5 is as follows:
A Summer with the Shiba Inu
Active Soccer 2 DX
American Ninja Warrior: Challenge
Anomaly 2
APB Reloaded
Ape Escape 2
Arcade Land
Assassin's Creed Chronicles: India
Assassin's Creed Chronicles: Russia
Assassin's Creed Chronicles: Trilogy Pack
Assassin's Creed Syndicate
Assetto Corsa
Assetto Corsa Ultimate Edition
Atrapa La Bandera
Batman: Return to Arkham – Arkham City
Battlezone
Call of Duty: Black Ops 4
Call of Duty: Infinite Warfare
Chicken Police
Clan N
Close to the Sun
Crossout
Darius Cozmic Collection Arcade
Daylight
Dead Island Retro Revenge
Dead Nation: Apocalypse Edition
Dead or Alive Xtreme 3 Fortune
Dead or Alive Xtreme 3 Fortune Free-to-Play Version
Dead or Alive Xtreme 3 Scarlet
Deliver Us The Moon
Dino Frontier
Disney Classic Games: Aladdin and The Lion King
Doki-Doki Universe
DOOM VFR
Dungeon Rushers
DYNASTY WARRIORS 8 Empires
DYNASTY WARRIORS 8 Empires Free Alliances Version
DYNASTY WARRIORS 8: Xtreme Legends Complete Edition
Entwined
EVE: Valkyrie – Warzone
Everybody's Golf
Feral Fury
Filthy Lucre
Flinthook
Frisky Business
Game of Thrones
Gensokyo Defenders
Geometry Wars 3: Dimensions
Ghostbusters: The Video Game Remastered
GRIP
Hardware: Rivals
Hellblade: Senua's Sacrifice
How to Survive: Storm Warning Edition
Kickbeat Special Edition
Lara Croft and the Temple of Osiris
Left Alive
Let's Sing 10
Let's Sing 2018
Lightfield
LittleBigPlanet 3
Mafia III The Complete Edition
Mafia III: Definitive Edition
Manhunt
Metal Slug Anthology
MLB 14 The Show
MLB 15 The Show
MLB The Show 16
MLB The Show 17
MLB The Show 18
MLB The Show 19
MOTHERGUNSHIP
NBA 2K19
NBA 2K20
Need for Speed
NHL 19
Nobunaga's Ambition Souzou
Nobunaga's Ambition: Sphere of Influence
OKAGE: Shadow King
Onigiri
Operation Warcade
Paddle Vs. Paddle
Pinball Arcade
PixARK
PixelJunk Shooter Ultimate
Prey
Primal
Pro Evolution Soccer 2018
Pro Evolution Soccer 2018 LITE
Project CARS
Project CARS GOTY Edition
Pure Hold'em
Pure Hold'em – World Poker Championship
Pure Pool
Realm Royale
RIGS Mechanized Combat League
RISK
Roundabout
Saint Seiya: Soldiers' Soul
Sea of Solitude
Season Match 2 HD
Season Match 3 Curse of the Witch Crow
Senran Kagura Burst Re:Newal
Senran Kagura Estival Versus
Senran Kagura Peach Beach Splash
Shuttle Commander
Sleeping Dogs: Definitive Edition
SMITE
Space Junkies
Star Ocean Second Evolution
Star Ocean: Till The End Of Time
STAR STRIKE ULTRA
STAR STRIKE ULTRA VR
Star Trek: Bridge Crew
Super Kids Racing
Super Stardust Ultra
Super Stardust Ultra VR
Survive Said The Prophet VR Experience
Sword Art Online Re: Hollow Fragment
Teenage Mutant Ninja Turtles: Mutants in Manhattan
Tennis World Tour
The Golf Club 2019
The King of Fighters 2000
The Surge
The Tomorrow Children
The Walking Dead: Season 1
The Warriors
Tooth and Tail
True Fear: Forsaken Souls Part 2
Until Dawn: Rush of Blood
Valhalla Hills
Velocity 2X
Werewolves Within
WRC 8 FIA World Rally Championship
Zero Escape: The Nonary Games
PS5 Backward Compatibility Issues
Although the PS5 has an excellent backward compatibility feature, there are a few issues you need to take into account.
Incompatible with PlayStation 3 discs
PlayStation 3 discs don't work on the PS5 console. If you updated a PS3 game to its PS4 digital version using the upgrade program, you won't be able to run that PS4 digital version on your PS5.
Inaccessible SHARE menu
The PS5 does not display the SHARE menu during PS4 gameplay. However, you can access the create menu to capture images and screenshots by pressing your DualSense wireless controller's create button.
Also, for a few PS4 games, you'll only be able to record videos at a resolution of 1920×1080. Additionally, there are some button shortcuts you can use to save screenshots and start/stop video recording:
Press the SHARE button on your DualShock 4 controller or the create button on your DualSense controller to access the create menu.

Press and hold the SHARE or create button to capture a screenshot.

Double press the SHARE or create button to save a video recording of your gameplay.
Incompatible HD Camera
You cannot use the HD camera with PS VR on your PS5. in order to use PS VR on your new console, you'll need a PS Camera for PS4 and a PS Camera adapter.
Unsupported features
PS5 does not support the PS4's tournament feature. If you want to participate in a PS4 game tournament, you'll need to use your PS4.
The PS5 also does not support the PlayStation In-Game Live, PS4 game companion apps, or the PS4 Second Screen app.
Switches on HDR automatically
Lastly, your PS5 will automatically switch on HDR. To turn off this setting, you'll need to access Settings, select Screen and Video, click on Video Output, then on HDR, and finally, select Off.