Apple's AirTags work as a tracking device, allowing you to find and locate whatever you attach them to or tuck them away in. The options Apple has built into these devices is truly incredible, and all of it is based on the vast iOS device ecosystem. However, there may be some downsides or precautions to consider.
You can track nearly anything with your AirTags. Common items people track are their keys, bags, vehicles, luggage, and there are even dog callers incorporating AirTags. Since they're about 8mm thick, the tags may not fit into the tightest of spaces like your wallet or clutch.
So, you just attach your AirTags to your valuables, and that's it? Not quite. The way AirTags track and locate your valuables is quite interesting. In fact, Apple AirTags may even have safety risks and precautions associated with them. Here's everything you need to know.
What is an Apple AirTag?
The Apple AirTag (on Amazon) is one of Apple's latest devices. The AirTag works as a tracking device, similar to the Tile (also on Amazon). You can attach an AirTag to your keys, wallet, car, or other valuables.
From there, you connect your device to the Find My App. If you lose something that has an AirTag attached, you can use the app to find its location, as well as receive directions and other updates.
Things You Can Track With Apple AirTags
Apple advertises the AirTags as a simple way to track your keys and wallet. But, these tracking devices can be used for so much more. You can use Apple AirTags to track and locate a wide array of items, products, and valuables.
Keys
Misplacing your keys right before you need to leave can be infuriating. Luckily, AirTags are designed to track keys and other valuables. Apple even offers specially designed key rings for the AirTag on their website.
Purses & Backpacks
Another use for the Apple AirTags is tracking purses and backpacks. Simply slip an AirTag into your purse, backpack, or bag before leaving the house.
Keep in mind an AirTag is around 8mm thick, so it may not fit in every pocket.
Vehicle
Nowadays, many vehicles come with built-in tracking and GPS features. If your vehicle lacks these features, you can use an AirTag to locate it. You can also use this method for locating your car in parking lots or garages.
Musical Instruments
Whether you're a seasoned violinist or play in your high school's band, you can use AirTags to track your musical instruments. You can place your AirTags in your instrument case or attach them to the outside. Parents should consider this solution, as kids can lose valuables quite easily.
Luggage
We all know how much of a headache losing luggage can be. Not only do you lose your valuables, but expensive travel bags as well. Fortunately, you can Apple AirTags to locate your bags and suitcases when traveling.
Keep in mind you can only sync 16 AirTags with a single Apple ID. This means if you have a larger family, you may not be able to track all of your luggage.
Work Equipment
If you're a craftsman, use a lot of tools, or have company equipment, you should consider using an AirTag. Tools and work equipment can be expensive and hard to replace. Attaching an Apple AirTag to your valuables can help you prevent theft and damages.
Wallet
If your wallet is big enough, you can use an AirTag to track it. Keep in mind Apple's AirTags are around 8mm thick, making them much larger than their competitors. If your wallet isn't large enough, this might cause more harm than good.
Tech
Laptops, tablets, and other devices can be incredibly expensive. Losing one of these devices in transit, at the airport, or while out on the town is frustrating. Fortunately, you can prevent this scenario by using AirTags. You can attach AirTags to your laptop case, bag, or on the device itself.
Bicycles, Skateboards, E-Bikes
If you're a college student or use a bicycle as your main form of transportation, you should consider purchasing AirTags. You can use AirTags by placing them on your bicycle, scooter, or even skateboard.
Simply place an AirTag under the seat of your bicycle or on the underside of your skateboard. Doing so will allow you to locate your vehicle in the event it gets stolen.
Your Pets
Although Apple doesn't recommend you use the AirTag to track your pets, it's still an option. You can easily attach the device to their collar. This works well if you have outdoor cats or pets that like to roam.
Your Children
This may be a bit controversial, but you can also use Apple AirTags to track your children. Apple doesn't recommend or condone this. In fact, they recommend purchasing an Apple Watch, which has similar features.
Drones
If you have a drone, you should consider attaching an AirTag to it. Most drones already give information about their location if you lose them. Having an additional tracking device attached won't hurt and gives you an additional layer of risk protection.
Yourself
Although this one is a bit weird, you can use AirTags to track yourself. If you're ever in a situation where you're worried for your safety, you can place an AirTag in your coat pocket or purse. As always, be sure to contact your local law enforcement agency if you feel your safety is at risk.
How Far Can You Track Apple AirTags?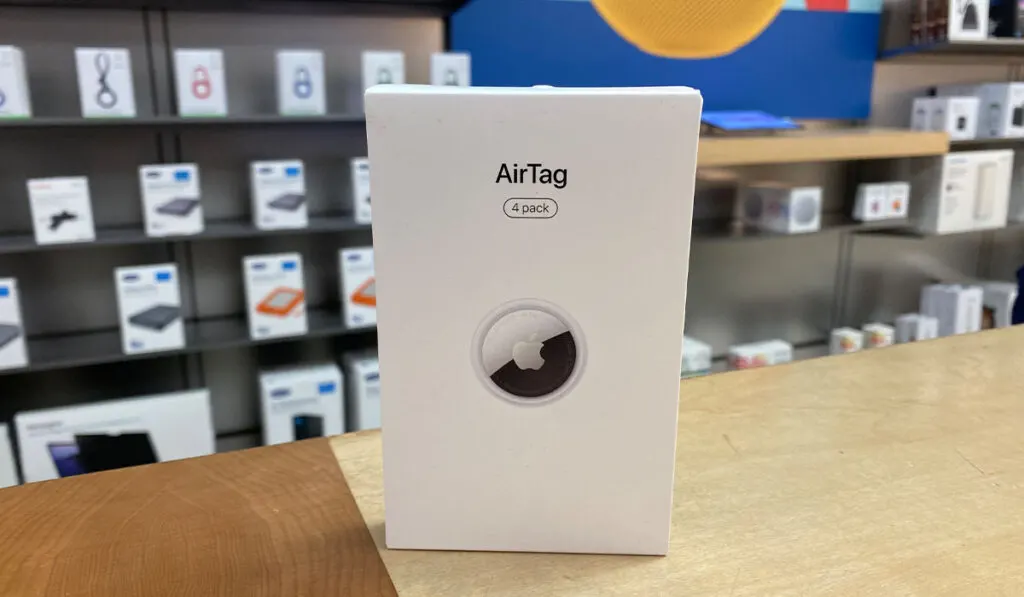 Oddly enough, AirTags do not have a defined range. The way these devices work is through Bluetooth and Apple's Find My network. Essentially, if your AirTag is within Bluetooth range of an iPhone or other Apple device, it can passively communicate with it, allowing you to locate it.
This means someone with an Apple device has to be near your AirTag for you to find it, even if your device is across the globe. If you lost your AirTag in the middle of the desert or forest and no one happened to walk by, it wouldn't give off a signal.
AirTags Safety Concerns
Apple's AirTags has been the subject of much controversy. Location tracking devices come with concerns of stalking, harassment, and worst-case scenarios.
Apple has thought of this and added fail-safes, but some individuals are still concerned with their privacy and safety.
Car Theft
One of the largest concerns for the AirTags is car theft. AirTags are designed to be unobtrusive, portable, and hard to notice. This design has allowed thieves to commit crimes, burglaries, and more.
Individuals will place an AirTag on a luxury car, planning to steal it at a later time. There have also been cases of people finding AirTags on their trailers, hitches, and other valuables.
Prevention Tips
First and foremost, Apple advises all its users to contact their local law enforcement agency if they believe they're in danger. Your local law enforcement agency may need the AirTag or its serial number for an investigation. If you aren't able to go to the authorities, there are still ways you can protect yourself.
Search Yourself
Manually searching yourself, your car, and other belongings is the first step to staying protected—search areas where an AirTag could be easily slipped like pockets, bags, or under your cushions. Keep in mind this is only one layer of protection as AirTags are small and hard to spot.
Disable the AirTag
Fortunately, you can disable an AirTag if you find one on your person or valuables. Simply twist the AirTag counter-clockwise on the back near the Apple logo. You should also take the battery out. Doing so disables the person tracking you, and they will no longer be able to see your location.
Find the AirTag's serial number.
There are two ways to find an AirTags serial number without alerting the owner in the event you find one on your person or valuables.
For iPhone users, you can use Apple's Find My app. Simply hold the AirTag up to your device, find the name of the owner, and select it.
The serial number should appear afterward, and if you have an NFC-capable phone, tap and hold the white side of the AirTag to the top of your device. You should see a notification with the serial number included.
Keep in mind finding the serial number is only one step of your safety. You should still go to your local law enforcement agency if you have the option.
Should You Be Worried About Purchasing an AirTag?
If you're considering purchasing an AirTag or already own one, there probably isn't much need for concern. Apple has added safety features to its devices and doesn't take this issue lightly.
However, you should be aware of the risks and take necessary precautions. As always, speak with your local law enforcement agency if you feel your safety is at risk.