Nobody wants to see a cloud storage error on their PS5. If you've spent countless hours making progress on your games, the last thing you want is for something to wipe out all of your data. But maybe the error isn't that bad?
To fix PS5 cloud storage errors, make sure you've got a stable internet connection and try restarting your PS5. If that doesn't help, head to Settings and make sure cloud storage is enabled. Also, check for available space – you may need to delete some games or transfer them to an external drive.
The PS5 features 667 GB of usable storage onboard, which can be expanded using a PlayStation Plus subscription. This is all part of Sony's goal to provide an uninterrupted and seamless gaming experience. However, like any other console, the PS5 is not without its fair share of annoying errors. If you're also stuck with the PS5 cloud storage errors, let's look at why they happen and how to fix them.
What Does it Mean When Your PS5 is Checking for Saved Data on Cloud Storage?
A PS5 cloud storage error is far more common than you might think. When your PS5 displays a cloud storage-related message, it usually means that there is an issue with accessing the storage.
The error "checking for saved data on cloud storage" keeps players from accessing and uploading their saved game data to the cloud. You may also get these cloud storage errors:
Couldn't sync your save data due to a conflict.
Let's look at how to resolve these errors in detail. And just as a talking point, we're going to discuss how these things work on the PS4 a little as well, to give you a comprehensive picture of the situation.
If you want to know more about how much data the PS5 uses in general, check out our related post, and be sure to skim our Ultimate PS5 Owner's Guide when you're through here!
Cloud Storage Error Troubleshooting
It can be frustrating when cloud storage errors provide little or no information on the cause of the problem and potential solutions. But fret not. We'll show you what works.
How to Fix the "Something Went Wrong" Error
Players get the "something went wrong" error when accessing the cloud storage either for uploads or downloads. Essentially, this error resolves by restarting the console. If you're attempting to upload your saved game data to the cloud storage, ensure it's first saved on your console before restarting.
Another effective hack is to test your internet connection. Sometimes, it could be that you have lost connection unknowingly, or there are too many devices competing for the bandwidth.
If it's a case of bandwidth issues, try to limit the other devices, at least when accessing cloud storage on your PS5.
How to Fix the "Couldn't Sync Your Save Data Due to a Conflict" Error
Another well-known error message when attempting to sync console and cloud data is "couldn't sync your save data due to a conflict." But what exactly does it mean? This error occurs when the console fails to determine whether you want to sync the game with cloud or console storage.
To resolve this error, follow these simple steps:
First, go to the notifications menu.
Next, check the sync error message.
Then, select either Cloud Storage or Console Storage.
That's it! The error resolves hassle-free. However, make sure you select the correct option because the remaining option is automatically removed.
How to Fix the PS5 "Checking for Saved Data on Cloud Storage"
The most straightforward way to resolve this error is to restart your console. However, if that doesn't work, chances are high that it's your internet connection.
To verify and solve your network issues, follow these steps:
Go to Network > Settings > Set Up Internet Connection.
Click on the WiFi connection.
Adjust the WiFi frequency bands to see what works best for you.
Go to DNS settings > Change to Manual > set primary DNS to 8.8.8.8 and secondary to 8.8.4.4.
Hit Ok.
That should fix the issue right away or after restarting the console.
How to Access Your Playstation Cloud Storage
First, to access the PS5 cloud storage, you must be a member of PlayStation Plus. To access and manage your PlayStation cloud storage, here's what you need to do:
Go to your PS5 and head over to Settings.
Under Settings, click Saved Data and Game/App Settings.
Click on Saved Data.
Select Cloud Storage.
Now you have access to your saved data on the cloud and can manage it or add more storage space.
How to Backup Your Playstation Data
Backing up your game saves to USB is essential as your PS4 or hard drive may fail without warning.
To save everything on your PS5, check and manage your PlayStation storage. Go to settings, then storage to view your current data usage and delete anything you don't want to back up. Once you've determined what you want to backup, proceed as follows:
Connect the USB drive making sure it has enough space.
Go to Settings, then System.
Under System, head to System Software and click Backup and Restore, then hit Back Up Your PS5.
Select the data you wish to back up, for example, games and apps, screenshots and video clips, etc.
Click Back Up and wait until you see Backup complete.
Note: Want to backup your game saves to cloud storage? Members of PlayStation Plus receive up to 100GB of cloud storage for PS5 saves, and another 100GB for PS4 saves.
How to Turn on PS5 Auto Sync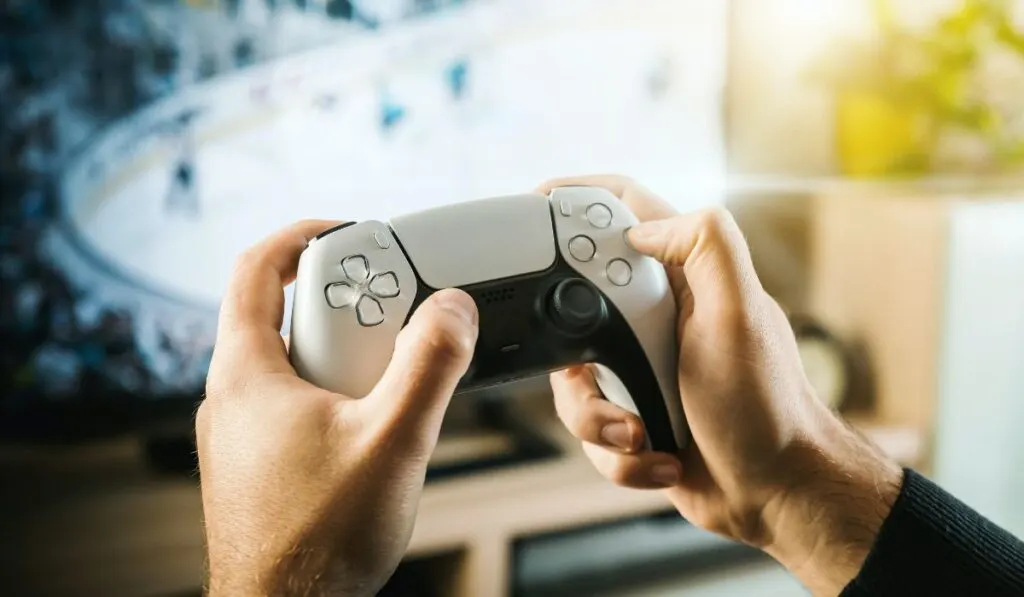 You can choose to have your game saves automatically synced to the cloud. It will automatically sync when you exit a game or put your console in rest mode. This allows you to begin a game on one device and continue playing on another without manually downloading the saved files.
On PlayStation 5 games, auto sync is usually enabled, but it's always a good idea to double-check the settings. PS4 games, on the other hand, are not set to upload save data automatically.
Here's how you can enable the auto-sync updates on your PS5:
First, navigate to Settings, then System.
Under the System menu, go to Power Saving on the left tab, then choose Features Available in Rest Mode.
Select Stay Connected to the Internet.
Then, go back Saved Data and Game/App Settings menu.
Select Saved Data (PS5) on the left tab, then select Sync Saved Data, and afterward Auto-Sync Saved Data to automatically upload save data for PS5 games.
For PS4 games, select Auto-Upload.
Note: For PS5 games, the most recent data will be synced between your cloud storage and the console. On the other hand, PS4 games automatically sync to the cloud storage but must be downloaded manually to the PS5 console storage.
How Can You Get More PS5 Cloud Storage?
Sony provides cloud space with a PlayStation Plus membership, but if you need more space after that's full, your only option is to transfer some data to an external storage device. Sony has strict regulations for compatible external devices, so the options are rather limited.
M.2 SSD drives (on Amazon) are the most recommended type, but they can be expensive and need external heatsinks. SSDs from Samsung, SanDisk, and FIRECUDA work with the PS5.
A more affordable and still compatible option is a formatted USB extended storage device, but make sure it's SuperSpeed USB 5 Gbps with a minimum 250GB storage capacity (still, it's not guaranteed to work with the PS5).
This option isn't ideal because the PS5 doesn't support direct play from USB devices. So you'll have to copy the game back to PS5's internal storage before you can play it.